November 18, 2018
Hey we got one of those big checks again! Thanks to Outdoor Gear Exchange for a donation to repair The Big Washout on the railtrail in East Montpelier. We've also received donations for this project from Oakland Foundation, North Country Federal Credit Union, Washington Electric Coop, and Ben & Jerry's Foundation.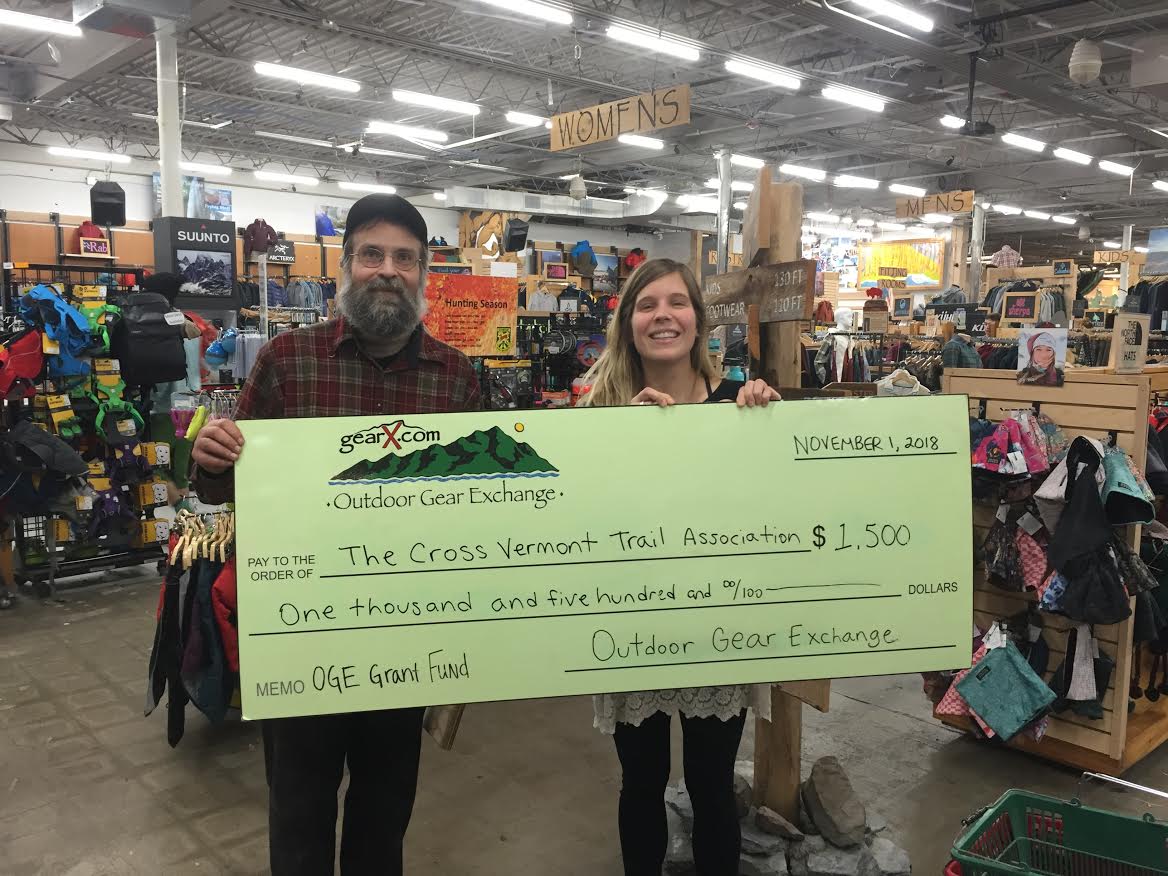 The Big Washout happened during the May 2011 storms when the railbed was washed out by a brook that had been throttled down into a small culvert. The fix was long delayed, but this past year CVTA secured a permanent easement allowing us to finally go ahead and make a new trail bypassing the problem spot - with a new, more sustainable trail using a bridge. We're also doing erosion control on the old railbed and reestablishing the riparian forest there. (This all is on Map 5 of the Cross Vt Trail route.)
The whole thing is going to cost about $13,000. With the donations received so far, we are half way to that total. We're aiming to finish fundraising this winter and build the new trail next Spring. And yes, we know what you're thinking - "whose going to risk their luck crossing a $13K bridge" - and so, to you we offer to make a slightly nicer bridge for $14K (with your contribution . . . ).
Any way, thanks again to OGE, Oakland, North Country, WEC and and Ben & Jerry's - and stay tuned, more to come.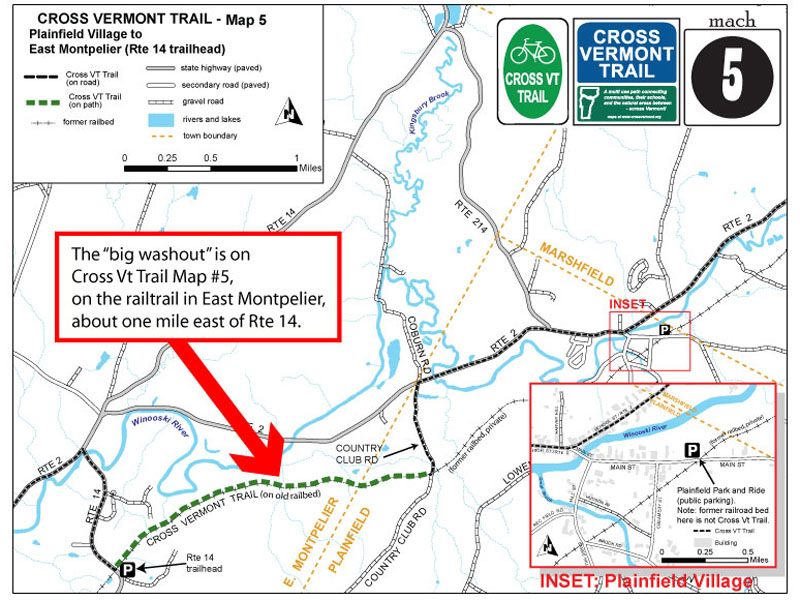 November 10, 2018
The Johnnie Brook trail bridge big rebuild is fully open. The hounds sniffed it right out.
We bought the lumber and hardware with generous donations from Essex Rotary, the Town of Richmond Conservation and Trails committees, the Green Mountain Hounds - and from individuals like you, thanks everyone!
This is on Map 10 of the Cross Vt Trail route, in Richmond. But wait there's more, next up will be freshened deck on the dogleg boardwalk (so called) and last regraveling the remainder slick spots - and the long and winding post Irene reboot will be done. End is in sight - as much as next Spring is ever in sight?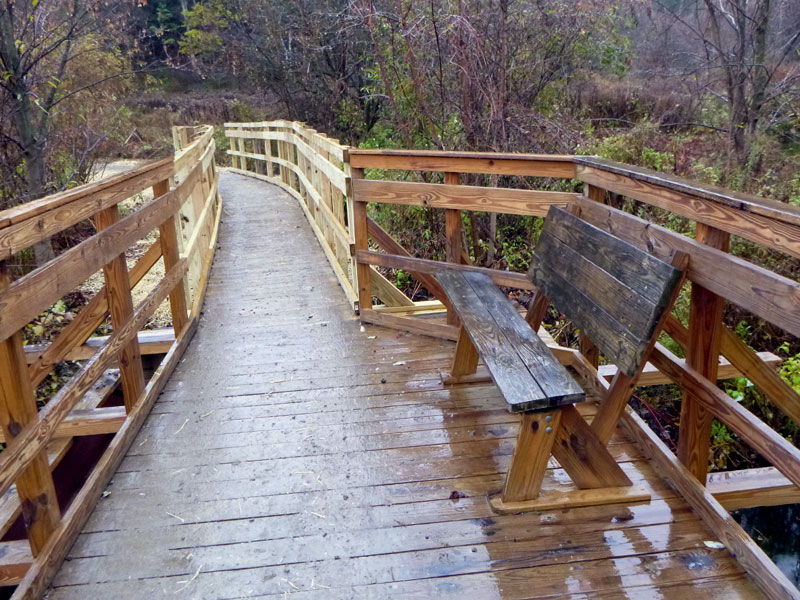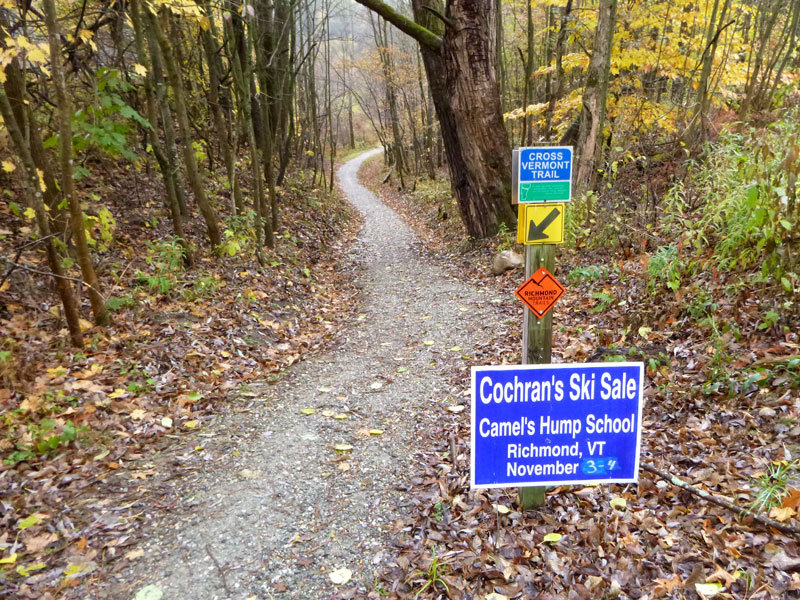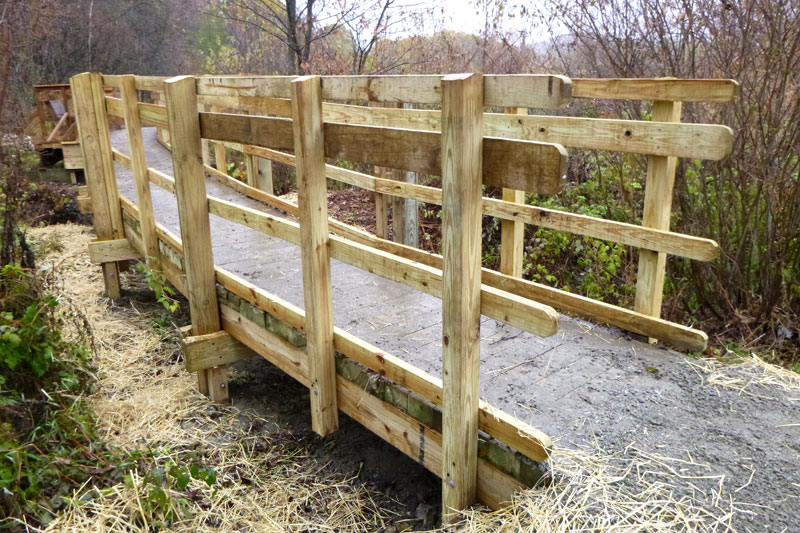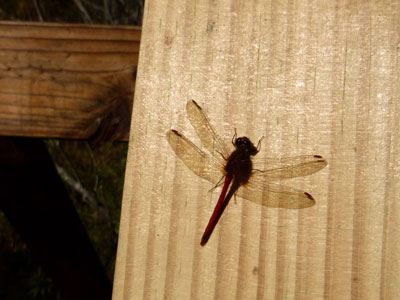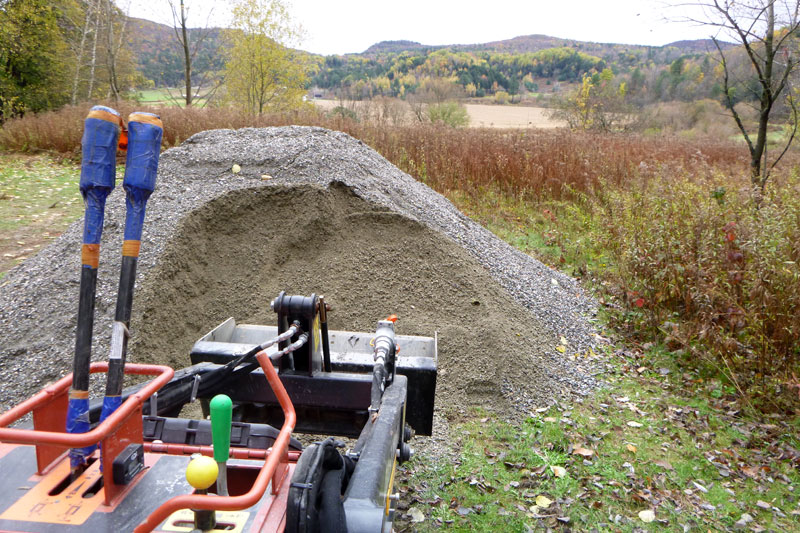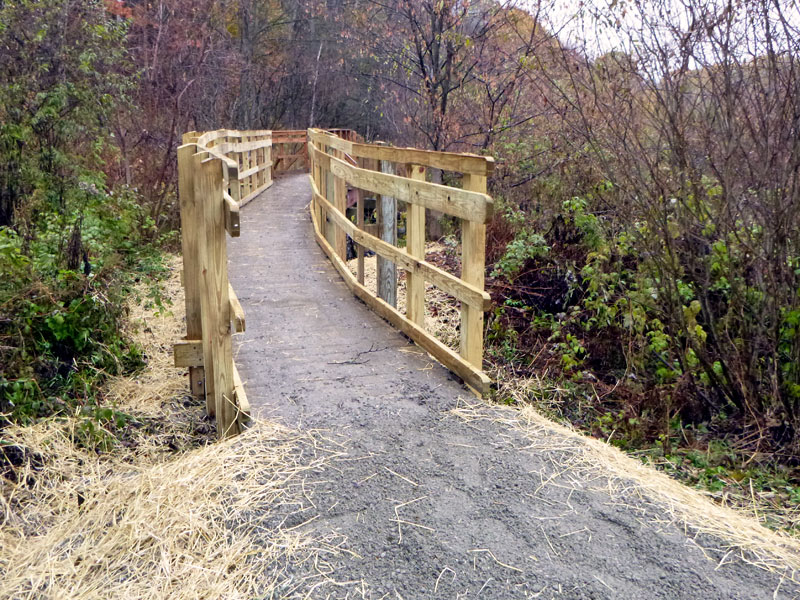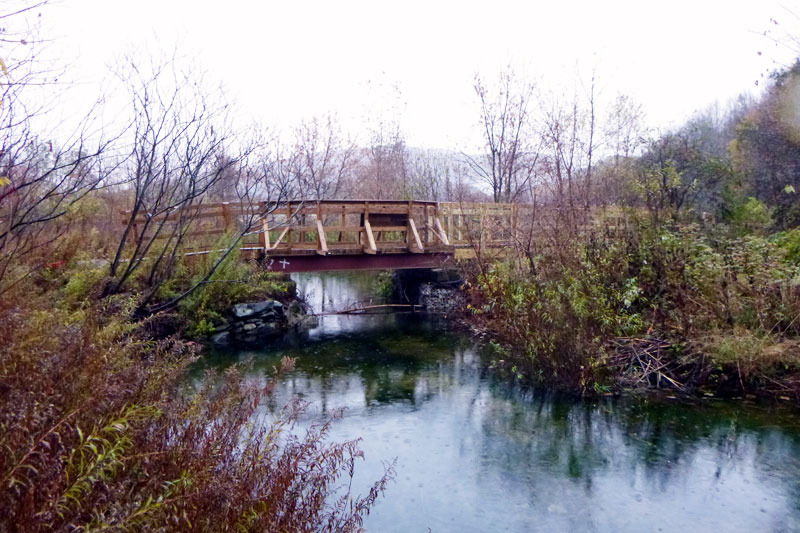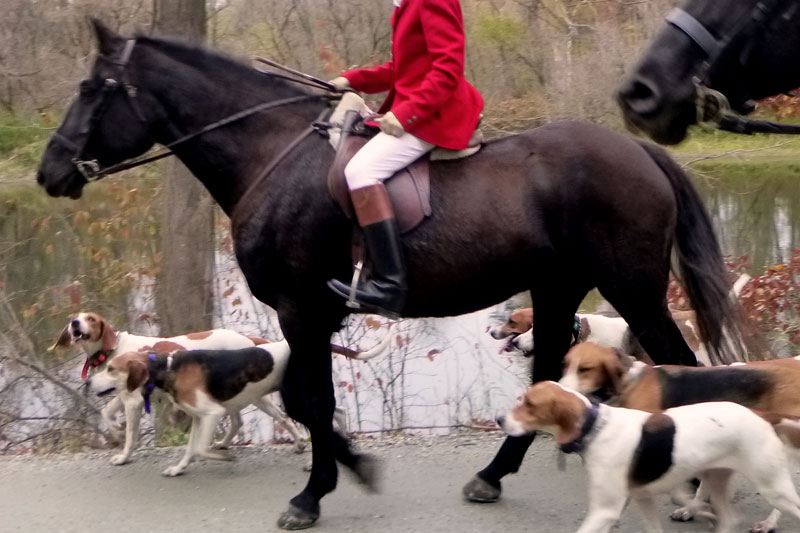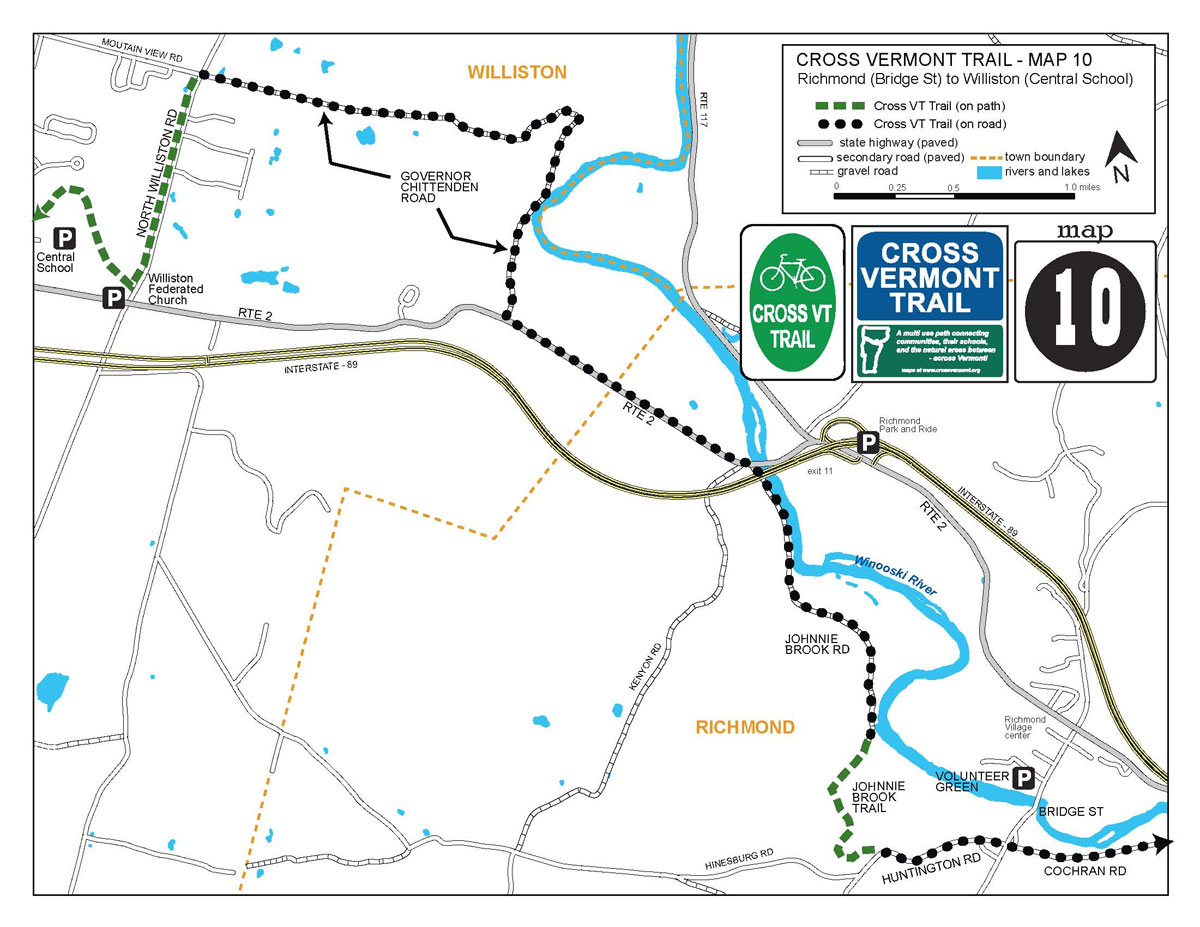 November 4, 2018
Beefing up erosion control check dams yesterday with student volunteers from Norwich University; a stitch in the nick of time.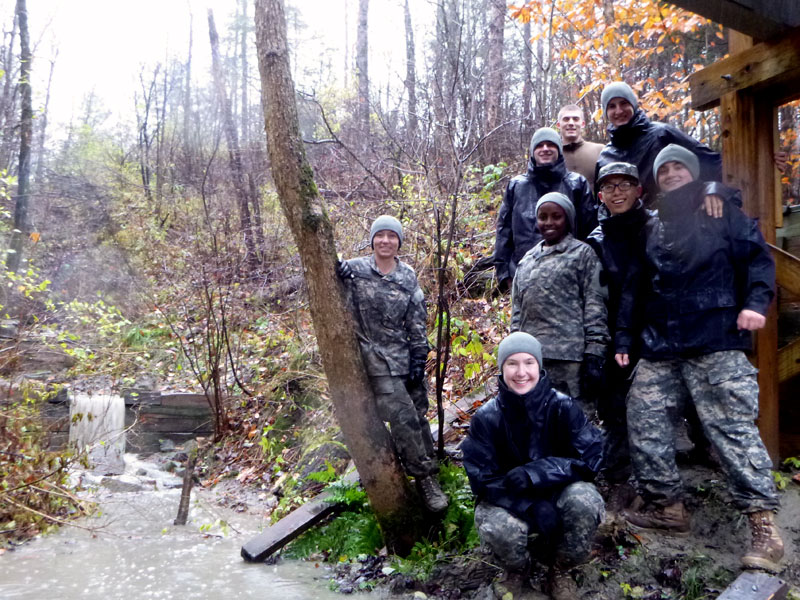 October 21, 2018
Rails are up on the new approach to Johnnie Brook bridge in Richmond. Next, bring in a bunch of gravel to ramp up and match the new bridge deck . . . until then careful on your bike, there's a big step at the end of the bridge.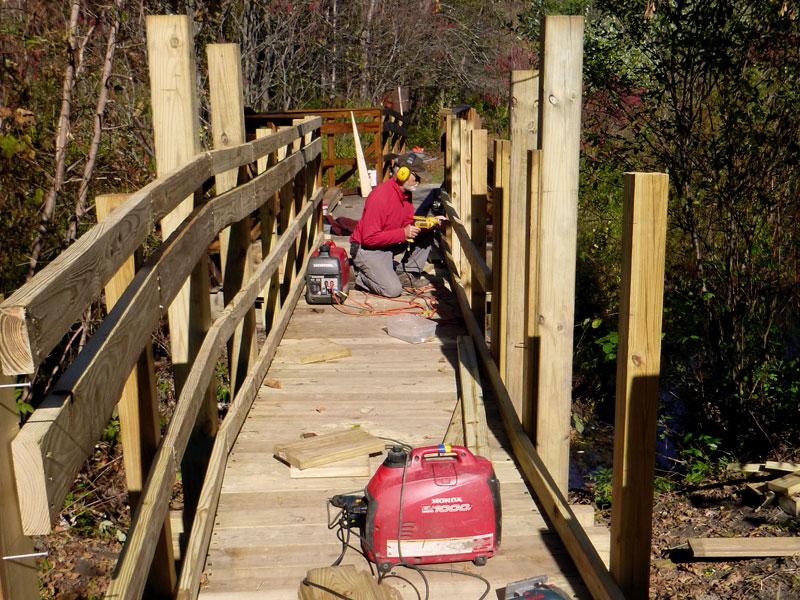 October 21, 2018
We come in peace, and to learn of your ways. Despite appearances. Finished off the tree transplanting along rail trail in Wells River this weekend. (To define and buffer the trail and counteract noxious invasives.)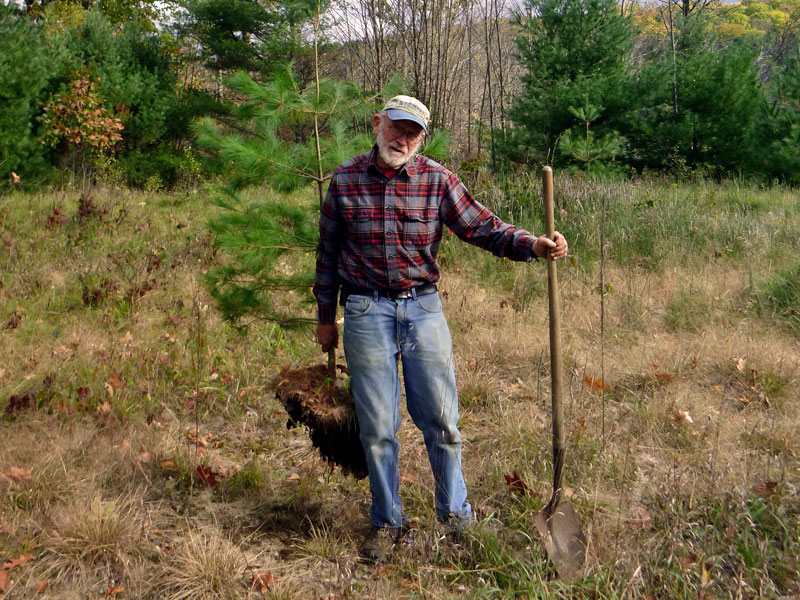 October 15, 2018
Take me to your cedars. Tree planting along the rail trail in Wells River this past weekend - to define and buffer the trail, to counteract noxious invasives, and to appreciate the feel of black dirt between our fingers.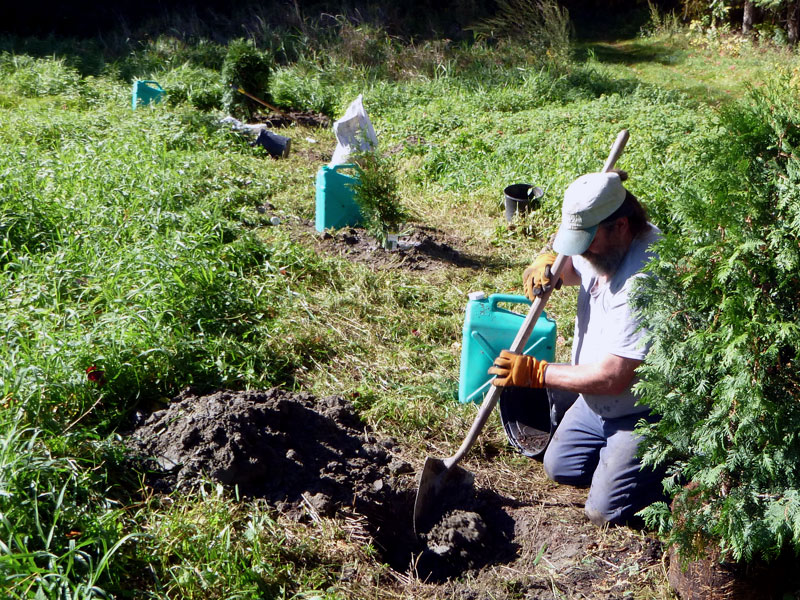 October 10, 2018
Closing in on the end game for the Johnnie Brook Trail Bridge Big Rebuild. Phew, this trail has gotten pretty popular, having to stop work often to reassure bikers and dog walkers "Sorry, it's almost done, just need to add a few more alligators to the moat!"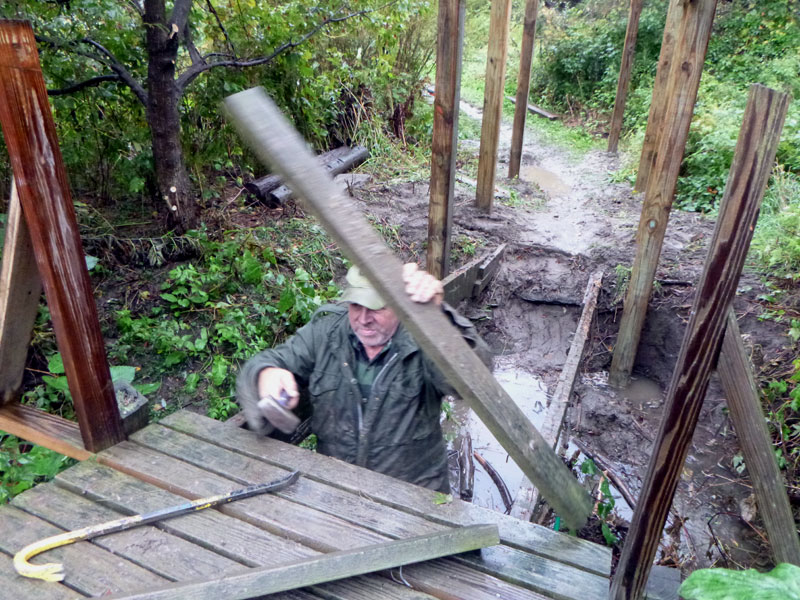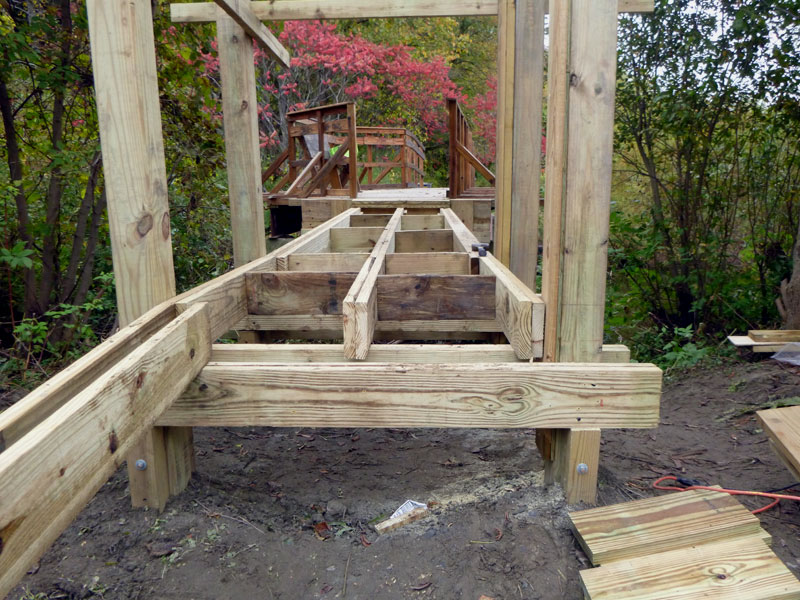 September 29, 2018
Beautiful day for 21st annual Fall Foliage Ride - and go figure the whole thing wrapped up at a classic car show at Blue Mt. Union, twofer!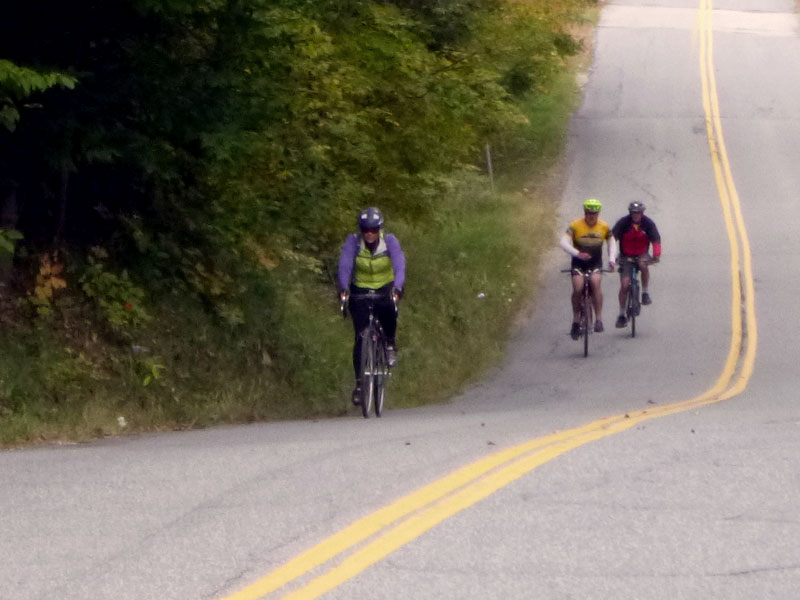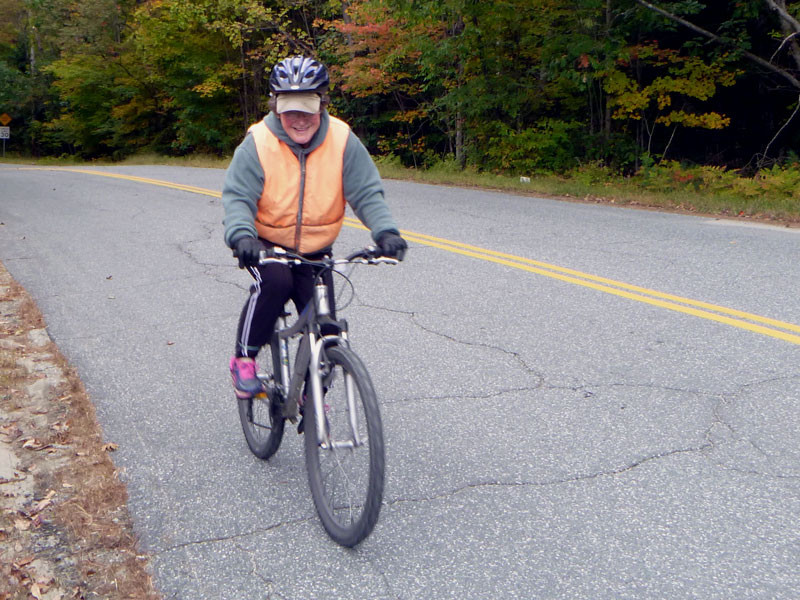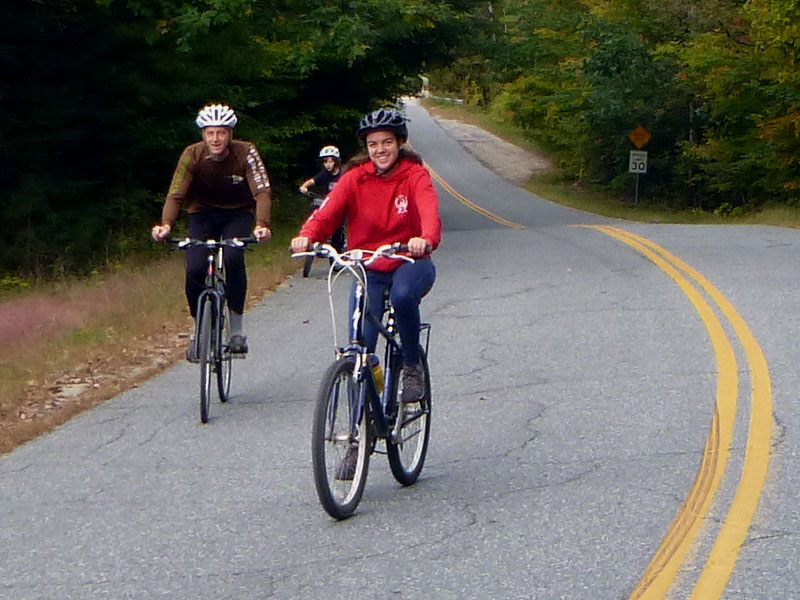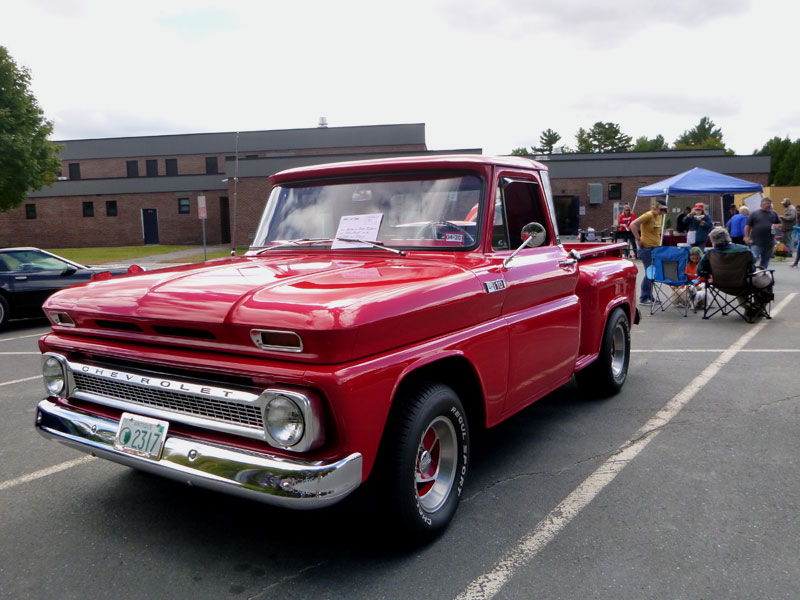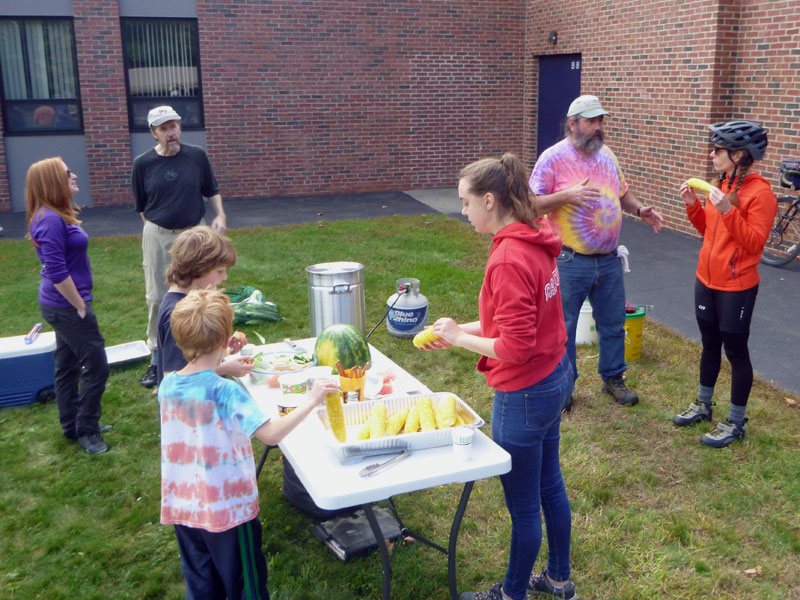 September 10, 2018
Great day at the first annual Groton Forest Trail Marathon. 100 runners, lots of smiles, even on the pretty tough course that flows from rail trail, to bouldery shorelines, to multi-use trails, and over three mountain peaks. Great to see so many people out enjoying the trails we've been helping to build and connect together!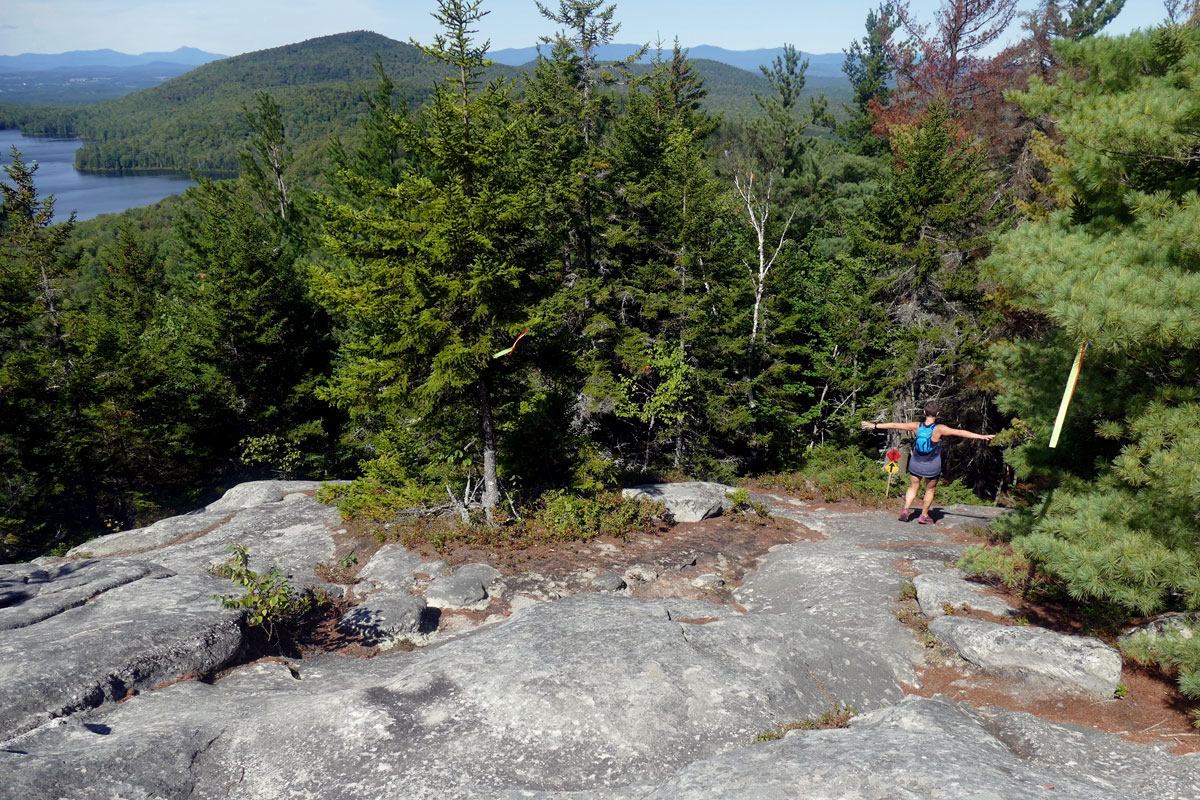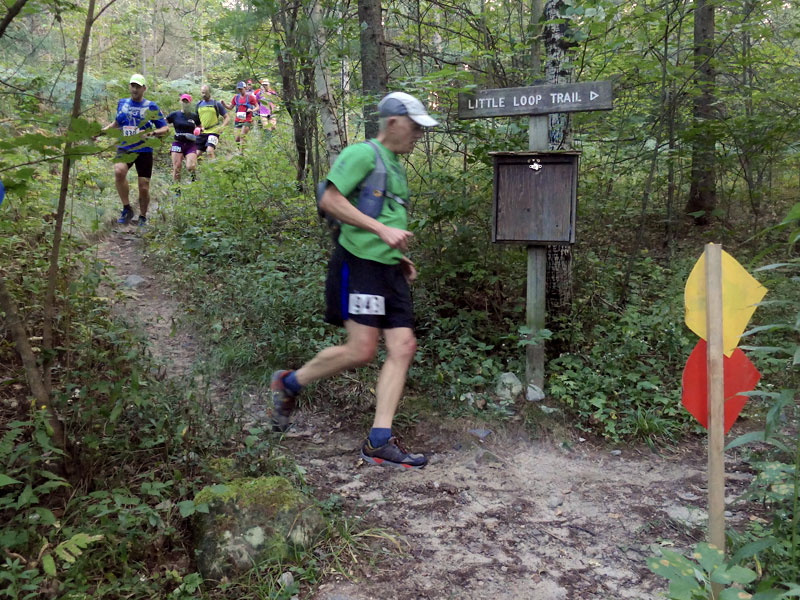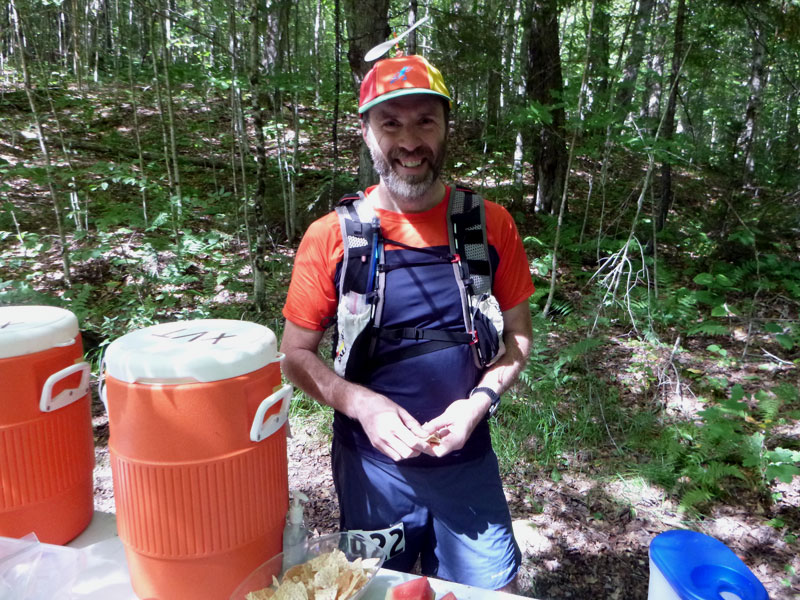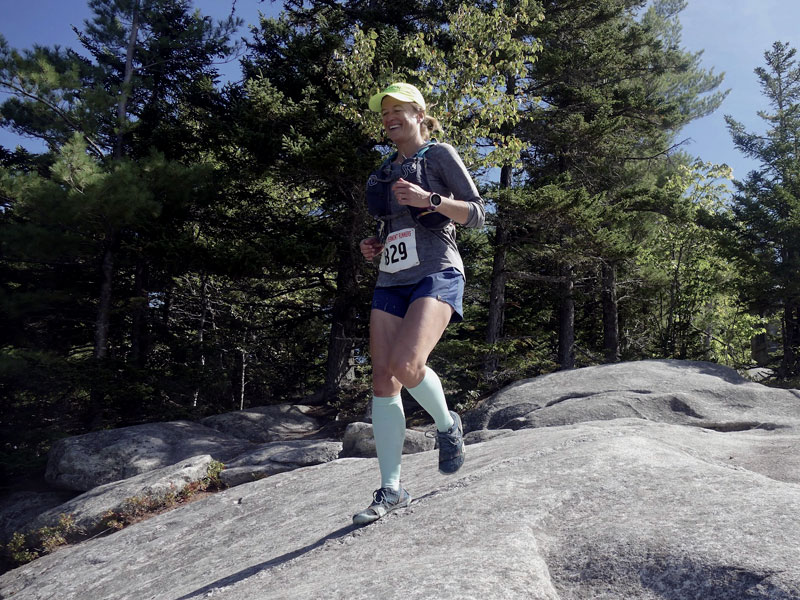 August 23, 2018
2018 CVTA volunteer trail crew has wrapped a powerful three weeks of work. This year, we used all the buckets.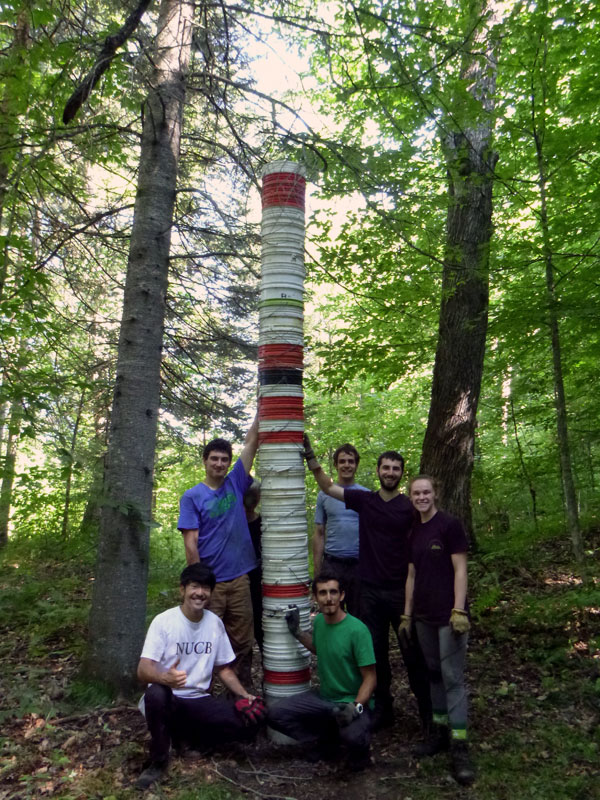 August 23, 2018
Karen Clark Trail, between U-32 and Wheeler Road, is OPEN for bikes - boardwalk and other upgrades complete.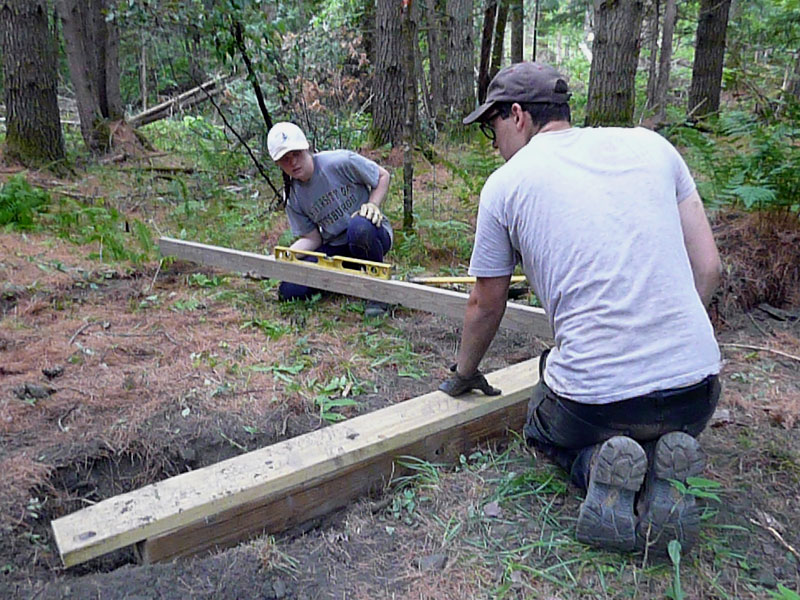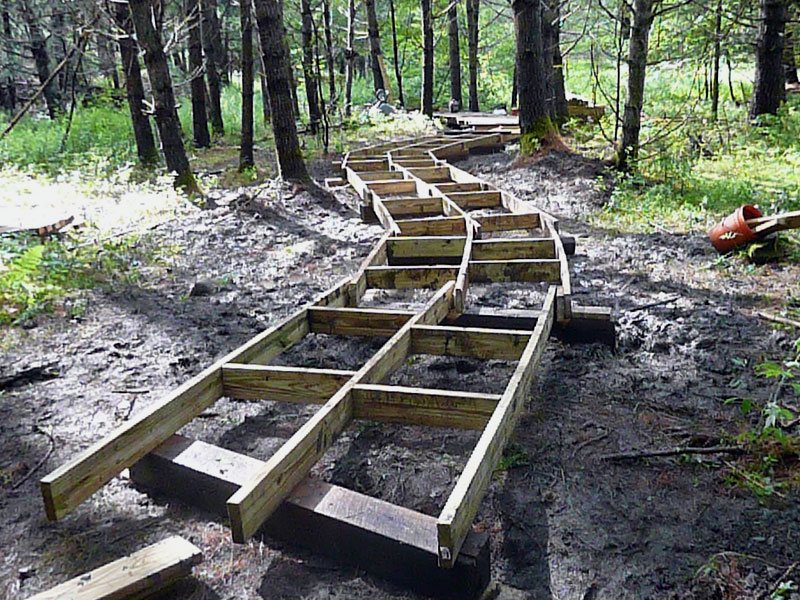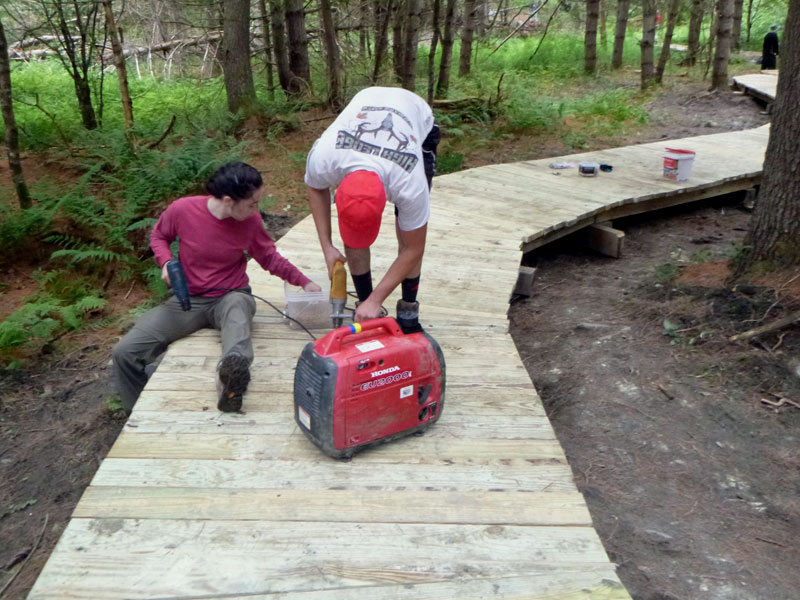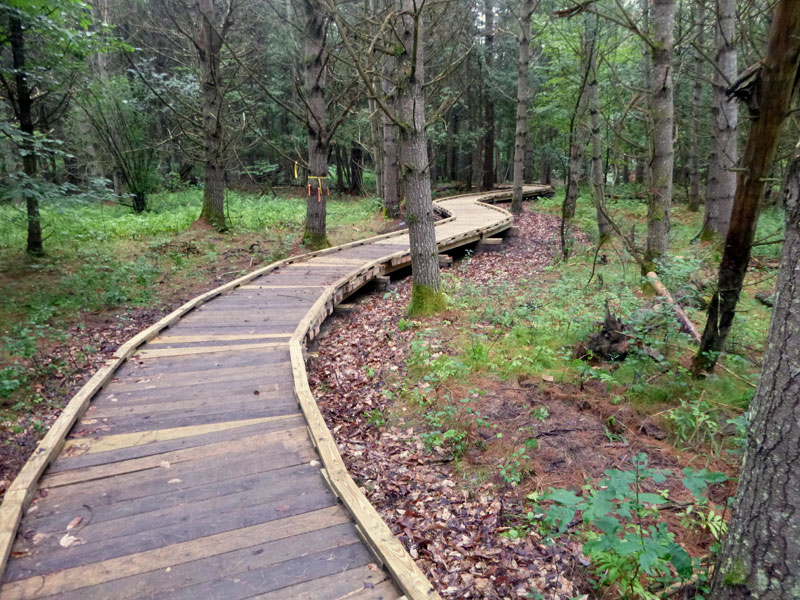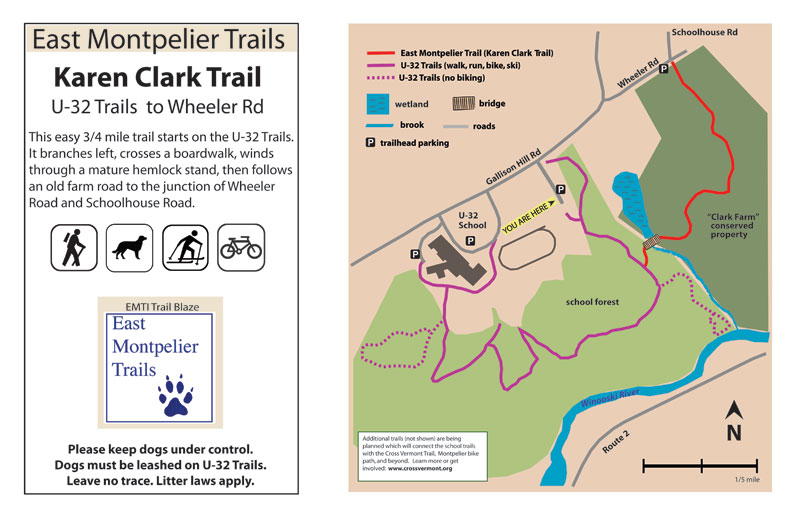 July 20, 2018
Trail work Sat 7/21 - meet U-32 tennis courts 9 AM - extending boardwalk on Karen Clark Trail to work better for bikes. Implication: leisurely artisanal carpentry. Reality: carrying lumber AND leisurely artisanal carpentry.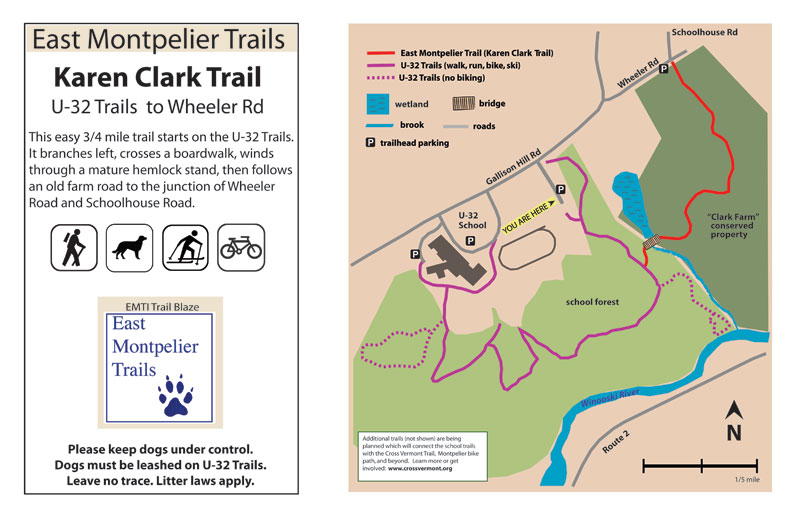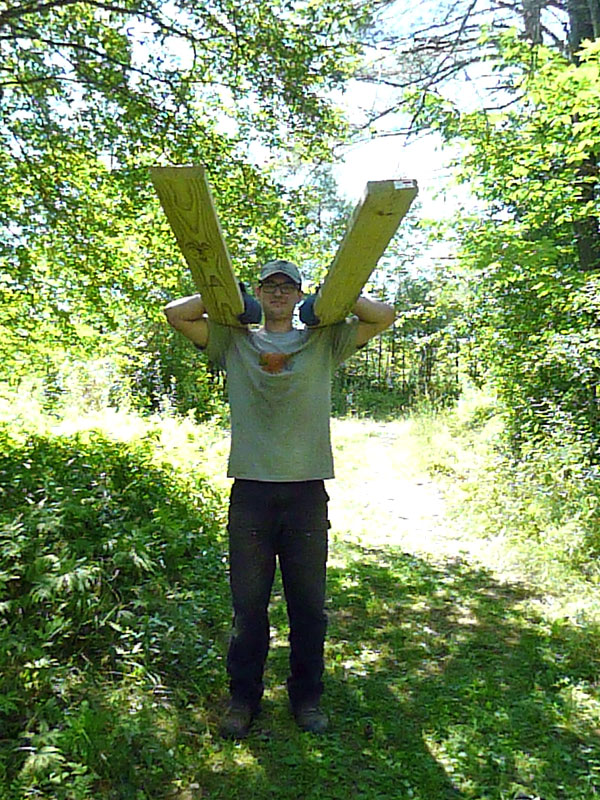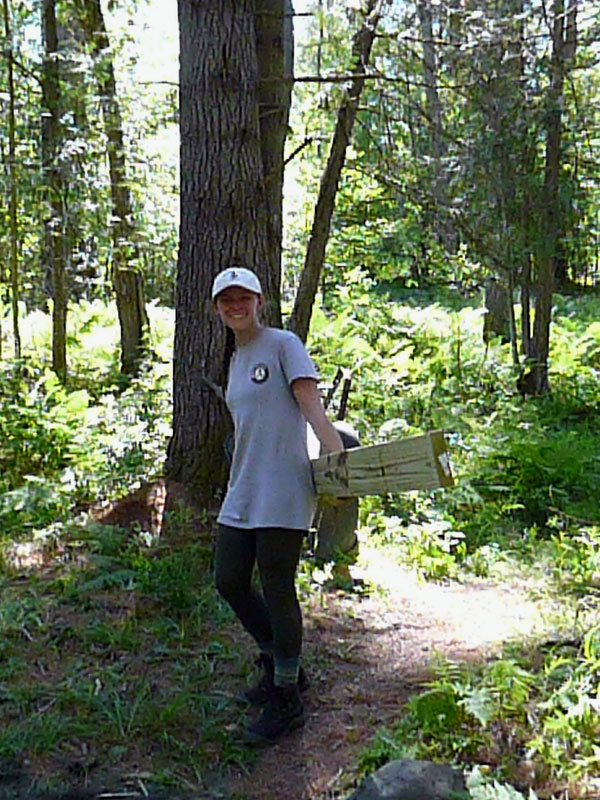 July 15, 2018
Fun day on Saturday making new Mt. Bike trail at Twinfield with the local VMBA chapter "Riders in Plainfield and Marshfield" (RIPM!).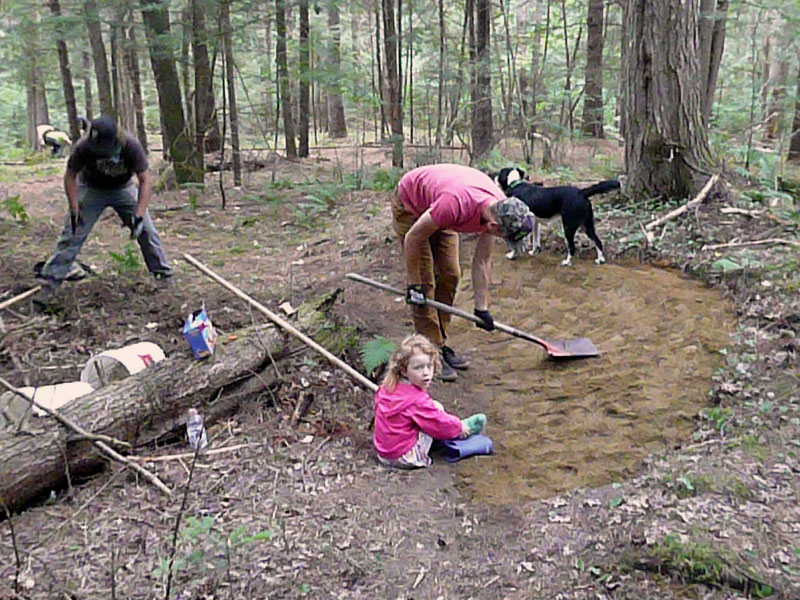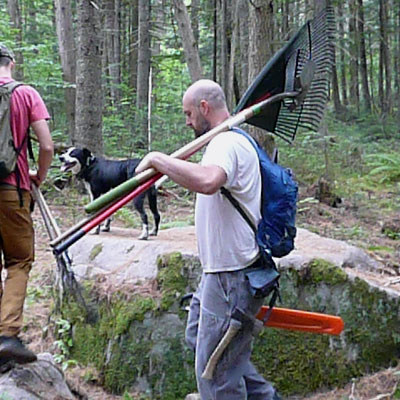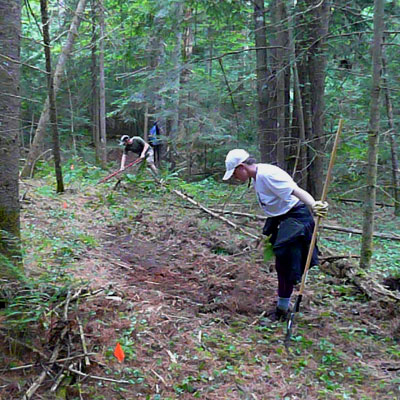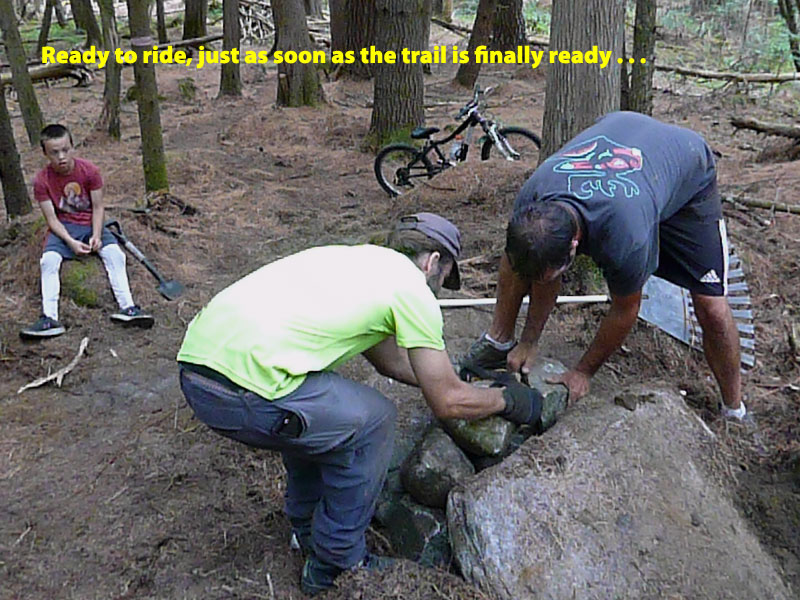 June 26, 2018
Turned out to be a great day for riding at Sunday's Central Vt Cycling Tour - cool, cloudy but bright with nary a drop of rain. Good times had by all, and raised a little extra to help build more trails and bike paths. Thanks everyone and see you next year!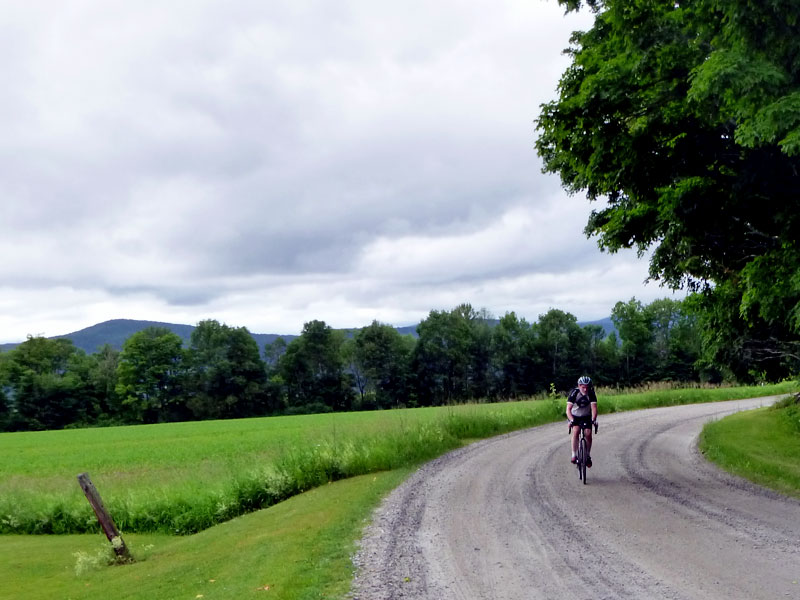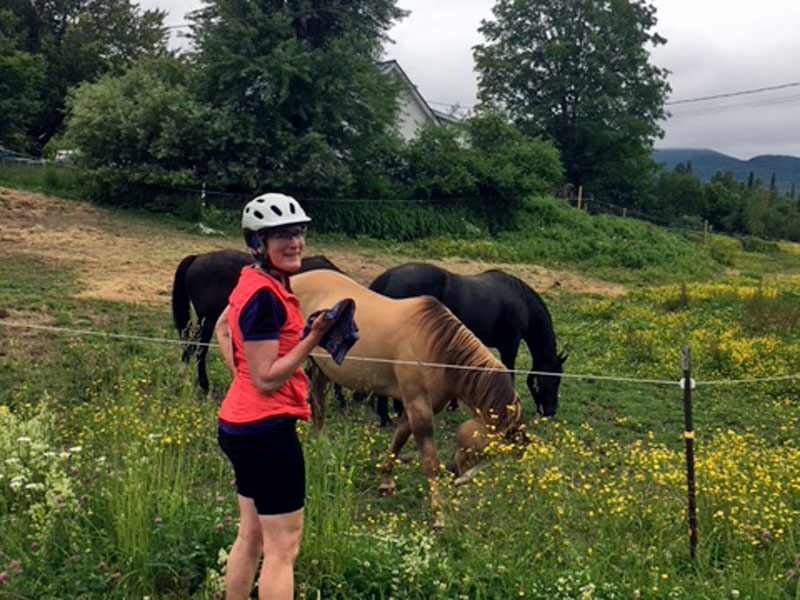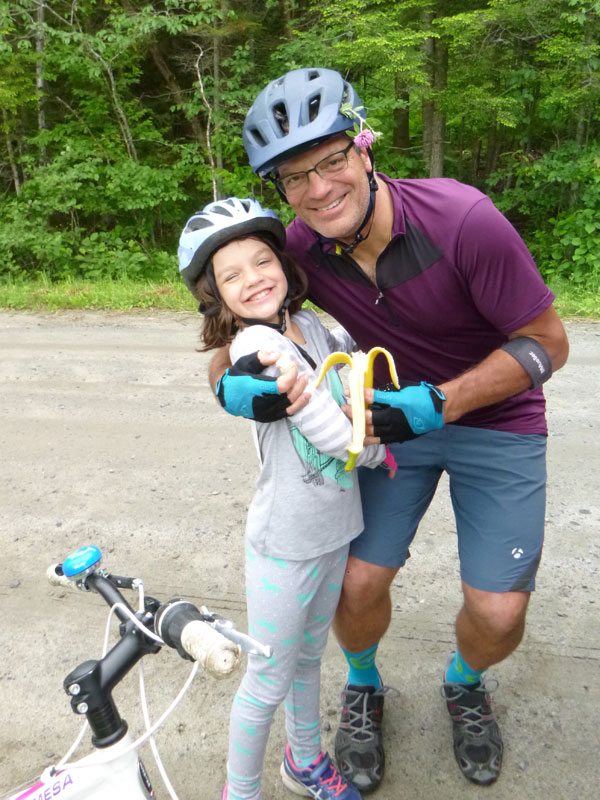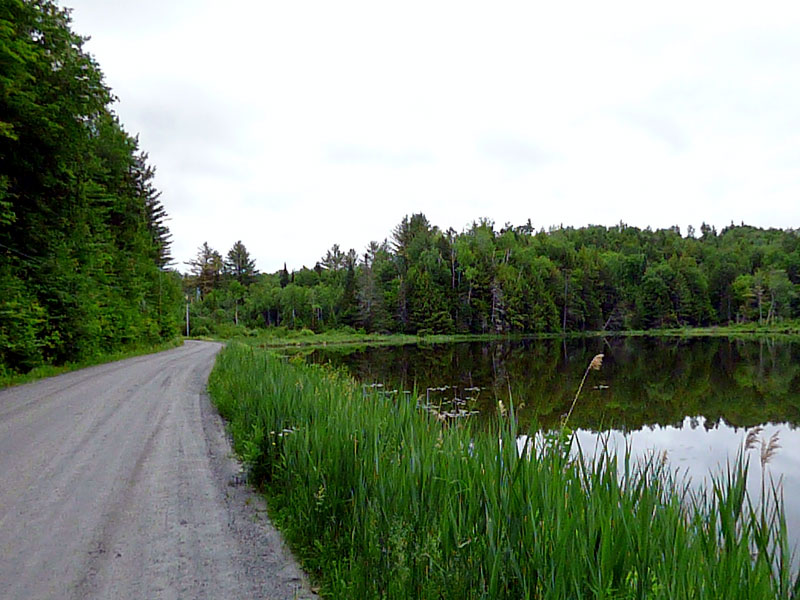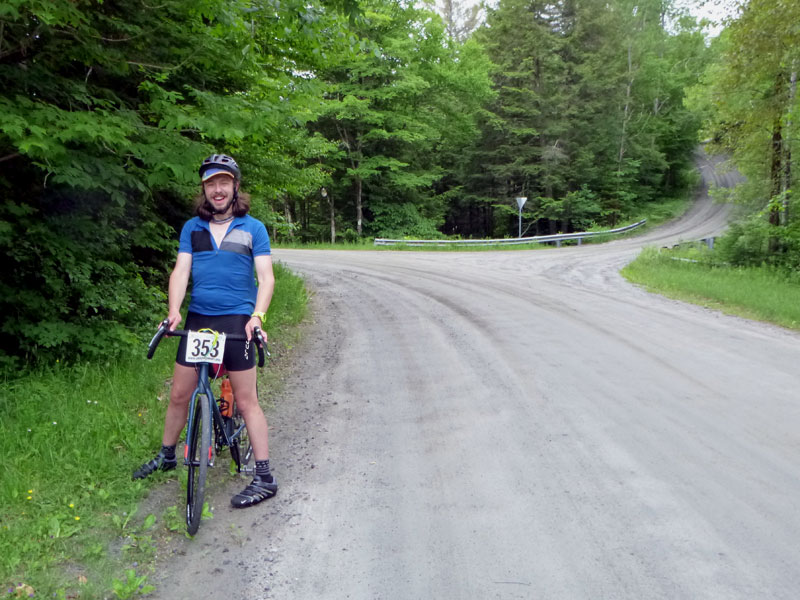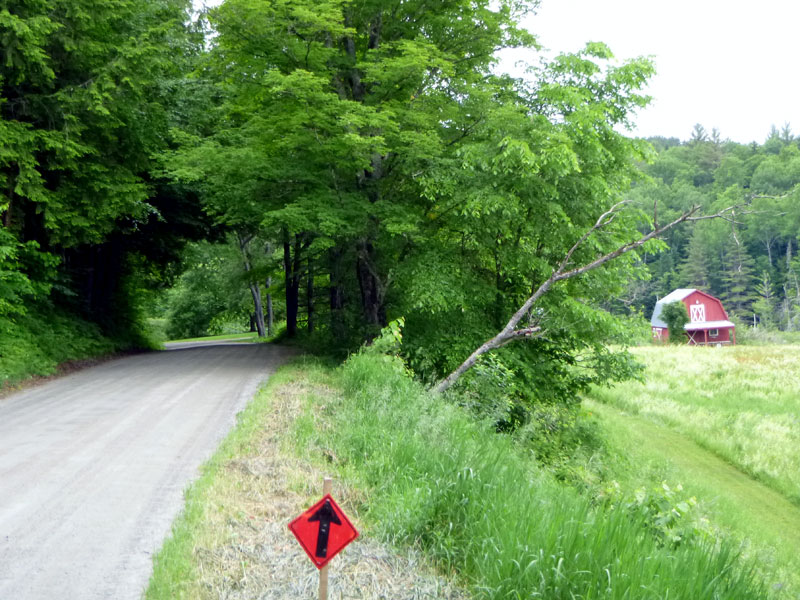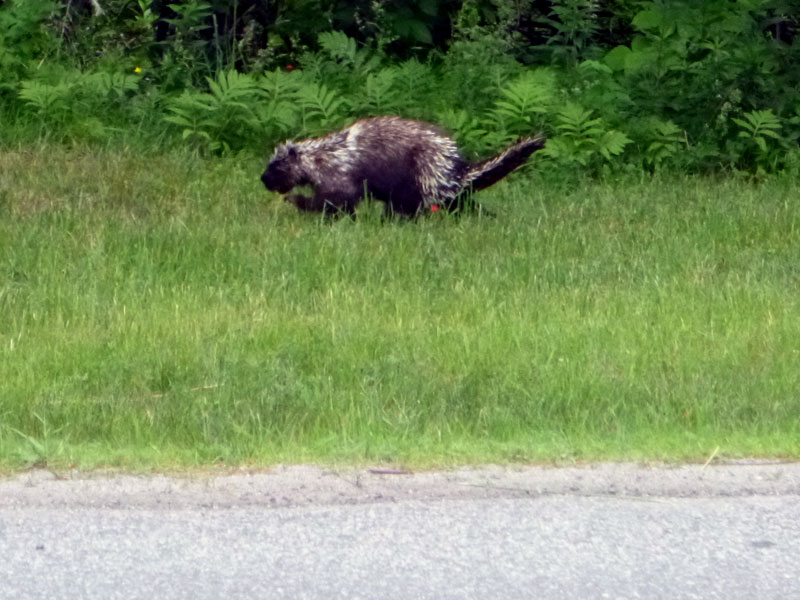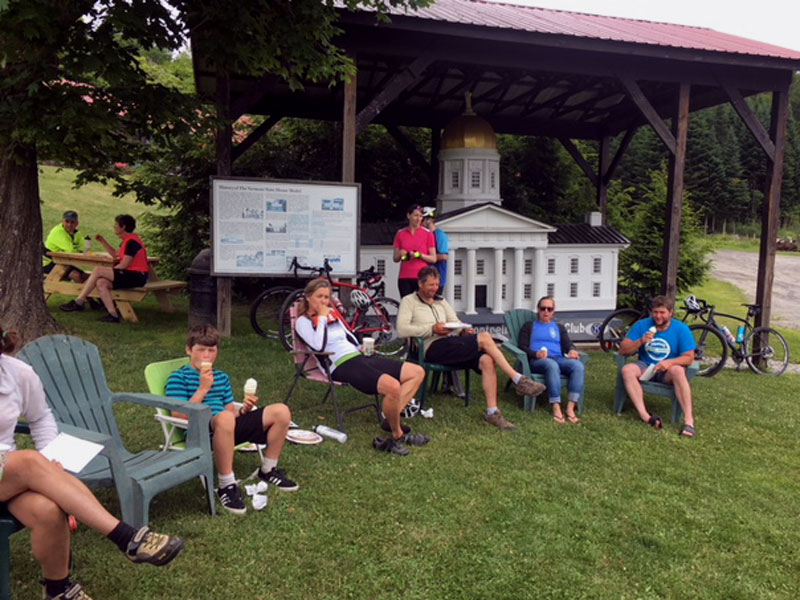 June 24, 2018
Ready, steady, go! All set for the Central Vt Cycle tour Sunday. Register and ride any time between 8 & 10, at Morse Farm in East Montpelier. 11 - 2 free cookout open to all. Thanks to 2018 SPONSORS Red Hen Baking, National Life, Concept2, and Morse Farm Maple Sugarworks.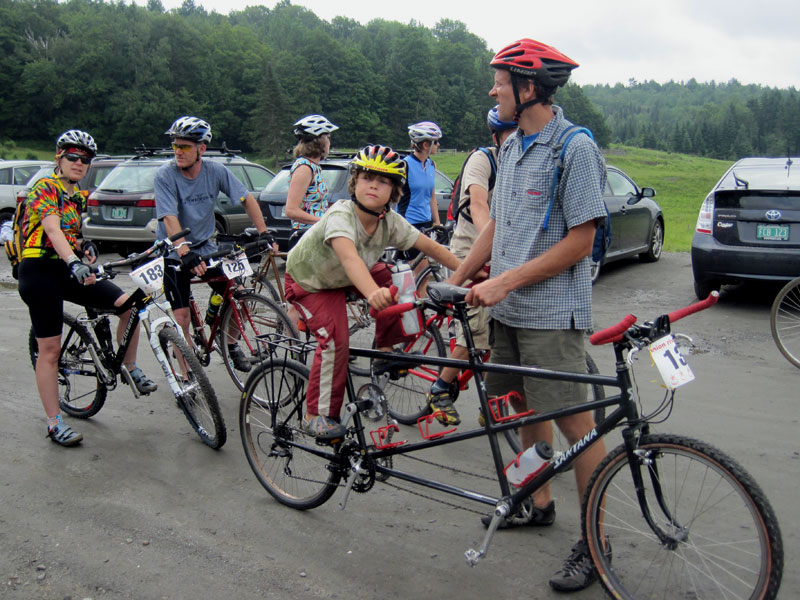 June 23, 2018
Central Vt Cycle Tour tomorrow! The arrows are going up as we speak, 15, 30 and 60 miles routes that display, let's call it the Full Gamut.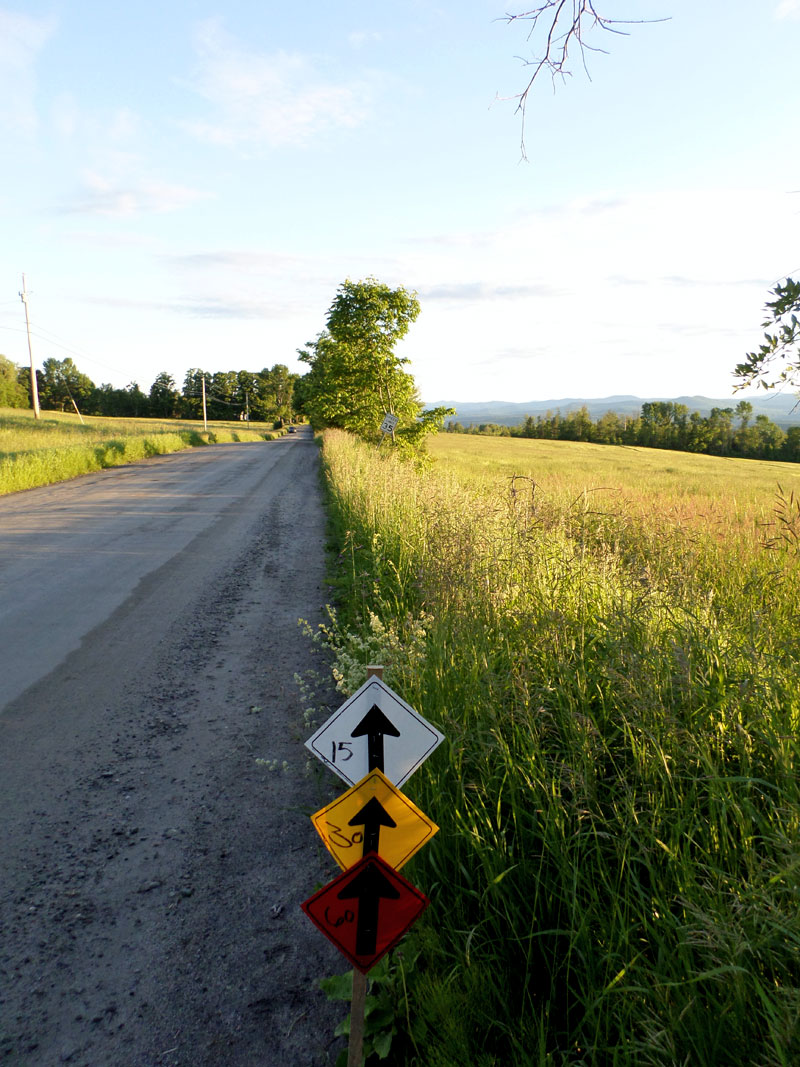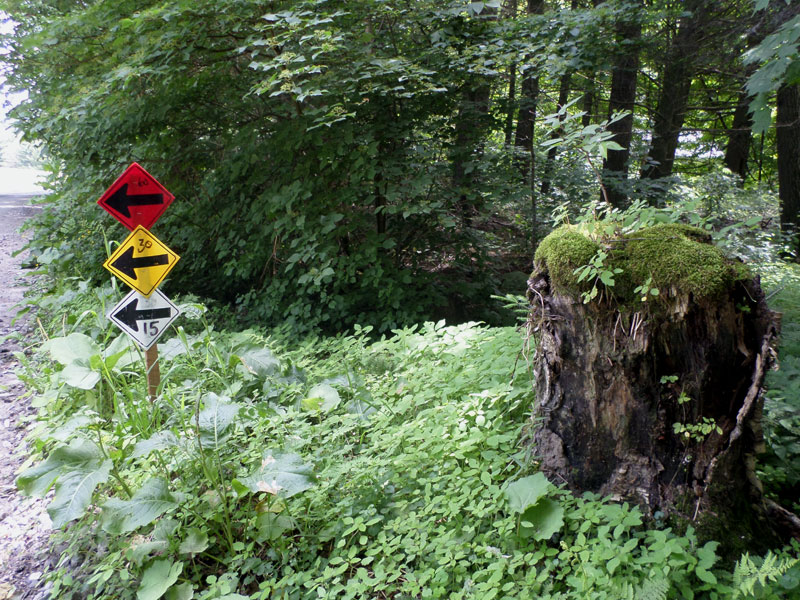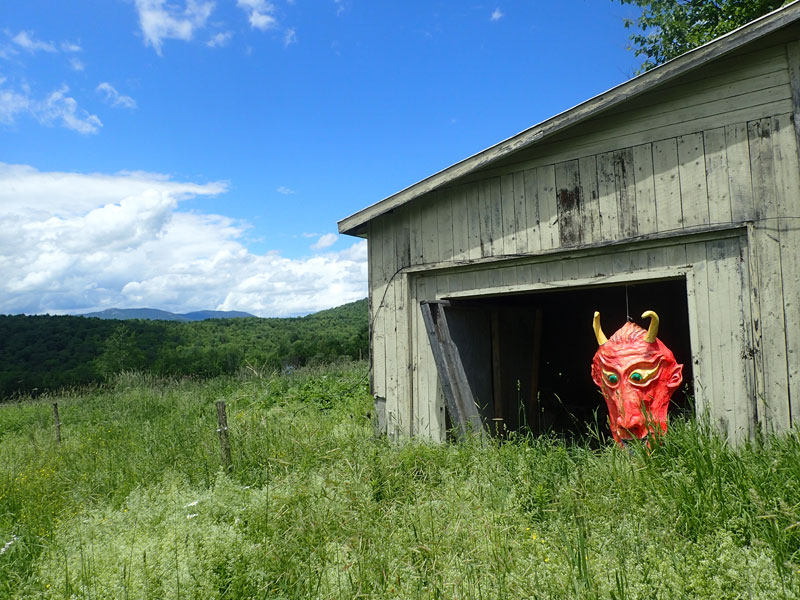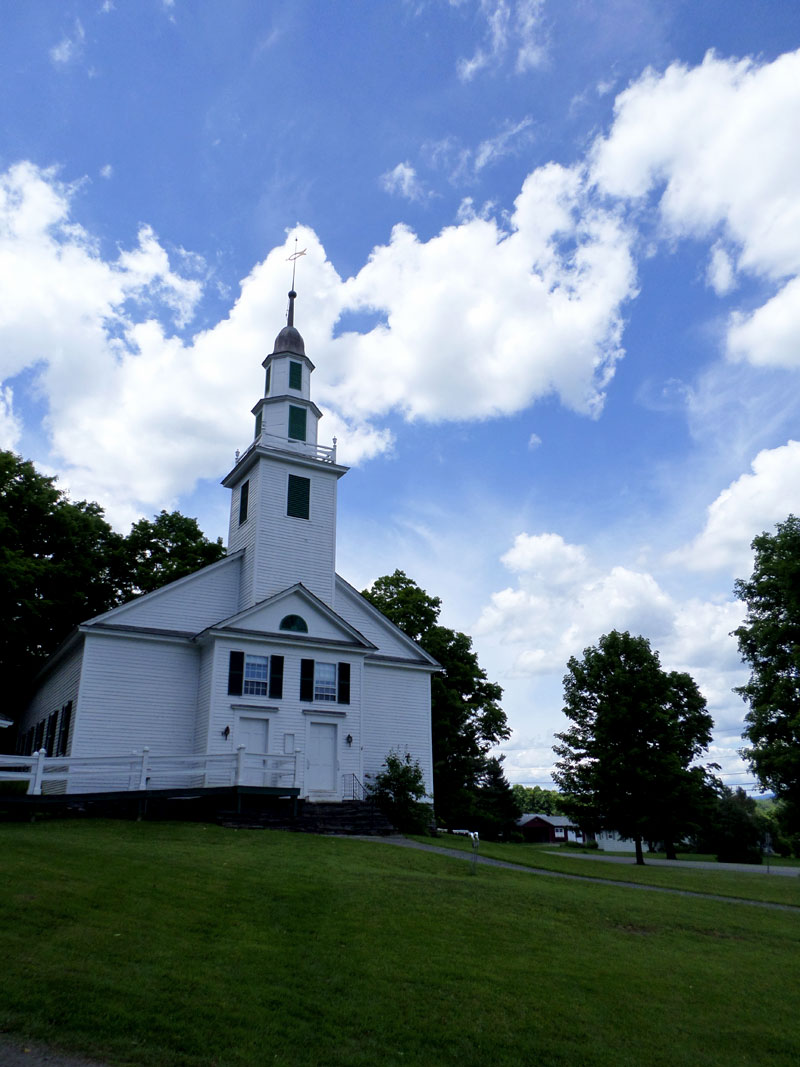 June 22, 2018
Central Vt Cycle tour this Sunday! Spent today baking up a raft of goodies - and winning the 'longest register tape at Shaws' award, we've been informed.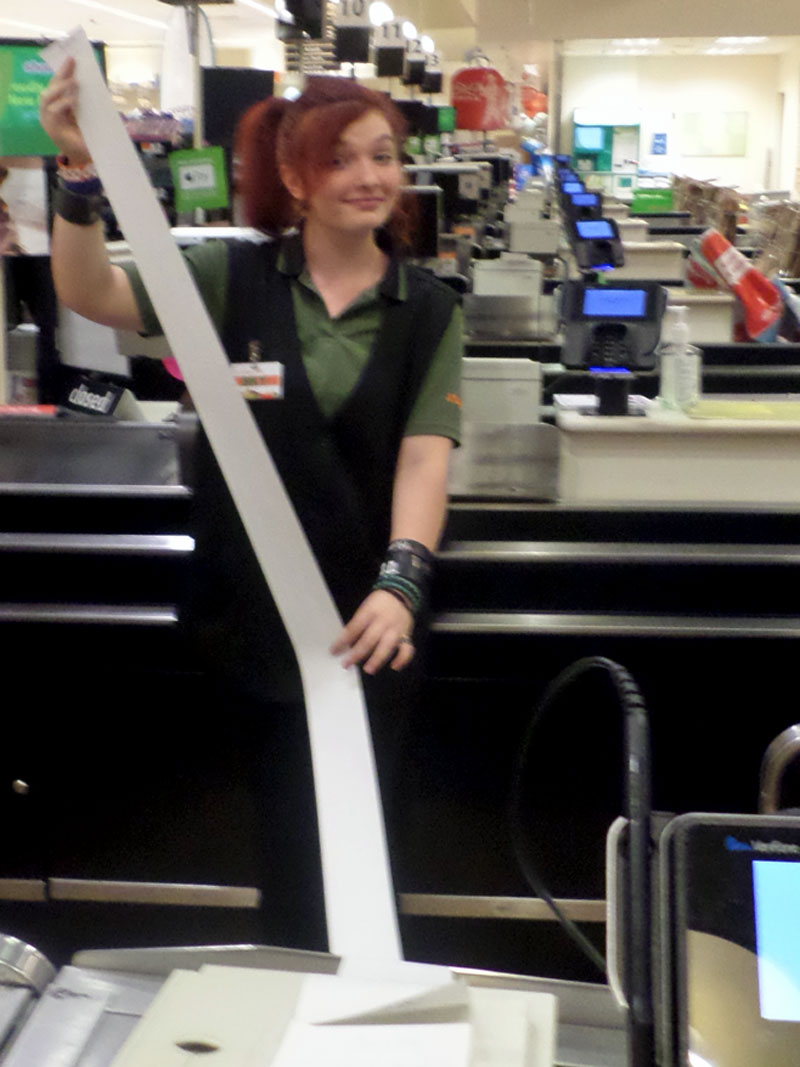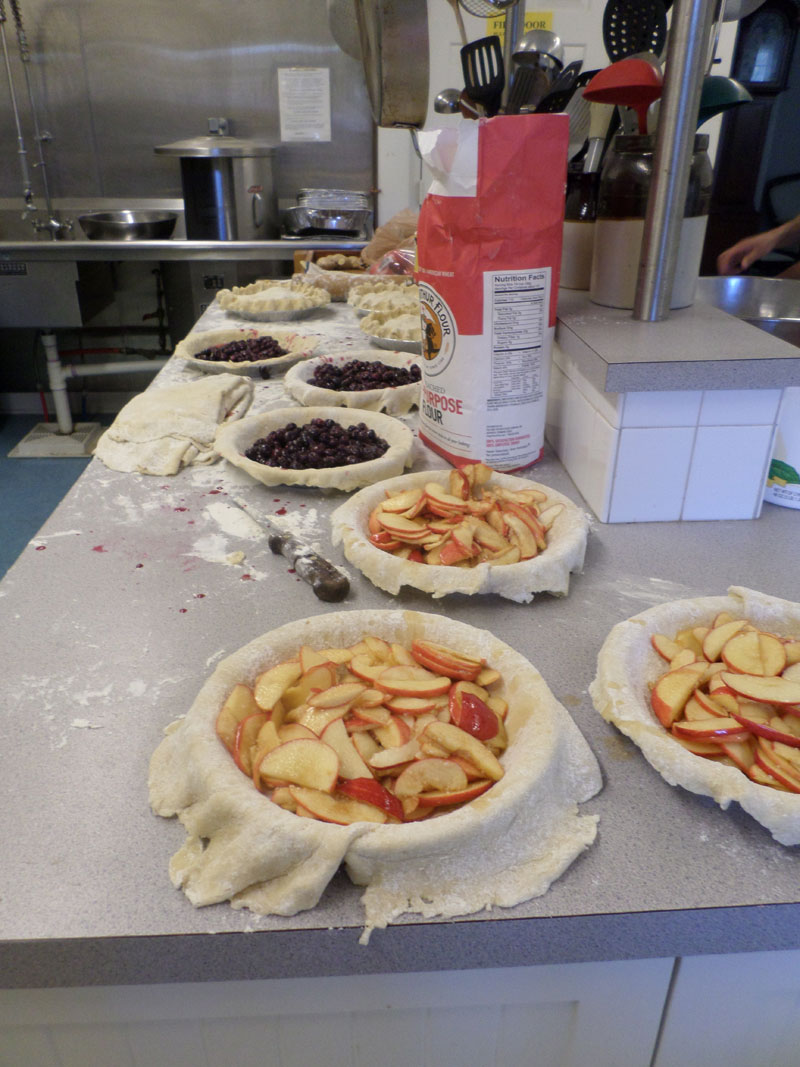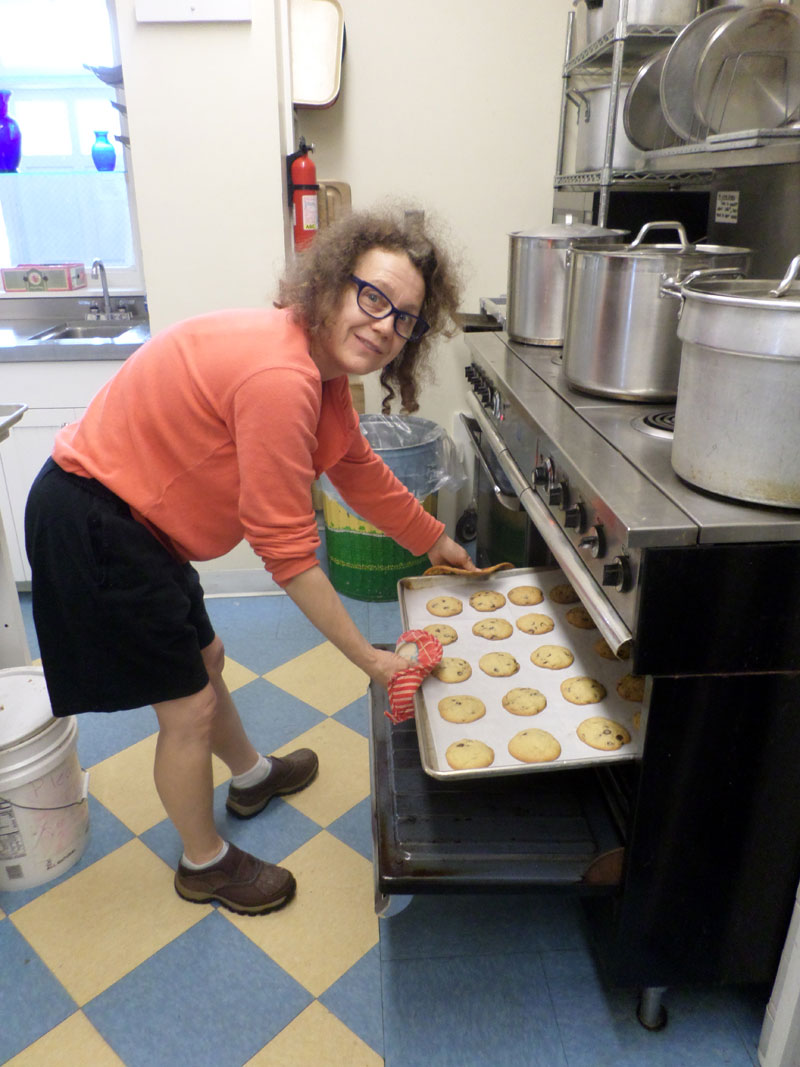 June 16, 2018
This is exactly what we're excited about doing here at CVTA - take forgotten pockets of space that are passed by every day and make them into little moments of joy for all. And, free ice cream. This Tuesday June 19 there will be a celebration of the new pocket park at the bike path bridge in Montpelier, with live music and free ice cream from (Friends of the Trail) Artesano. The park is the brainchild of Mayor Anne Watson and architect Ward Joyce. Read all about it at Times-Argus.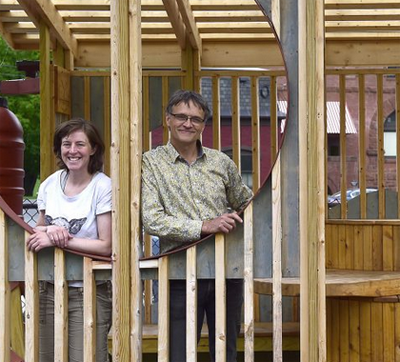 June 16, 2018
There's a public meeting for input on possibility of connecting the Williston and South Burlington bike paths over Muddy Brook. CVTA Board member Ben Rose says: "Over the decades I have run and bicycled across the Muddy Brook crossing countless times, and it is always scary. There will never be a better opportunity to improve the bicycle/pedestrian connectivity between Williston and South Burlington!" The road crossing of the brook is surely being built, but whether or not bike path is also a part of the project is not for sure. The first meeting for public input is this Tuesday, June 19, 2018 – 8:00 P.M. at the Williston Town Hall, 7900 Williston Rd, Williston, VT. This is our chance to put in a good word for bike/ped infrastructure and get it included in the larger project. Meeting announcement from Town of Williston (PDF). And read more background from our initial posts on Muddy Brook.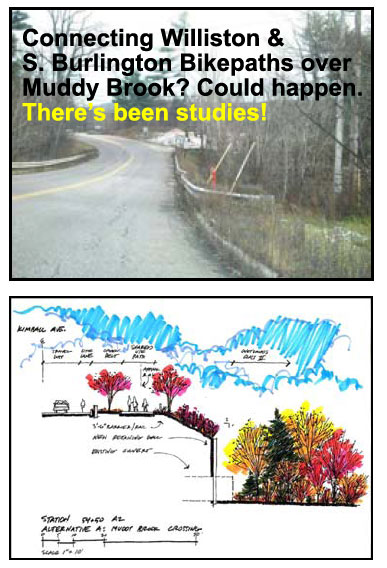 June 11, 2018
Spent the weekend cutting back spring flush of knotweed, honeysuckle and (sigh) poison ivy crowding trails; and digging out ditches (which is the best part). Also, noticed that Lovers Lane in Moretown is now "Hooper Lane" - which is reasonable, but it doesn't change that we still love the old iron truss bridge there!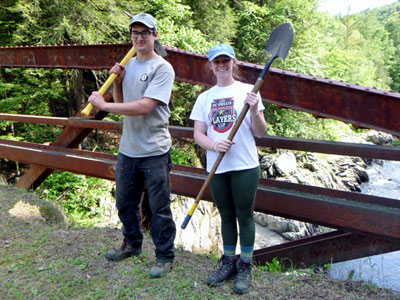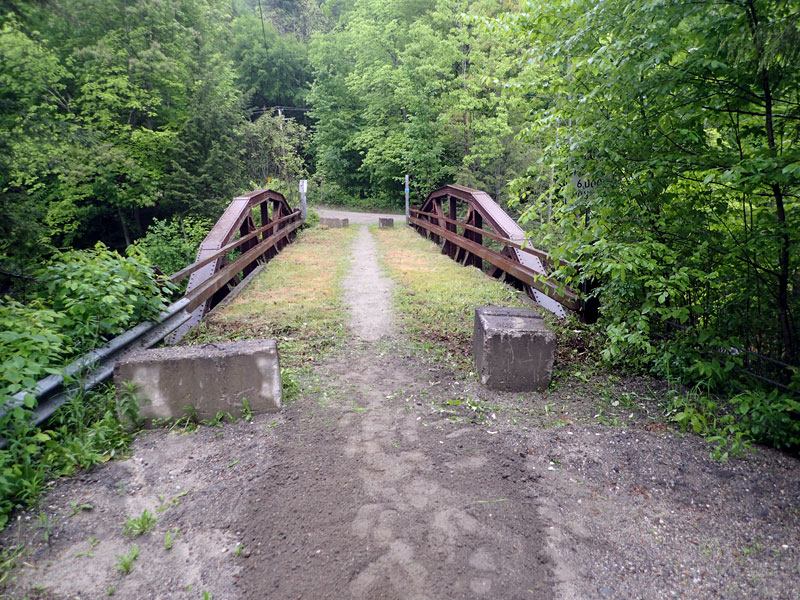 May 28, 2018
CVTA's Americorps crew are starting their summer season - we'll be out on the trail most weekends for the next several months, drop in any time, give a shout to learn more! Last weekend, we helped a little with the ongoing reconstruction of the log bridge on Mallory Brook Trail.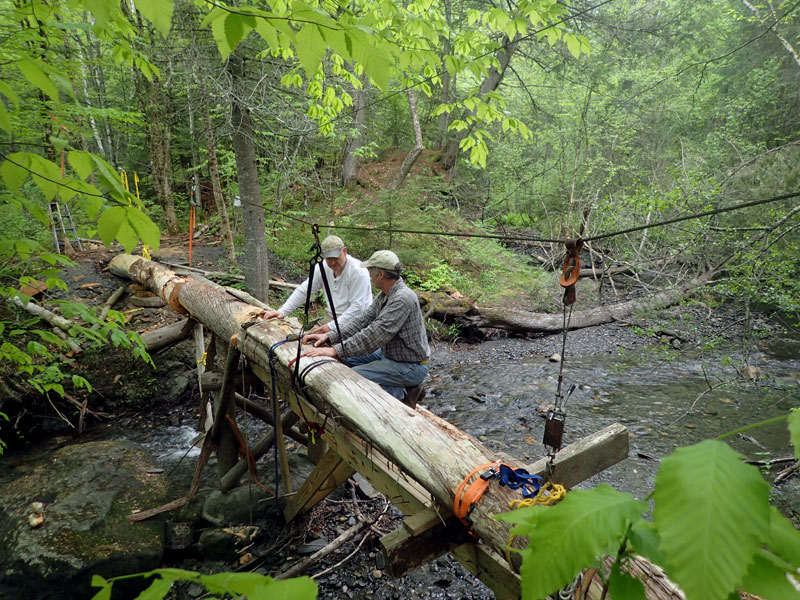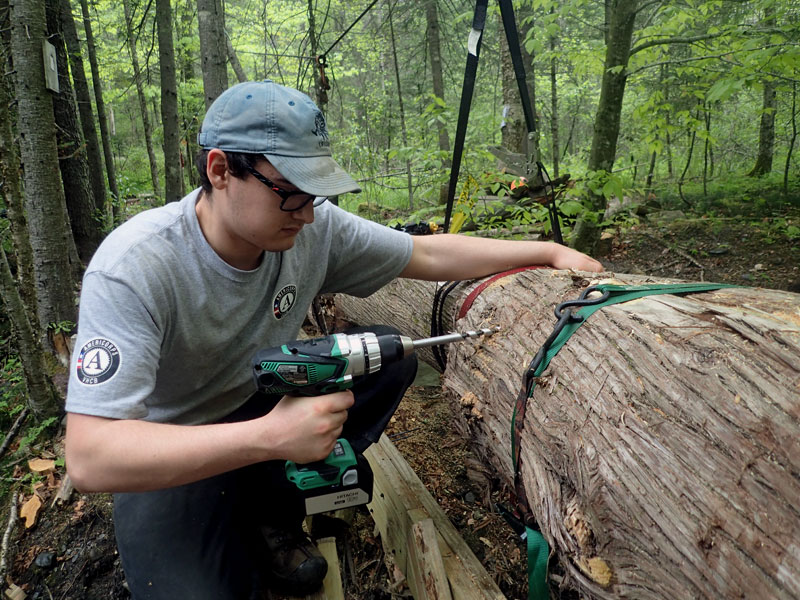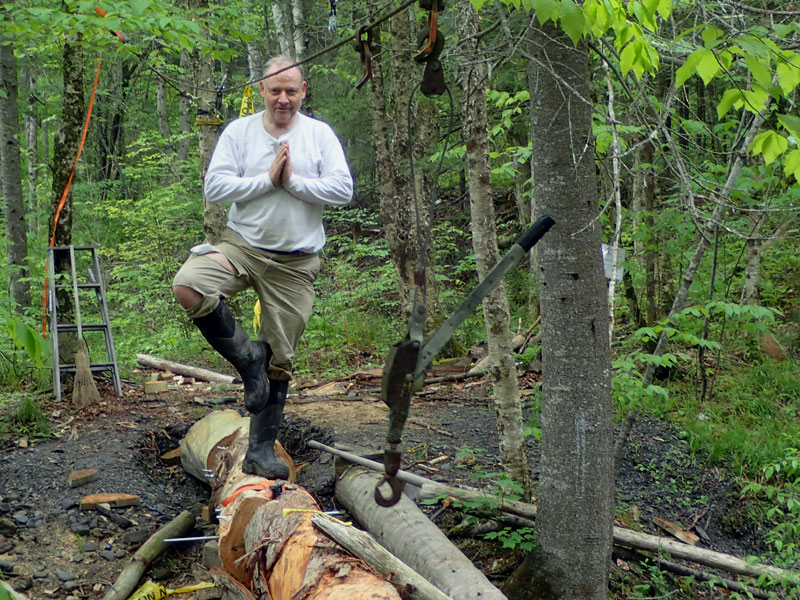 May 20, 2018
He ran across Vermont in one day! Rob Rives finished his cross state run this morning, following the route of the Cross Vt Trail through the night to the shores of Lake Champlain as the sun rose. That was a cool thing to see.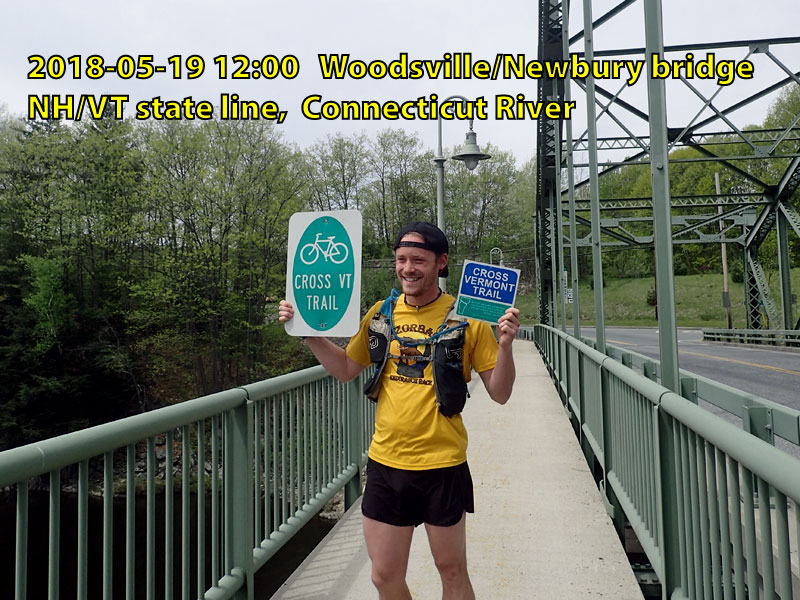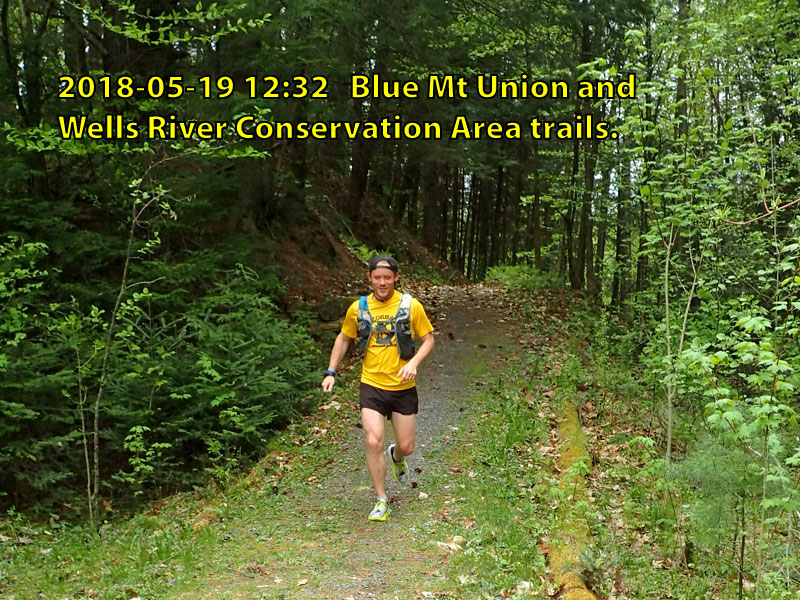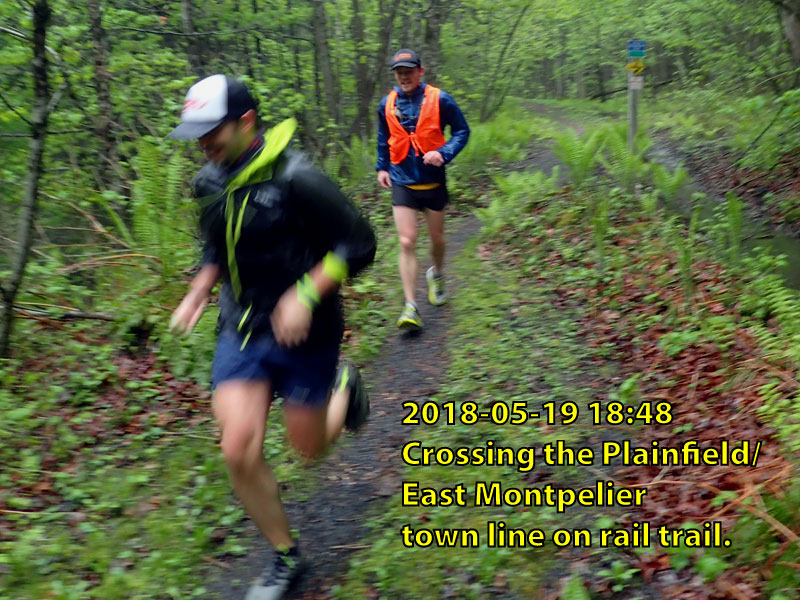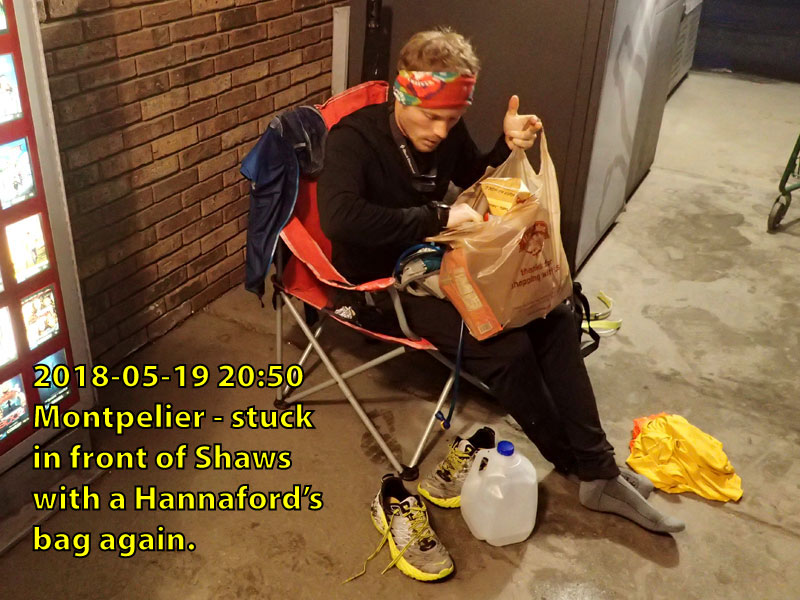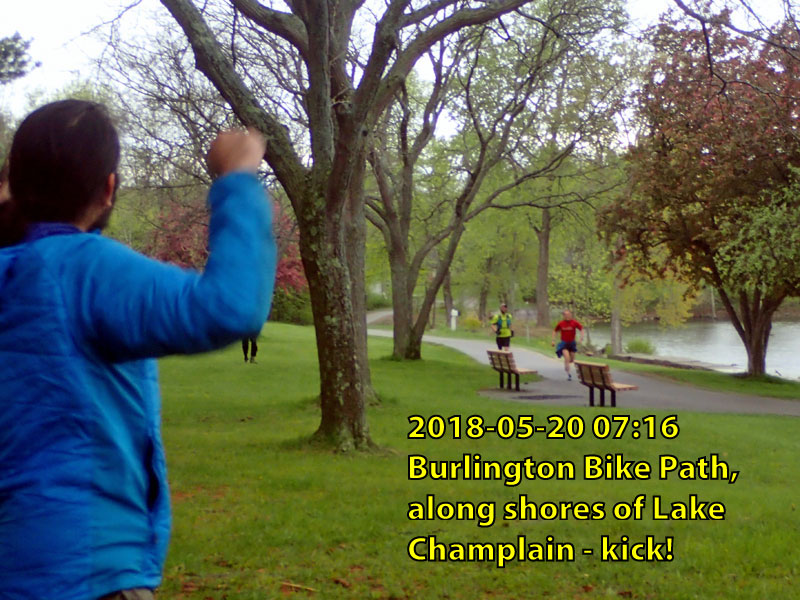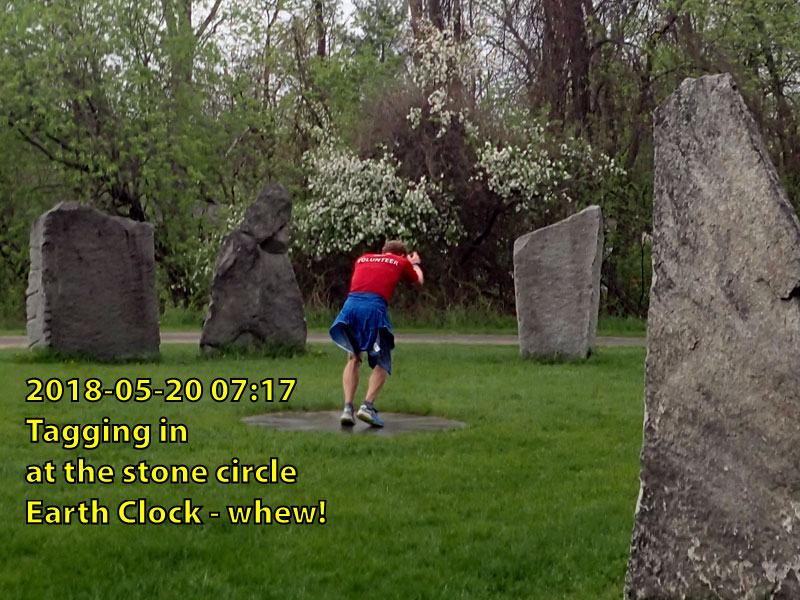 May 16, 2018
WCAX Channel 3 News ran a story last night about the big Thru-Run coming up this weekend, and efforts to complete the statewide Cross Vermont Trail. Great to get a chance to tell our story on the big stage! Folks at the station seemed bemused but tolerant. Link to the story on WCAX website.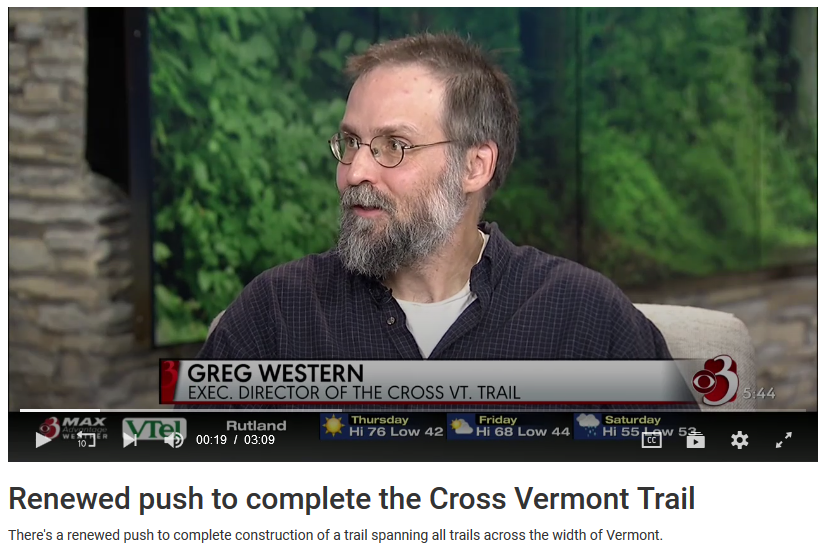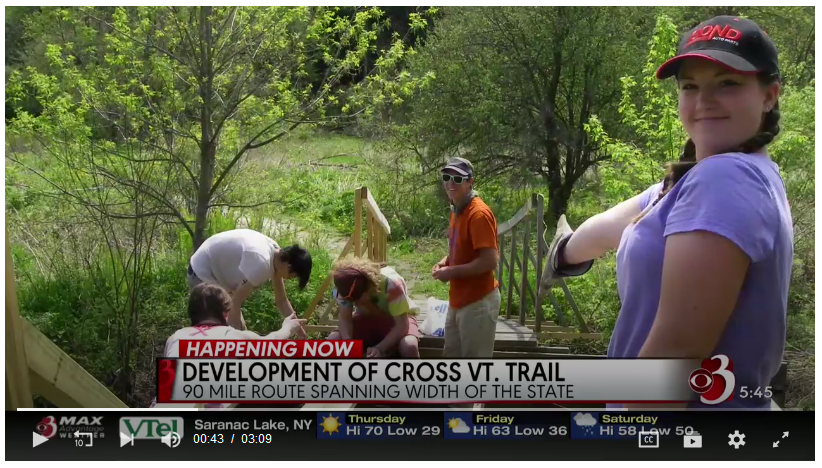 May 17, 2018
Running the entire Cross Vermont Trail in 24 hours? Rob Rives is going for it this weekend, starting in Wells River Noon on Saturday and arriving at Oakledge Park Sunday morning in what will surely be the Fastest Known Time for a XVT thru-run. We'll be talking about the run today on WCAX (a little after 5:30, they say) and then look out for more coverage on CAX this weekend. Thanks Rob for helping to spread the news about all our work to complete a state wide network of community trails - go go go!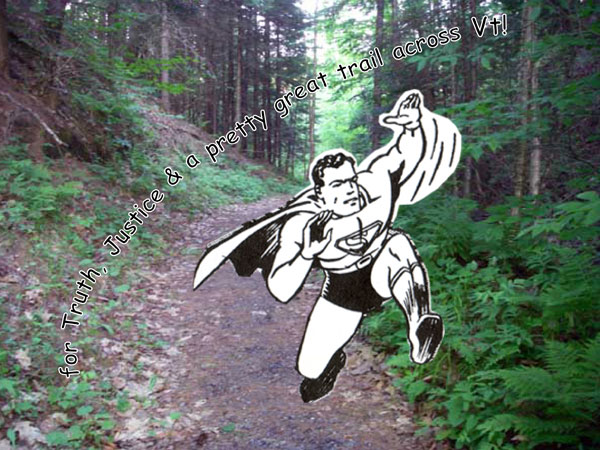 May 16, 2018
Well that was quick. Leaves are out now.
Joined the Richmond Trails Committee for a "working meeting" on the Preston Forest Legacy trails.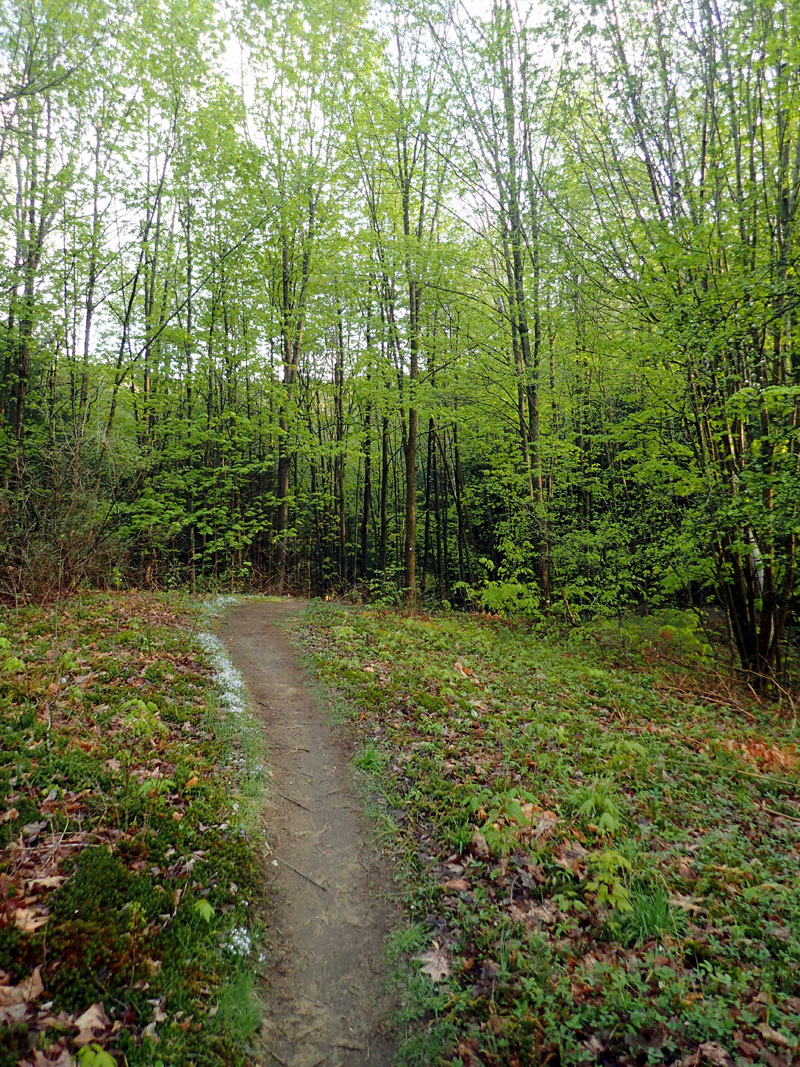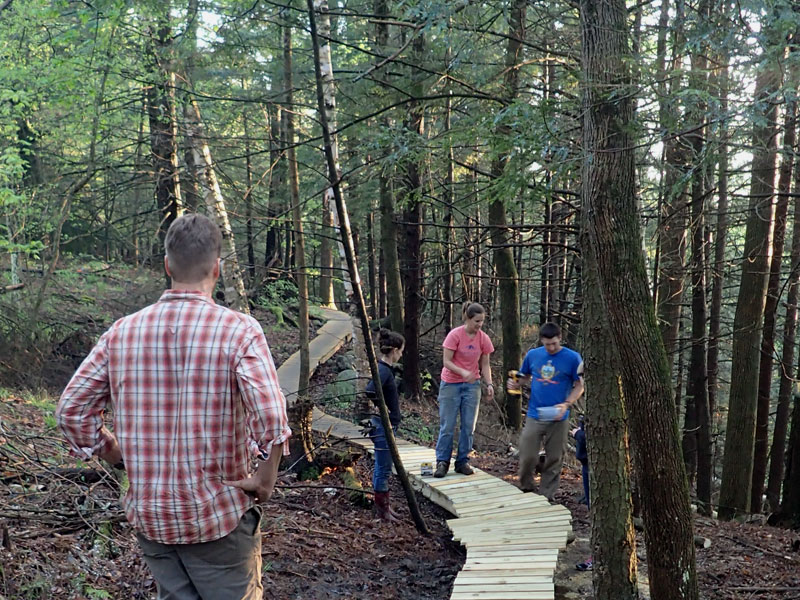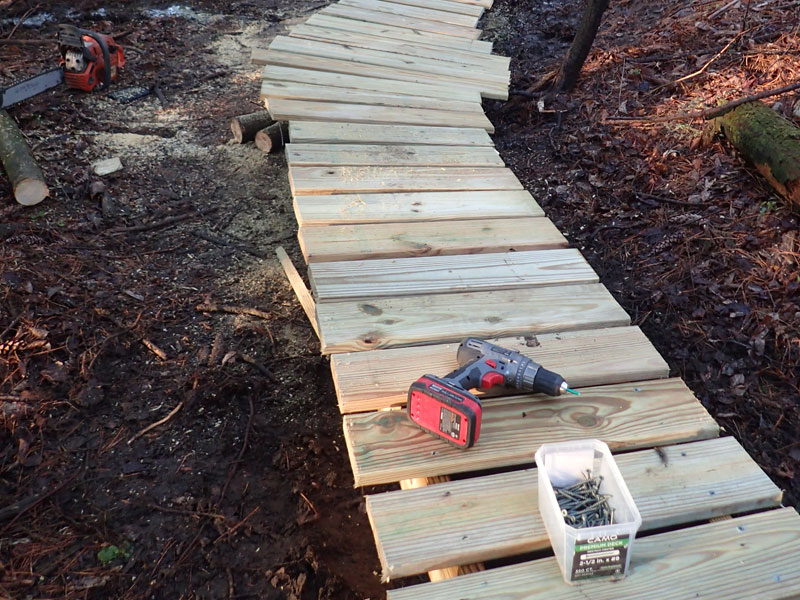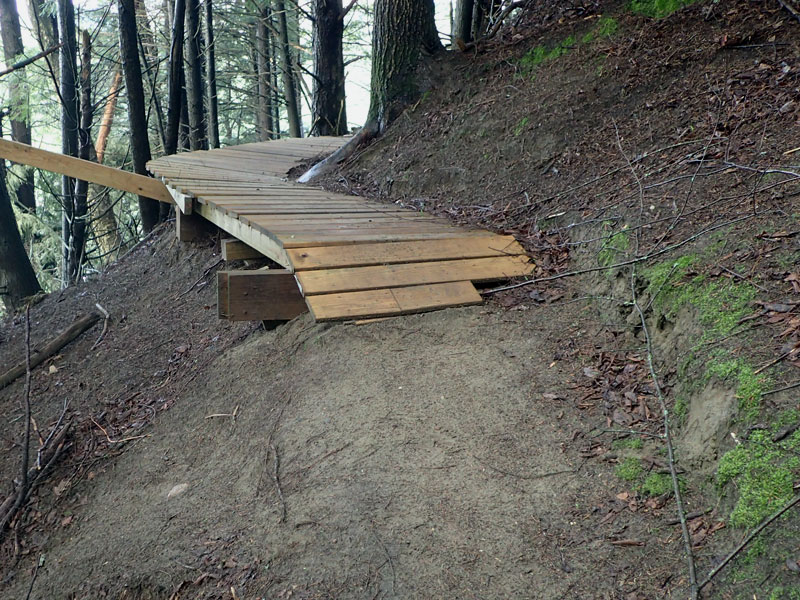 May 5, 2018
Green Up Day on the railtrail from Kettle Pond to Marshfield Village. The game was, could we make the pile of garbage taller than their dad? And . . . we did! A win of a kind.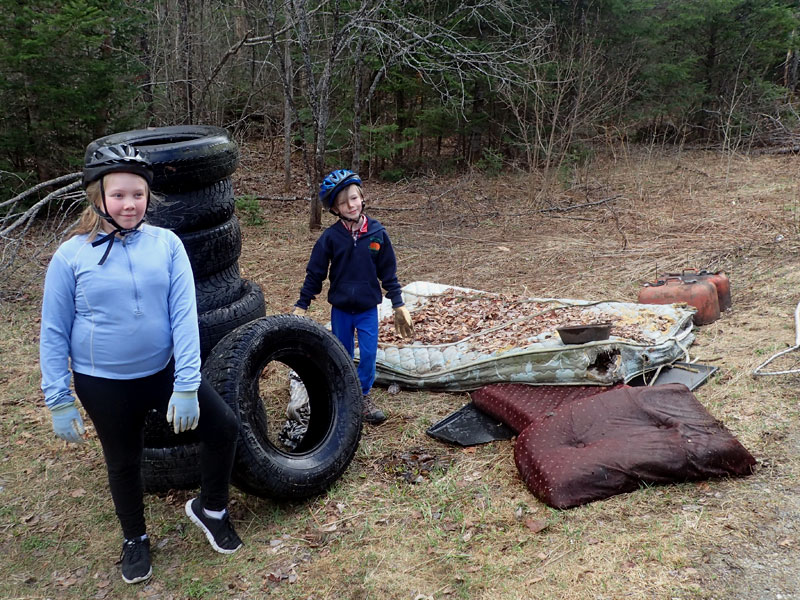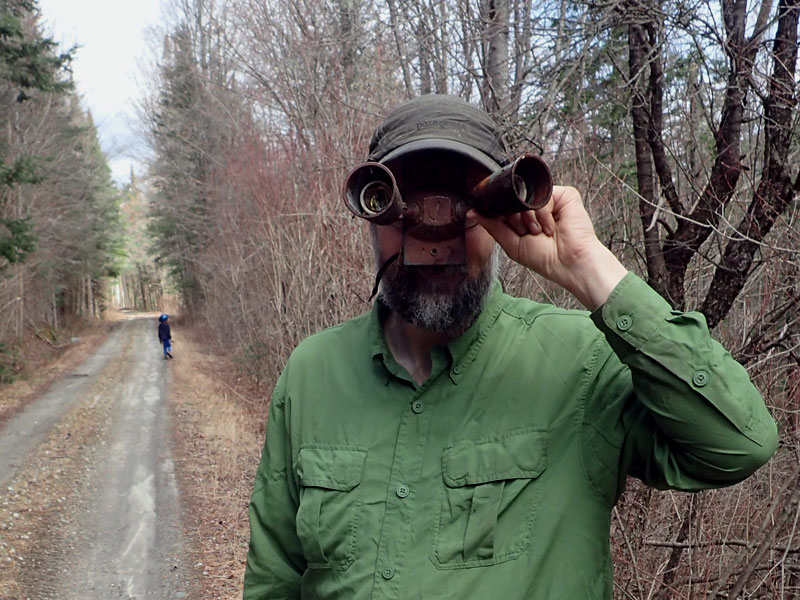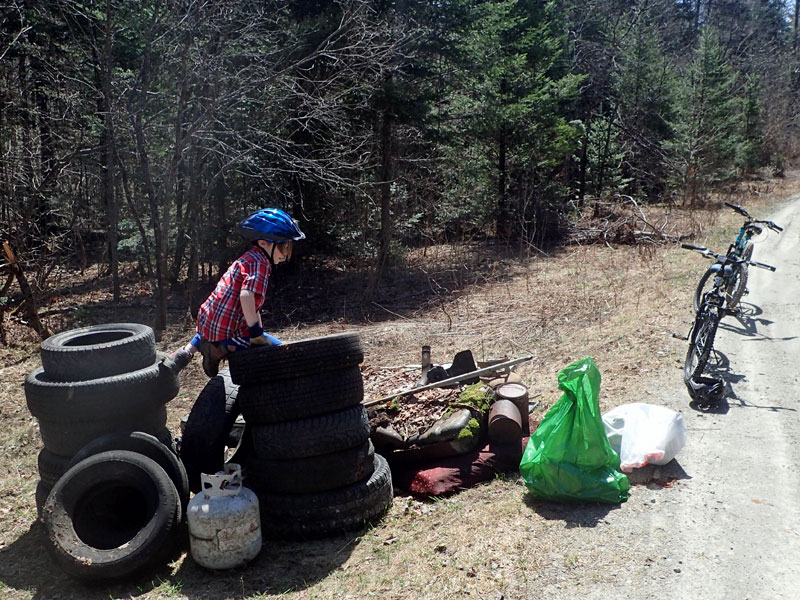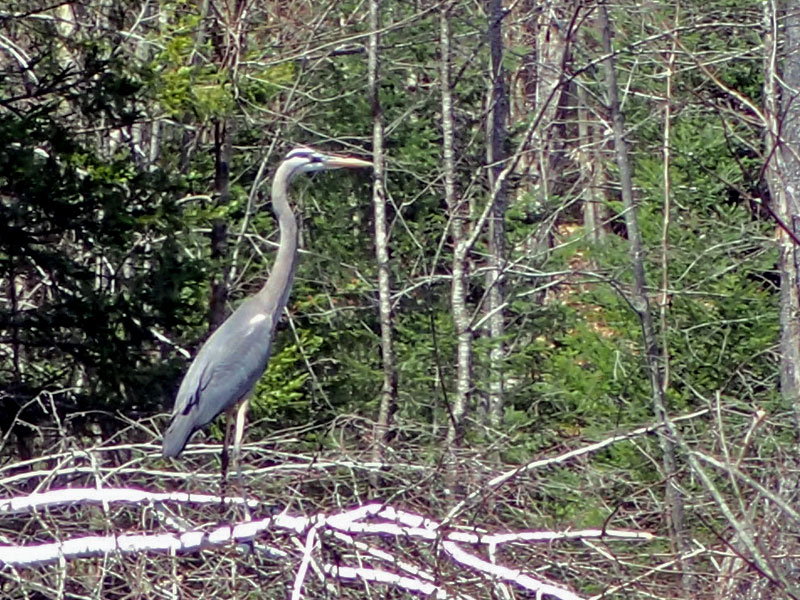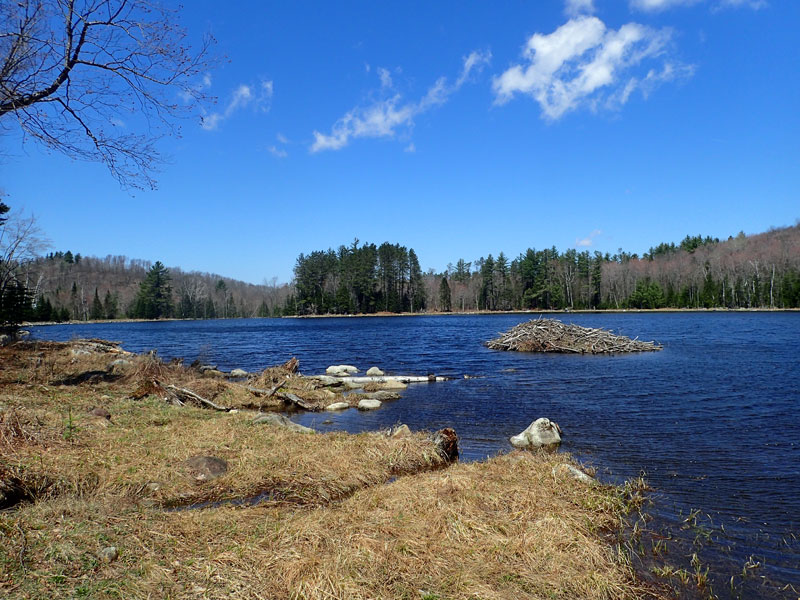 April 21, 2018
Weather cleared beautifully for clean up day on trail along Winooski in Waterbury. Trail looks good for Spring!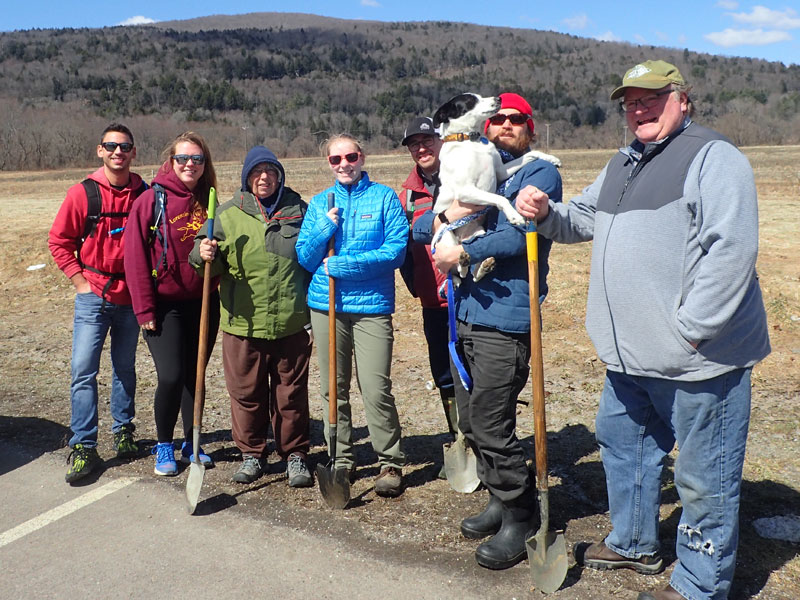 April 5, 2018
Spring Hike in Wells River this Saturday.
Green Mt Club (Ottauquechee Section) is leading a spring hike on the Cross Vt Trail and the Wells River nature trails. Meeting at Thetford park and ride at 9 AM (April 7), carpooling up to where the rail trail meets Rt 302 just east of Blue Mt Union, and exploring the trails and along the river from there. All are welcome!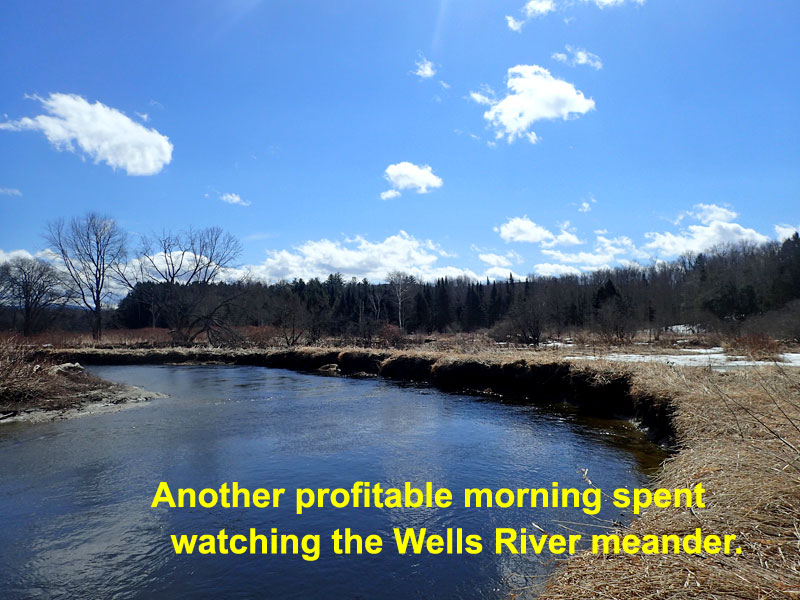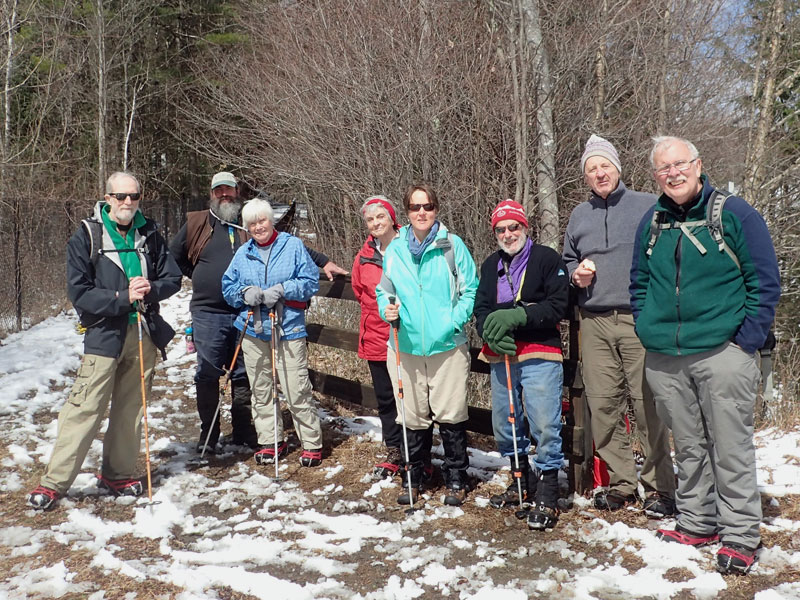 March 11, 2018
Warm days and cold nights.
The big new maple sugar lines along the VAST trail in Marshfield have antennas. They get reception in Marshfield!?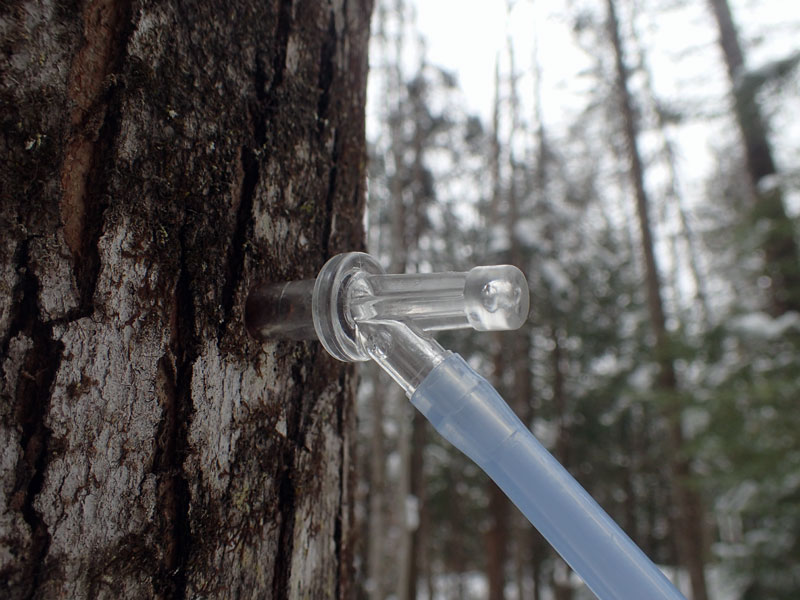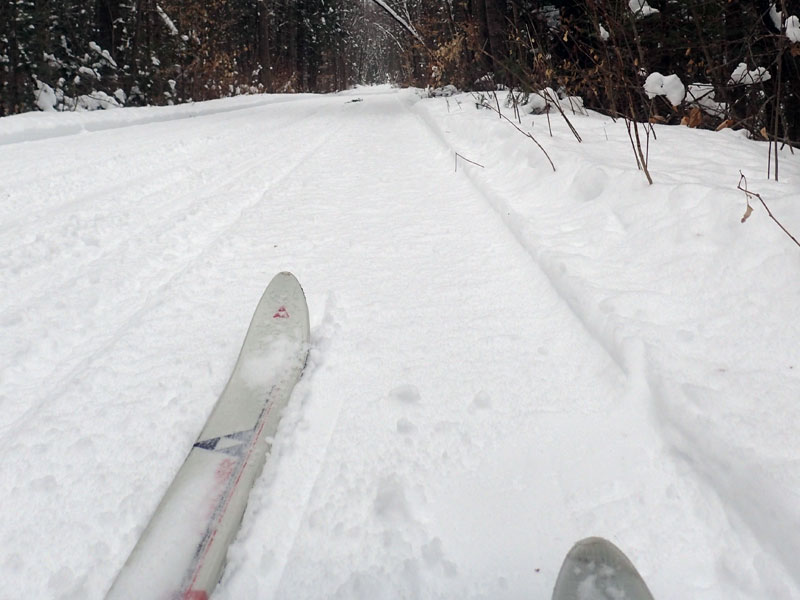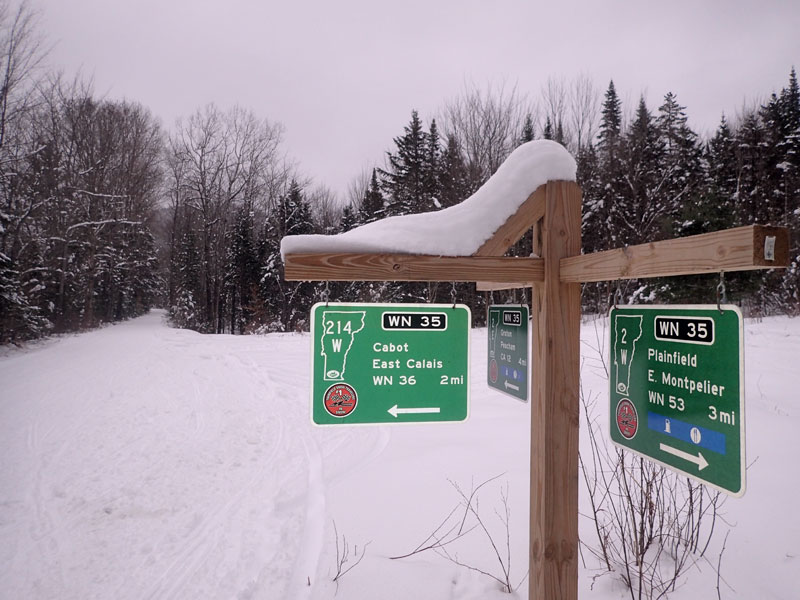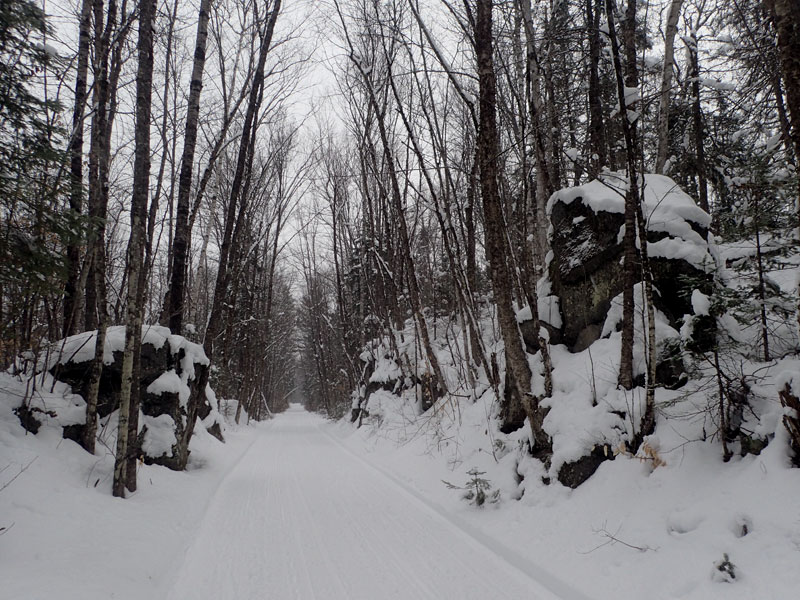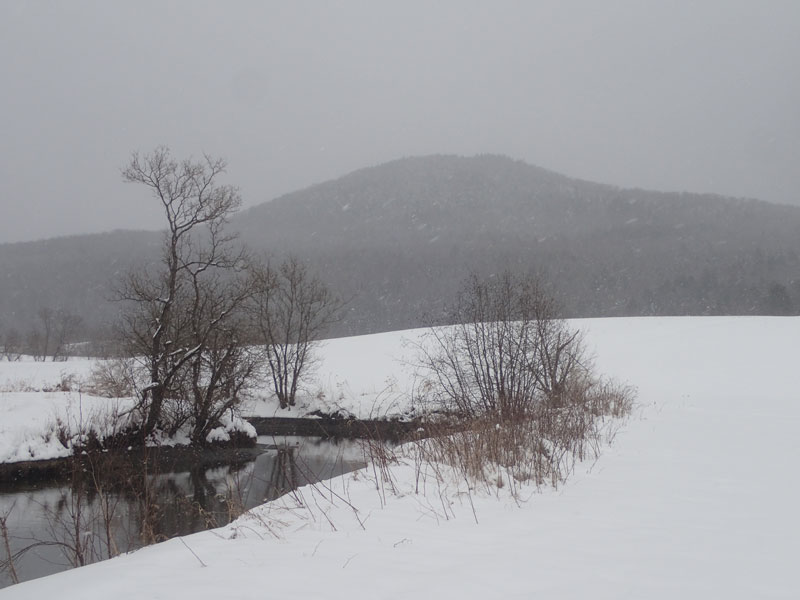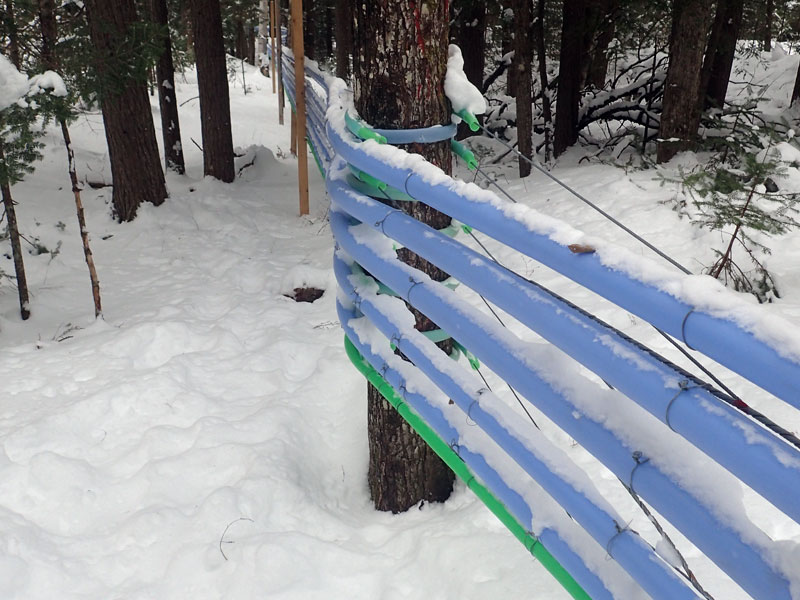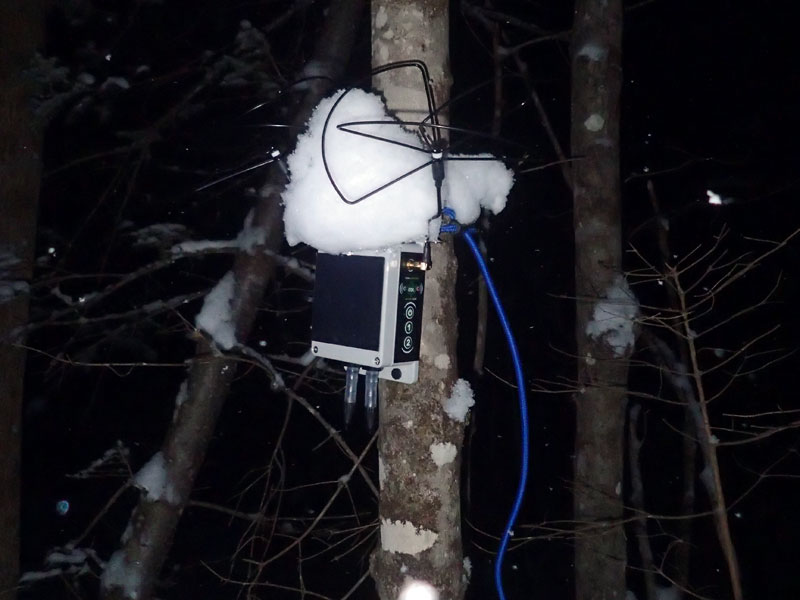 March 6, 2018
Thank you to Middlesex for voting YES at Town Meeting!
We are ON the March 2018 Middlesex town meeting agenda. This is a one time ask for a dollar per resident contribution for the Winooski Bridge and U-32 trails project. Contribution will be matched by all the other U-32 towns and also Montpelier and Plainfield. Are you a Middlesex resident? We need your help! Don't hesitate to Contact Us with any questions or thoughts about the Cross Vermont Trail project, and this request for town funding.
January 18, 2018
We made it to the next step! We are on the Middlesex town meeting ballot for March 2018. Thanks to 95 Middlesex residents, lead by the members of the town Conservation Commission, for successfully petitioning to have the Cross Vt Trail Winooski Bridge and U-32 trails funding request included. It was big effort and will make a big difference. A contribution from Middlesex would be matched by Montpelier, and be joined by contributions already made by all the other U-32 towns plus Plainfield - and will help us finish fundraising and start building the keystone piece of the Cross Vermont Trail!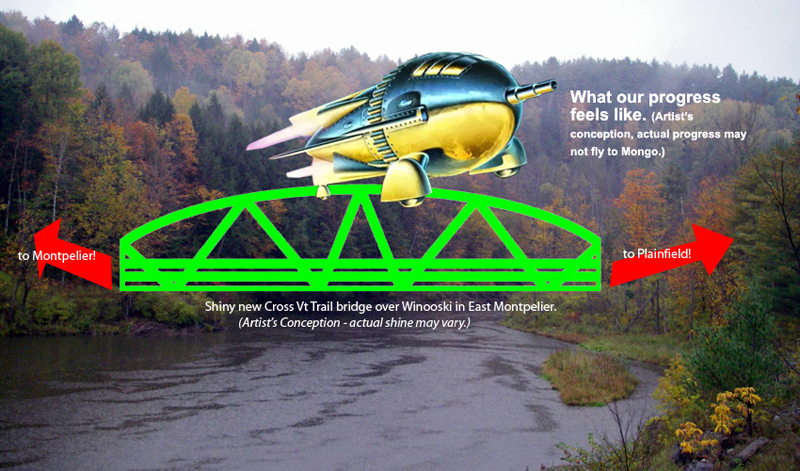 January 1, 2018
Pleasant once we had sprinted to the shelter of the trees, great views of Noyes Pond in Ansel Adams glory. First Day Hike this morning at Seyon Lodge in Groton State Forest.
Stay tuned for rescheduled date of larger event at Seyon to be held later this winter.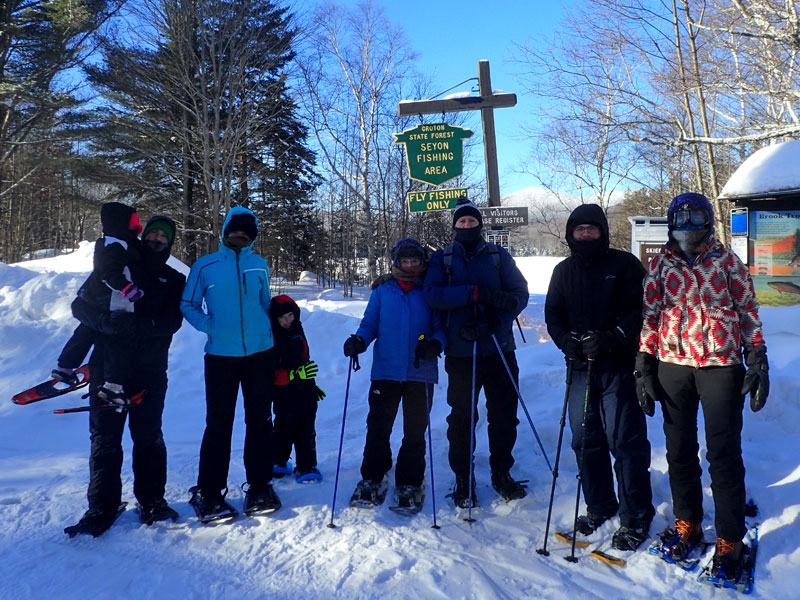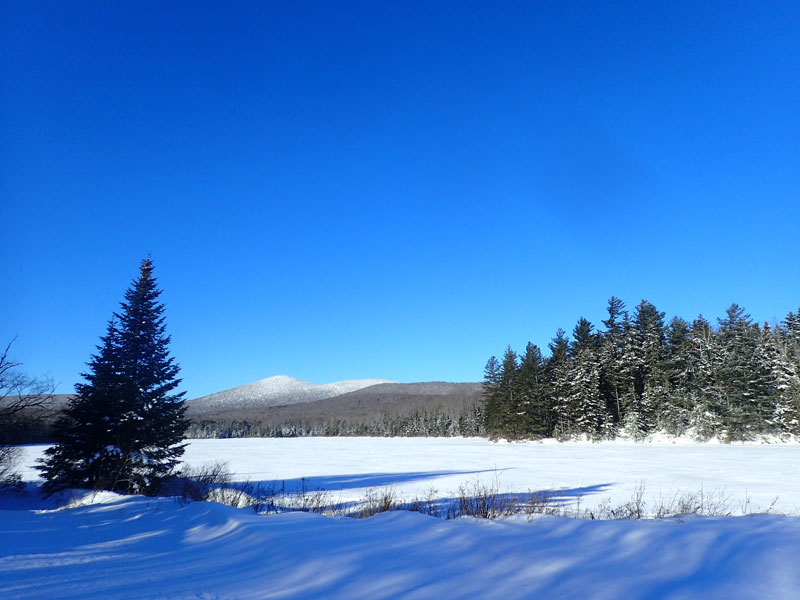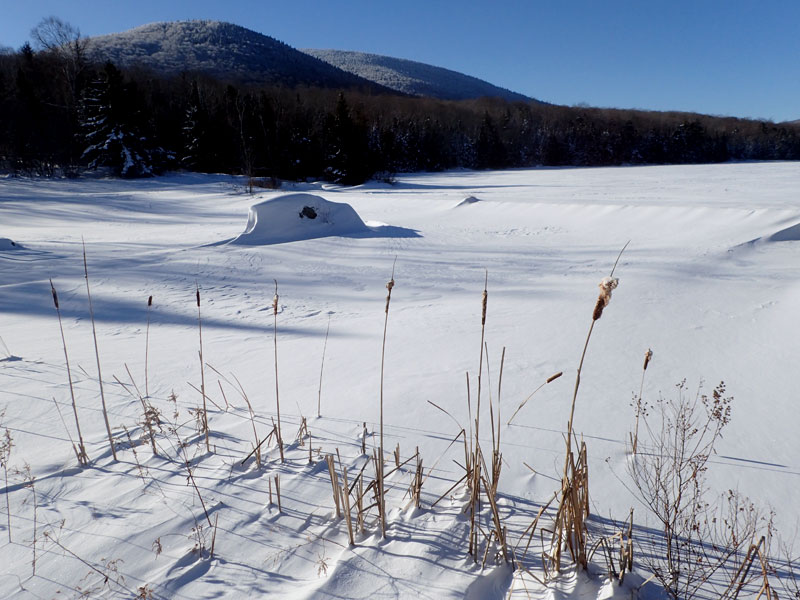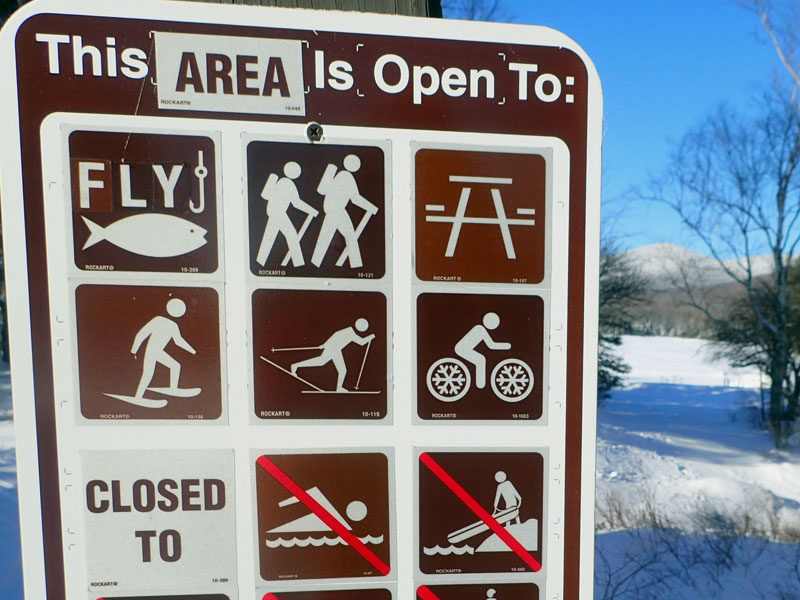 December 30, 2017
***WEATHER CAUSED CHANGES TO FIRST DAY EVENT***
The big event at Seyon will be RESCHEDULED to a later date, when the weather is more welcoming. This is the bike demos, the multiple guided trips, and the waffles as well. Stay tuned for notice of the new date . . . when the oracles clarify.
However, if you feel prepared for the cold cold weather, and would still like to explore the trails at Noyes Pond (Seyon Lodge) in Groton State Forest, on New Years Day, there are two options . . . 1.) We will meet at 11 AM for a simple snowshoe hike, we can customize the hike to how the attendees feel, and with an eye on the weather. 2.) For fatbiking, the trails at Seyon are open to the public in any case. It is a State Park and there is a modest fee to use the trails.
You can see more info at the State Park First Day page and general info about Seyon Lodge at their page.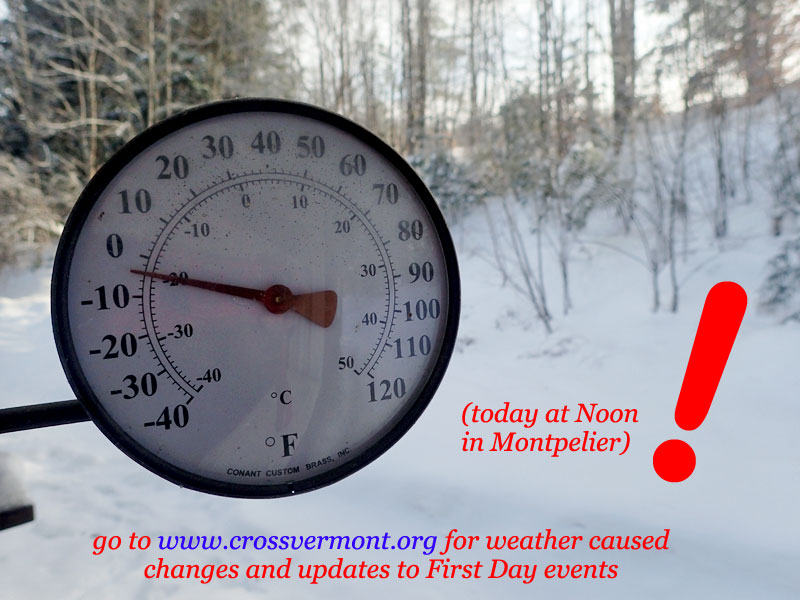 October 29, 2017
Costume photos from today's Onion River Sports Halloween 5K fun run; this year a benefit for the Cross Vt Trail. Thanks guys! and gals, and wookies, and tigers, and caped crusaders, and one four person anthropamorphic s'more sandwich, and fleetfooted Diana the Huntress. (Click here for full size images.)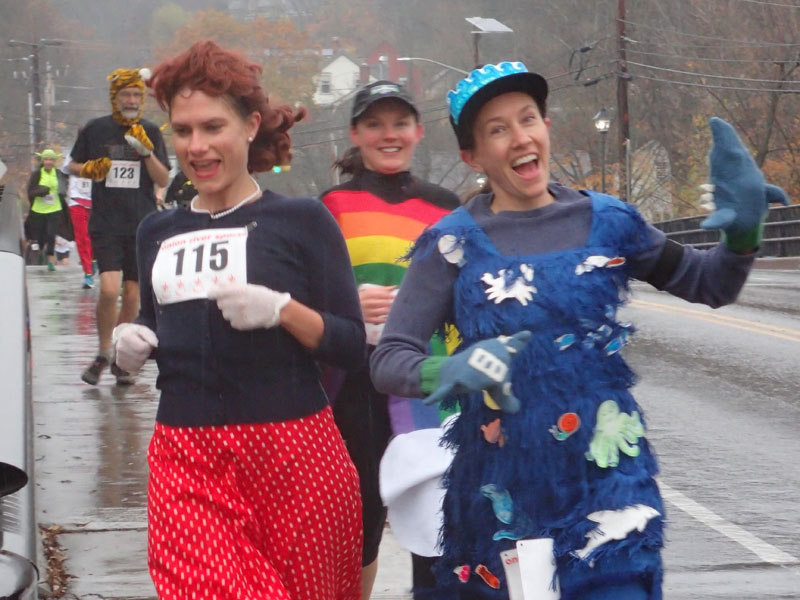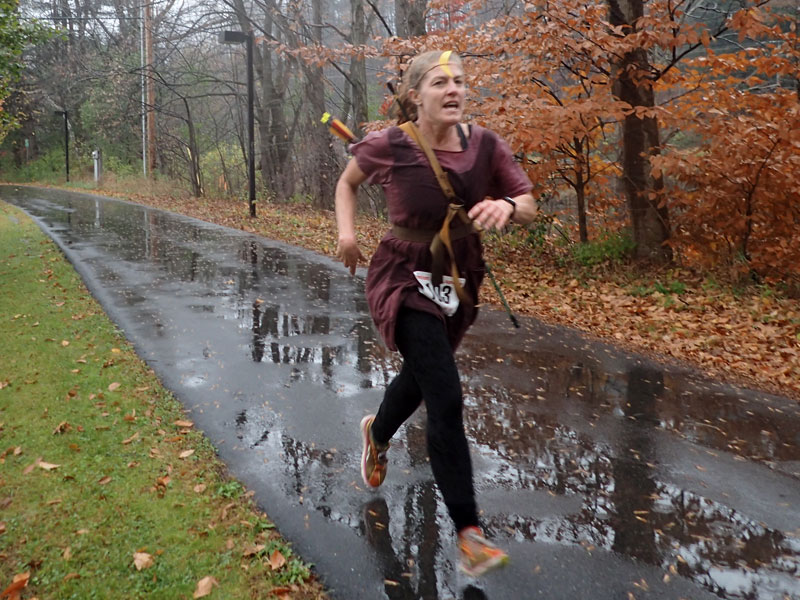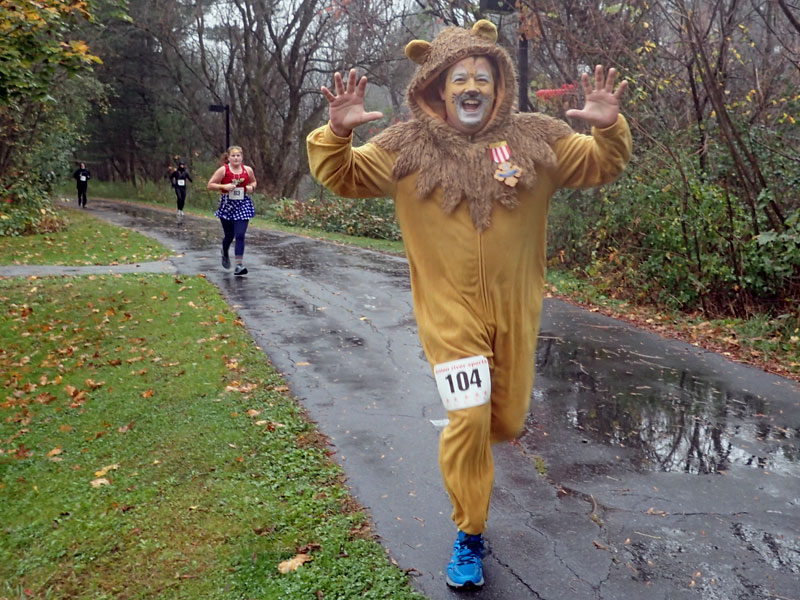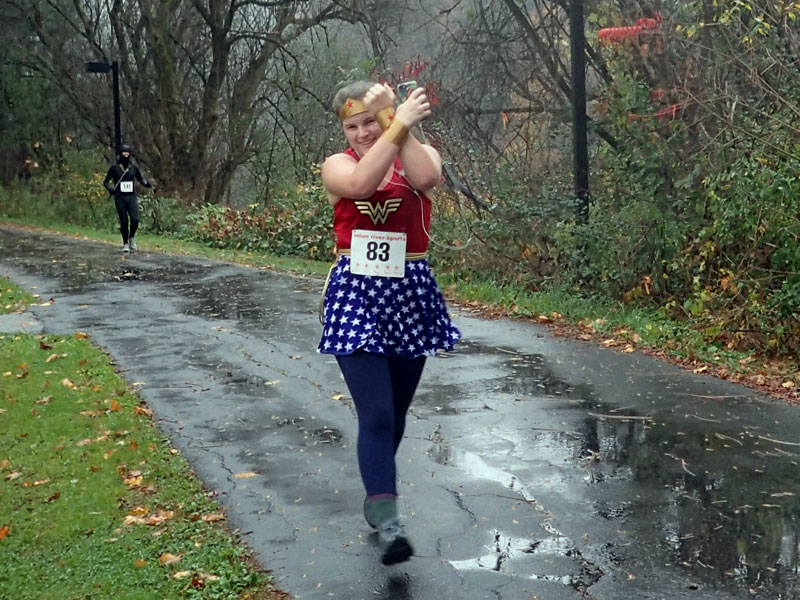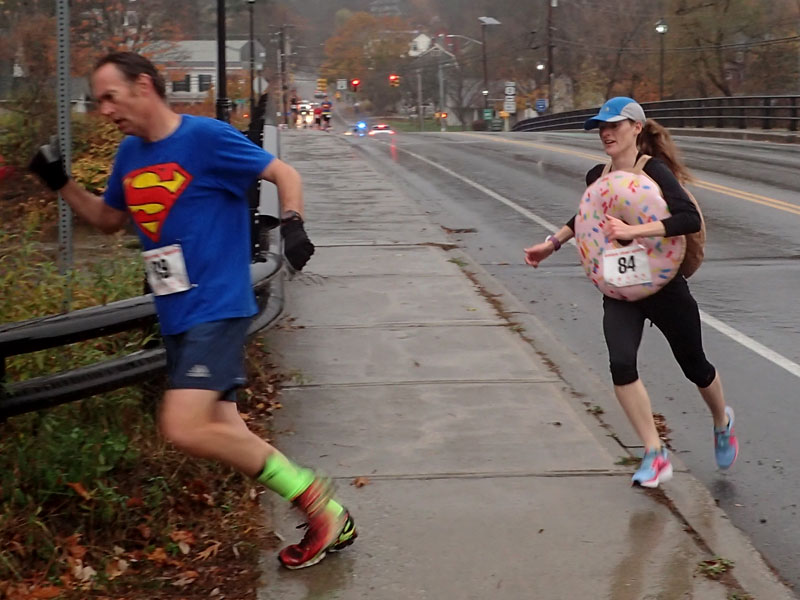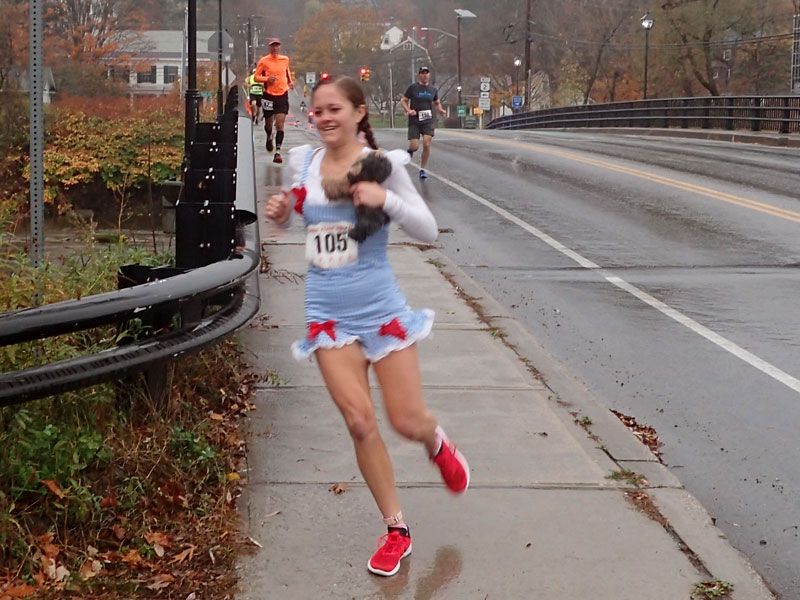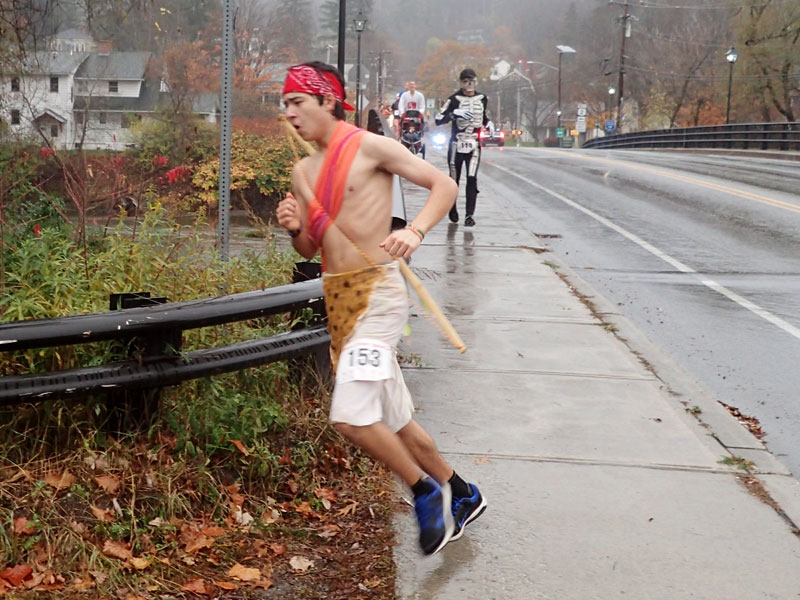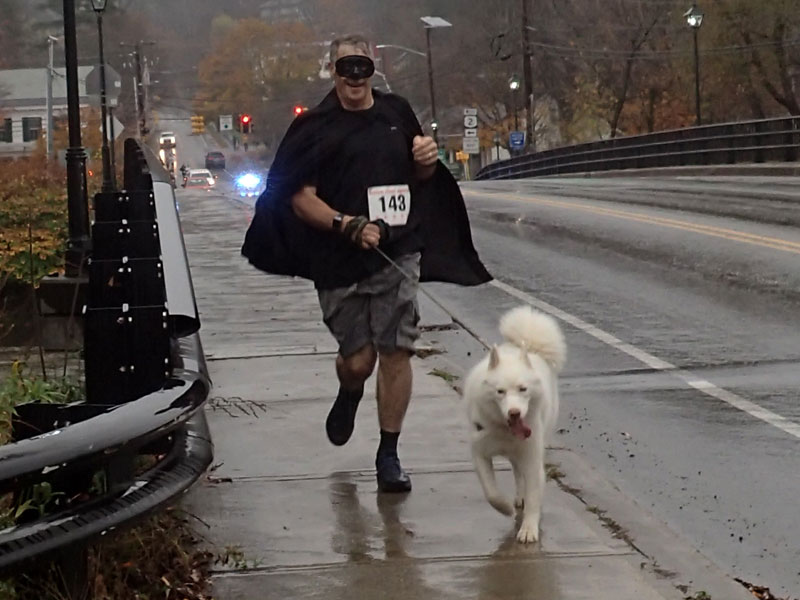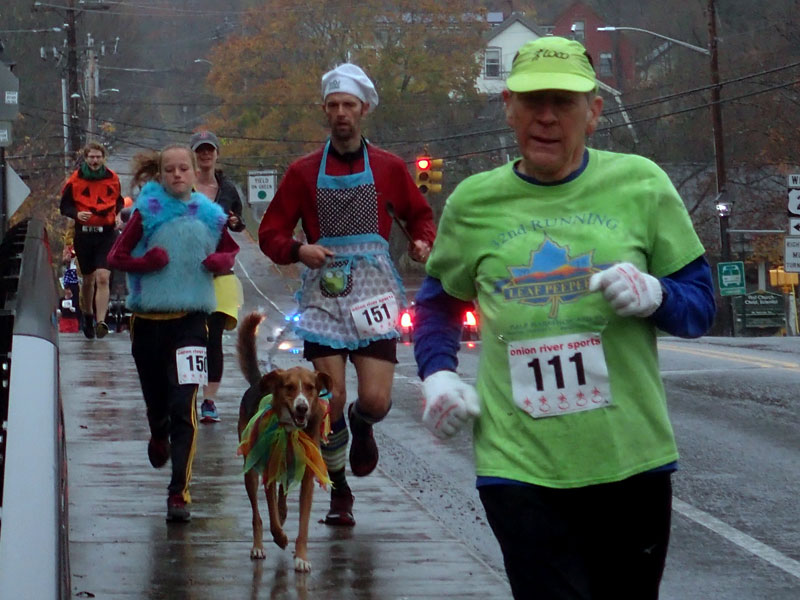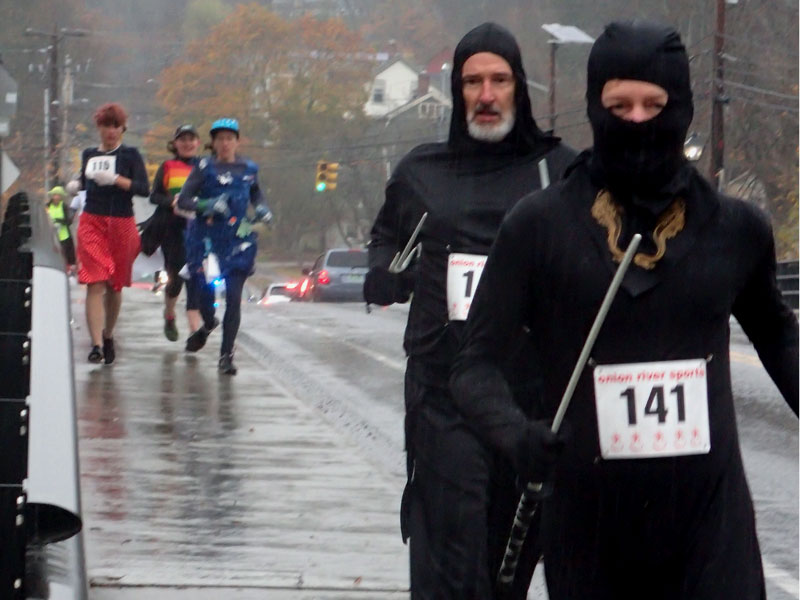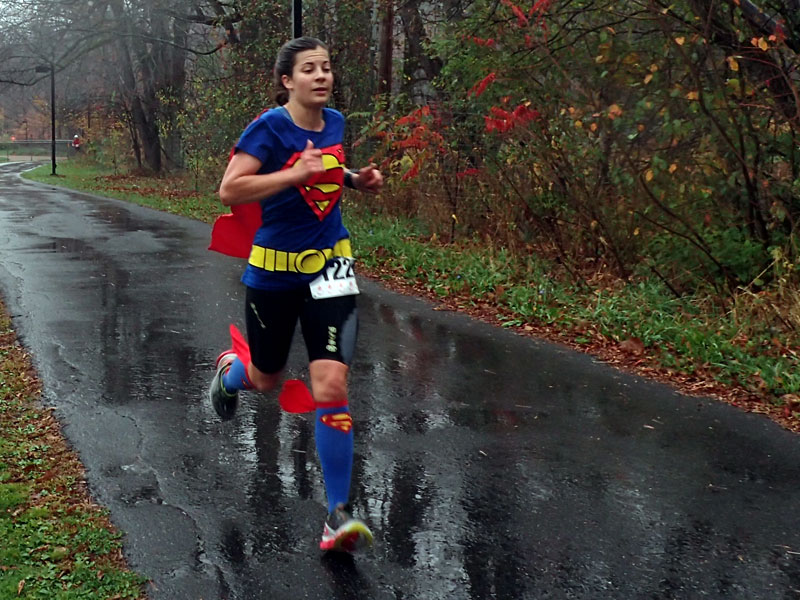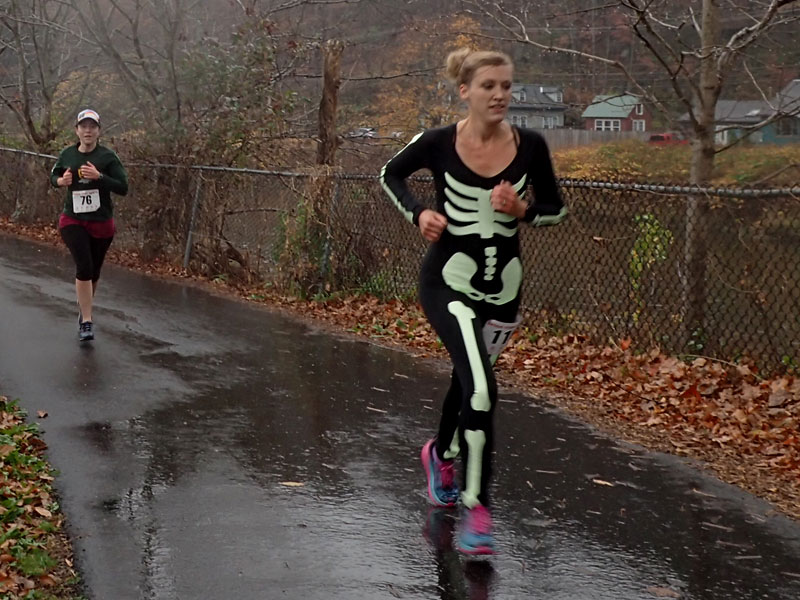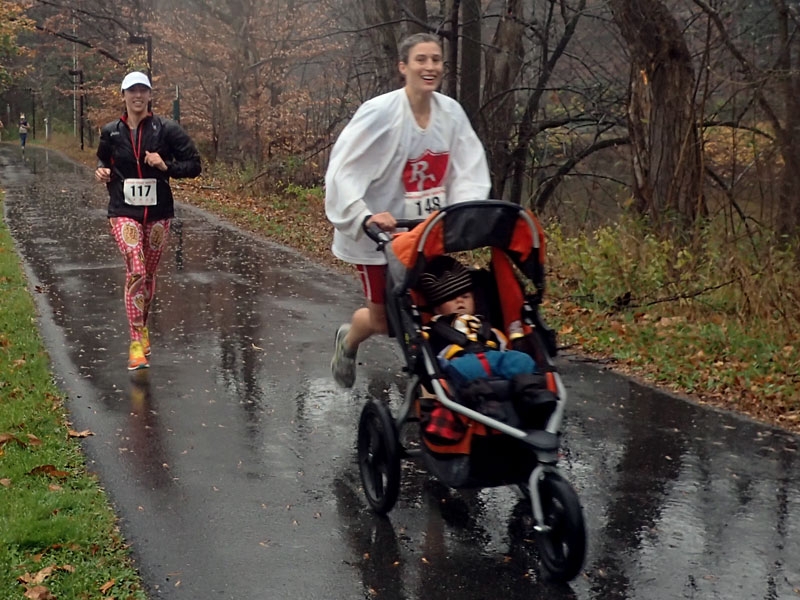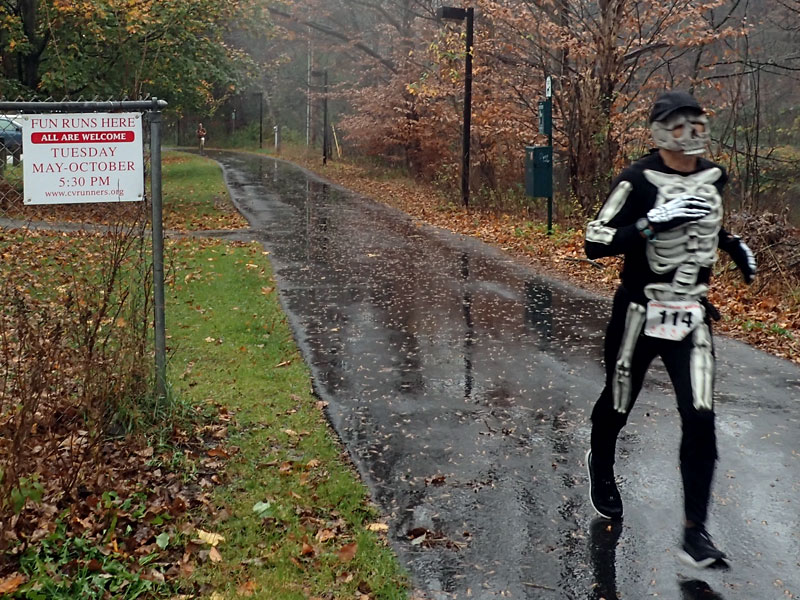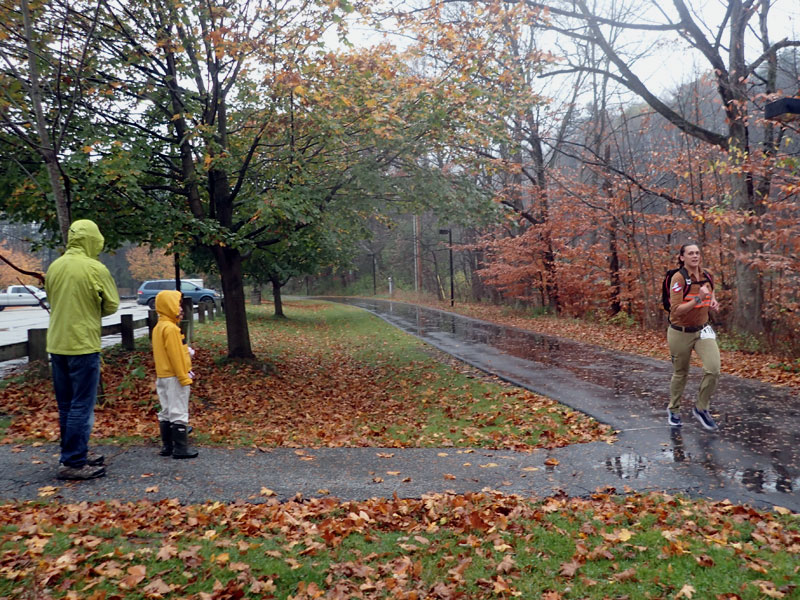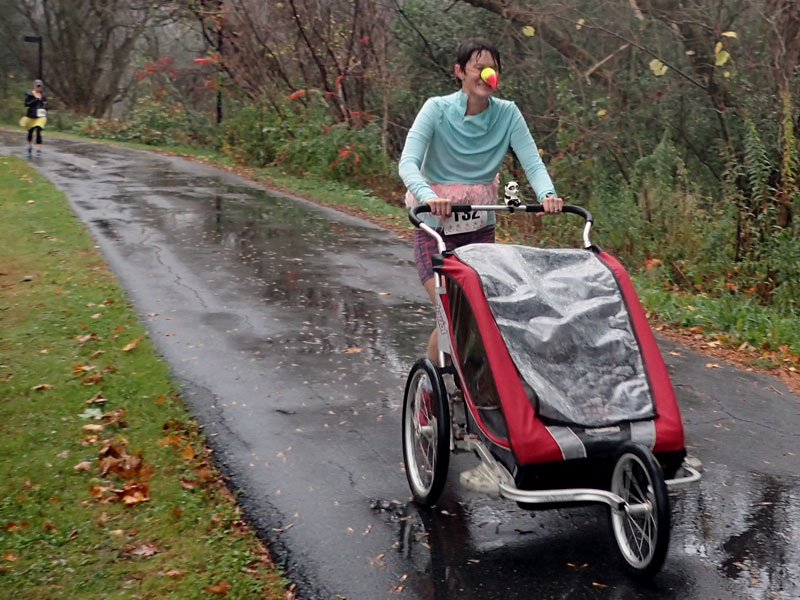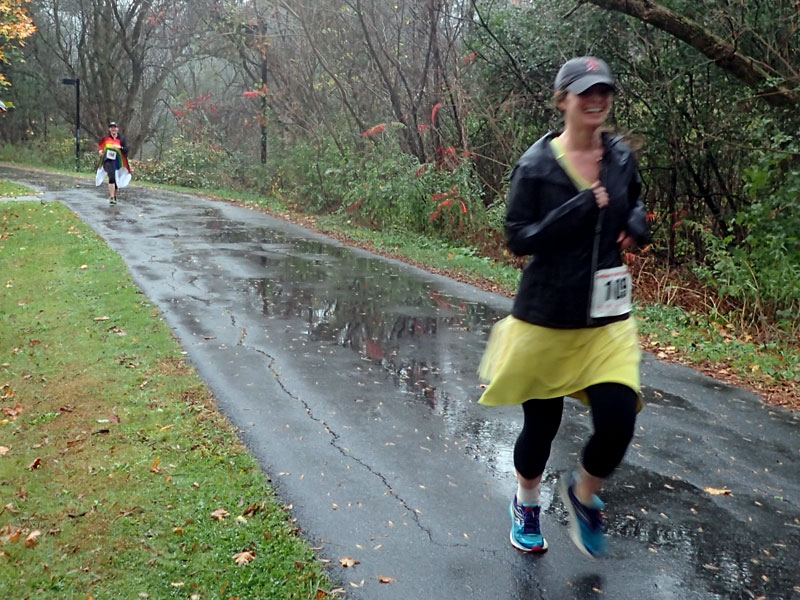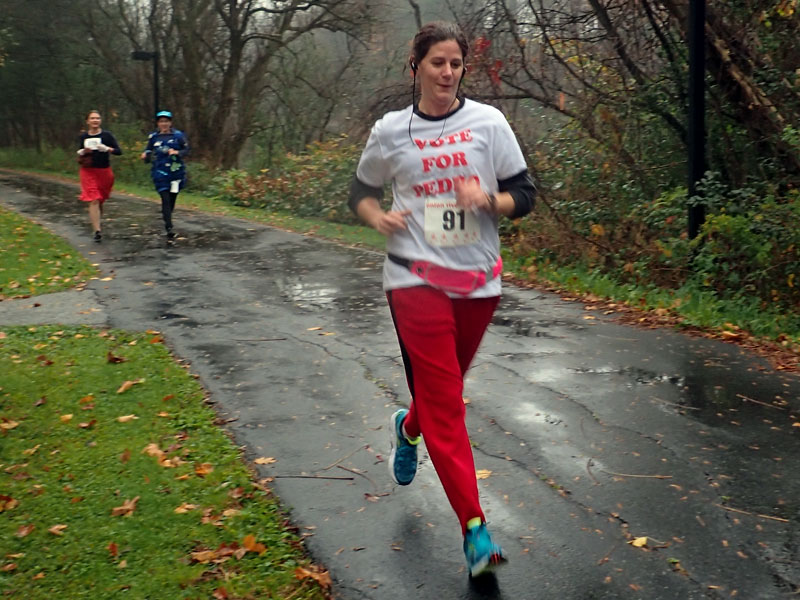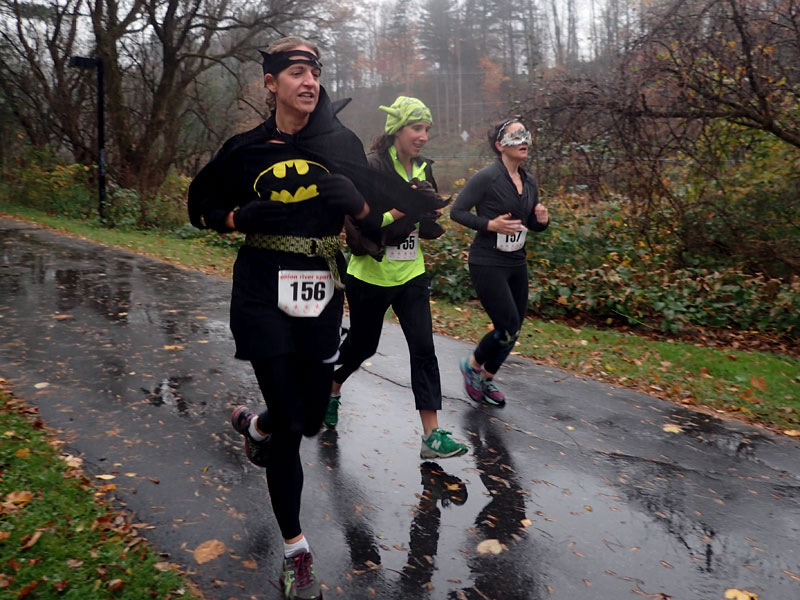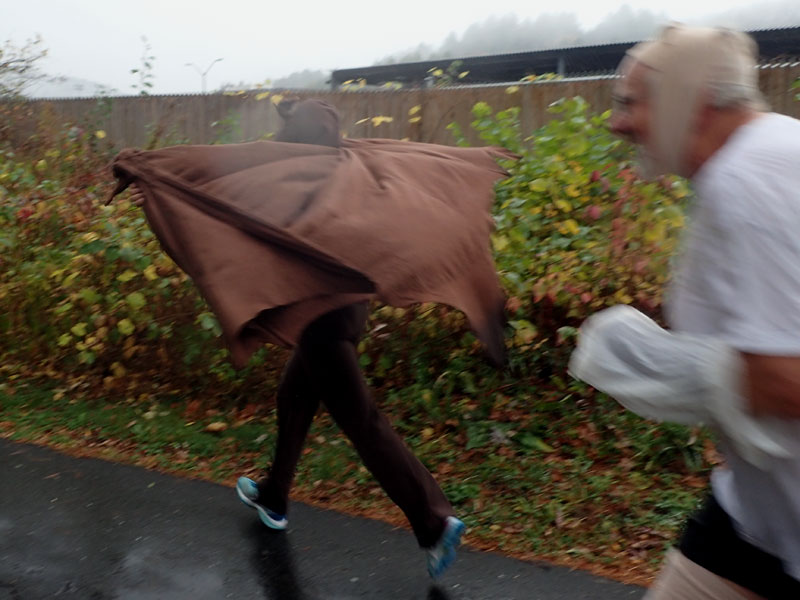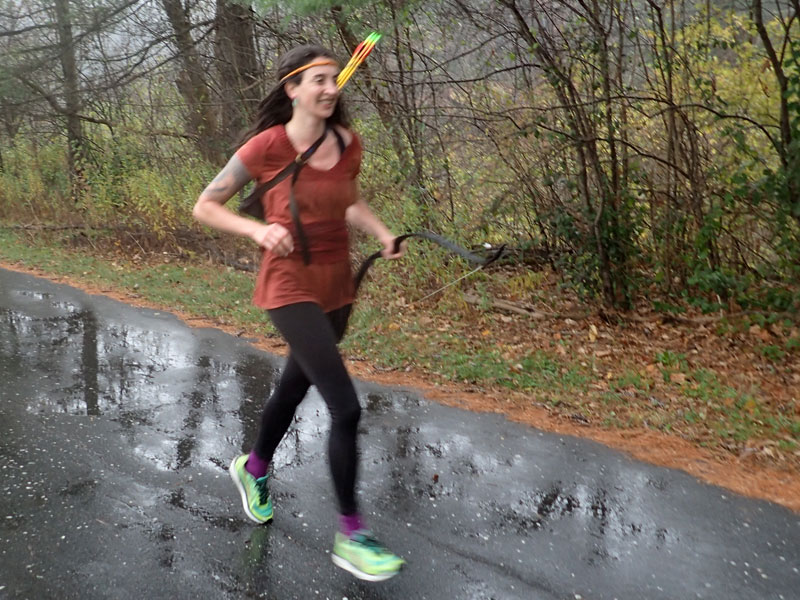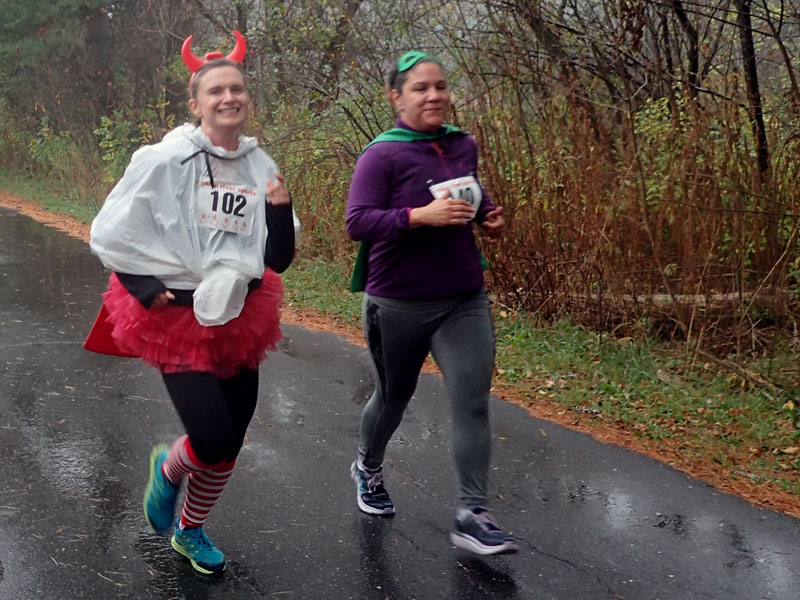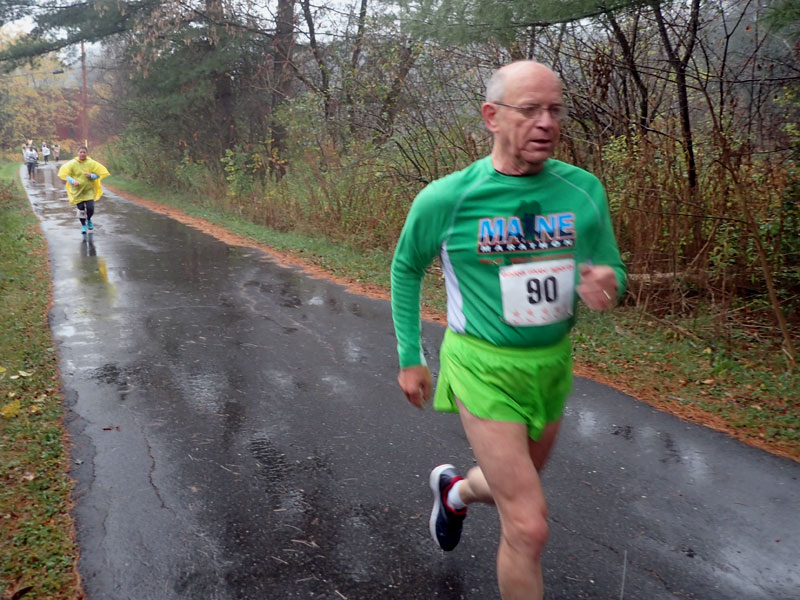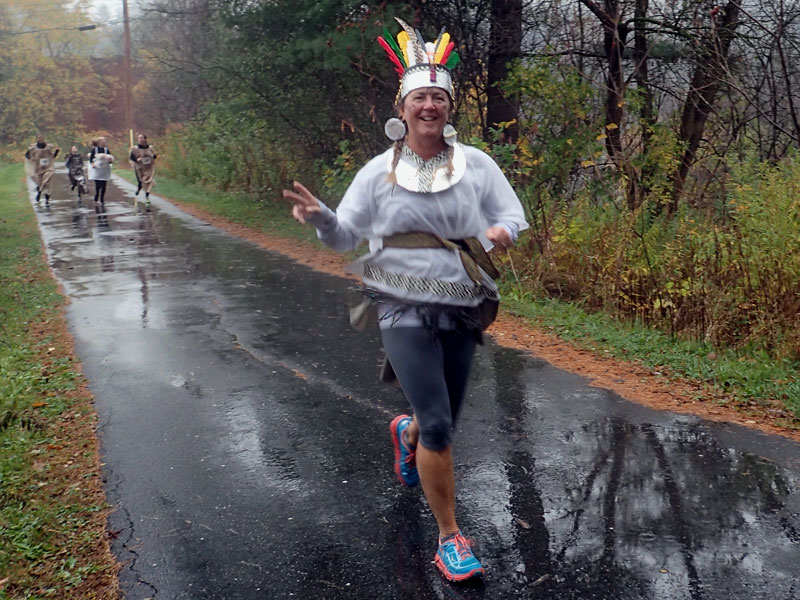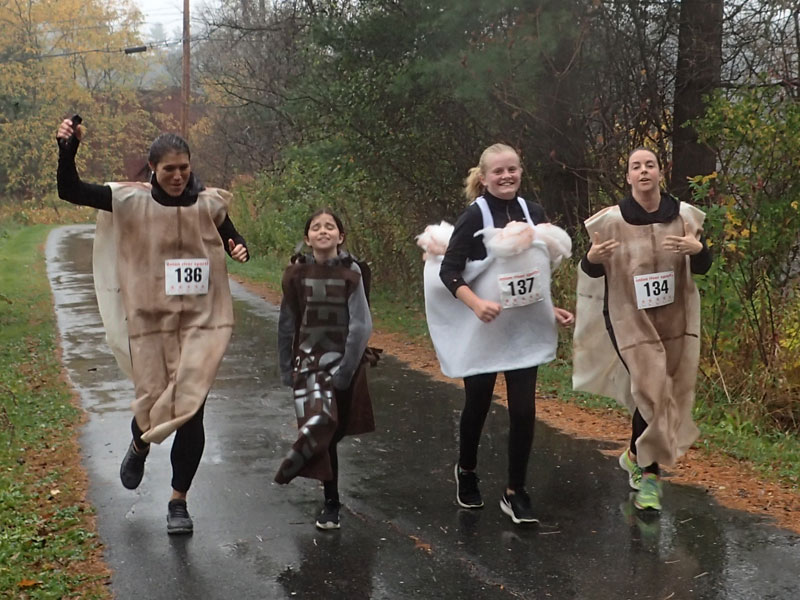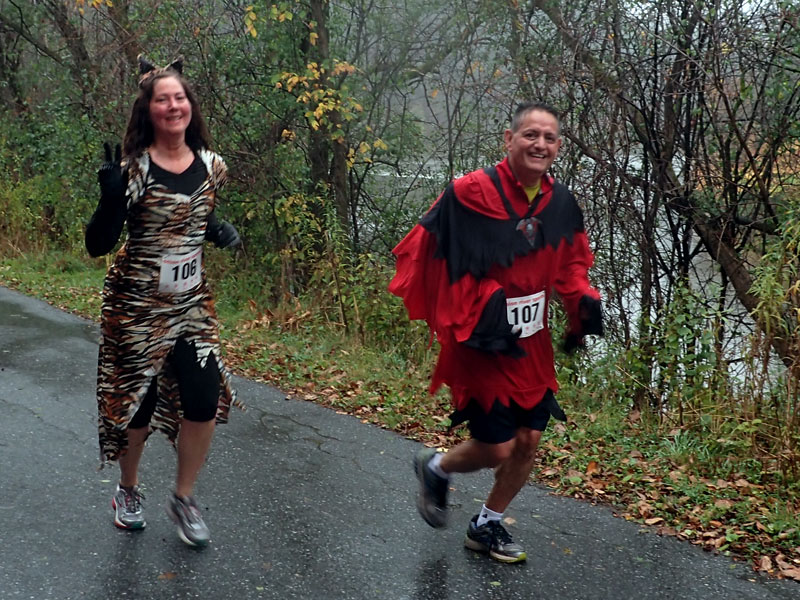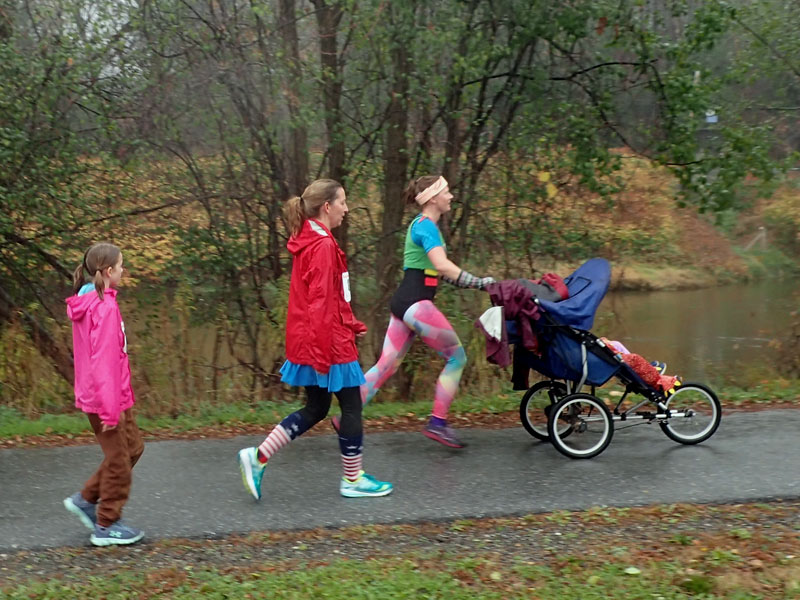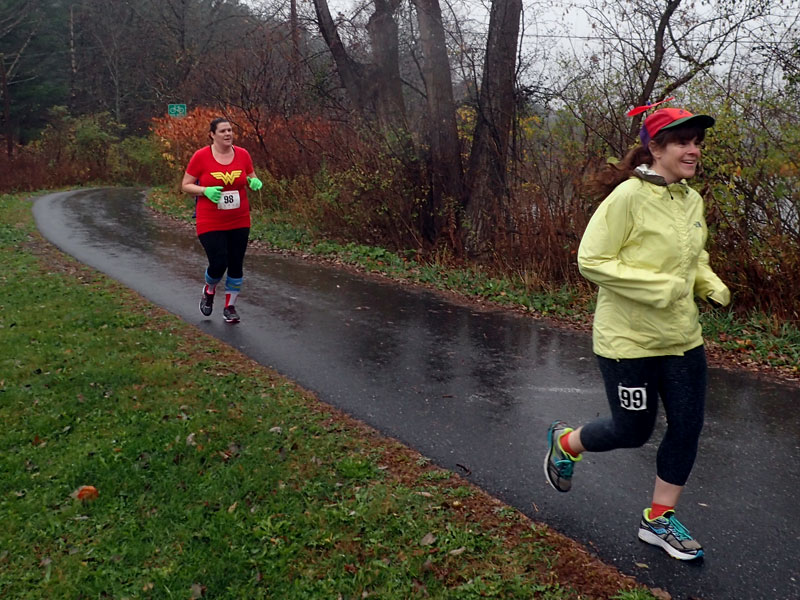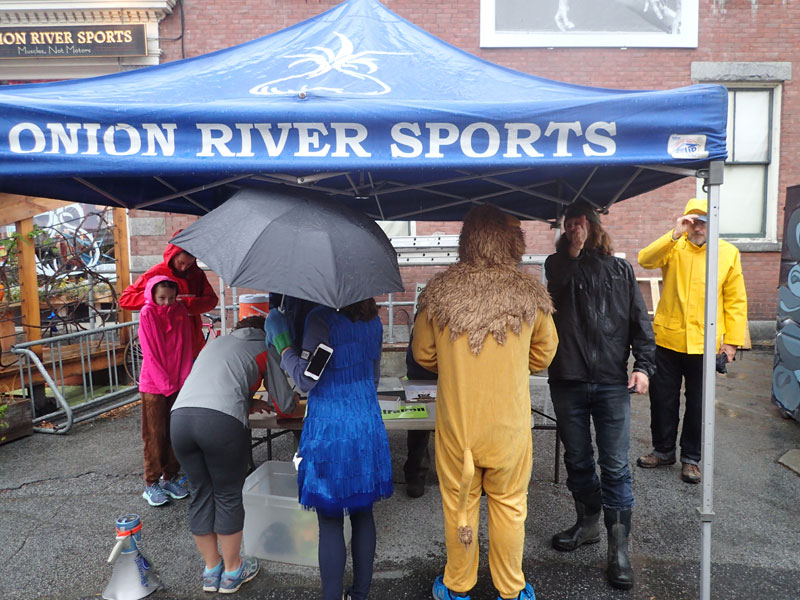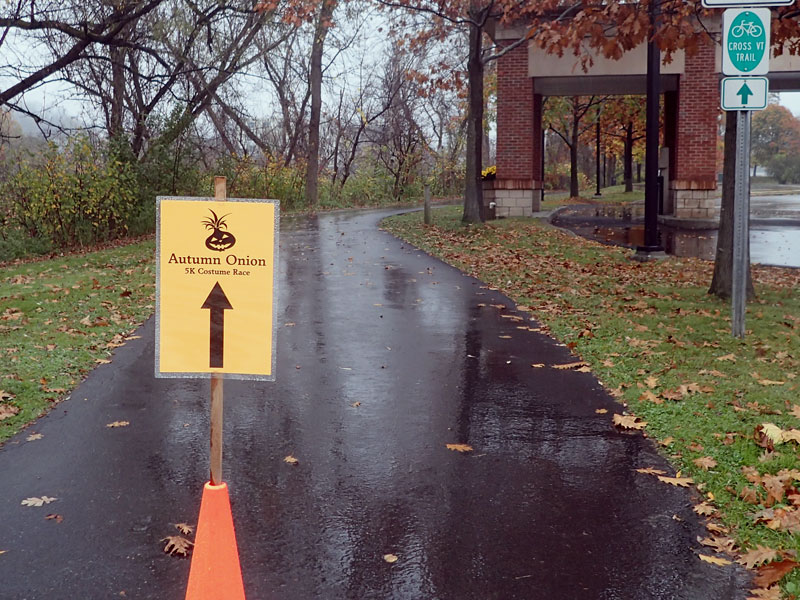 October 26, 2017
Central Vermont Back Road Bike Tours UPDATE. Do you have a favorite Washington County ride you'd like to share? The Central Vt Chamber of Commerce is embarking on a long due update of their popular, free, back road bike tour guide. And they'd like to hear from you!
Contact Tonya Barnett at the Central VT Chamber. (802) 229-5711 or www.centralvt.com.
October 24, 2017
Polish on the little bypass of the "big blowout" (east of Rt 14 on the railtrail) this past weekend. Now to settle in and plan for much bigger work next year - stabilizing and restoring the stream, and making a bypass trail that matches up better with the railbed (wide, smooth, gradual yet still swoopy rest assured).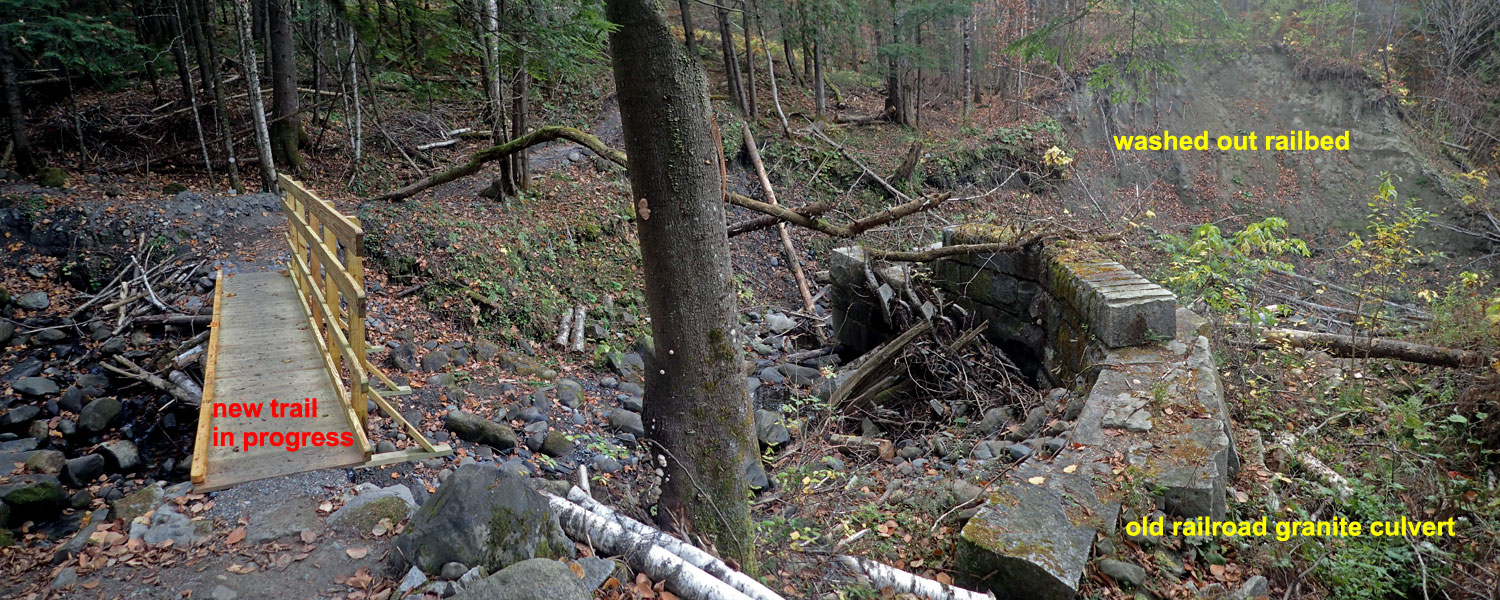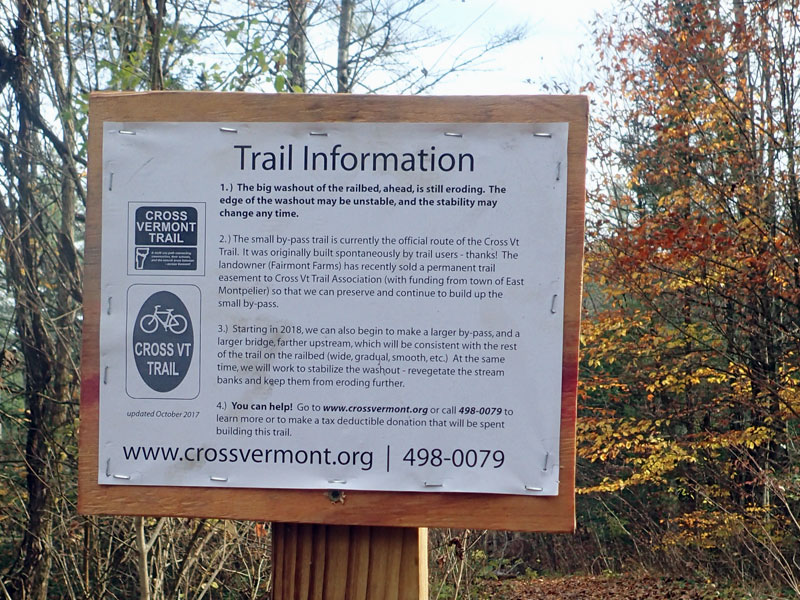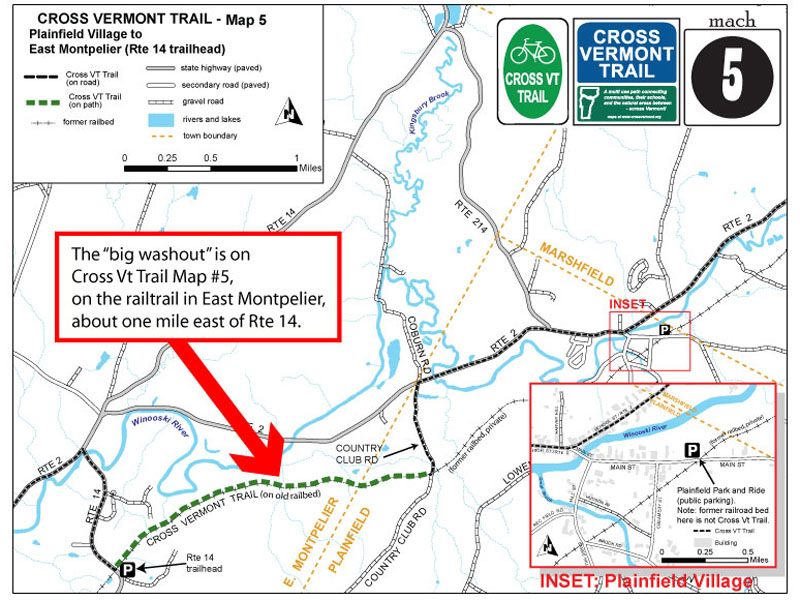 October 19, 2017
So, the irony is that when it's a railtrail it doesn't need rails, but when it's a bypass of a railtrail it's got to have rails. It's just that, I wish it made more sense. Anyway, join us this Saturday to put rails on the little bypass bridge, and to contemplate the future of the 'Big Blowout' on the railtrail in East Montpelier.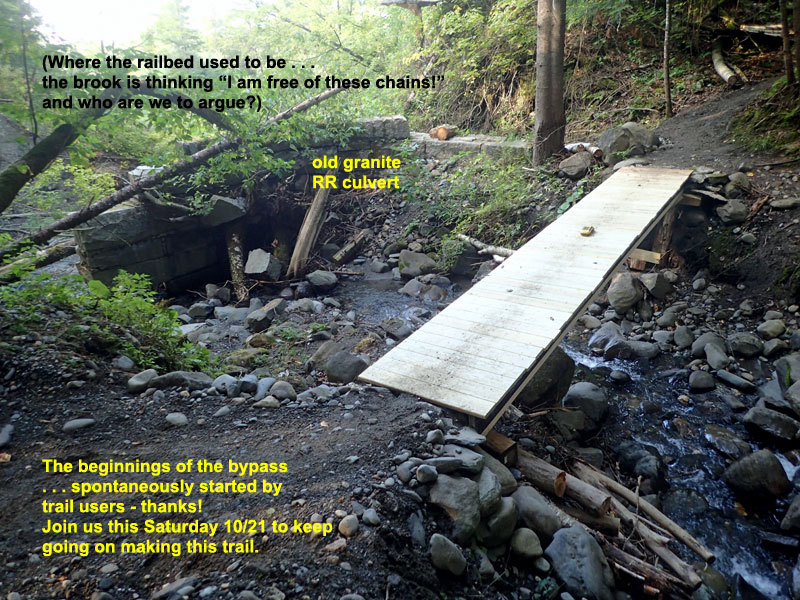 October 8, 2017
We're starting to make plans for a long term solution to the Big Washout in East Montpelier, the site of CVTA's most recent permanent easement. Engineering students from Norwich were on site this weekend, taking measurements, names, etc. We also had help from UVM students, whose liberal arts skills were to put to use (making erudite small talk while) shoveling out ditches.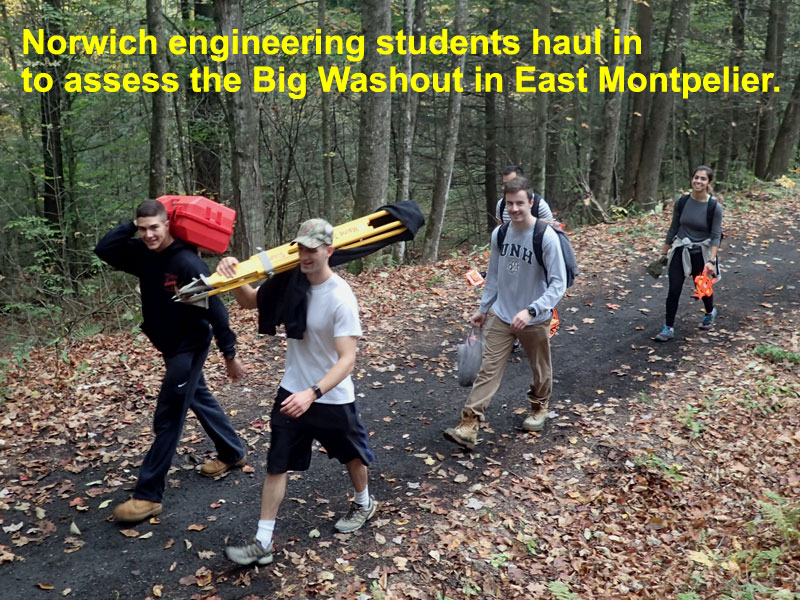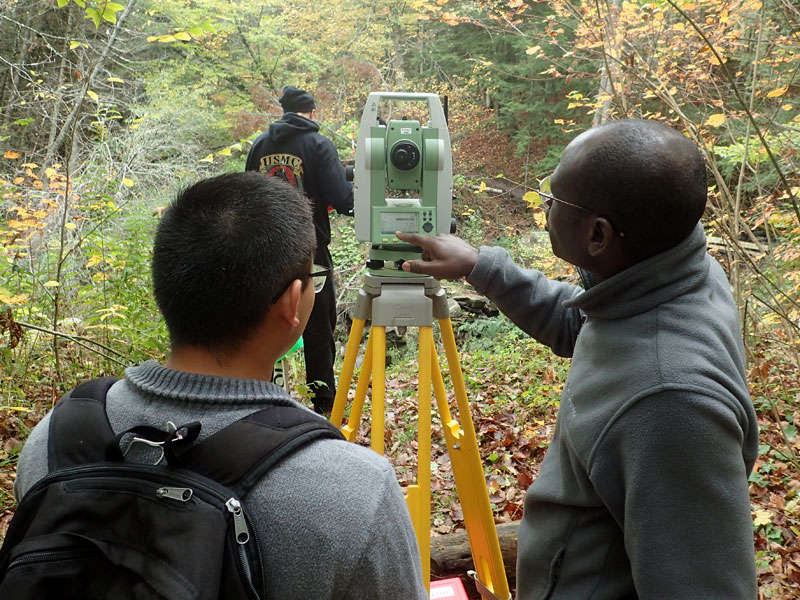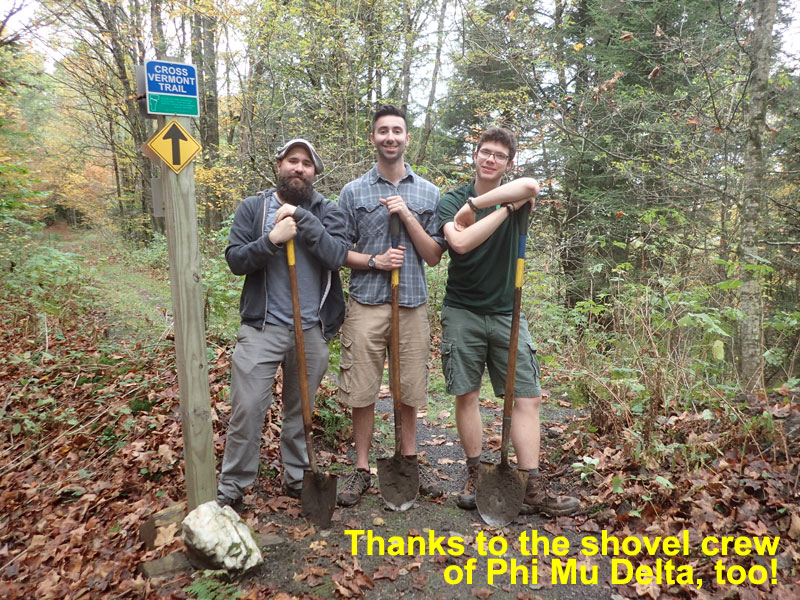 October 6, 2017
We are fixing the big washout. On the rail trail in East Montpelier, east of Rt 14. CVTA has purchased a permanent easement allowing us to repair the railbed or to build a sustainable long lasting by pass trail. We're making plans now - you can have say, give a call. We're doing visits to the site (and volunteer work parties) on Oct 7 and Oct 21. Also, we're doing our first attempt at a formal use count on this section of trail - super scientific, easy work, more hands the better, give a call if interested.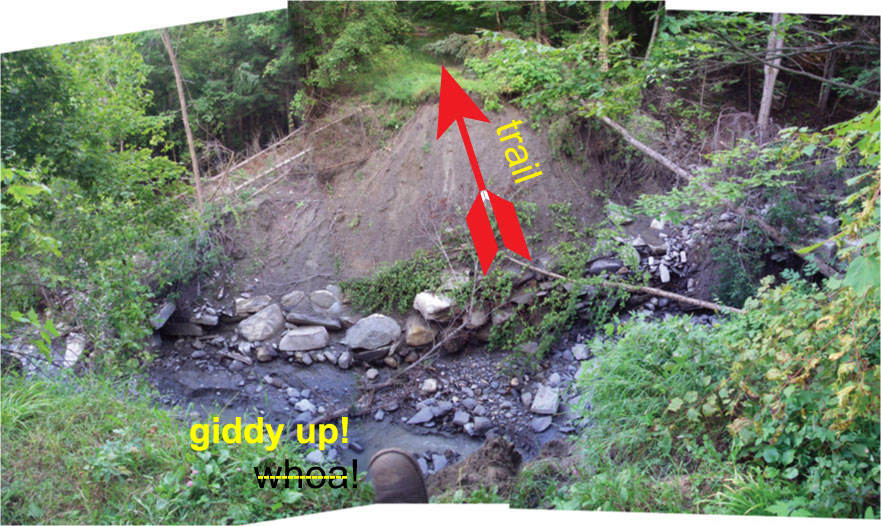 October 1, 2017
Fall Foliage Ride - 20th annual - was a good time yesterday; into the teeth of the seasonal weather. Advice from one young rider: ride is not so bad if after going over an actual river and through actual woods the trail then does in fact go by your actual grandmother's house, where you can recuperate and be rewarded. (Click here for full size images.)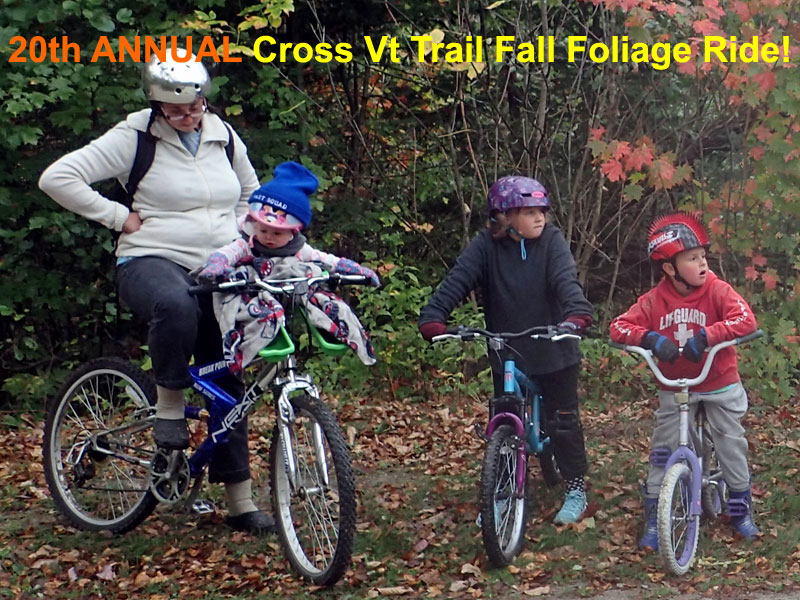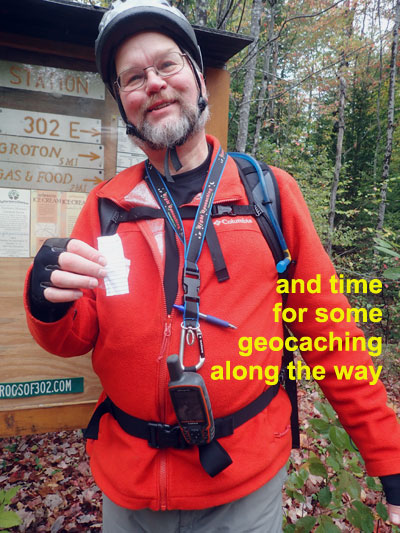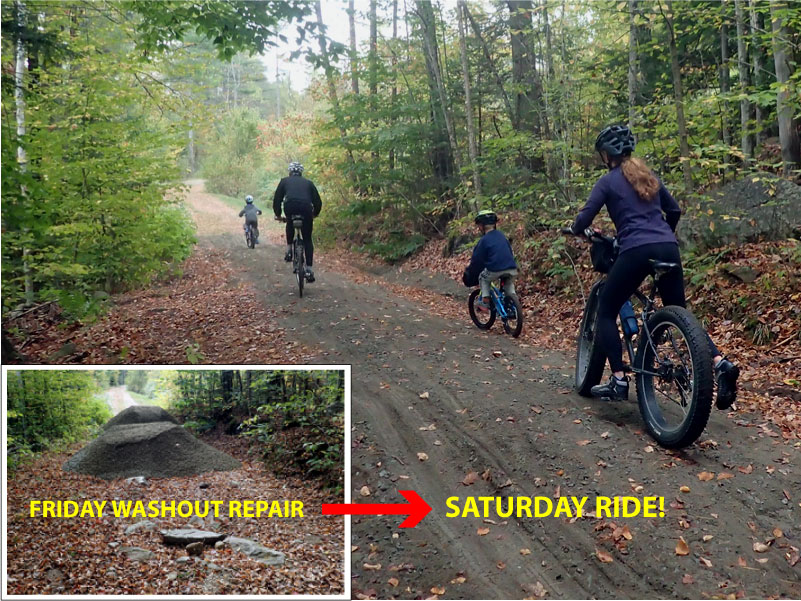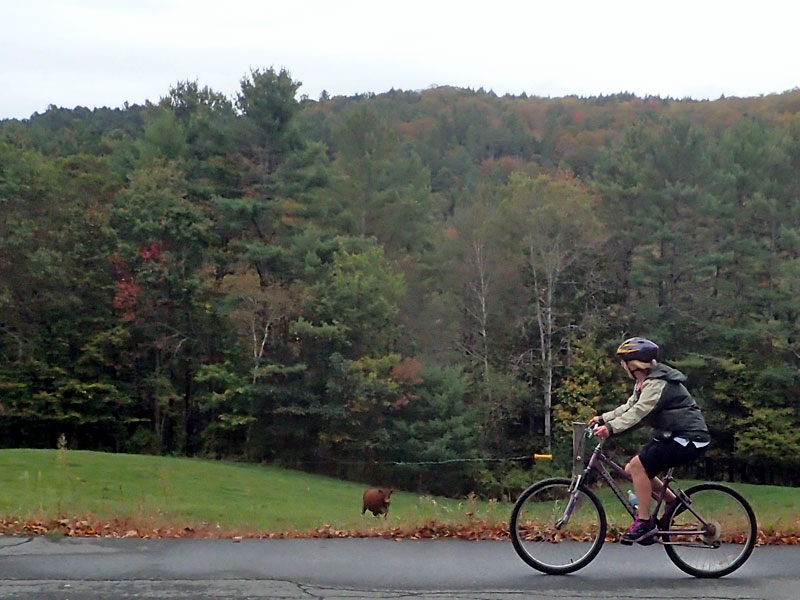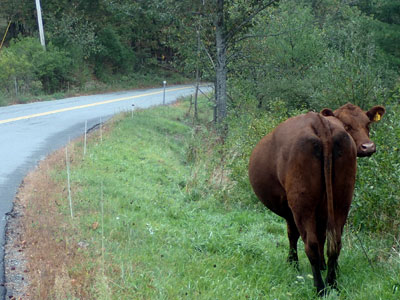 September 20, 2017
Montpelier's public spaces Beautification Bandit strikes again, along the bike path. That's a spot that needed it, nice!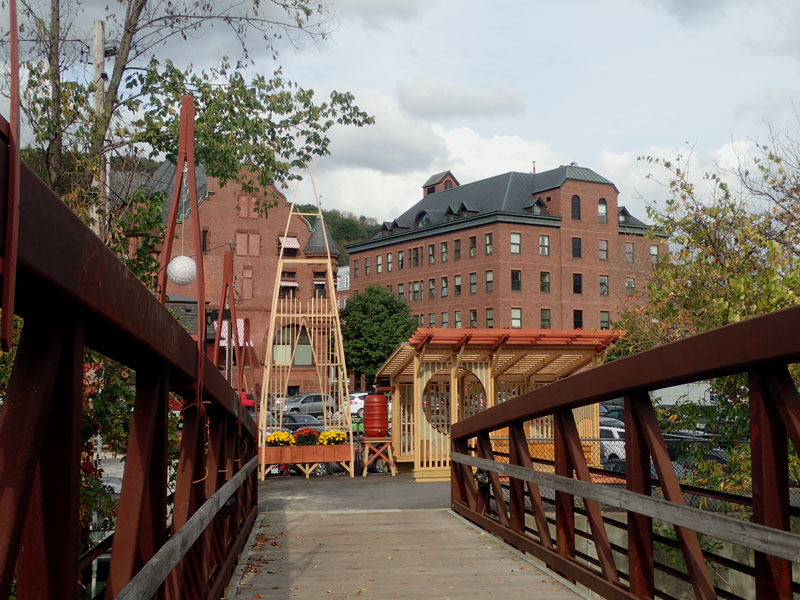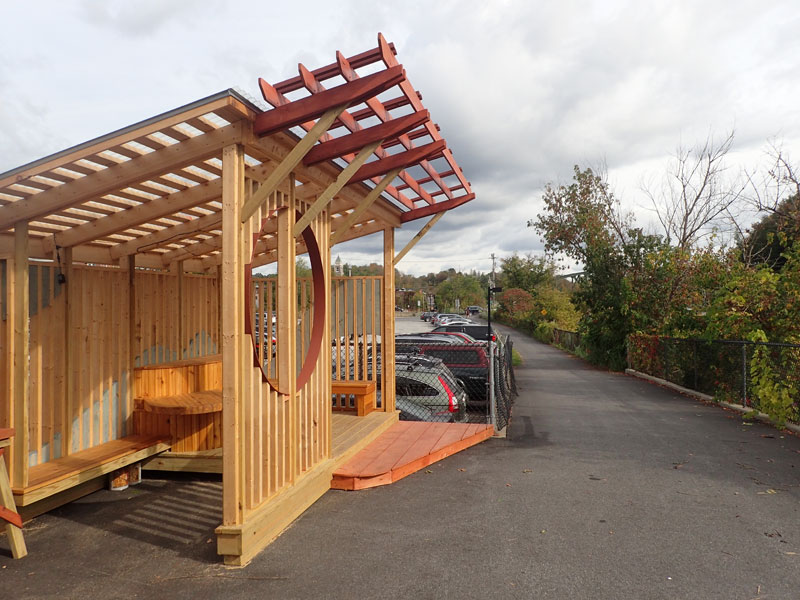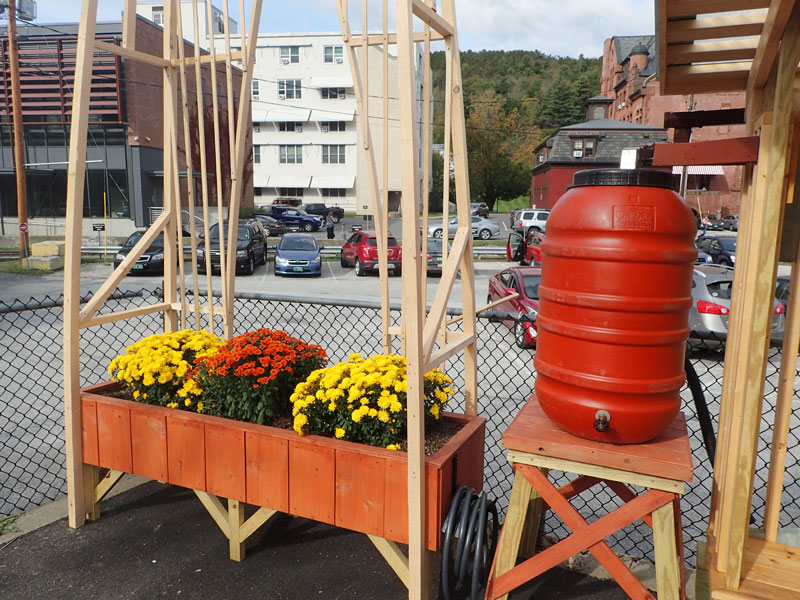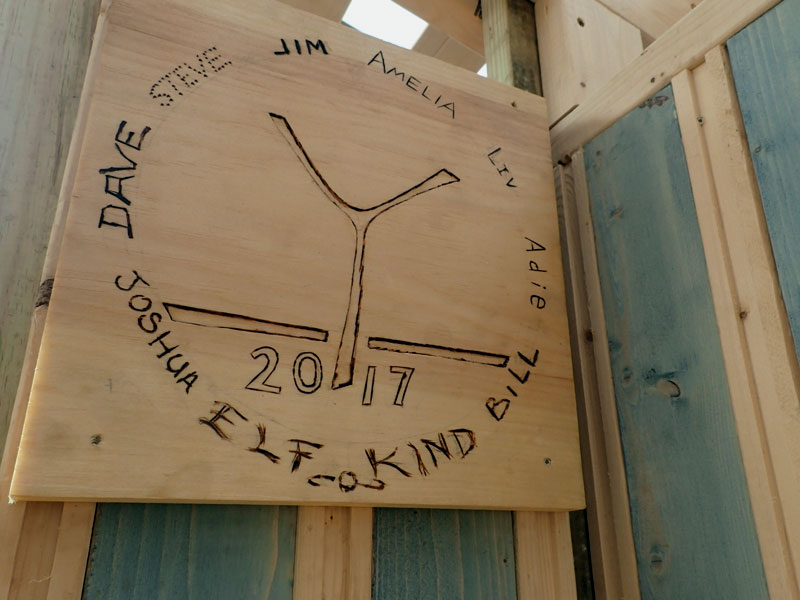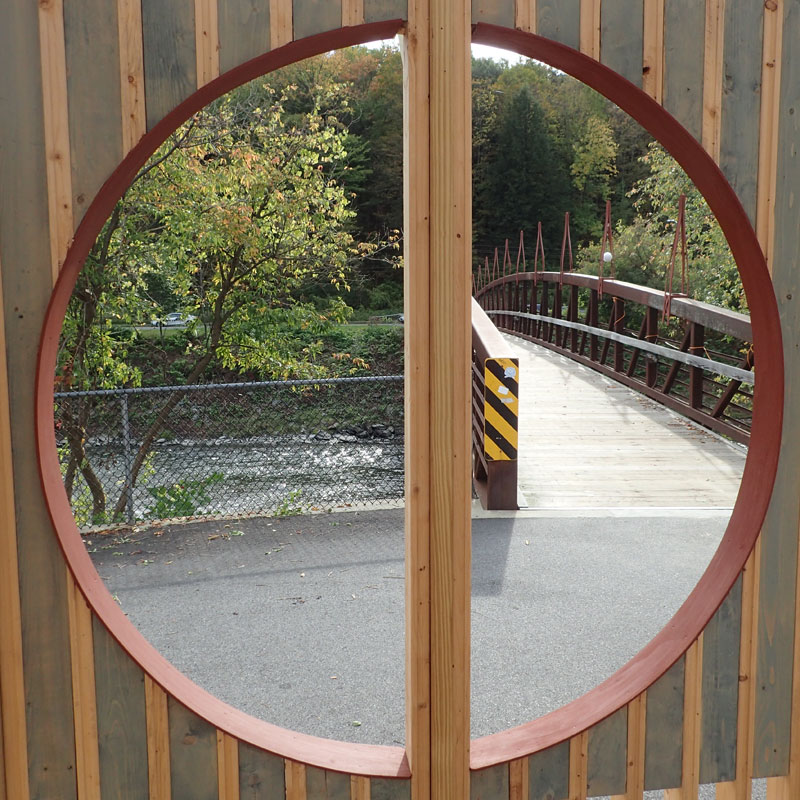 September 11, 2017
XVT summer vol crew made a big dent in the steep - "wait, what?, uh-oh" - section of Telephone Line Trail in Groton State Forest. (Click here for full size images.)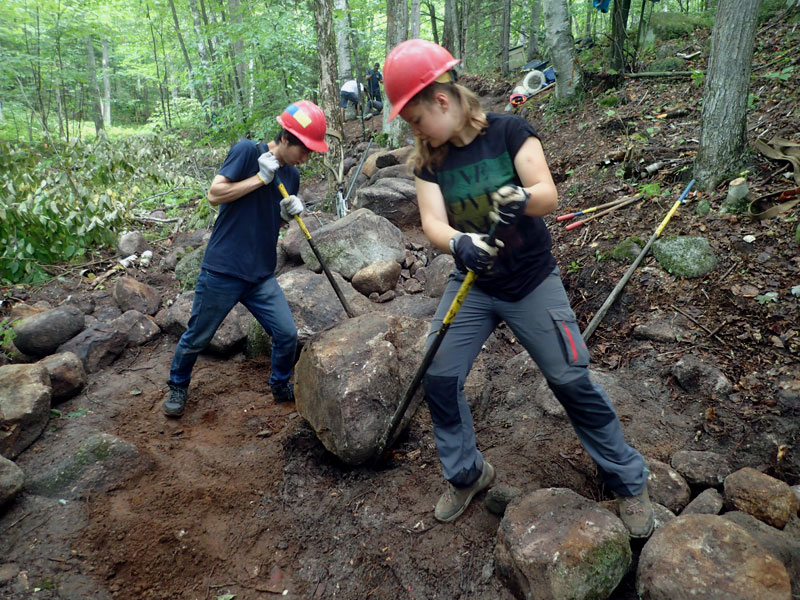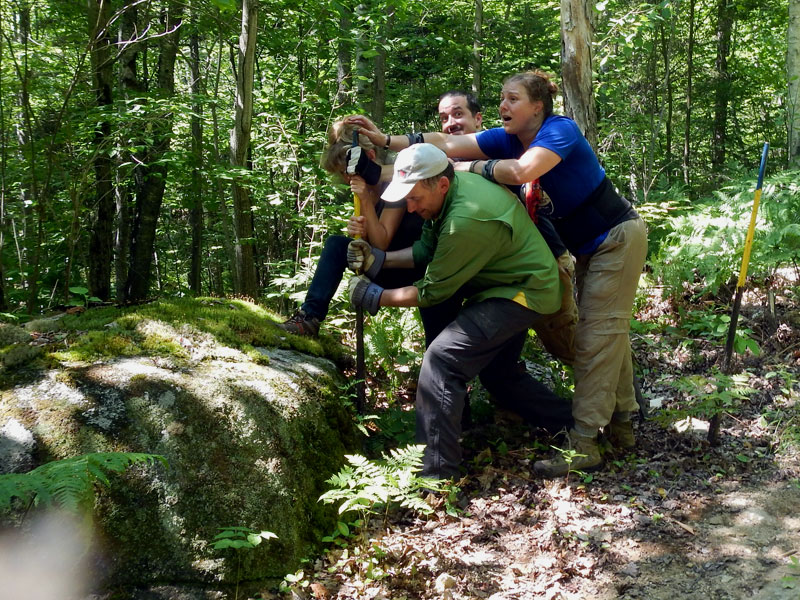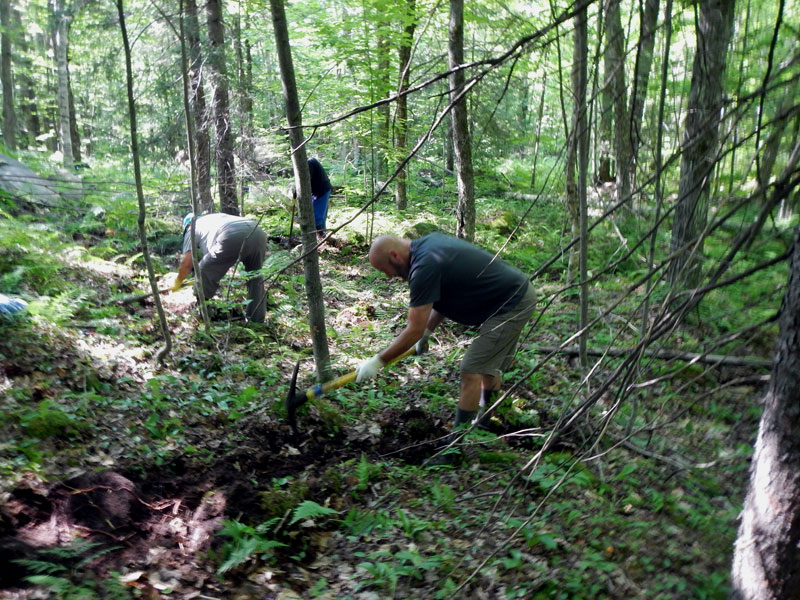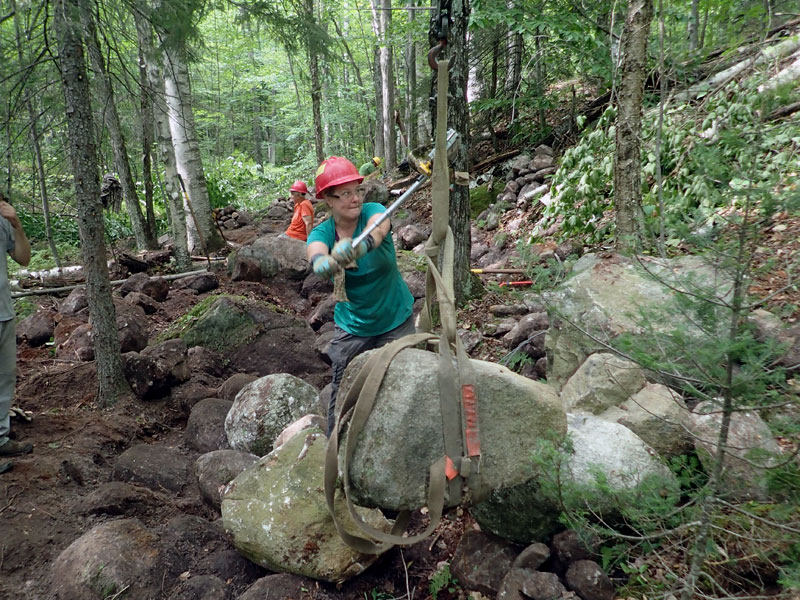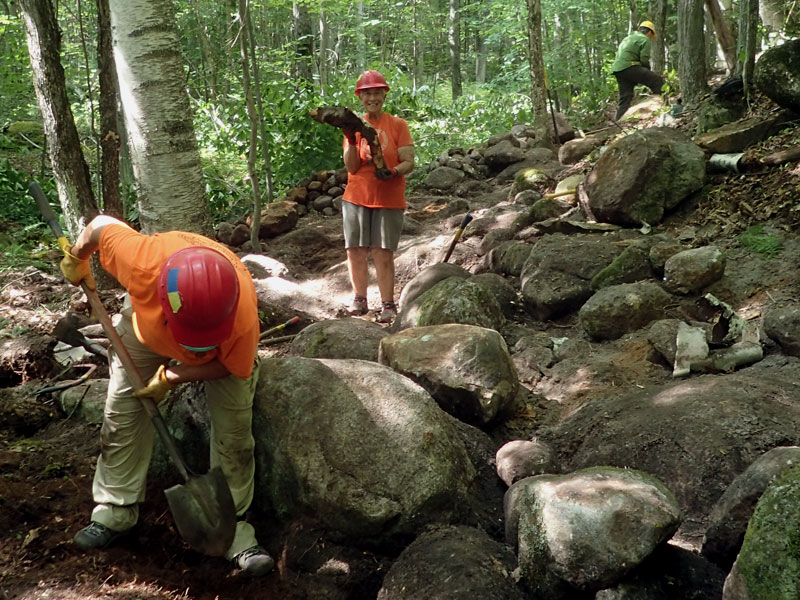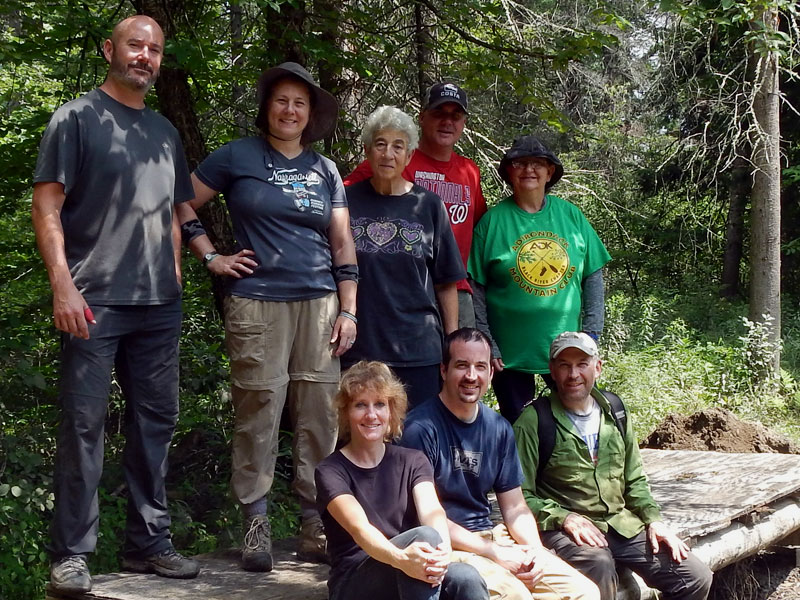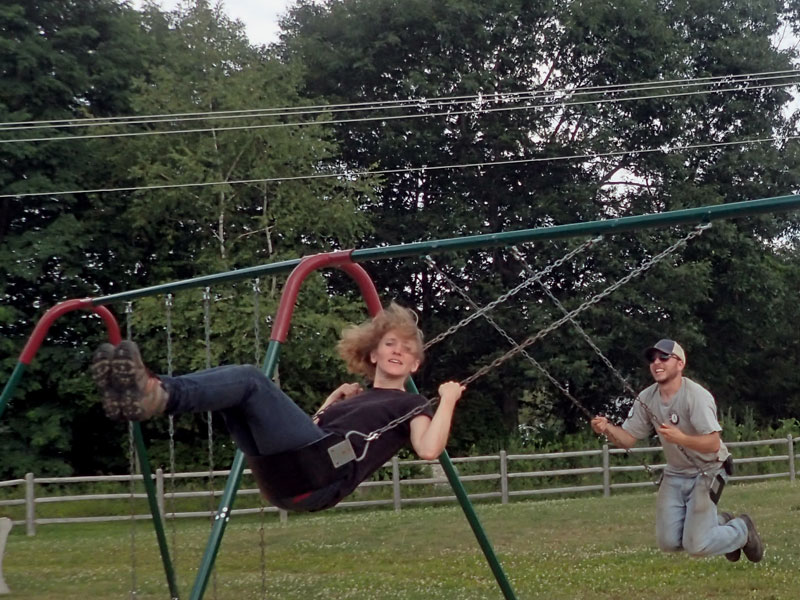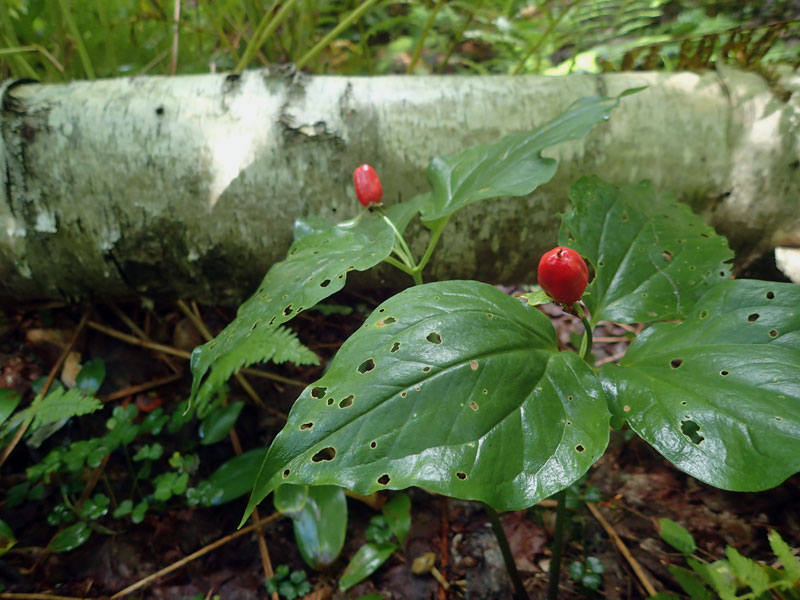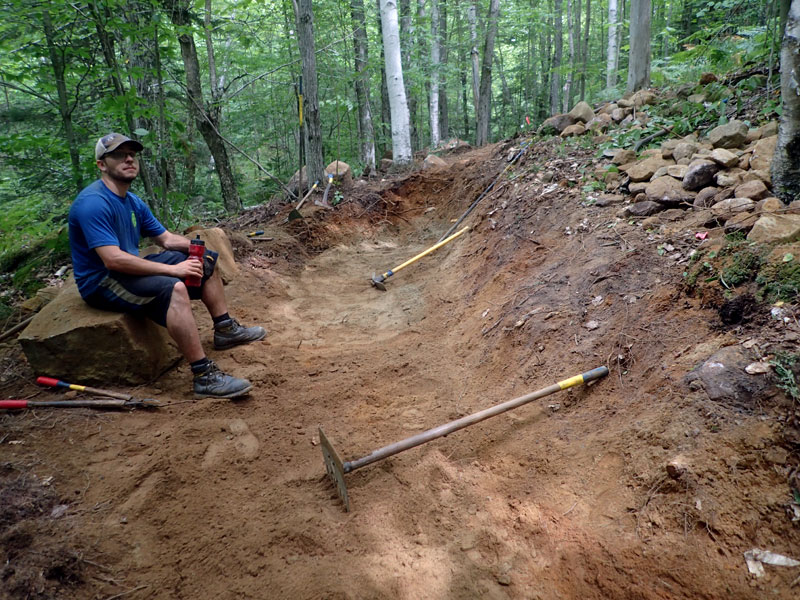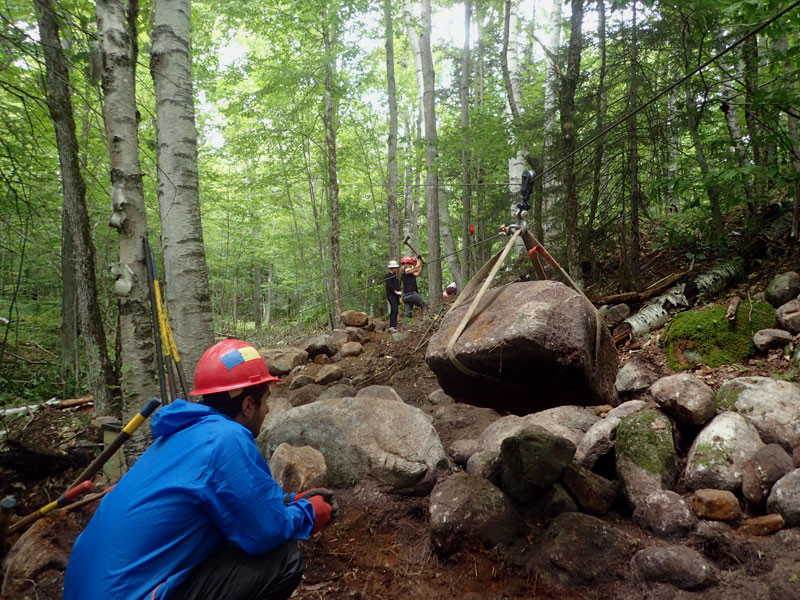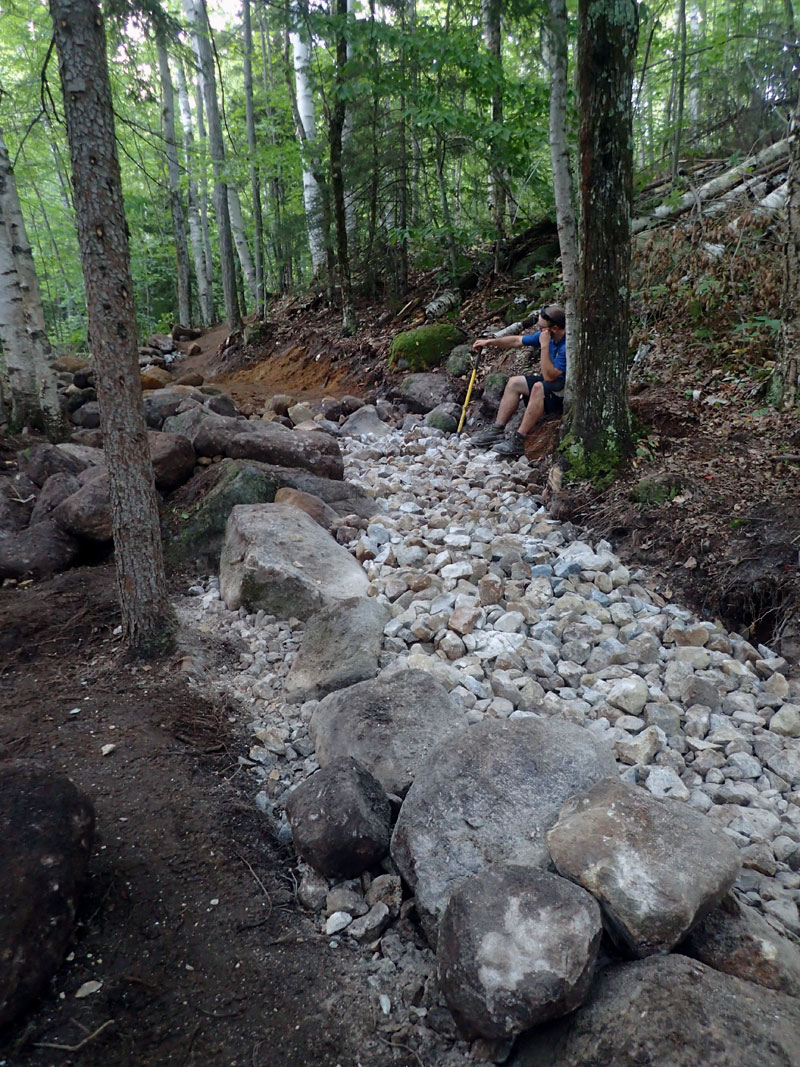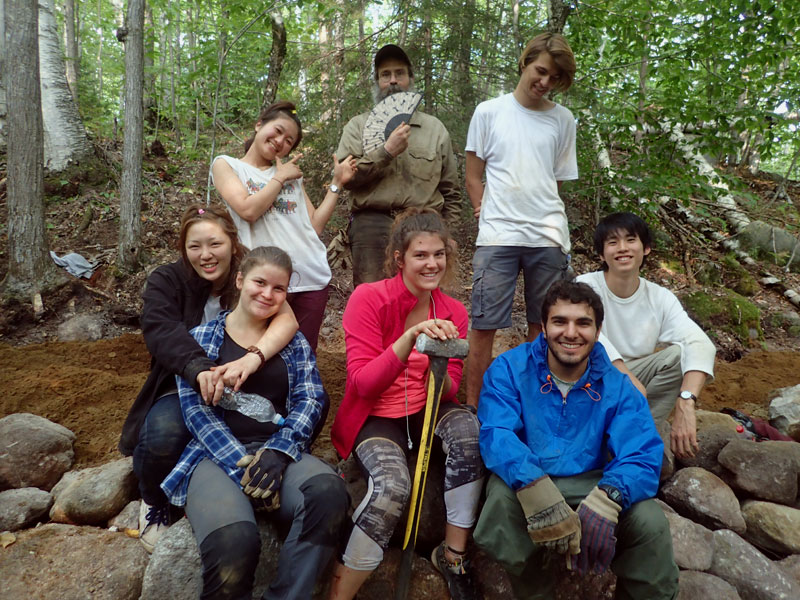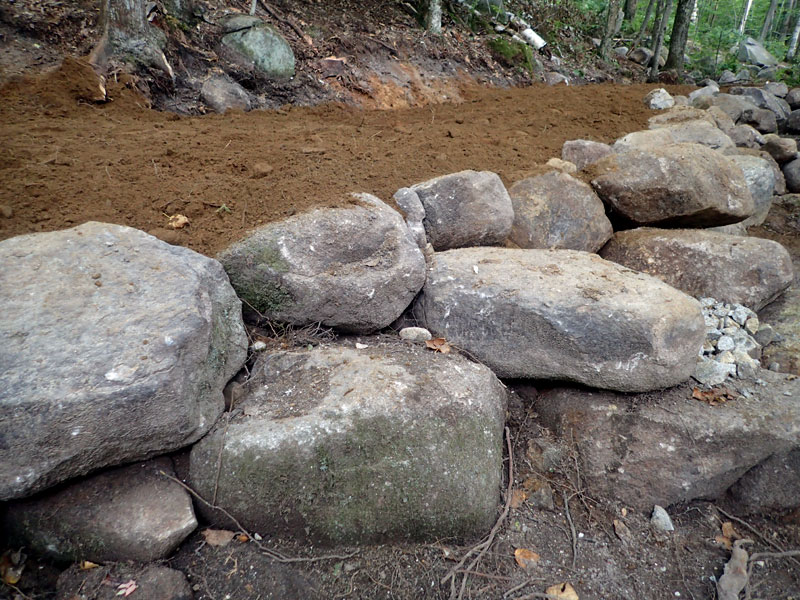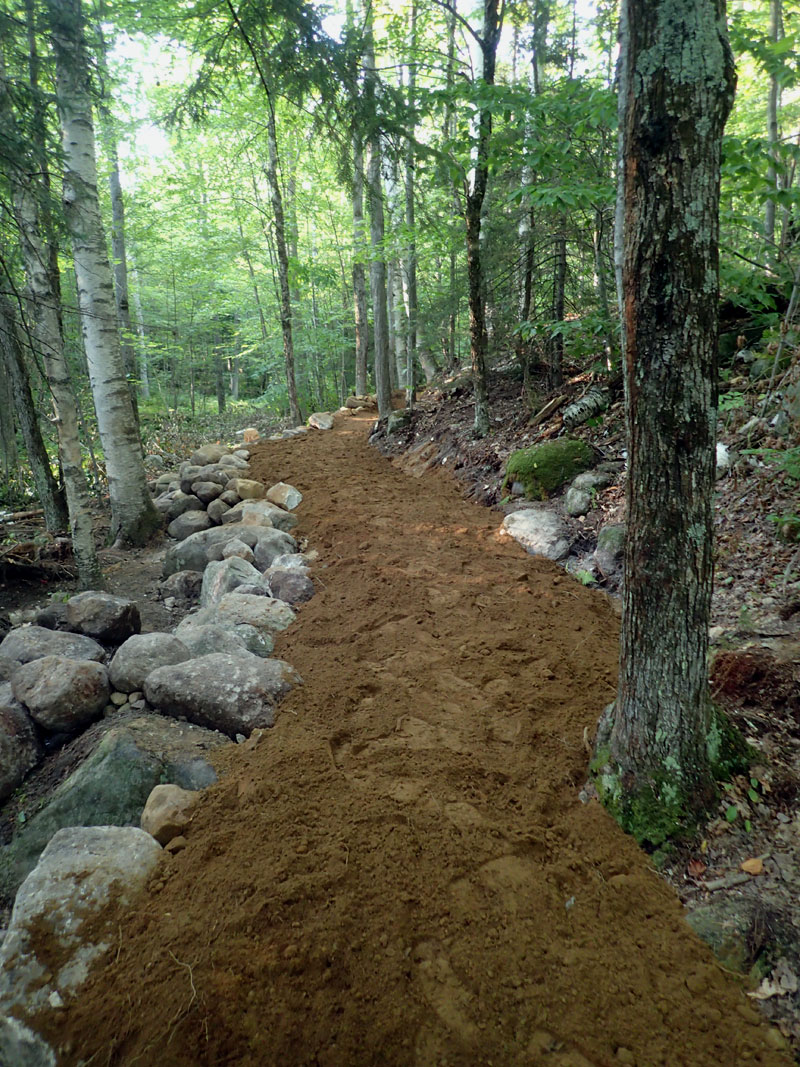 July 16, 2017
Scarfing the joints for the Mallory Brook log bridge rebuild on East Montpelier Trail.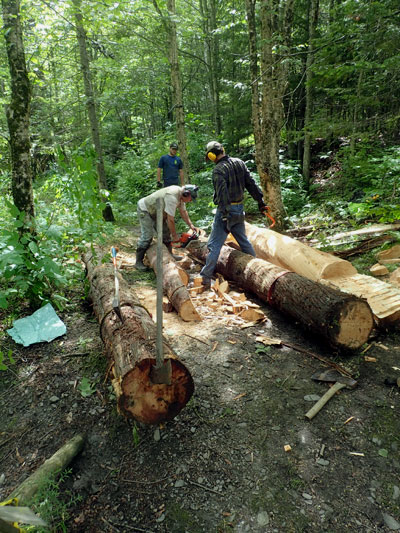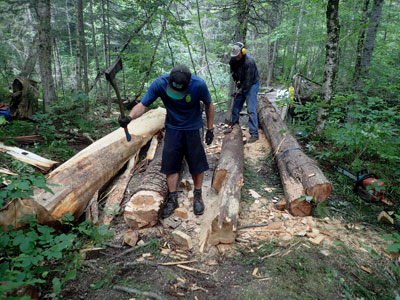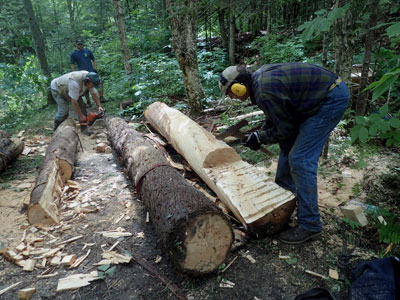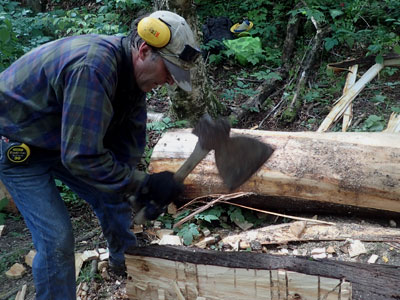 July 15, 2017
Tenney Memorial Library's Family Outdoor Adventure Group heads out on the Blue Mt nature trails and XVT, what a great day for a hike!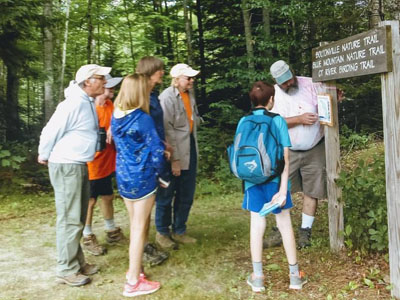 July 14, 2017
Pleasant, muddy morning with a large group of volunteers from the Conservation Alliance of businesses; big dose of good deeds for the Civilian Conservation Corps history trail at Little River State Park. And yes, Cucumber Soda was served with lunch, quite properly.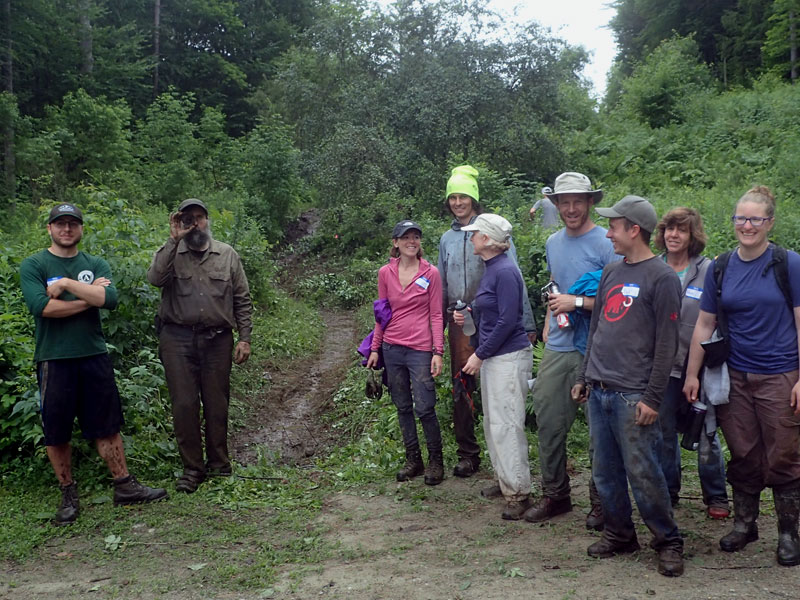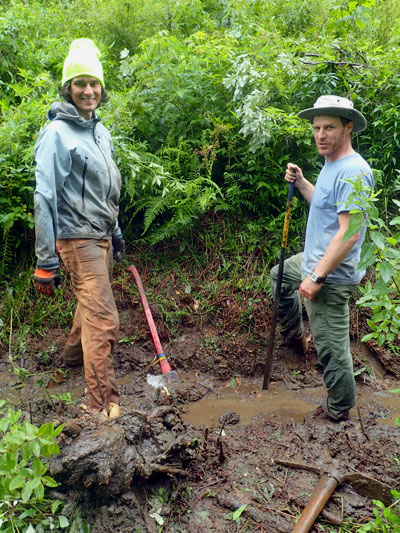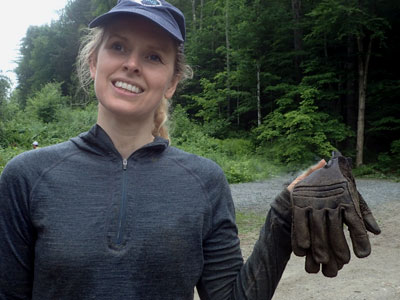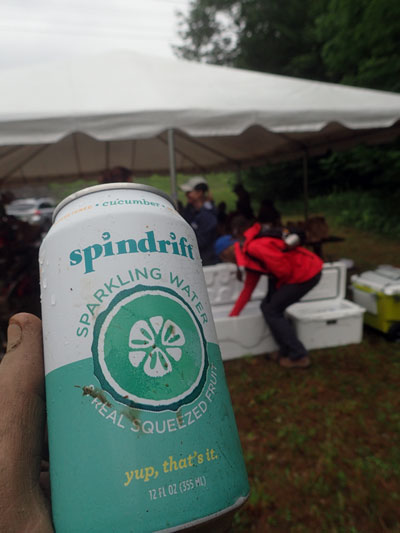 July 10, 2017
Moving up the logs for the Mallory Brook Bridge rebuild on the East Montpelier Trail. More to come next Saturday as big-little-bridge-month crescendos.