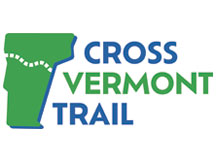 Build the Bridge!
Getting the Cross Vermont Trail
off the shoulder of Rte 2
and onto a path in the woods.
In East Montpelier, keep the Montpelier bike path going up to U-32 and on across town towards where the rail trail takes off at Route 14. Let's throw in some convenient trailheads with parking and access to to the Winooski River and a couple of mountain bike loops just for fun.
We are cleared for construction! Act 250 permits, and all other permits too, are issued, easements are secured from landowners (thanks for their generous donation of these), and the engineering is done. The bid package for the Cross Vermont Trail Winooski Bridge is being put together now by our engineering firm, in preparation for advertising the project and hiring a contractor. This has taken many years, it's a ferociously technically challenging spot - where the Winooski River valley is narrow - and the engineering and permitting needed to "thread the needle" here has been a big job, but it is done now. (You know how people say it's the journey that matters, not the destination? Well I gotta say, arriving at this destination feels pretty good.)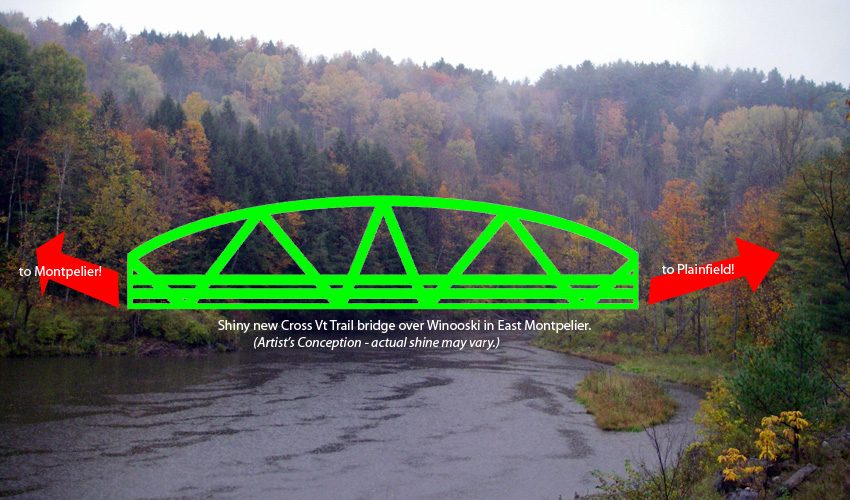 Fundraising is entering the home stretch.
A bunch of this project will be built with elbow grease and common sense, and really not that much money in the grand scheme of things. We've always said that the day after the Act 250 permit was issued we'd be out there with a pick and shovel. Of course, then the permit was issued on the first day of winter when the ground was just starting to freeze up good - so now it looks we were blowing hot air, just not enough to thaw the ground. But we'll be out there next Spring - construction is starting in 2020 for sure, and will be spread out over several construction seasons. We will get going with the money we have on hand and keep fundraising while also building until the whole projecet is complete.
The biggest part of this project, the ferociously challenging technical part, is going to need to be done the expensive way. The new 200 foot bike/ped bridge over the Winooski River and several hundred feet of heavily engineered boardwalk alongside the river are going to cost nearly 1.6 million dollars to build, if you can believe it. Horrifically, this cost has jumped significantly just in the past year due to the spike in steel prices due to tariffs, and other reasons. January 2020 annoucement - great thanks to VTrans and the State of Vermont for stepping in to made up the shortfall in federal funding needed to overcome the jump in steel prices and "Build the Bridge" - now we need to raise additional non-federal funds from individuals, businesses and other donors to match the additional federal money we are applying for now.
And here is more good news - yes we need an additional $50,000 in non-federal donations to completely match all the committed federal money, but a anonymous donor from Montpelier has offered a challenge donation of $25,000, they will match dollar for dollar all local donations up to $25,000 until we reach the full goal of $50,000.
And meanwhile, we continue to pursue grants and other funding sources for the continuation of the trail beyond the big bridge, all the way across East Montpelier. That said, it is cool to keep in mind that to date we have already received nearly $309,000 in local donations including from hundreds of individuals - amazing! Of that, we have spent (wisely, frugally, but it adds up) $31,000 on engineering, permitting, and legal costs for easements, which leaves $279,000 of the donations in a restricted account waiting to be spent on construction. So, we are starting work in 2020, doing the most expensive and difficult parts first, and conintuing to fund raise and build additional phases of the trail, with the goal of completing the full project across East Montpelier in the next two or three years.
We'd like to hear your ideas about how we can get across the finish line and get this project built.
Give us a call or make a donation today.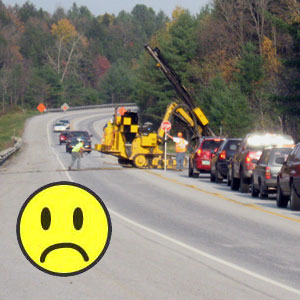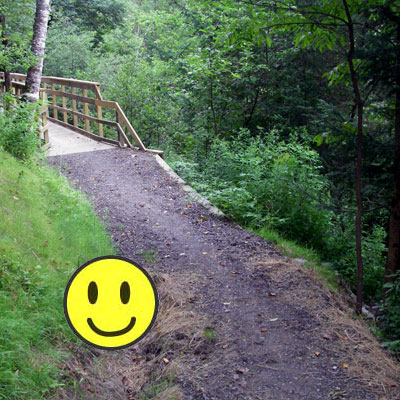 The Problem.
Route 2 in East Montpelier is a high speed (depending on traffic), busy road and truck route. The shoulders are wide, but often used by cars and trucks as turning or passing lanes. The state wide Cross Vermont Trail utilizes scenic roads often, to connect together existing sections of trail. But this road segment here has long been identified as the worst on our route, and so we are tackling the biggest problem, now.
The Solution.
Build a new, accessible trail, on conserved land in the woods and along the river, away from the road as far as possible. It's a big job. Especially since it includes heavily engineered structures - like the Winooski River bridge. And it's not just an engineering challenge. The trail design also involves the input of numerous land owners, as well as being environmentally sensitive and sustainable. The end result will be a permanent, conserved greenway corridor that families will enjoy for generations to come.
Part of a larger, ongoing effort in East Montpelier, Plainfield and Marshfield.
This keystone project is part of CVTA's larger effort to have a complete, off road route from Montpelier to Groton. We are talking now with landowners about the best places to put new trail, and hope to have many new projects to tell you about in the coming few years. For context, you can see the current alignment of the Cross Vermont Trail through this area on Maps 4, 5 and 6 of our trail guide. (Spoiler alert - it's mostly on the shoulder of Rte 2.) These projects will be a lot of work, too - but much less expensive, frankly, as they will be built incrementally with volunteers.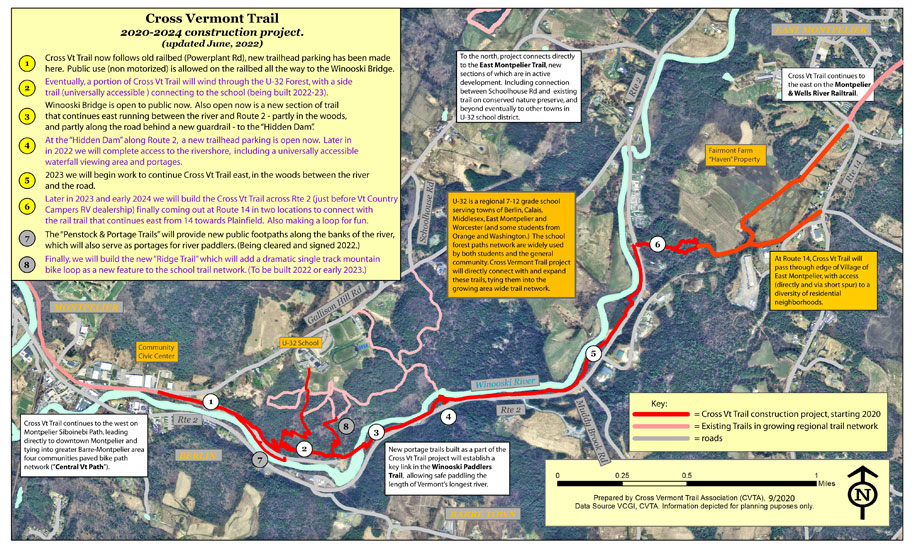 We are lucky that occasionally people choose to make a significant investment in the future of the Cross Vermont Trail by making a major gift. We are happy to talk together with supporters to make the process easy. Multi year pledges, gifts in the form of stock, and other considerations - let us know what might make the most sense for you.
If you would like, major gifts can be commemorated on the trail - on a bench at a scenic vista, with a plaque on a major structure. Your donation can help make real an important part of the trail, which can be dedicated to the memory of someone important to you. Let us know if this is something you'd be interested in talking more about.