Fruit Lands and Blooming Flowers.
My partner, Becky Meier and myself, Bob Connors, made a plan in June 2016 to bike along the "Cross Vermont Trail (CVT) and to stay at the closest available "airbnb" sites whenever feasible. These were altogether fortuitous decisions for sure. By design, the CVT attempts to navigate the "lowlands", thus avoiding the most difficult steep hills in VT. I would describe the course as moderately challenging in nature.
We'll each ride hybrid bikes with panniers and pretend that we aren't in our sixties and try to forget that we aren't in shape for this venture…. This report is designed to be informative and helpful to all travelers. By the way, feel free to make your comments directly to us, whether you have biked the CVT or not. You will note that there are several photos along the CVT with comments.
CVT has many guiding signs along the trail, but be sure to print out ALL their maps and ALL cues along the way; in addition, please note that GPS doesn't always work along the trail.
One will travel along a variety of scenic paths, including highway blacktop pavement, gravel, hardpack soil, and grass. One will traverse cities, towns, villages, farms, and outside the populated areas, most of the roads are little traveled and fairly safe for bikers. Our goal was to bike app. 23 miles per day and to therefore complete the 89-mile route in four days from August 2-5, 2016. We parked our car at the end point in Wells River, VT on August 1 and returned with another car to stay with friends in St. Albans, Vt. We began our CVT trip in Burlington, Vt.
One will discover that what Vermonters prefer to consider knolls or hills, "flatlanders" like us consider them to be mountains…. Are you ready? Here goes: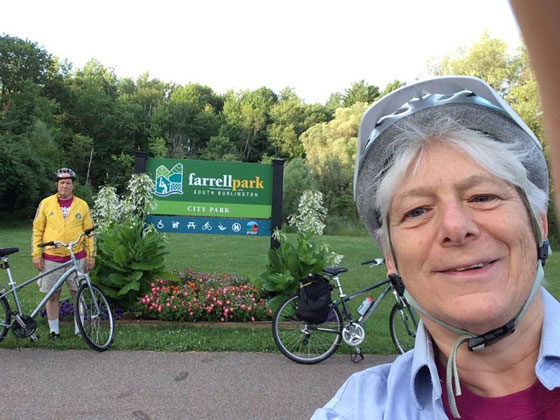 DAY 1- AUG. 2- LOW 80's, SUNNY SKIES
We began in Farrell Park in Burlington, Vt. and followed a winding, wooded trail that brought us to "Lookout Park" in a short while. There are incredible beautiful views of Lake Champlain and the Adirondack Mountains to the west and the Green Mountains to the east. We biked in a mostly urban setting that became suburban and somewhat industrial.
We stopped in a nearby community garden and, later on, ate a delicious breakfast in Williston at "Chef's Corner", on Rte 2A which is slightly "off trail". We heard the loud roar of many military jets practicing their "take offs" which didn't affect our focus. However, we did get lost soon after though, but got redirected by some construction workers soon enough.
As we ventured into the hinterlands on a dirt road, we were intrigued by a sign noting a "Cross Country Bike Academy" and, being educators, stopped to enjoy watching the ten-year olds practice their bike jumps. We met the owner of a nearby Bed and Breakfast whose name is Jim and learned that he is a Vt. State legislator, so we encouraged his support for the CVT.
We then biked to an area of outstanding vista of hills, streams, farmland and far away mountains and took some photos. Becky swam in the Winooski River, which the CVT closely follows.
We passed by many cornfields and cows and thousands of blooming flowers such as: yellow Black-Eyed Susan's and Golden Rod, blue Chicory, white Queen Anne Lace, pink Joe Pye Weed and Vetch, and many more for which I don't know the names.
We ended the day at Johnny Ford field in Richmond and ate a nice lunch at a café and bought provisions at a superb market. The "Village Bike" shop willingly offered to fill our tires with air as needed. We noted the unique sixteen–sided Round Church in this well served town and then faced our most daunting trek of the day. We somehow "dug deep" and biked a very steep "off" trail 1.4-mile loose gravel ride to the "Tucked In " airbnb home. We biked app. 33 miles today.
The homeowner Kathy is an airbnb "super hostess" and an earth angel who met us with homemade lemonade and cookies! She and her husband Tom spent a long time chatting with us ( we are also airbnb hosts ). The house and the room were exquisitely furnished and we fell into a deep sleep amidst the, count 'em, nine pillows on the king sized bed. I was too tired to eat the chocolates placed on the pillows…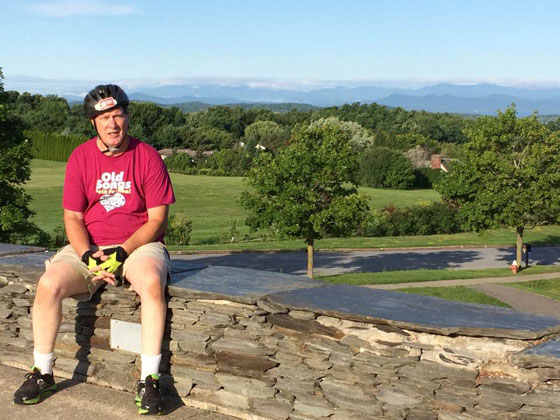 DAY 2 –AUG. 3- LOW 80'S, HUMID, MOSTLY SUNNY
In the morning Kathy at "Tucked In " made us a terrific home–cooked granola breakfast including scones and date bread with freshly picked blueberries from her garden. Our CVT trip closely-followed the Winooski River, coinciding with a fairly flat/rolling hills type ride to Montpelier, Vt.
One part of the trail skirted a cemetery to a grassy path leading to Waterbury along Rte 2. We ate lunch at a picnic area along Winooski River and Becky went for swim once again. For the most part, the roadways had narrow shoulders. Our experience with the vehicles that we encountered along the trail was outstanding. Many drivers simply stopped and let us continue on or slowed down for us. If we had stopped and were looking at maps many Vermonters offered us unsolicited assistance.
Next, we veered off Rte 2 onto dirt or gravel-packed scenic roads and crossed a few bridges. We met some kayakers who had to cancel their river trip due to low water levels. We stopped at a "Dairy Creme" outside Montpelier at the edge of the Winooski River. We biked 28 miles today.
We stayed at an urban airbnb apartment and the owner, Rod, recommended our eating at Sarducci's, an Italian restaurant along the "fill in the blank" River. Nice place and meal! Then we walked about the well-kept and cosmopolitan state capitol.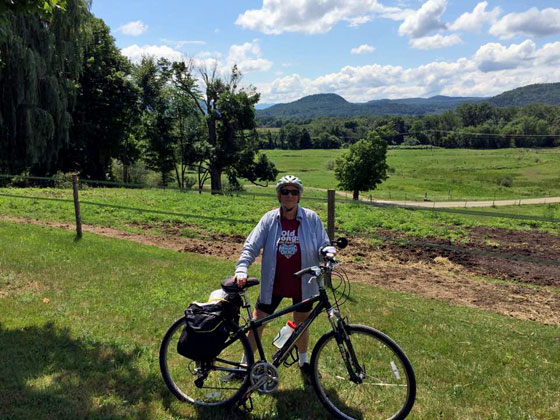 DAY 3- AUG. 4 – MID 80'S, HUMID, MOSTLY SUNNY
We should have eaten our breakfast in Montpelier because there weren't ANY roadside diners along the highway. Finally we got some pizza "off" trail around 12 pm. Remember to bring power-bar type snacks for situations like this… We then stopped in an air-conditioned local library and caught up on email messages. We followed CVT directions but, in so doing, biked onto a "washout " area off Rte 14 and then decided to backtrack to Rte 2 in Plainfield. Unfortunately, there is still CVT sign in place at the entry to this grassy area and it should be taken down immediately and the CVT re-routed! This was the most grievous error that we found on the CVT. [Ed. Note: Learn more about the big washout HERE.]
In general, there is a sore need for many, many more CVT signs before and after intersections. Many times we just guessed which roadway to take because there were no CVT signs at the junction and sometimes there was a CVT sign placed after the turn , sometimes not. When there wasn't, we decided to backpedal , go the other way, and look for a CVT sign. Hapless we were… [Ed. Note: Tips on navigating convoluted XVT route marking HERE.]
So now we were feeling the heat of the day while questioning our sanity in choosing this adventure, and began a steady uphill climb towards Marshfield. We stopped and ate a snack at a specialty restaurant called " Rainbow Sweets" and got dinner "to go". At the owner's heartfelt suggestion, we called the proprietors of our next stop,"Fruitlands" bed and breakfast, to come and pick us and the bikes up because the 5 miles remaining were way too steep for hybrid bikes at the end of any day…. They graciously assisted us. We biked only 21 miles today, but it was the most difficult stretch for us. Both Becky and I openly indulged in taking a dose of "Vitamin I" - better known as Ibuprofen…
The owners of "Fruitlands", Janet and Dale, perhaps pitied our "drained" physical state and freely upgraded us to a suite. We recovered with cold drinks and an air –conditioned room and then picked and ate their blueberries and raspberries from their organic and "off the grid" farm. I enjoyed watching nostalgic reruns of "Lassie' and "Lone Ranger" on satellite TV…..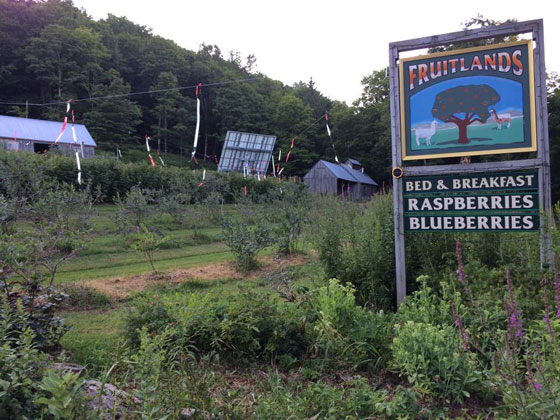 DAY 4 –AUG. 5- HIGH 80'S , HUMID, MOSTLY SUNNY
After beginning the day with a steady uphill climb from "Fruitlands", we chose to divert from the CVT. This was due to the sage encouragement of several Vermonters because of road safety concerns along the hilly and windy trail on Rte 232.
So, we changed course onto "Mack Mountain" Road, sans GPS service and struggled through the new course by banging on peoples' doors to get and confirm directions. Becky stopped the few cars traveling on these dirt roads for more travel advisories.
The ride was "Vt. Beautiful" and much of it in shade. Our reward for this unplanned "hill "climbing was to bike downhill towards the Connecticut River Valley at the end of the day. Becky swam in Harvey Lake (are you surprised by now?) and we ate lunch on a bridge over a stream in West Barnett. We experienced a pleasant finish along Rte 5 south, which had only 20% of the Rte 2 traffic at the beginning of our trip. The shoulders were 1-2 feet wide too.
We stopped at a nursery because a sign claimed that they sold more Hosta plant varieties than anyone else in New England and, alas, upon reconnoitering, we couldn't argue the point. We reached Wells River, Vt. and the tourist booth there along Rte 302 was a welcome respite indeed. We travelled 28 miles today to this CVT end in Wells River. We should have parked our car in the shade but after a while the air conditioner returned us to a homeostasis condition. Cheers, we did the CVT and will try it again !!
As an aside, Becky eventually discovered that she left her swimsuit at Harvey Lake in East Peacham, so she drove the car back from Groton State Forest to retrieve it. Place was closed, but Becky, who is rather sweetly brave and bold, explained her situation to the first person she saw and asked who the changing site manager was? As it turned out, the answer serendipitously was: his father who happened to live close by!! So, Becky went to his home and saw him riding on his tractor and in a short time he gave her the keys to the changing room. All ended well. As I have written previously, Vermonters are friendly and helpful!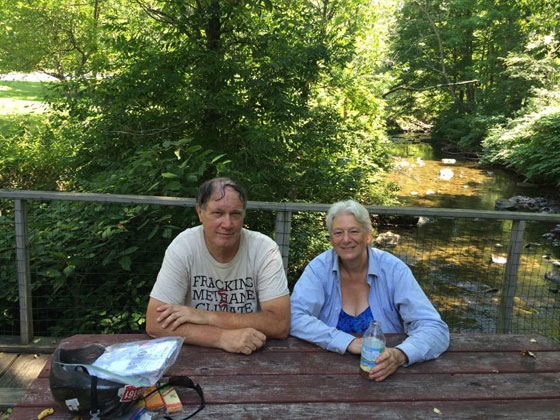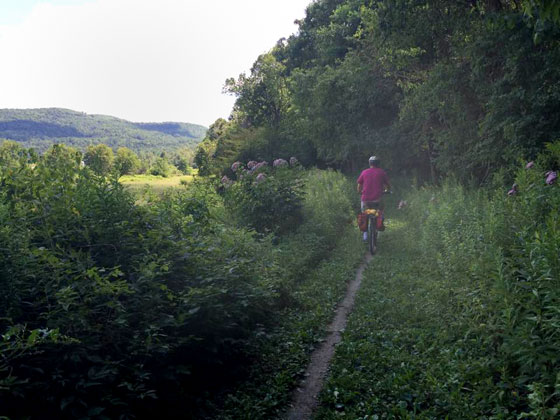 ~ Bob, August, 2016.