Significant washout of trail in East Montpelier needs your help.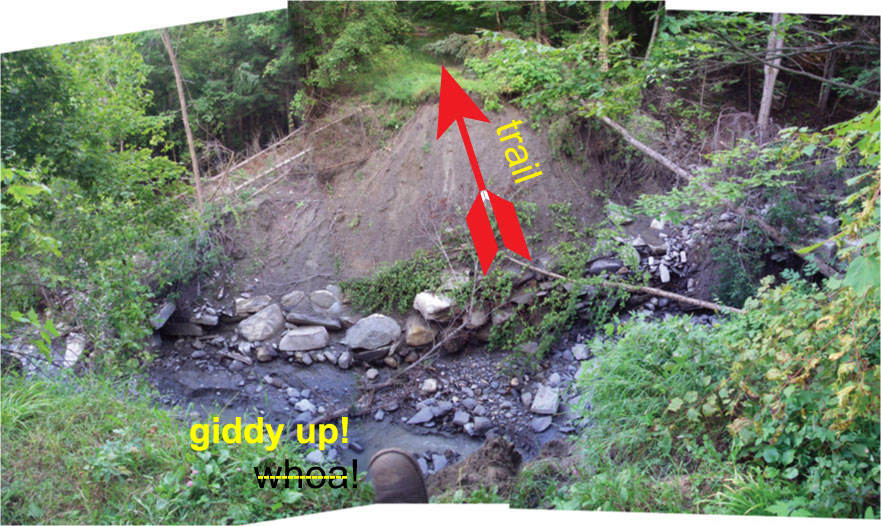 The big washout in East Montpelier is still not fixed, but we are getting closer to being able to work on it, stay tuned!
CVTA is resolved to find a solution that allows safe, sustainable use by through traffic. Give us a call to learn more.
The blowout happened May 26, 2011 when an old railroad culvert on the trail in East Montpelier became plugged with fallen trees, stones, and mud. Stormwater swelled a small brook and the water washed around the culvert. By morning the trail between Rte 14 in East Montpelier and Country Club Rd in Plainfield had been cut in two. The washout is about 35 feet deep, and about 80 feet wide (and getting wider.) It is located about 0.9 miles west of Country Club Road and about 1.2 miles east of Rte 14. (This is on Cross Vermont Trail Map 5.)
CVTA believes there is currently no safe way across or around the washout on the trail. The trail on either side of the damaged section is still open, and shorter "out and back" trips are still an option.
The snowmobile trail now uses an alternate route to get around the washout. This relocation was put together by the landowner (Fairmont Farms), and the East Montpelier Gully Jumpers and Barre Sno-Bees snowmobile clubs. It is not open for summer use. If you are interested in using the snowmobile trail system during the winter, you can purchase a Trail Maintenance Assessment (aka a trail pass) from a number of local businesses.
Numerous other locations in this area were also damaged by the 2011 storms, and all of those have been fixed now. The snowmobile clubs took the lead on this work. CVTA was able to raise a couple thousand dollars in donations to contribute to the contractor costs, and we did some pick and shovel work in 2012 to help out as well. (We planted trees to stabilize slopes, and we rebuilt ditches along the old railbed. The filled in ditches were part of what led to the damage in the first place.)
Help for the final repair of the big blow out is needed from all trail users. Help is especially needed from people who use the trail in the summer, and who use the trail in a non-motorized way, to cover the additional effort of repairing this section of trail in a way that will work for four season, multiple use.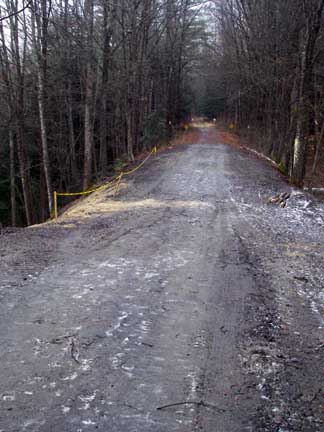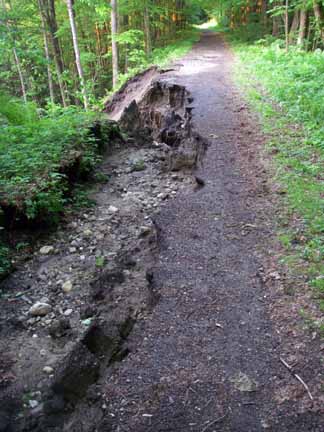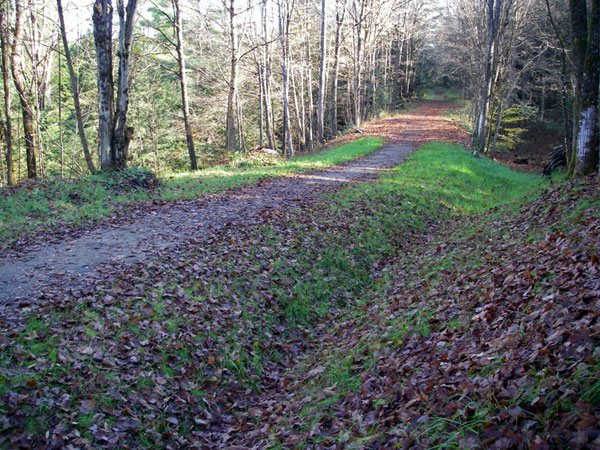 We look forward to helping finish the remaining work.