About Us
A new trail, running east to west across north central Vermont.
Following the Winooski River and Wells River valleys.
family friendly recreation for people of all ages and abilities
safe travel to school and work for non-motorized commuters
convenient location for daily exercise and healthy outdoor activity
a permanent greenway for easy local access to the natural world
The Cross Vermont Trail will be a 90 mile path connecting towns across the state from Lake Champlain to the Connecticut River - over 30 miles are built and open to the public, and more are under construction now.
The Cross Vermont Trail Association is a formal organization of people who want to help make this trail complete. We are an incorporated non profit, 501(c)(3), member based and volunteer driven, with two part time staff members.
Our mission is to assist municipalities, recreation groups, and landowners in the creation and management of a four-season, multi-use trail across the state of Vermont for public recreation, alternative transportation, and awareness of our natural and cultural heritage.
The Cross Vermont Trail Association was created when people saw these needs:
Some local towns and landowners are building shorter trails, but they lack connection to each other. We answer the need for a statewide organization to support the connection of existing trails into a complete network.
Some local towns and landowners are interested in having trails in their area, but lack the resources for construction on their own. We answer the need for a non-profit organization that can raise funds and recruit volunteer effort to help build new trails from scratch.
And in the meantime, we answer the need for "getting people past the Bike Route End signs". We are creating, installing, and maintaining signs and maps. These guide travelers on the best roads that string together existing pieces of path to put together longer trips.
The trail is a work in progress!
Bit by bit - we are working with willing landowners who want to sell or donate property to make the trail corridor, and then we are leading actual trail building with volunteers, youth groups, and (where needed) skilled contractors.
We are also coordinating with and supporting (and applauding!) the ongoing trailbuilding efforts by many other trail groups, municipalities, and state agencies.
Signs are up along the length of the statewide route. Maps and guidebook are posted online. Have you been out along the route lately? Tell us how things look to you.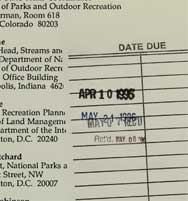 It's overdue.
That's right, we're making real the vision
of Trails for All Americans:
"What would it take for all Americans to be able to go out their front doors and within fifteen minutes be on trails that wind through their cities, towns or villages and brings them back without retracing steps? Along the way they could pass shops and restaurants, go to work, school or a park, visit an historic site or the zoo, and experience the great outdoors without a car or bus. If they were to follow the right path, the trail could take them into the countryside or possibly link up with another trail that would lead them into the deepest wilderness or to the highest mountain or across the widest prairie. They could travel across America on trails that connect one community to another and stretch from coast to coast, and from border to border. Such a network of trails was endorsed in 1987 by the President's Commission on Americans Outdoors when it called for a nationwide system of greenways within easy access of all Americans."
Read the original:
Report of the National Trails Agenda Project; submitted Summer, 1990. (opens as PDF 1.3 MB)