Temporary Route Notices
Storm damage, road construction, you name it. Check here for updates on temporary changes or impacts to plan around along the Cross Vermont Trail route. Use this information in addition to the information in our maps and cue sheets.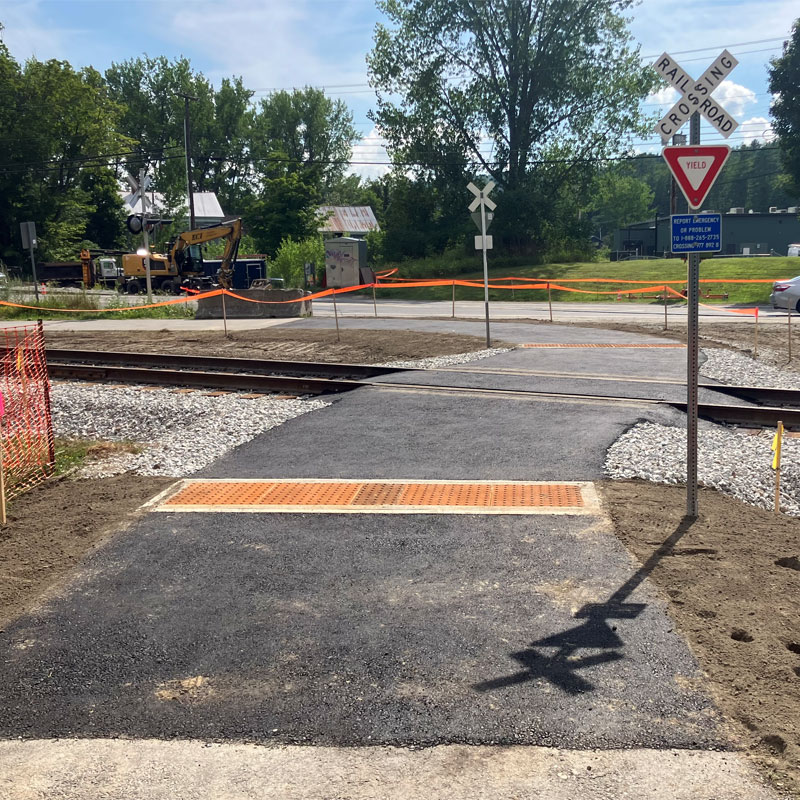 Railroad work ongoing alongside Montpelier Bike Path - but path is open.
Railroad work is ongoing alongside the Montpelier Bike Path - the "rail with trail" portion, near the round-a-bout on Route 2 and Route 302 at the east end of Montpelier. The path was closed for a couple of weeks late July and August, but has been reopened with a rebuilt crossing of the rails (and fancy trail sized railroad crossing signs.) The path should be mostly open while the railroad work is ongoing nearby, but it's possible there could be periodic short term closures, look for notices on site.
New paths constructed in Montpelier and East Montpelier not shown on maps yet.
Between Granite Street in Montpelier and the new trailhead parking lot on Route 2 in East Montpelier, new paths constructed in recent years are not yet reflected on the maps and cue sheet. We are working to update the maps, but in the meantime:
If you are eastbound, simply follow the signed path instead of the on road route shown on the maps.
If you are westbound, look for trailhead parking on the north side of Route 2 (about a half mile after passing the intersection of Muddy Brook Road and Route 2) and you can get onto the new path there.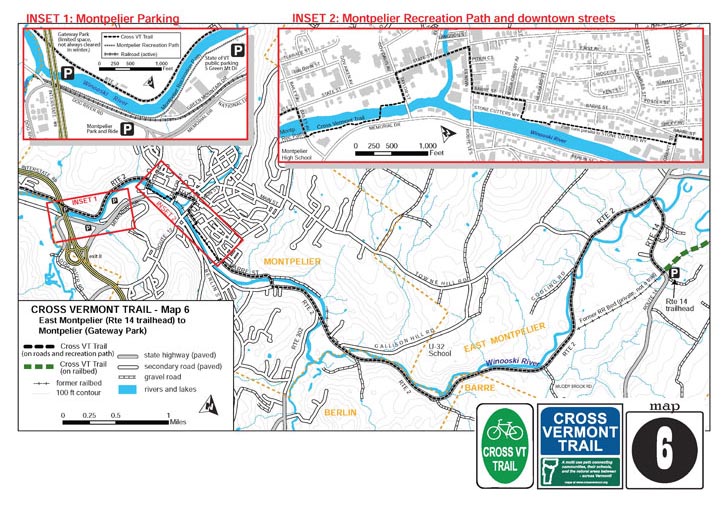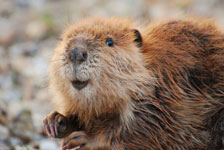 Beavers repurpose railbed as dam. (Ongoing issues.)
We can't fault them for repurposing the railbed, that'd be the pot calling the kettle black. At various times, it ebbs and flows, beavers will block culverts under the old railbed and use it as a dam to make their pond. Sometimes they (busily) build their dams up taller than the old bed, and water spills over onto the trail making large puddles. It's dramatic and cool to see. Many people can just splash through. However, it does make the going more difficult. Periodically this happens in the Wells River Conservation area behind Blue Mountain Union, and in Groton State Forest west of Lanesboro. This notice affects Maps 1 and 3.