Staff Contact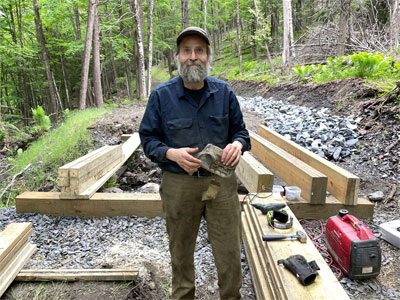 Greg Western
Executive Director

802-498-0079
greg@crossvermont.org
Greg Western began as CVTA Director in 2013, after working as a project coordinator on the trail since 2006. He is excited to help make the complete state wide trail a reality. Give a call if you want to talk about the future of the Cross Vermont Trail!
Greg has over 30 years of experience in the field and has previously held jobs with the Green Mountain Club, Appalachian Trail Conservancy, Vermont Youth Conservation Corps, Student Conservation Association, National Park Service, the Bureau of Land Managament, and what not. His personal best bowling score is 149.
Read his blog here.
Address:


Cross Vermont Trail Association
PO Box 116
Montpelier, VT 05601
Street Address:
29 Main Street, Suite #4
Montpelier
Our office is within the Central Vt Regional Planning Commission, on the second floor of the Walgreens Building on Main Street in Montpelier. Directions to our office location.
| Name | Office | Hometown | Affiliation |
| --- | --- | --- | --- |
| Dawn Anderson | | East Montpelier | |
| Nancy Everhart | Vice Chair | Marshfield | Vt Housing and Conservation Board (retired) |
| Rick Hopkins | Treasurer | East Montpelier | East Montpelier Trails |
| Rose Paul | Secretary | Plainfield | The Nature Conservancy (retired) |
| Ben Rose | | Williston | Vt Emergency Management; Green Mt Club (formerly) and Catamount Trail (formerly) |
| Mike Thomas | Chair | Wells River | Newbury Conservation Commission |
| Craig Whipple | | Plainfield | Vermont State Parks (retired) |
By the way - there are open spots on the Board. Do you want to get involved with a true grass roots group making a real difference on the ground? Give us a call if you are interested in learning more.