Updates and media posts.
September 14, 2023
Cross Vt Trail featured on bike packing podcast.
"They called us loopers" he said. So now they've got a name. Bikepacking enthusiast and podcaster Ben Hall recently made a trip starting in St. J. down to Wells River over on the Cross Vt Trail then up to the Lamoille Valley Rail Trail and back around to St. J.
His website covers a remarkable broad range of subjects and - just kidding, it's really just a lot about bikes and trails. And so it makes sense that his most recent podcast is an interview with CVTA Executive Director Greg Western.
Listen to this show and more at neddirt.com.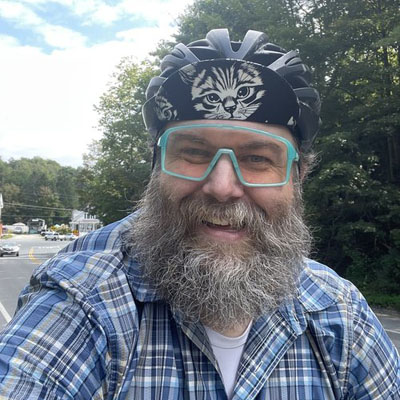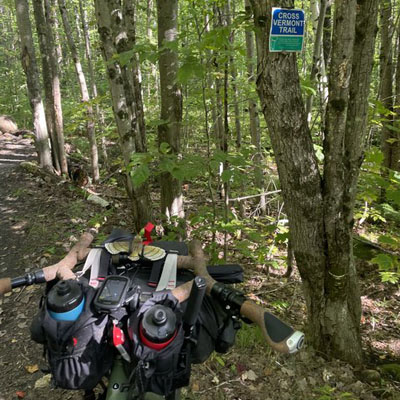 September 14, 2023
New section of Cross Vermont Trail officially opens on railbed!
The railbed between John Fowler Road in Marshfield and the Plainfield Park and Ride in Plainfield Village is now officially open as the newest section of the Cross Vermont Trail. Yes, people have "traditionally" used the railbed here as a trail for many years, but now we have real permission from the landowners - a private parcel and also two parcels owned by the Town of Plainfield. Please keep in mind that the private parcel is open to public use on condition that trail users Stay On The Trail, do not trespass into the fields and forest to the sides of the trail where you see the "Posted" signs.
East to West: from Rte 2 turn left onto John Folwer Road. Literally go over the river and through the woods and up a short hill on this dirt road. Then turn right onto the old railbed. The Cross Vermont Trail follows the railbed for a half mile to the Plainfield Park & Ride. Continue through the Village on Main St. back out to Rte 2 and turn left onto the highway.
Click on the images below for larger versions.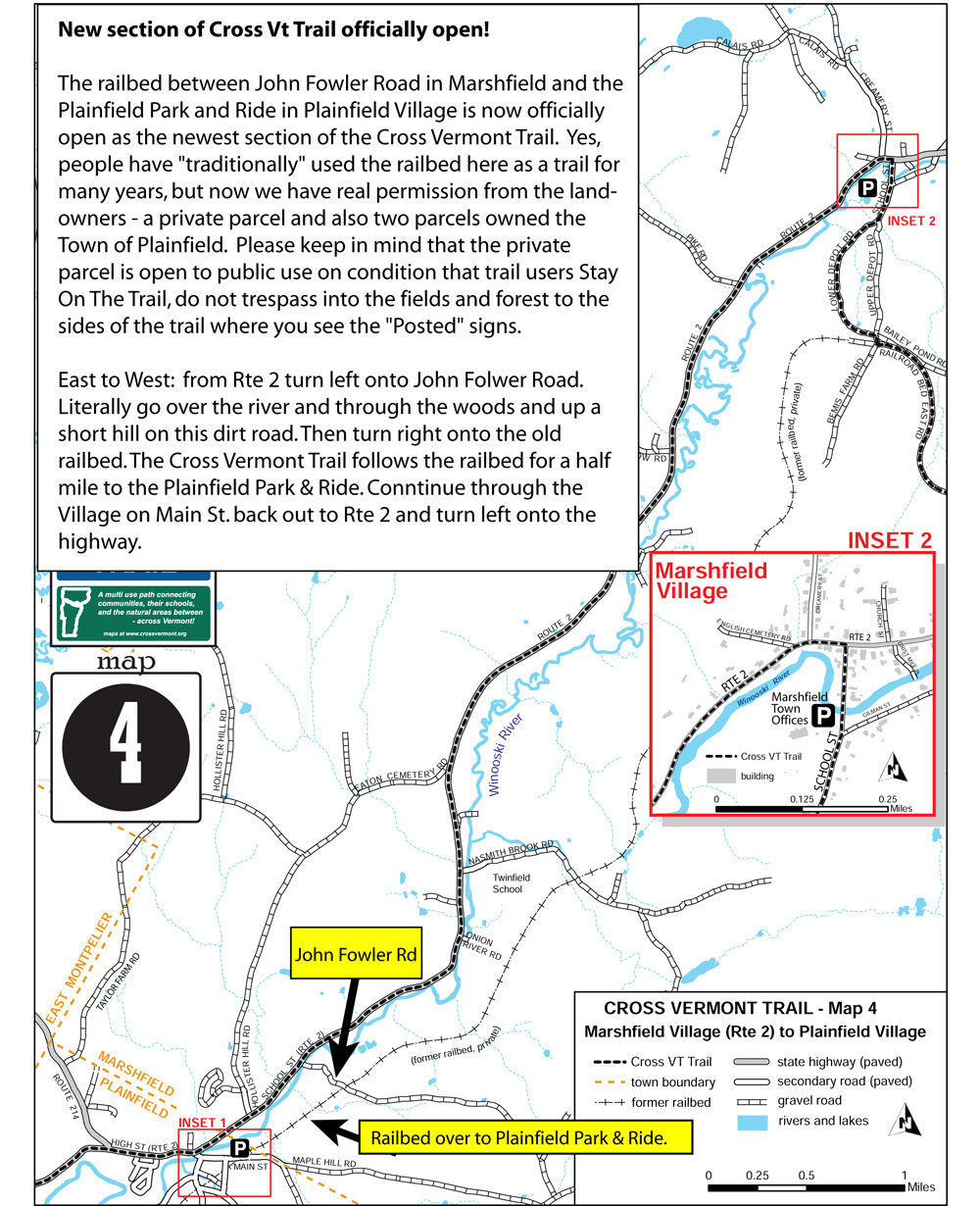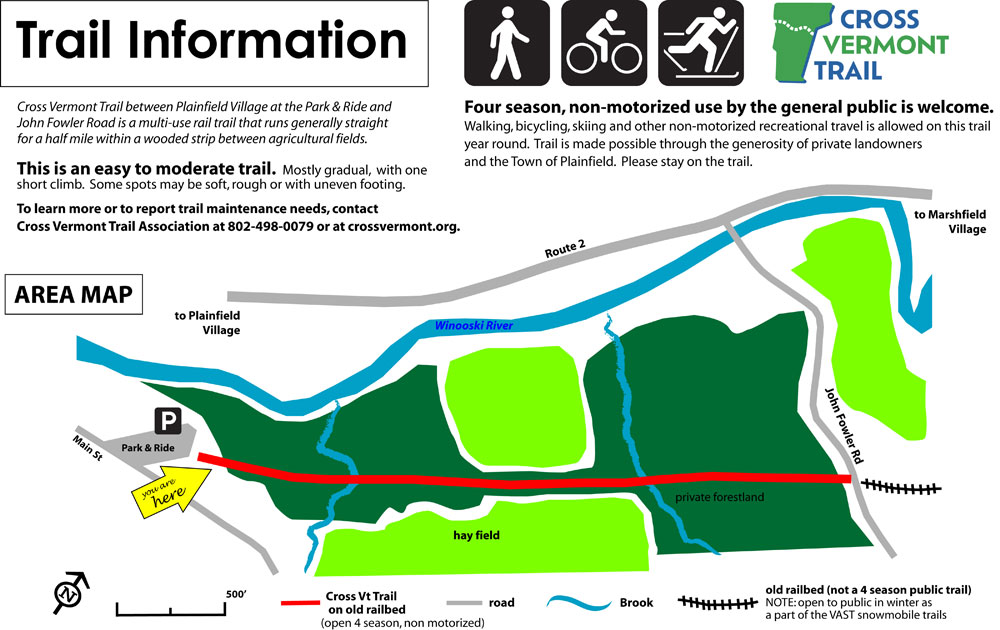 September 13, 2023
Storm clean up report: Two months out from the big flood, happy to report have completed all the "odd and ends" of smaller repairs - on the sections of trail where CVTA is the primary lead for care and maintenance. See Storm Updates Page for current status section by section.
Here is a before and after for a slumped area at a culvert on the rail trail: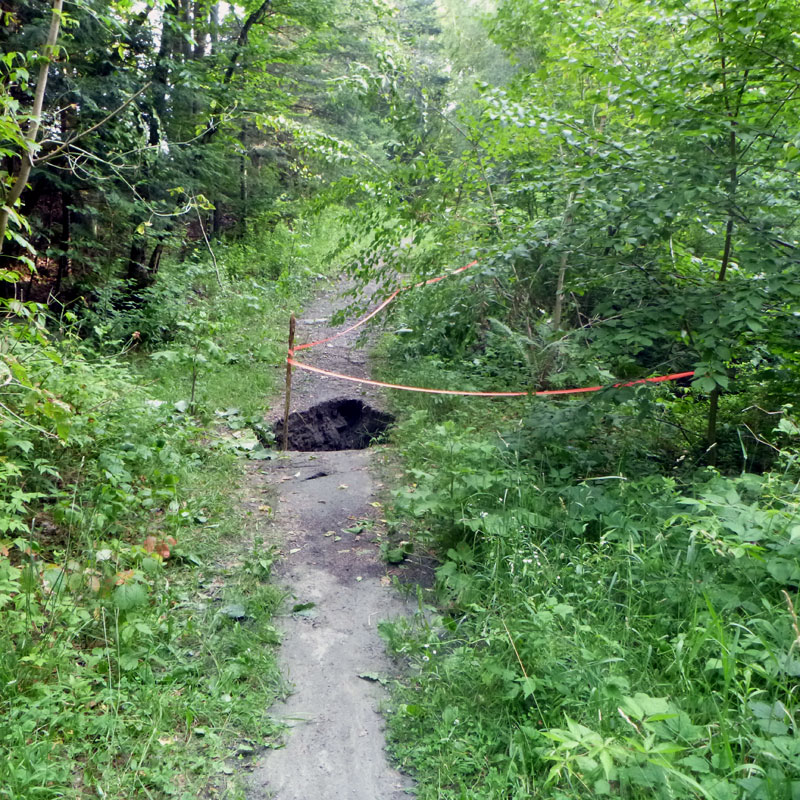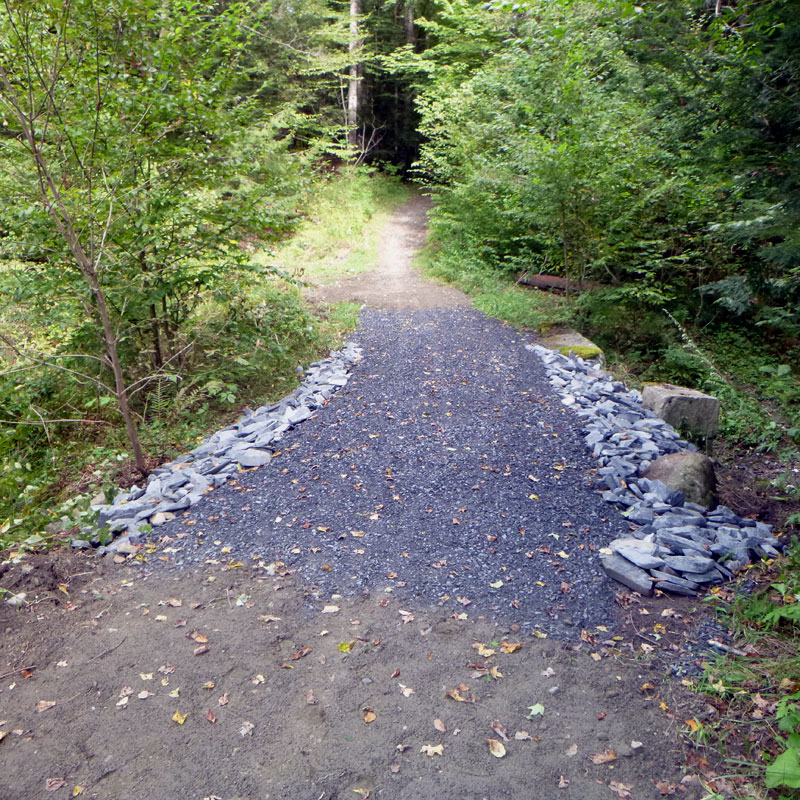 Next up, we are returning to the Winooski Bridge project. Aiming for a productive Fall season to get caught up there.
Meanwhile, be cautioned that several significant areas of storm damage - where CVTA partners with State and Town governments - have still not been repaired, and there are some trail closures still in effect. These larger repairs will take some time to get done, but it is going to happen.
August 29, 2023
Storm clean up report: Finished patching numerous small washouts and emergent mud holes on the rail trail between Route 14 in East Montpelier and Country Club Rd in Plainfield.
To the person who marked all the spots with orange paint, keep that paint dry! but job done for now. (Except for the one annoying rock that sticks up in the railbed, still thinking about that one.)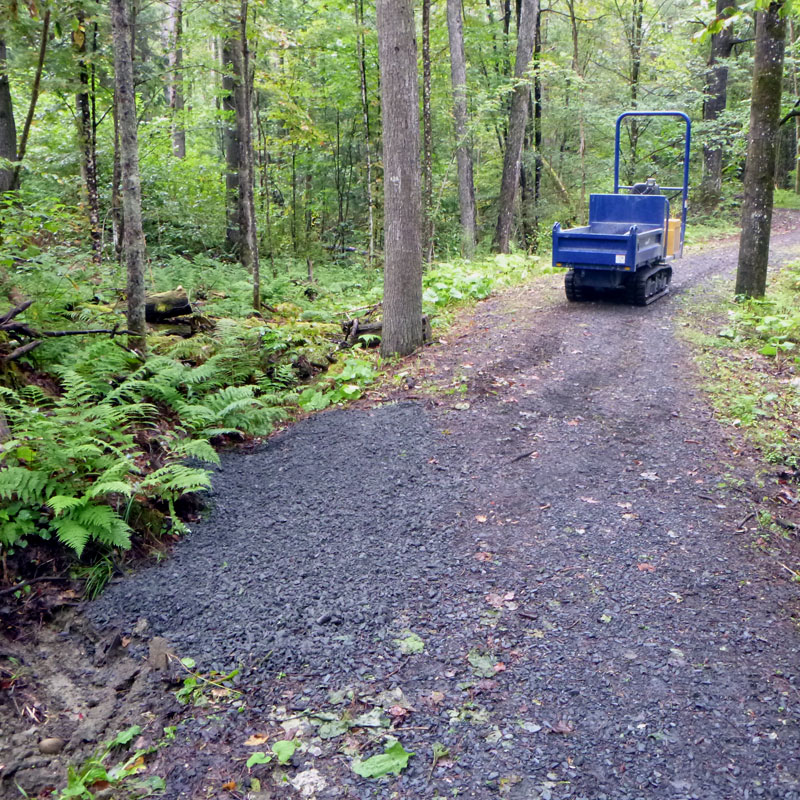 August 9, 2023
Storm clean up report: The washout on railbed just south of Rickers Mill has been repaired. This was the one significant bad storm spot in Town of Groton - the trail between Rickers Mill and Pine Mt is otherwise as normal. Stay tuned for a major refurbishing of this section being planned by the town, to be done later this fall and next spring.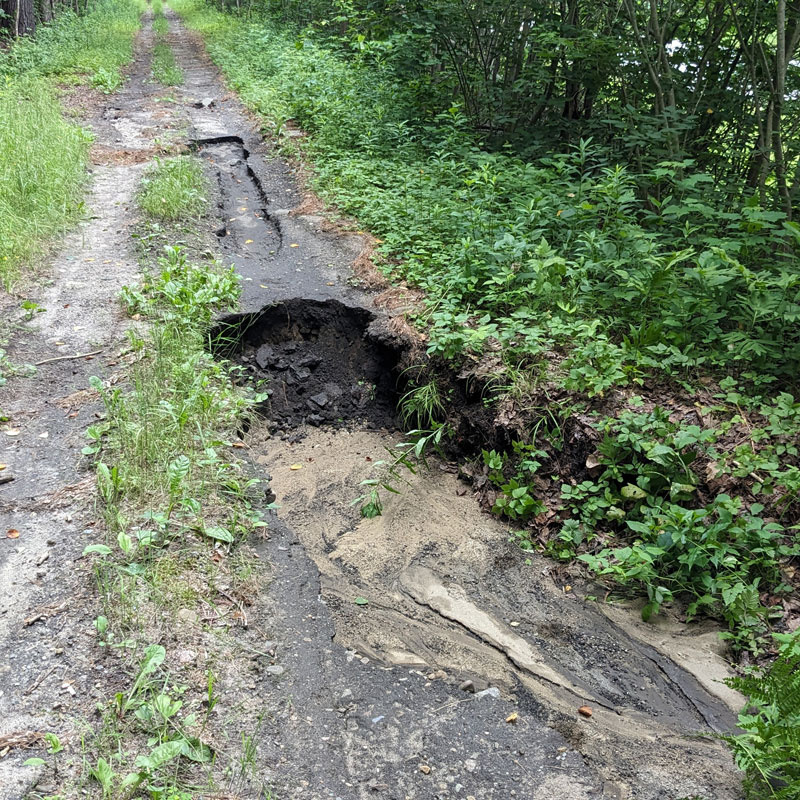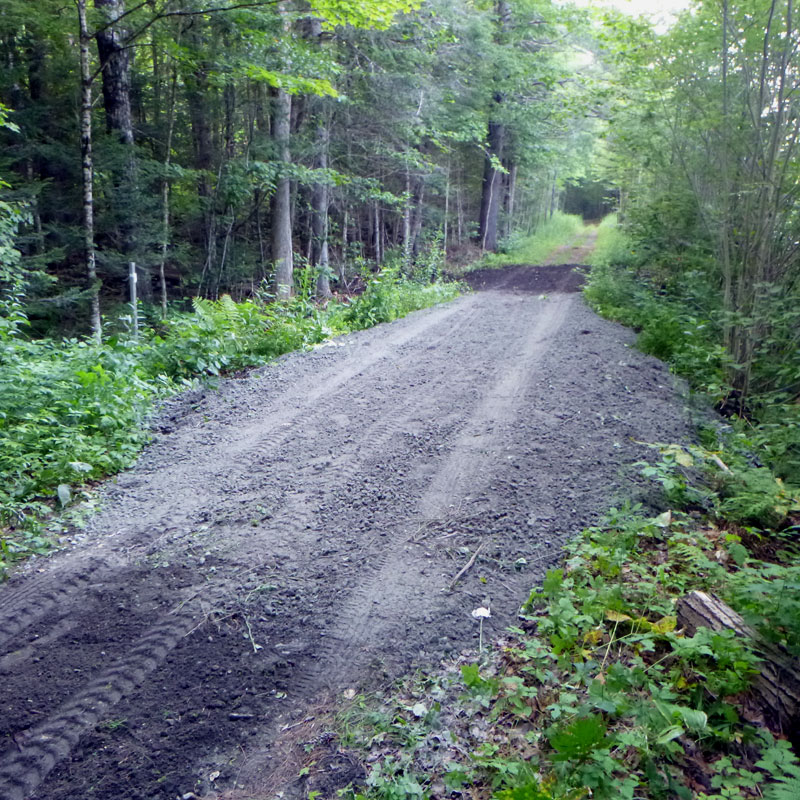 August 3, 2023
Storm clean up report: For the railbed in Groton State Forest, especially north of Route 232, the State Forest folks are planning for some larger fixes. The work will require more than just "filling in the hole" - with an eye towards addressing the root issues that made the bed prone to collapsing in the storm. It may take a bit to get all that designed, permitted and then contracted out. Meanwhile, this section of the railbed is definitely closed.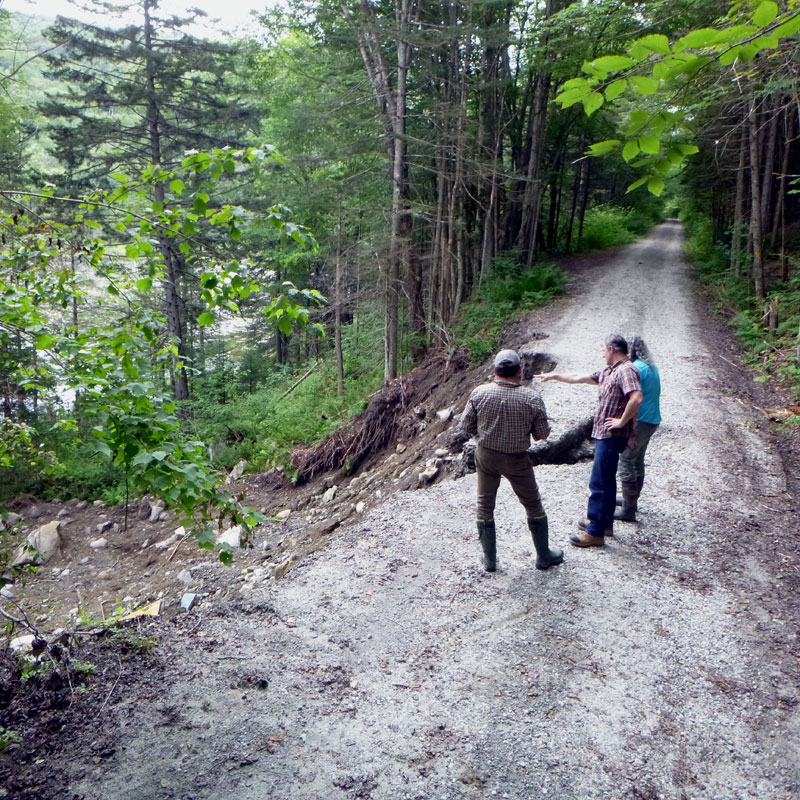 August 2, 2023
Storm clean up report: The green path along Winooski River behind Waterbury State Office Complex and through Hope Cemetery to Winooski St. in Waterbury is generally open, rough in spots. Two locations are flagged as hazardous, walk around them. CVTA volunteers helped clean up the remainder of flood debris and eclectic accumulations of trash and cleared brush and branches etc blocking the trail. Also we straightened the bench (very satisfying)! Meanwhile, the two big holes and all the piles of sand will be cleaned up by the State BGS folks - they are on the case, stay tuned.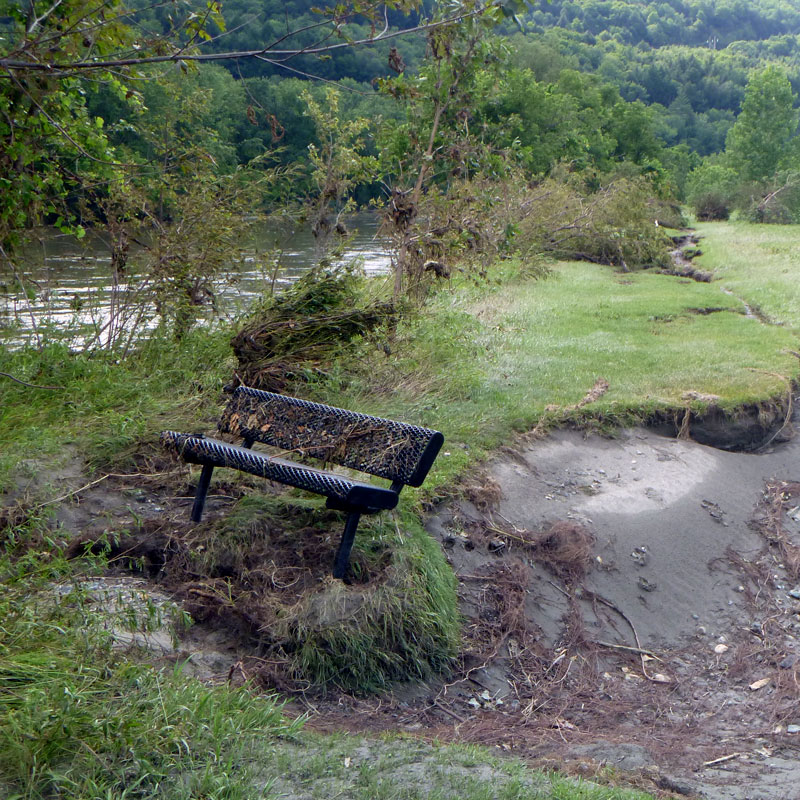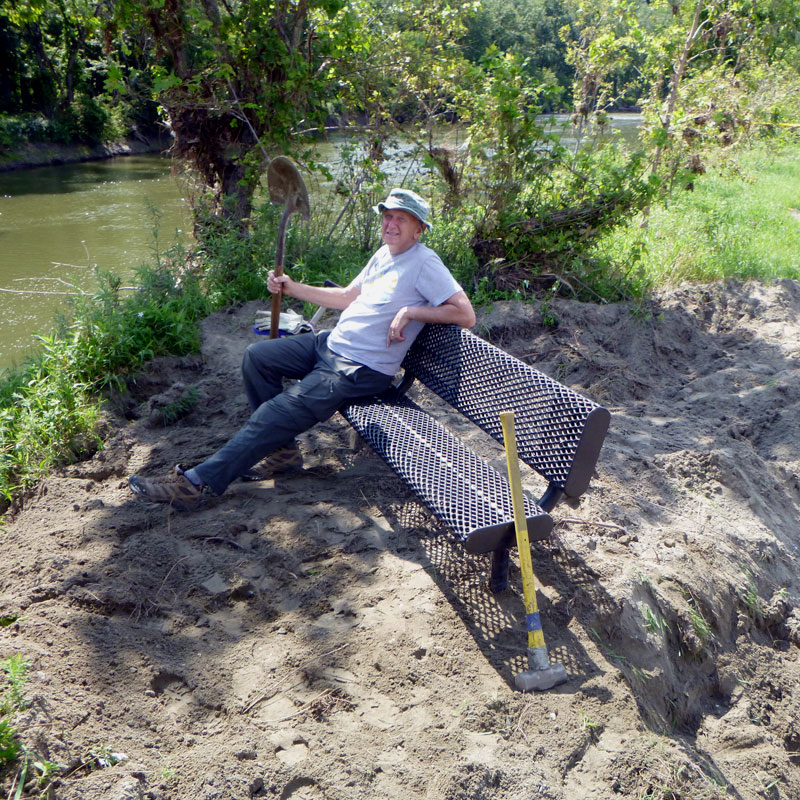 August 1, 2023
Storm clean up report: CVTA volunteers have leveled and reset the "floated away but not for far" boardwalk on the Blue Mt School trail.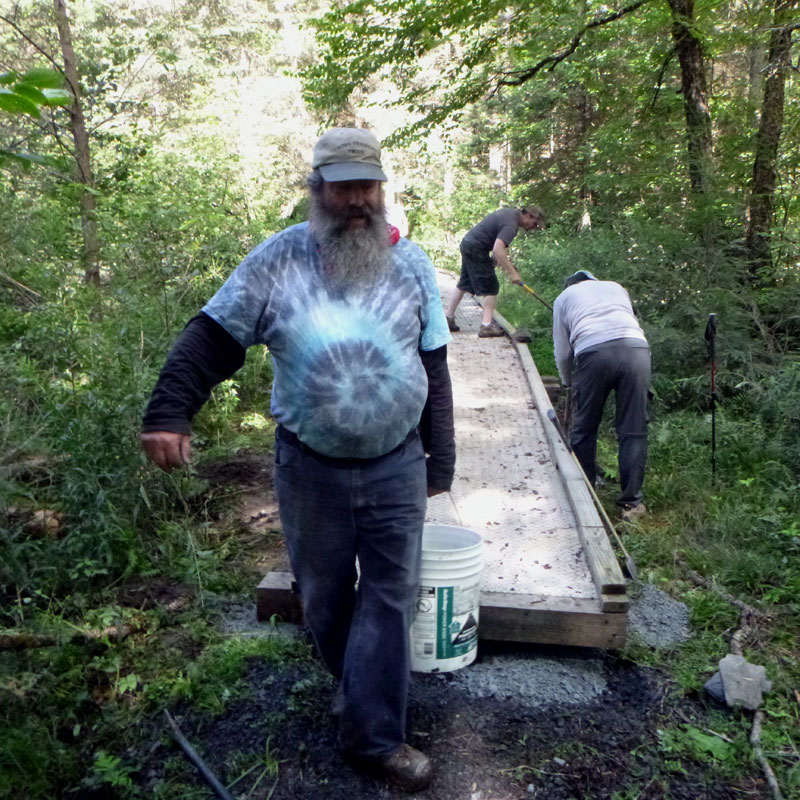 July 28, 2023
Clean up from storm is underway. Richmond Trails Committee showed up in force earlier this week to shovel silt off of the boardwalks, clean ditches, and regrade small gullies in the tread, on the Johnnie Brook Trail.
Statewide tally of storm impacts to Cross Vermont Trail posted up here.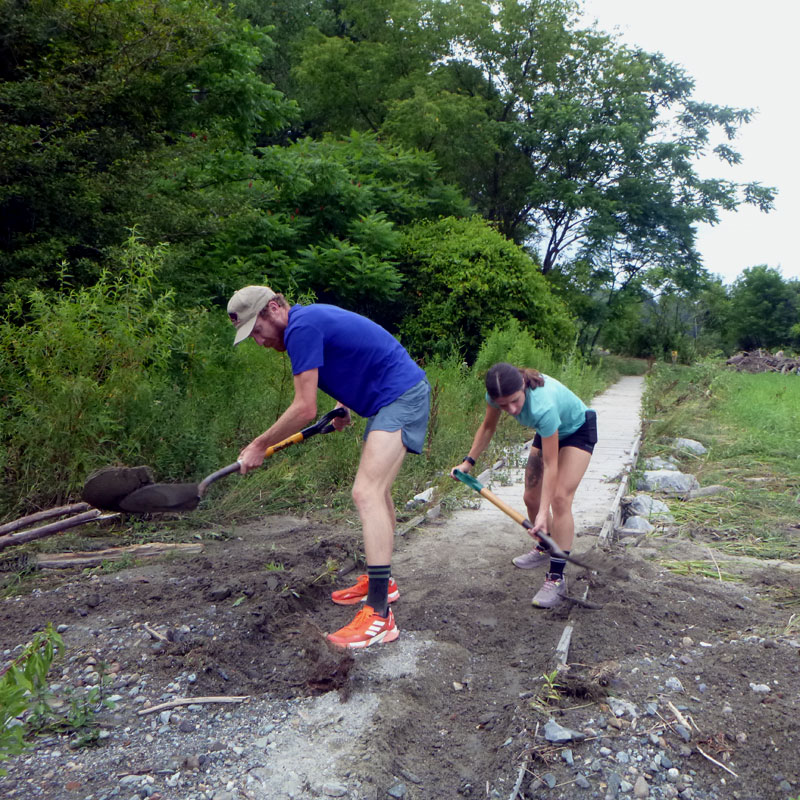 July 14, 2023
Flood Updates, first news.
The Cross Vermont Trail (Montpelier & Wells River Rail Trail) in Marshfield and Groton is closed. There are numerous washouts and impacts to bridges, which are still being assessed.
The western half of Cross Vermont Trail route from Burlington to East Montpelier, and also in Wells River in the far east, appears to be basically OK based on initial survey. Of course there is evidence that a lot of water came through and fair amount of clean up is ahead of us. There may be ongoing news of further impacts to the route, especially where the route is associated with roads as they get fully assessed by VTrans and by Towns.
Now is not the time to plan a statewide or longer trip (not that anyone is I am sure.) However, if there is a local trail near you that you regularly use, it may be OK and is worth checking out.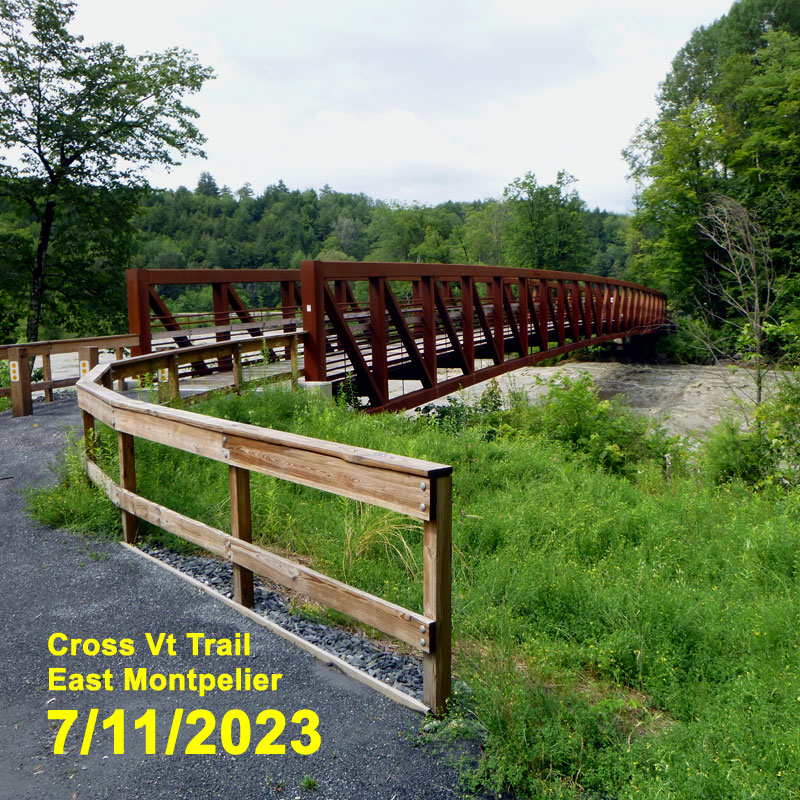 The new Winooski Bridge did fine and was high and clear of the flood even at crest. Turns out hiring all those engineers to design the expensive version was worth it, who knew?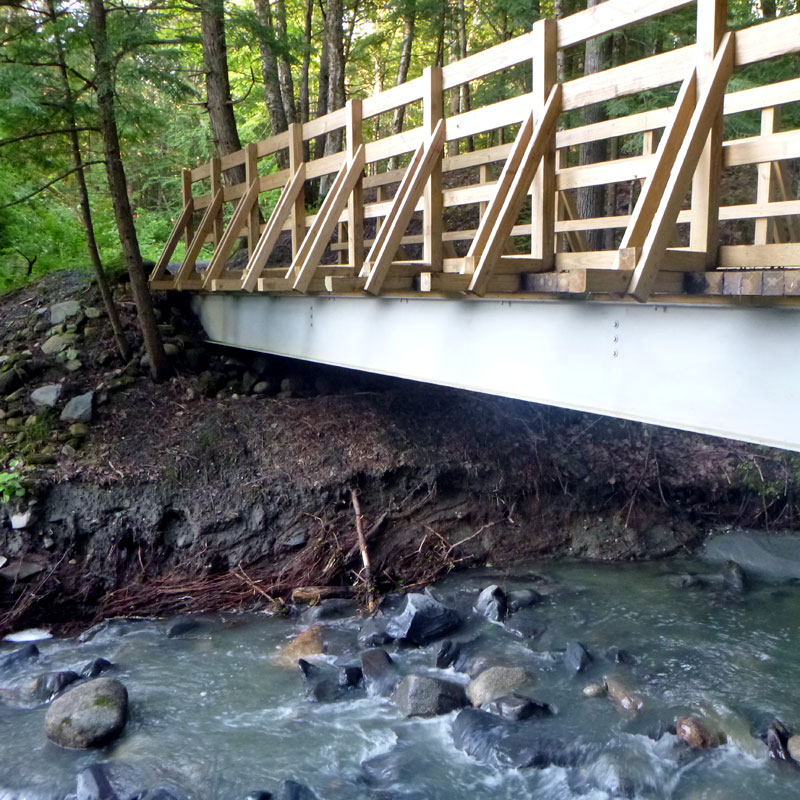 On the railtrail east of Route 14 all is well at "the big blowout" from 2011. The new bridge let the water pass as we planned. I never had any doubt except for maybe a little.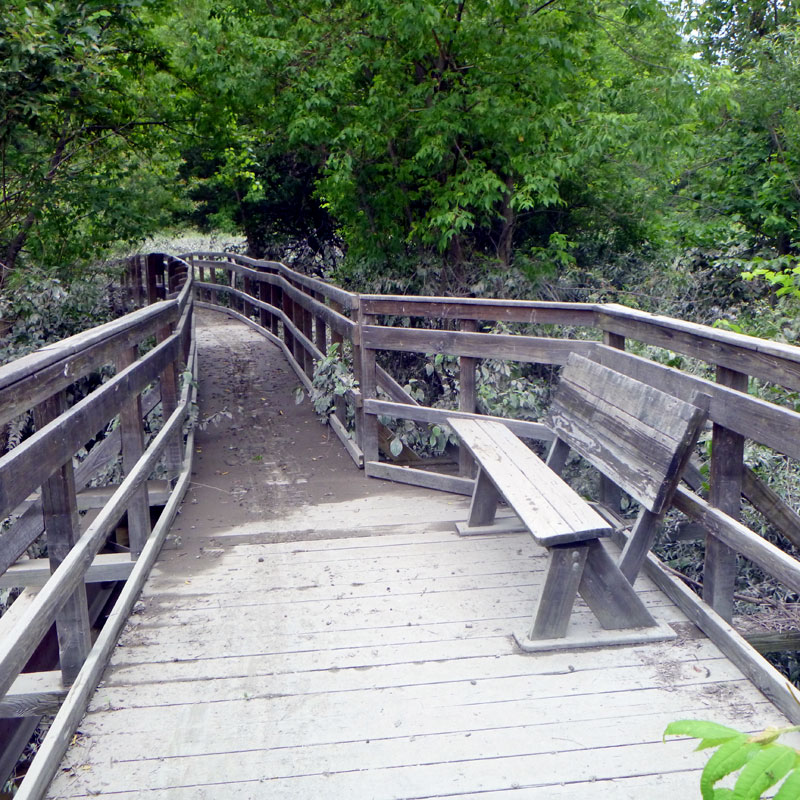 On the Johnnie Brook Trail in Richmond, you can see the mud line where the boardwalk was completely submerged, and the green of the trees that were above water level. But after water went down, the trail appears to be at first look the same as always. Amazing.
July 12, 2023
Annual Meeting rescheduled!
We are canceling on July 15 (because, there was a flood.) And we are rescheduling for September 16 (because Sept is going to be great, I can feel it).
Otherwise no changes to the detail, we'll meet at the Winooski Bridge site, etc. Hope to see you in September to swap some stories!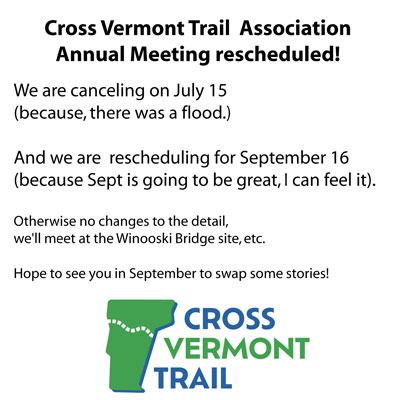 July 8, 2023
Annual Meeting INVITE
Next Saturday July 15 at 10 AM (and lasting just about an hour) we are gathering at the Winooski Bridge site.
It's the first ever Cross Vermont Trail Association "stand alone" (but we'll actually stand together) annual meeting. Usually our focus is on the "Cross Vermont Trail" part of the organization. This time though it is the "Association" part getting to be front and center.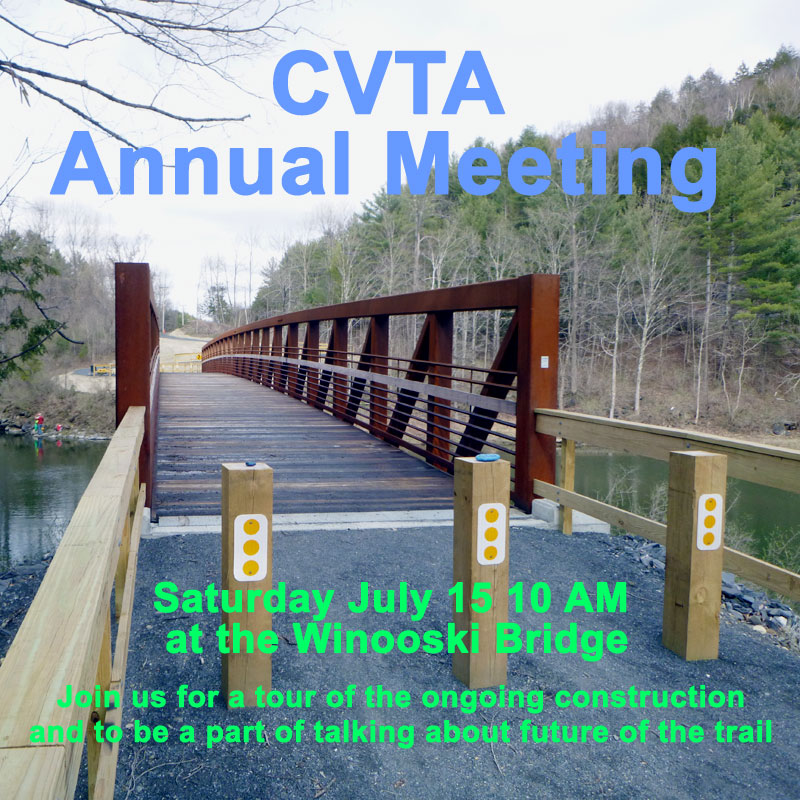 How this helps make more trail.
We always say that one of the magic tricks of CVTA is to be just big enough to do the work that needs to be done, but without making a bigger deal of things, organizationally, than needed.
An important element of being "as big as we need to be" is our hard won status as an incorporated non-profit charity which is governed with by-laws and a volunteer board AND which is ultimately a member based organization, by and for the community who support and join in our mission and vision.
That's you. You are the community members who have joined together to make this vision a reality. Thanks!
The annual meeting is a chance for us all to get together and share thoughts about what CVTA is up to and where we are headed. We want to provide updates and information as well as hear new ideas.
(Also, ahem, it's a requirement of the by-laws that we have to elect the Board at the annual meeting with a quorum of at least 15 people, not to throw too many nuts and bolts here.)
The (very formal) meeting agenda:
1.) Elect Board Members. Currently we have seven folks ready to continue on the Board. (Also, there's room for three more to join, something to consider!) Current slate:
Dawn Anderson, East Montpelier
Nancy Everhart, Vice Chair, Marshfield
Rick Hopkins, Treasurer, East Montpelier
Rose Paul, Secretary, Plainfield
Ben Rose, Williston
Mike Thomas, Chair, Wells River
Craig Whipple, Plainfield
2.) First Annual Honoration of a Trail Booster of Note. (Working on a better name for this award.) (Also trying to decide if the award should be a certificate, or a pie.) 2023 honoree is East Montpelier's Nancy Chickering! The last few years Nancy has been an ace in the hole trail bridge construction volunteer at the "big washout" on the railbed east of Route 14 and then on the new trail in the U-32 Forest. Thanks Nancy! (Plus this tricks her into attending the meeting to help us get our quorum.)
3.) Update and discussion of the current work of CVTA and a tour of the ongoing construction site around the Winooski Bridge. (This is actually the majority of the hour.)
Location Directions: Go to Gallison Hill Road in Montpelier. Across the street from the Central Vermont Civic Center you'll see the old railbed which is now the trail (but the trail signs are not up yet). Normally the railbed is not open to vehicle traffic beyond the trailhead parking lot, but for this event it's OK to drive out to the end of the bed at the Winooski Hydroelectric Co. dam site. Of course if you walk or bike out that's even better.
Next Year: We will rotate the annual meeting to different locations along our full route. Coming to a trail near you as we work to make the statewide Cross Vermont Trail a reality!
July 4, 2023
Getting the treadway gravel down on new trail through U-32 School Forest.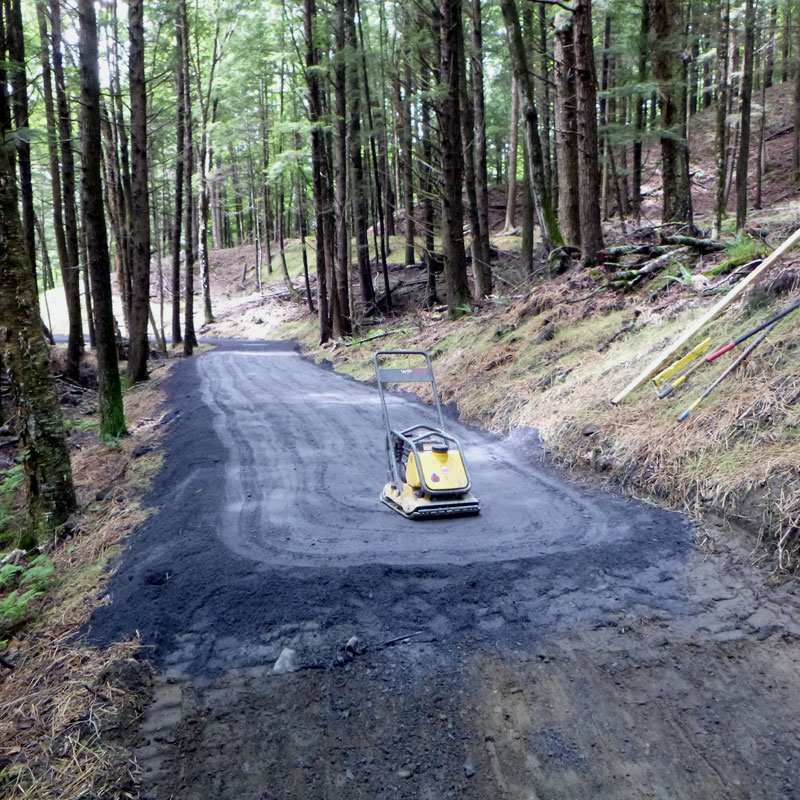 June 26, 2023
Nice day after all! This year's running of the Central Vermont Cycle Tour was another pleasant day of bike wandering on scenic back roads. By the numbers: 80% chance of rain is not 100% chance of rain; 164 riders aged 7 to 81; and we raised over $10,000 in donations to help build more trail!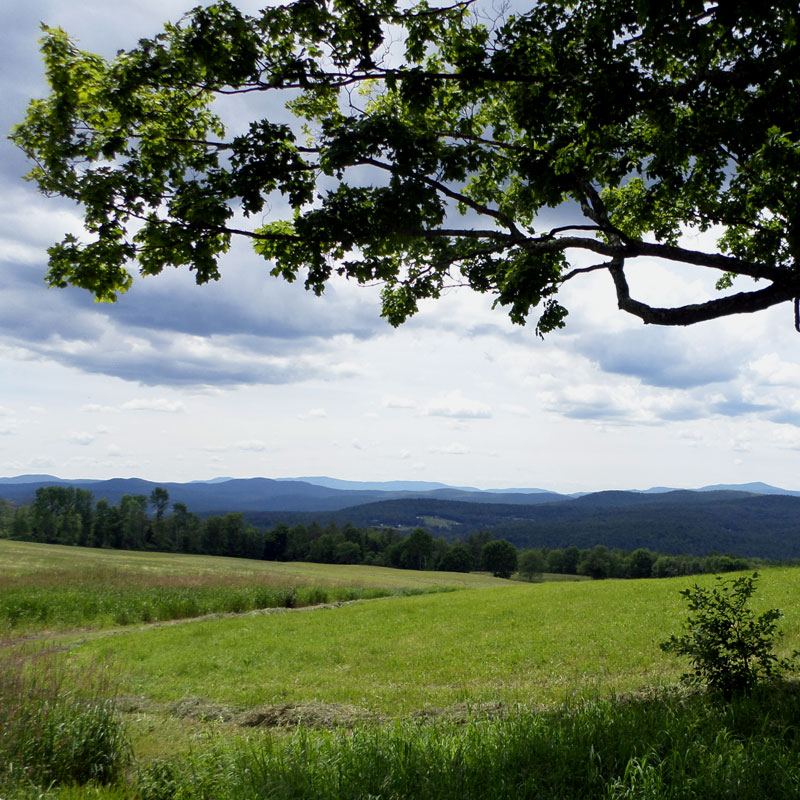 June 18, 2023
Finished the wooden bridges in U-32 School Forest. And apparantly they are strong enough.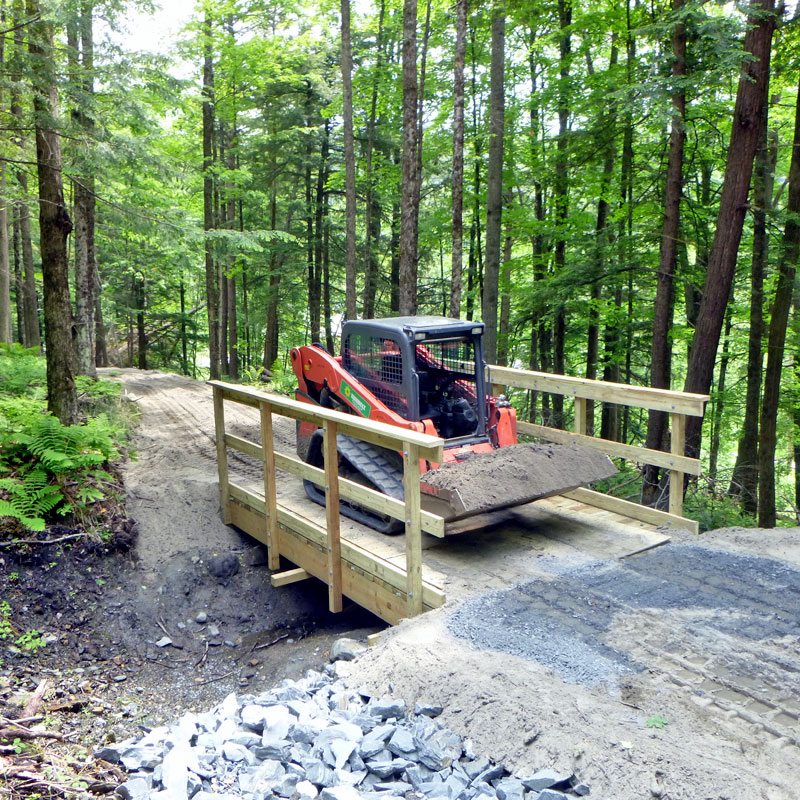 May 28, 2023
Putting together the last two wooden bridges on the new trail through U-32 Forest. Give a shout if you are interested in doing a little carpentry/pitching boards later this week and next weekend.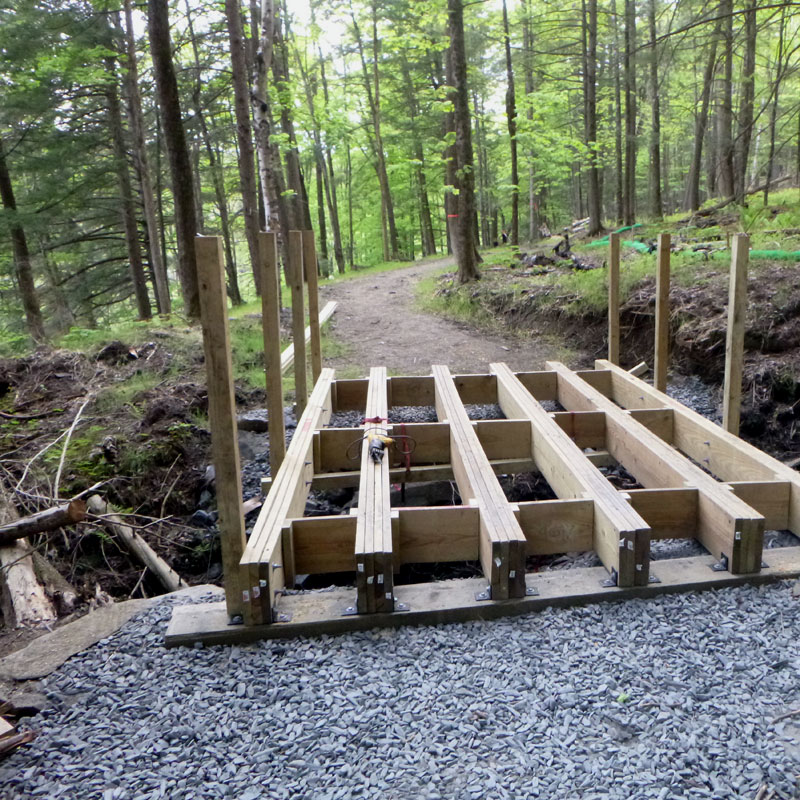 May 27, 2023
Hiking the Cross Vt Trail over Memorial Day Weekend.
Trailname Janie Walker, this is part of her larger quest to hike all of the National Recreation Trails in America! (Not counting paddle trails and motorized trails. The quest is quixotic but not unreasonable.) Still there's over a 1,000! Search the full list at Nationan Recreation Trail Database. And follow Janie's journey on instagram, her name there is janiewalkerusa.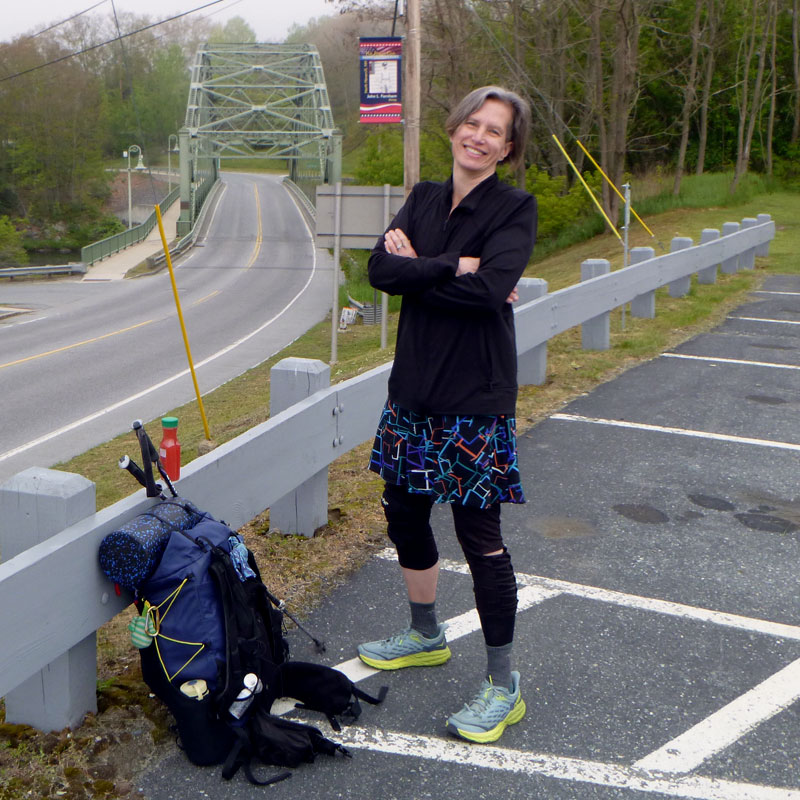 National Recreation Trail is a designation that recognizes exemplary local trails. The goal of is to promote the use and care of existing trails and stimulate the development of new trails and realize the vision of "Trails for All Americans."
May 11, 2023
And another local business has joined as a sponsor of Central Vermont Cycling Tour. Looks like we've got ourselves a convoy.

May 7, 2023
Sending out a thanks to local businesses that have donated to 2023 projects and sponsored upcoming events! And taking the excuse to say again Central Vermont Cycle Tour is coming up June 25 - most of each registration goes directly to getting work done out on the trail. Details and Registration info here.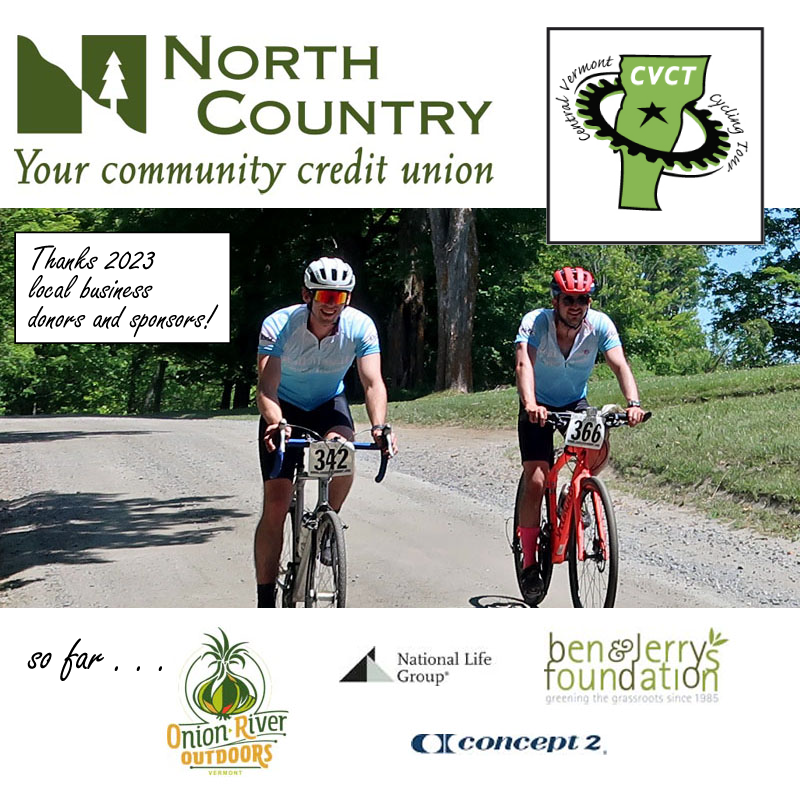 By the way, there's room for a few more volunteers to help out on June 25. If you want to spend the day outside with a 100 plus other people who are having a pretty mellow good time, this is that. Mostly help is needed staffing the food tables. But there's other things too - anyone want to take photos of the riders? (I've been milking the one photo I managed to snap last year, and I only caught up with these two guys because they had multiple flats! Lucky.)
May 6, 2023
Back to work. The new trail in the U-32 School Forest is the focus for the next couple of months. Stay tuned for updates!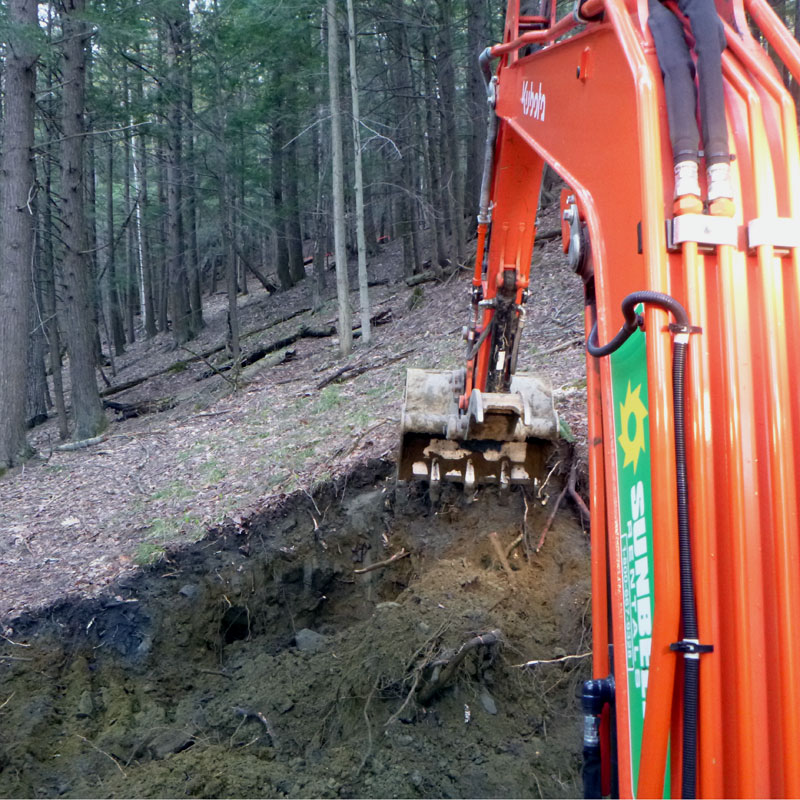 And back in April we had an info table at the U-32 8th Grade Craft Fair. Lots of folks stopped by to talk about the trail and learn about plans for upcoming year and also to get directions to the cafeteria (we take all comers). It was a good day!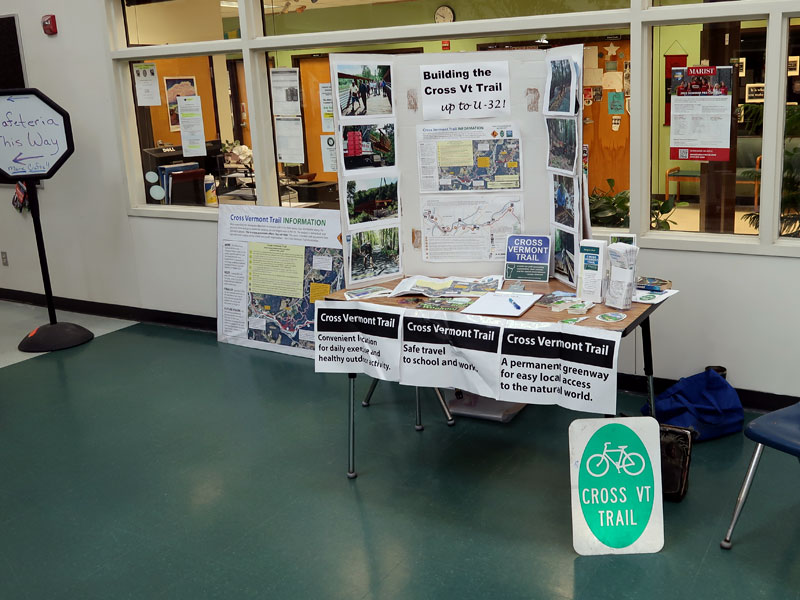 December 2, 2022
Our Annual Appeal.
Celebrating 2022 and looking forward to a big 2023.
Amazing – we are celebrating the first year of the Cross Vermont Trail Winooski Bridge being open to the public! Since the ribbon cutting last June, a steady stream of people have enjoyed the bridge and the first 1.5 miles of new trail leading to it. Every day we see trail users of all ages, all speeds, walking, biking, tail wagging – and a lot of smiling. The bridge has also gotten attention in the larger world, including "Project of the Year" at the 2022 Vermont Bike-Ped Conference.
You can help us keep the momentum going. Ambitious work is planned for the year ahead, and we need your support. Thank you to those who have made a recent donation to CVTA! If you haven't given already, please consider making an end-of-year gift to power our progress into 2023.
Make a donation.
Right now – with your help - we are working to:
* Build many more miles of trail on either side of the Winooski Bridge - up to the U-32 School and on across East Montpelier from the Montpelier Bike Path to the Montpelier & Wells River Railtrail east of Route 14. The remainder of the Winooski Bridge trail project is being completed and opened in phases over the course of 2022 - 2024.
* Secure permission from additional landowners to keep moving the Cross Vermont Trail route off of the road. In 2022 we closed on four additional permanent trail easements, and are looking ahead to many more.
* Provide leverage to community partners to achieve our larger vision of joining together local paths into a logical network connecting villages, schools, and wild natural areas. There is a snowballing of interest, and local support, to complete the Cross Vermont Trail in all parts of the state. Just a couple of 2022 examples: the Town of Groton has begun a major upgrade to the railbed including working with CVTA to find ways to move the trail completely off road; Village of Wells River committed significant seed funding to jump start CVTA to work with landowners on potential trail routes from the regional school to the village.
* Maps and signs all along the trail route will be getting a long due reboot next year, with a special focus on improving accessibility and inclusiveness. In 2022 CVTA has joined with a group of similar small conservation organizations in Vermont to pool our resources and start to come up with nuts and bolts best practices to make sure the land and trails we help care for are inviting and functional for everyone.
After many years of quietly laying a base foundation, CVTA is now rising up to meet the challenge of being a sustainable organization. We will be capable of providing well maintained, accessible outdoor recreation and safe off road transportation for the long haul. To reach this sustainable level, we need help from loyal supporters like each of you who believe in our mission.
Haven't Read our 2021-2025 Strategic Plan? Here it is in a nutshell: Increase off-road trail mileage + Build capacity sustainably + Expand awareness of our work + Leverage partnerships.
CVTA Executive Director Greg Western is busy working alongside volunteers to take care of what we've built together AND he is talking with a wide range of land owners and town trail groups to plan for building more off-road trail. Trail stewardship, trail building and strong community relations are the DNA of the Cross Vermont Trail Association. Thank you for believing in us! Please help us continue, your support is vital.
Read our full annual letter here (pdf).
Happy Trails!
Mike Thomas, Chair, and Rose Paul, Secretary, and all of the CVTA Board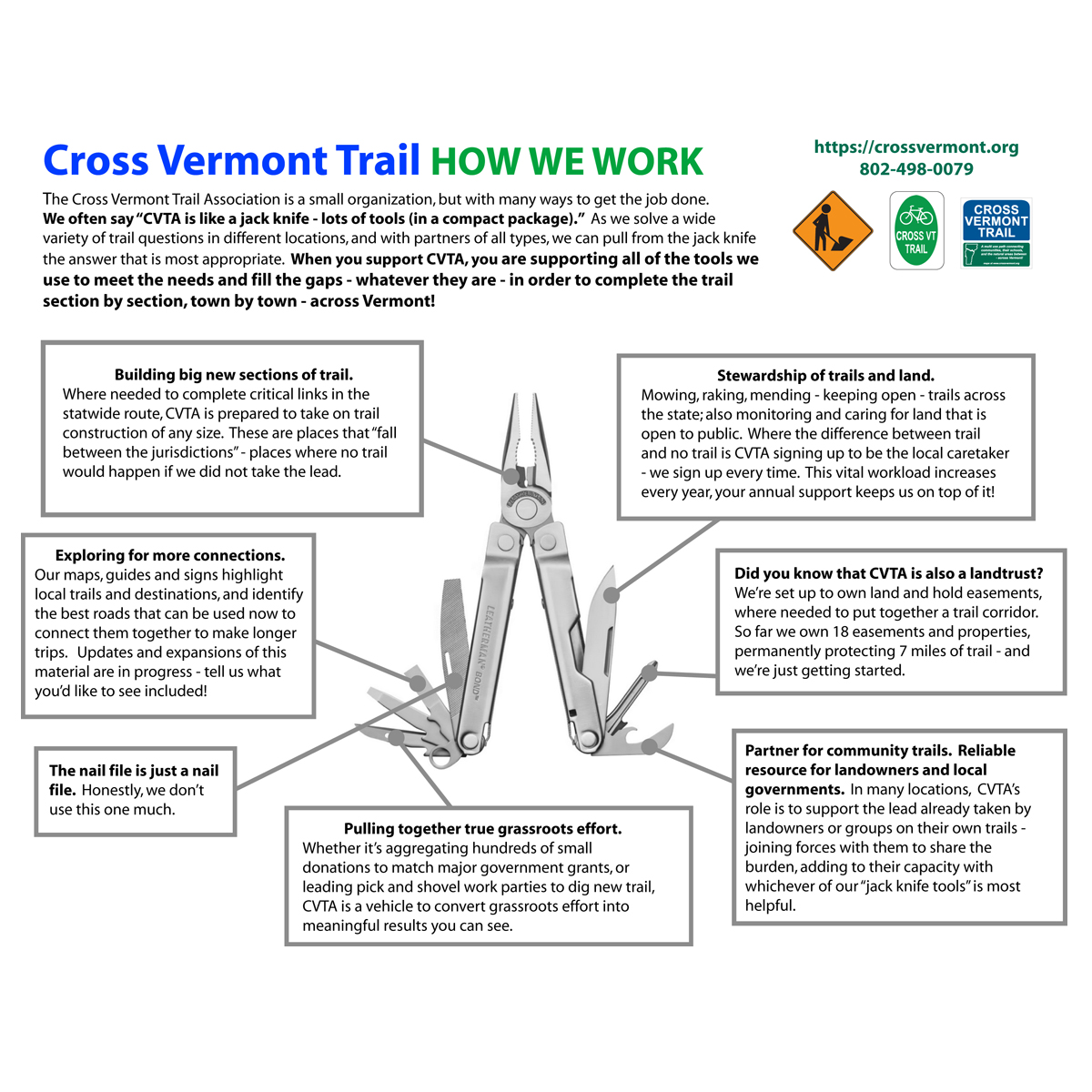 November 29, 2022
Putting the Winooski Bridge trail work site to bed for the winter.
Thanks to Norwich students, doing service projects over Thanksgiving break, who spread seed, straw and eroson control blankets to close up, for now, the trail project in the U-32 Forest.
We'll be back in the spring to complete the trail and get it officially open by early summer. Meanwhile, giving thanks for a big year of trailbuilding, whew!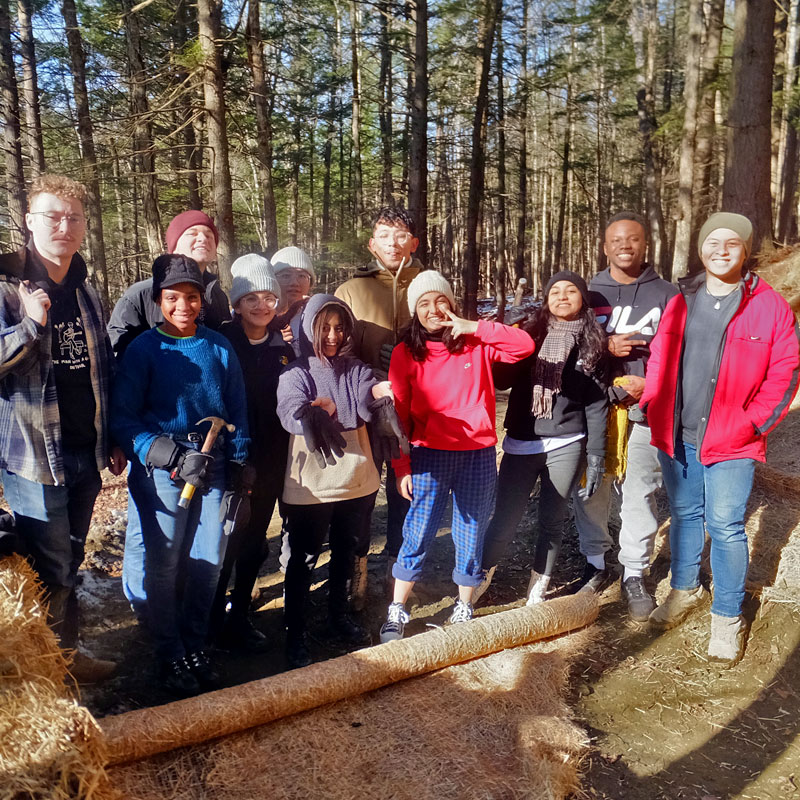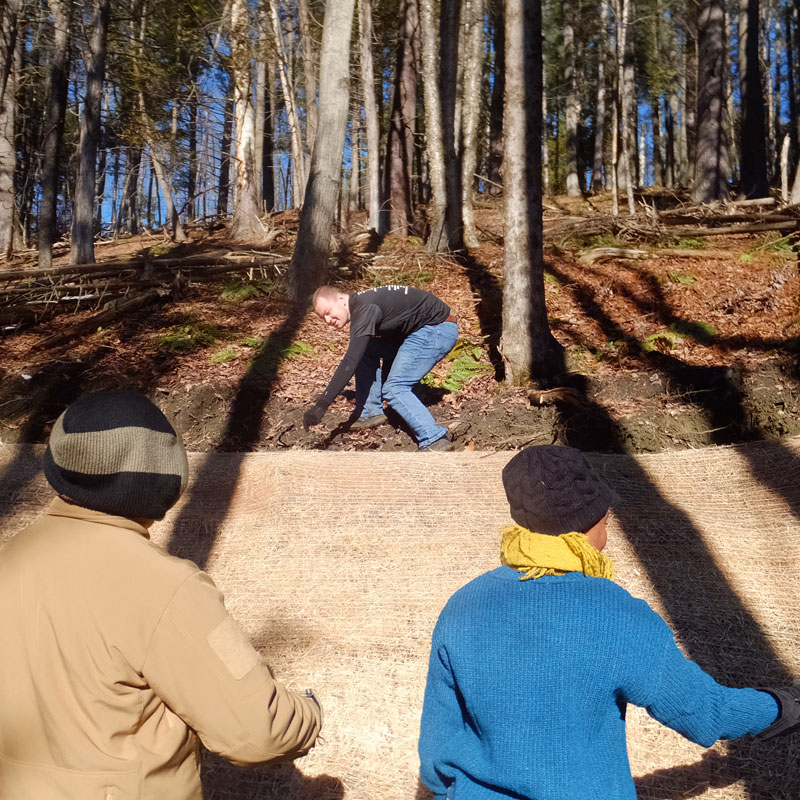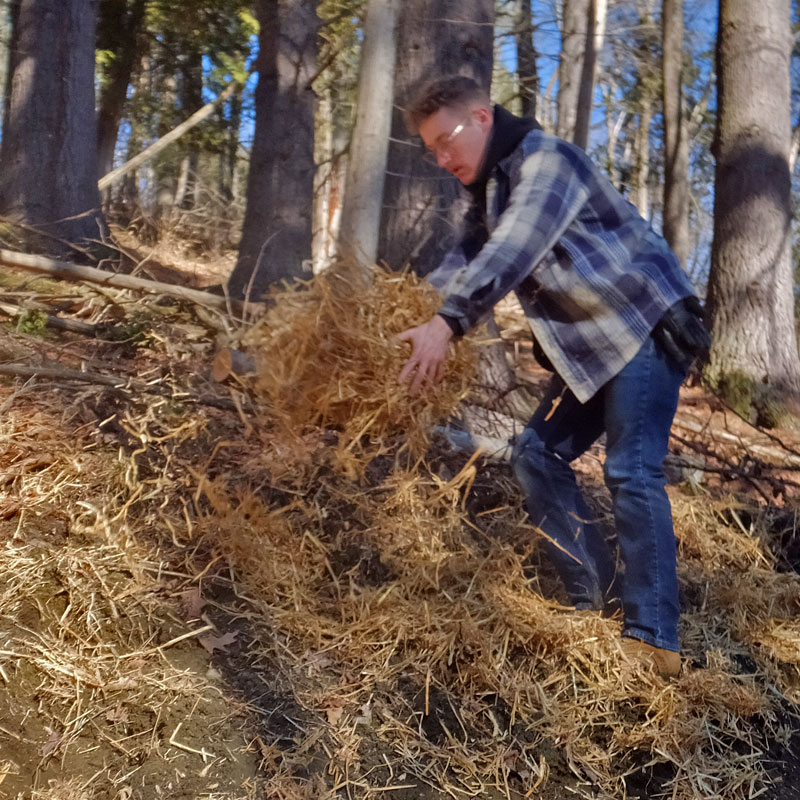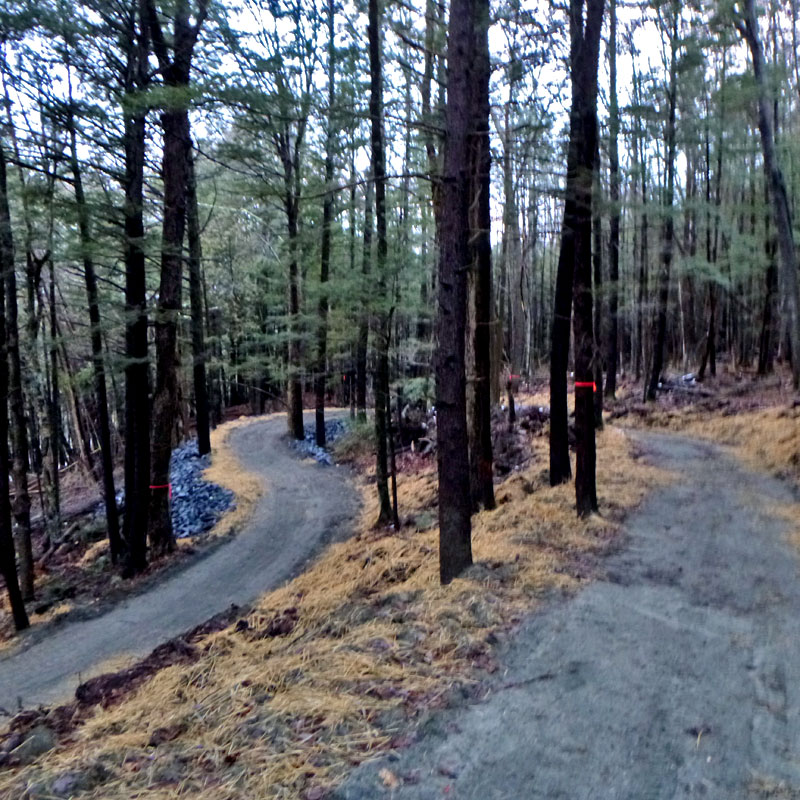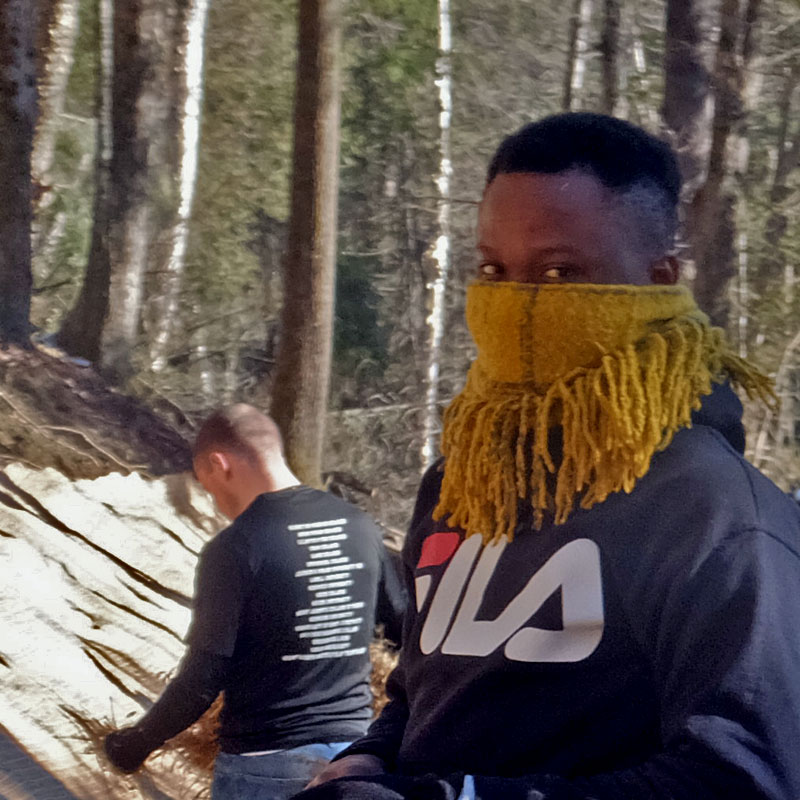 November 23, 2022
Not quite long enough. A few more days of work this fall in the U-32 School Forest before we put things to bed for the year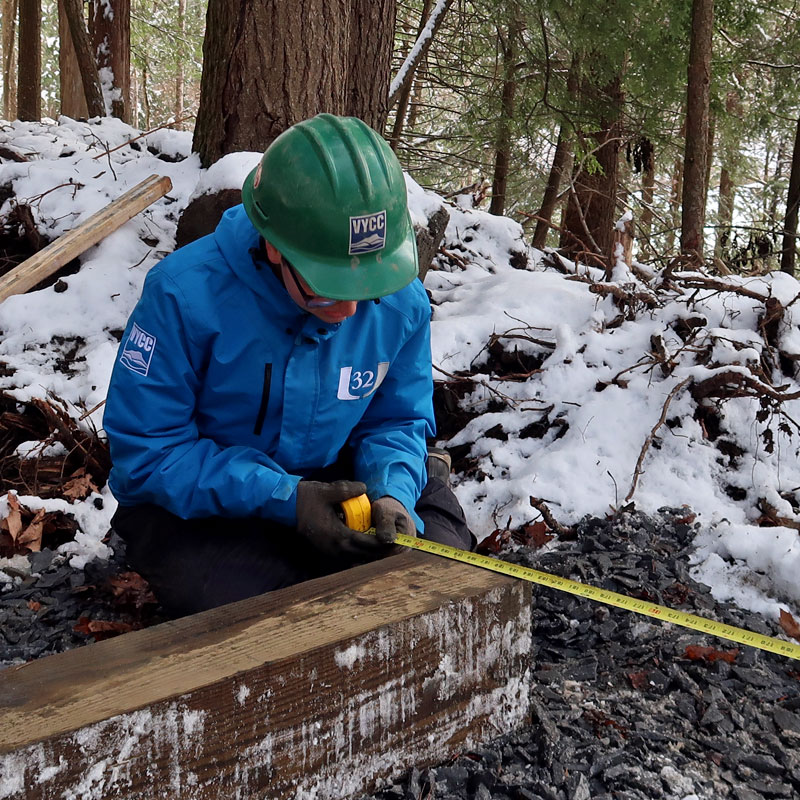 The VYCC school crew has set the sills and assembled the stringers for the next small wooden bridge. The remainder of the carptenty work will happen over the course of the winter (give a shout if interested in joining in on this), and then next spring we'll be back to finish the trail building - aiming to open up early summer 2023.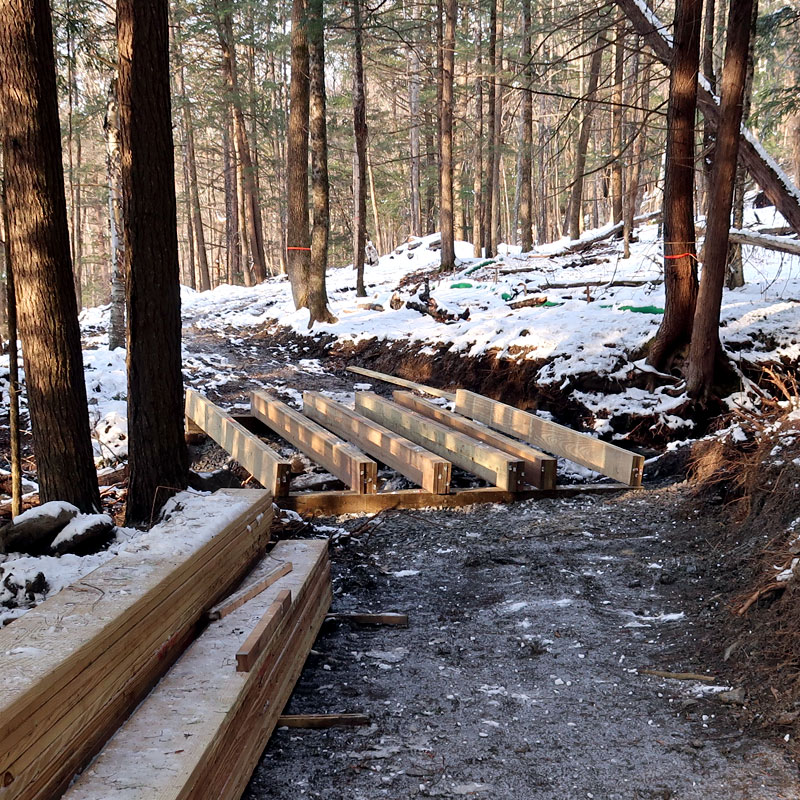 If you are around this Saturday Nov 26 and want to help close down the work site with a final round of spreading seed and straw on the new trail, we'll be meeting at 10 AM at the Winooski Bridge, near the hydrodam. A group of Norwich students will be helping, and any local volunteers (and their out of town guests!) who want to can drop in throughout the late morning and early afternoon - it's a many hands light work job.
October 22, 2022
Actually, "keep digging" sometimes DOES get you out of the hole.
Making trail while the sun shines, at least another week to go in the U-32 School Forest, to get the all the new trail roughed in. (Final treadway gravel, small bridges and railings to come next Spring.)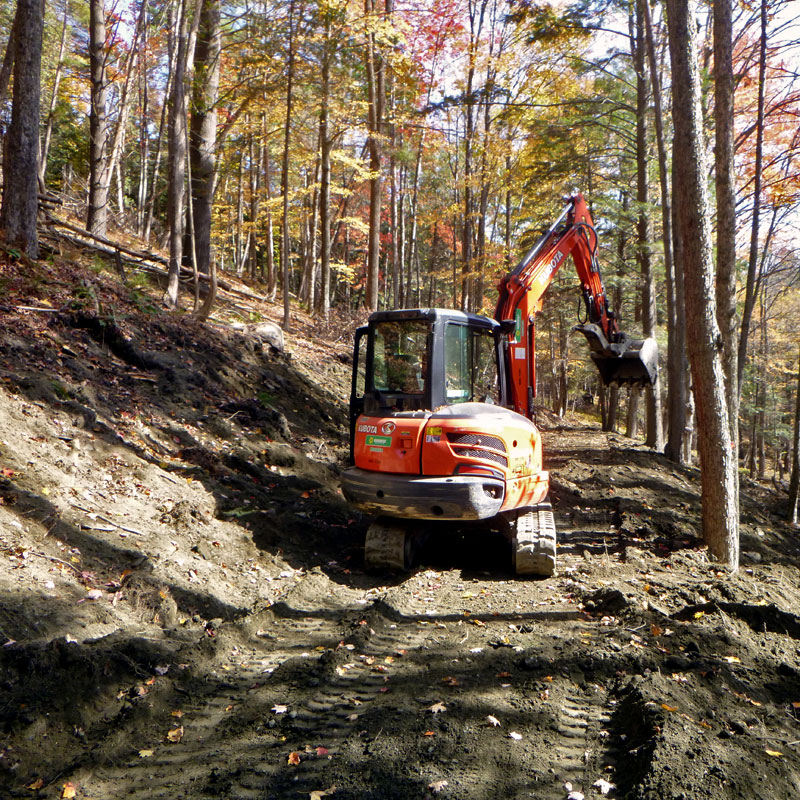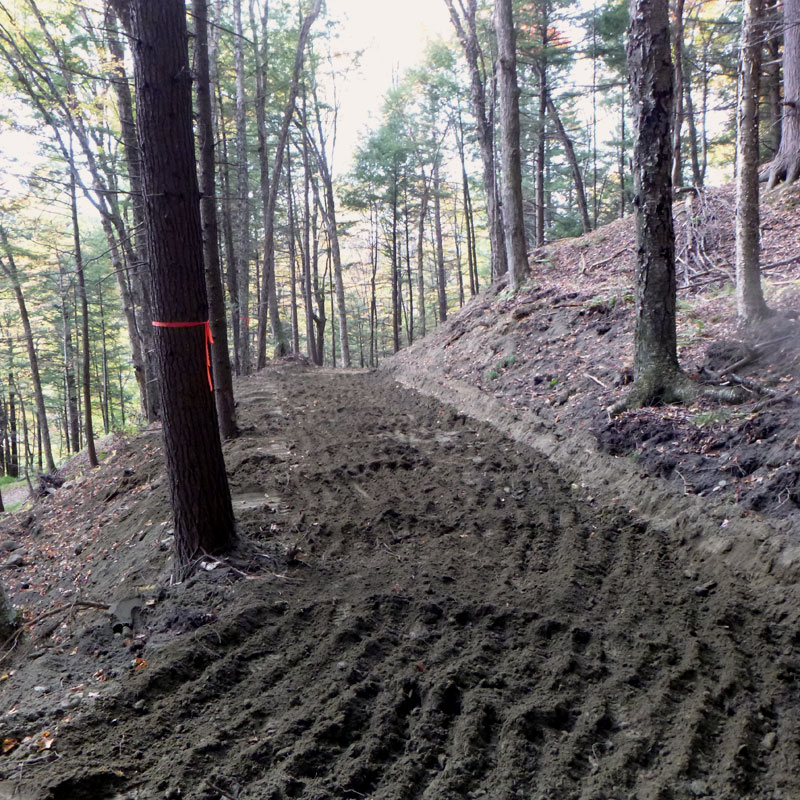 October 18, 2022
Stumbling across many new-to-me mushrooms, scouting ahead for each next section of digging on the new trail through U-32 Forest.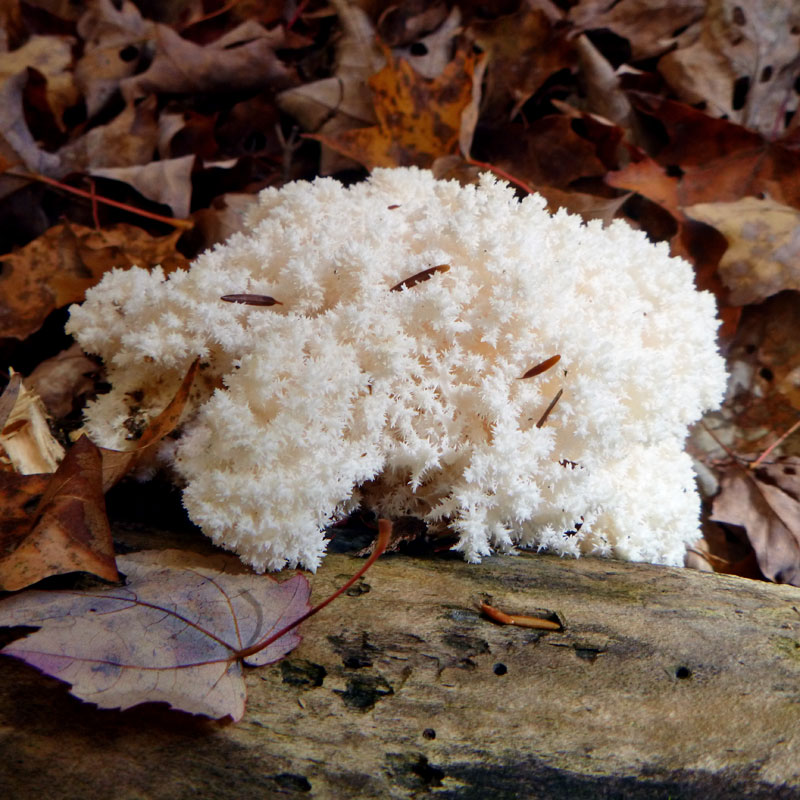 The trail from the Winooski Bridge up through the forest to the school, and then back down to the railbed trail (the powerplant access road) should be roughed in by the end of the fall. And then next spring will get all the finishing touches - like gravel tread - so can be officially opened.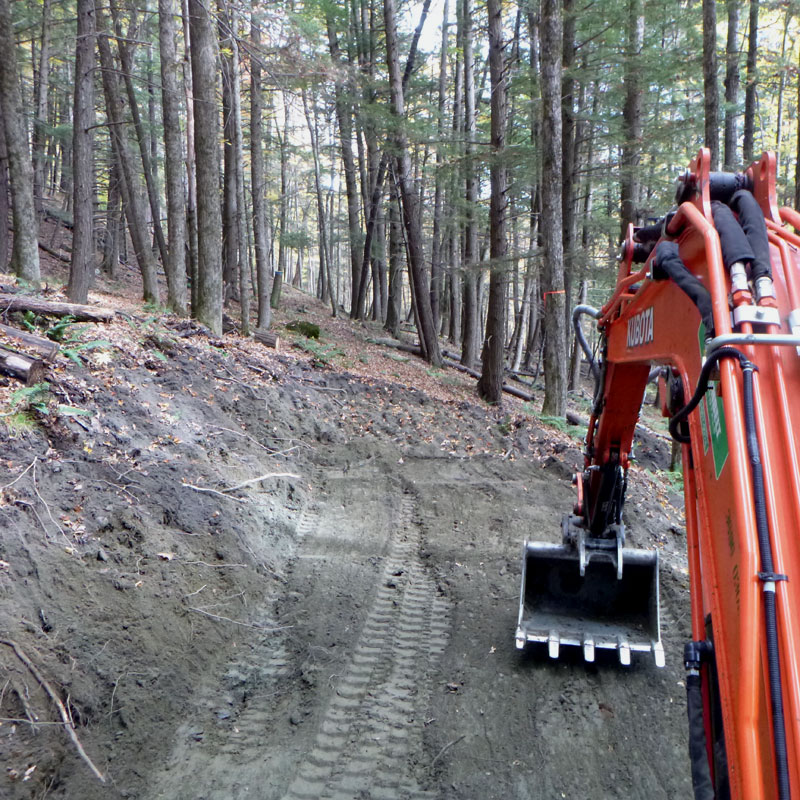 October 15, 2022
Installing a curb on the railing where the new trail approaches the Winooski Bridge, to keep the treadway gravel (which is remarkably expensive, it turns out, and worth holding on to) from washing over the side here where the side is so steep.
Thanks to students from U-32, Spaulding, plus local volunteers, all lead by a team from the Vermont Youth Conservation Corps for chipping away at this careful detail work!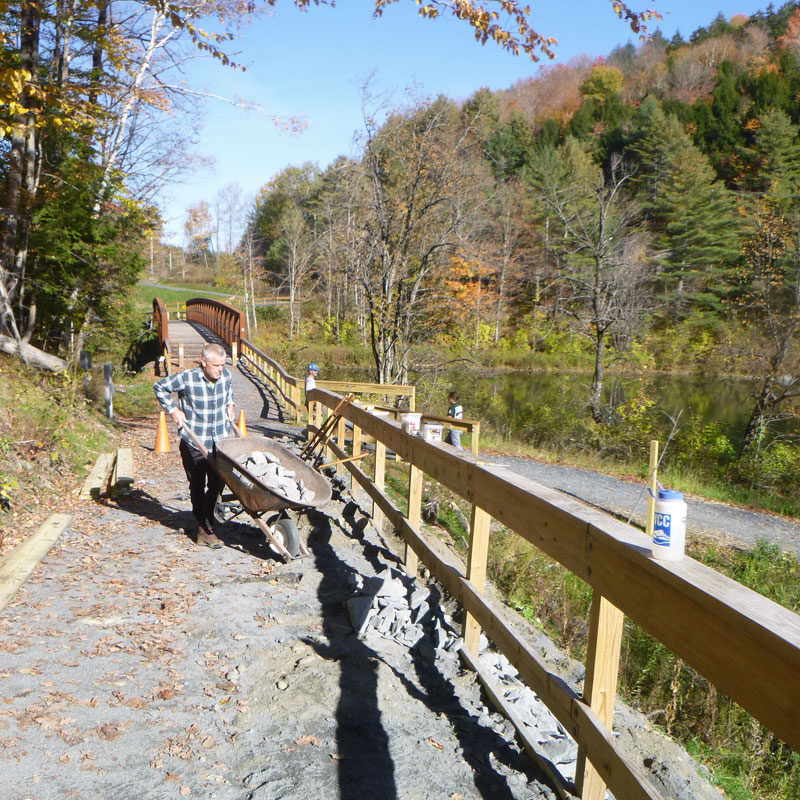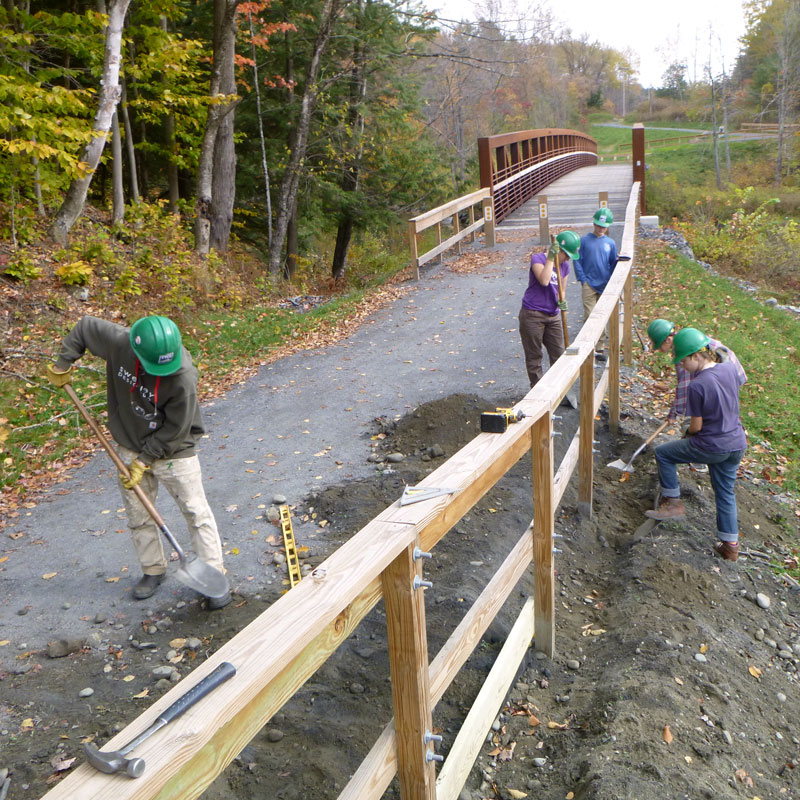 October 5, 2022
Students from U-32 and Spaulding are teaming up with leaders from Vermont Youth Conservation Corps to build trail by Winooski Bridge, in the school forest.
Starting with hauling in and helping to set some large culverts. Solved the tortoise-hare riddle by simply choosing to be fast turtles (they teach outside the box thinking at U-32, famously.)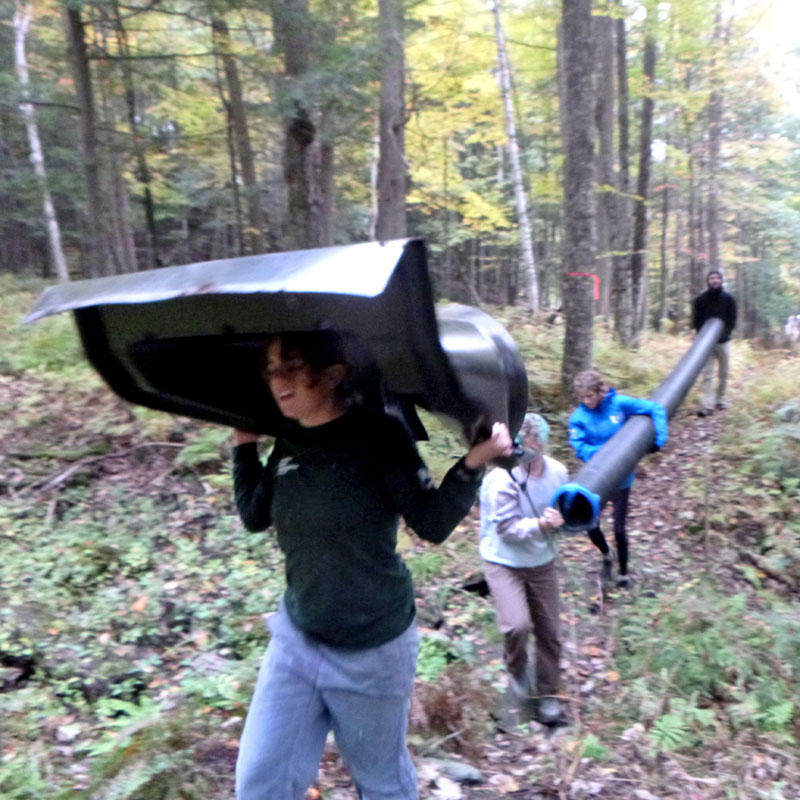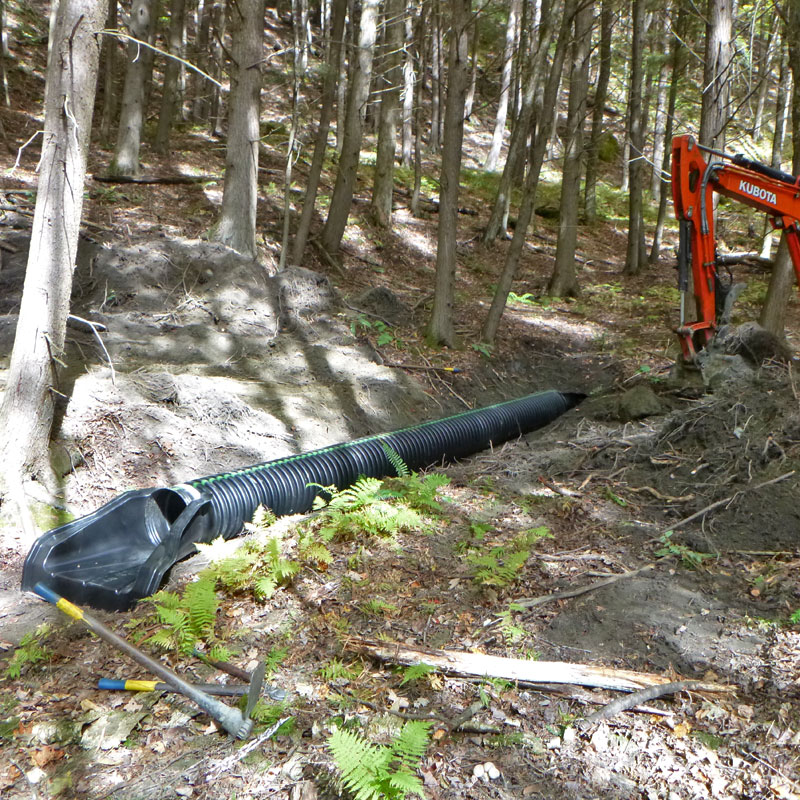 September 25, 2022
Snagged a perfect Fall day, after last week of grey rain, for the 25th annual Foliage Ride on the Cross Vermont Trail yesterday in Groton. Good times, nice to meet folks and ride with them out on the trail!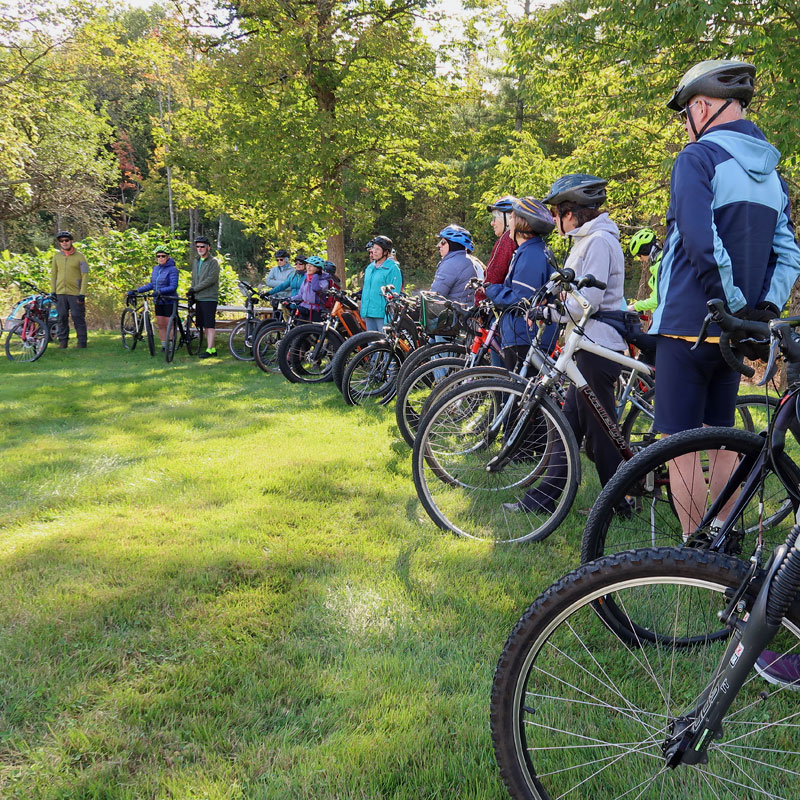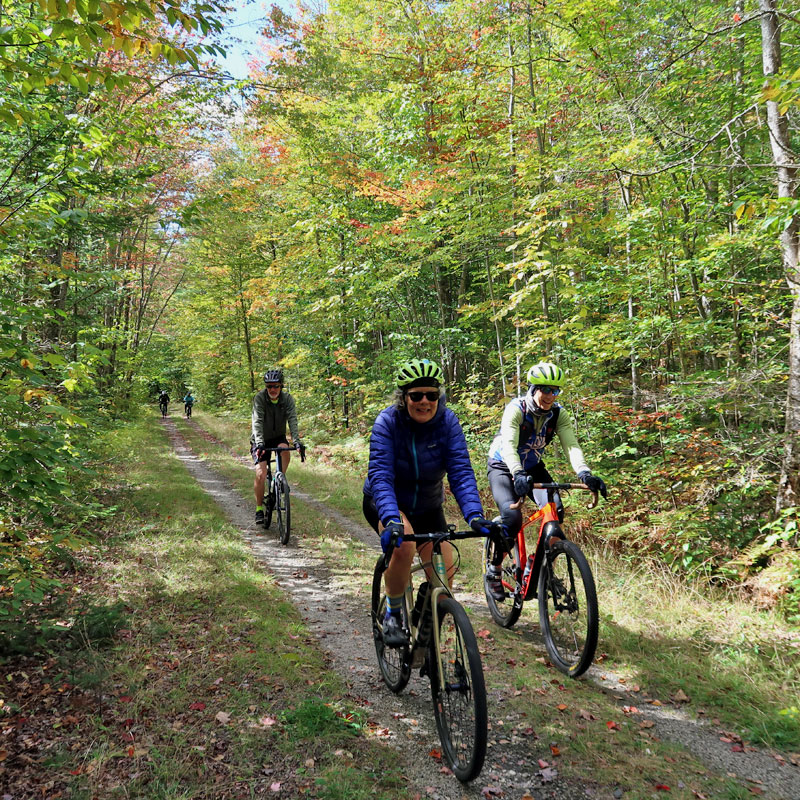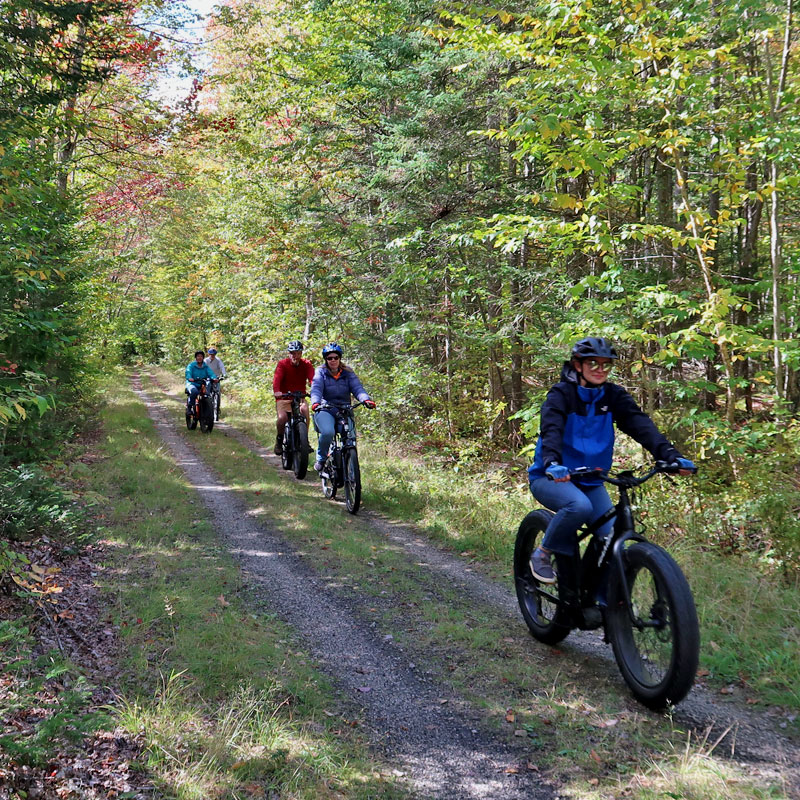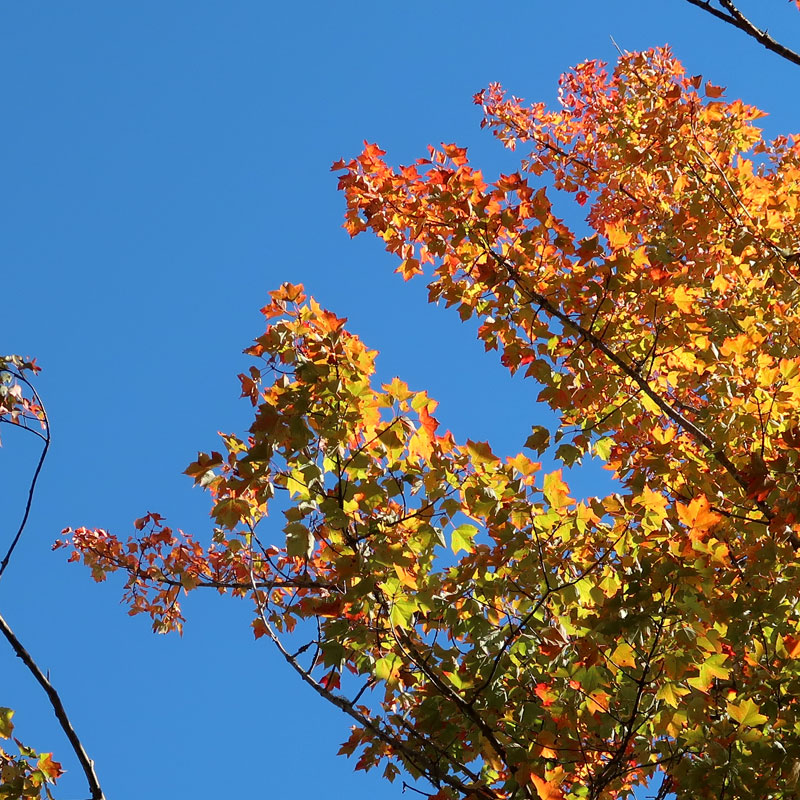 September 12, 2022
Groton Forest Trail Run was certainly a pleasant time this past weekend. It was great to see so many people all smiling and out together enjoying the amazing connected trail network that ties through the State Forest.
They say that the race is not to the swift, but some people are swift anyway. And some people take an extra lap around the pond because it's so beautiful. All kinds. Results are up: on the event ultrasignup page.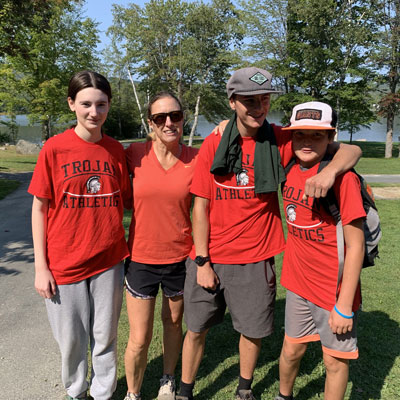 September 5, 2022
Speaking of the Johnnie Brook Trail, also have caught up on nipping the gullying that was starting at the drop off section on the east end - ditching, dipping, graveling, grading. All the best things.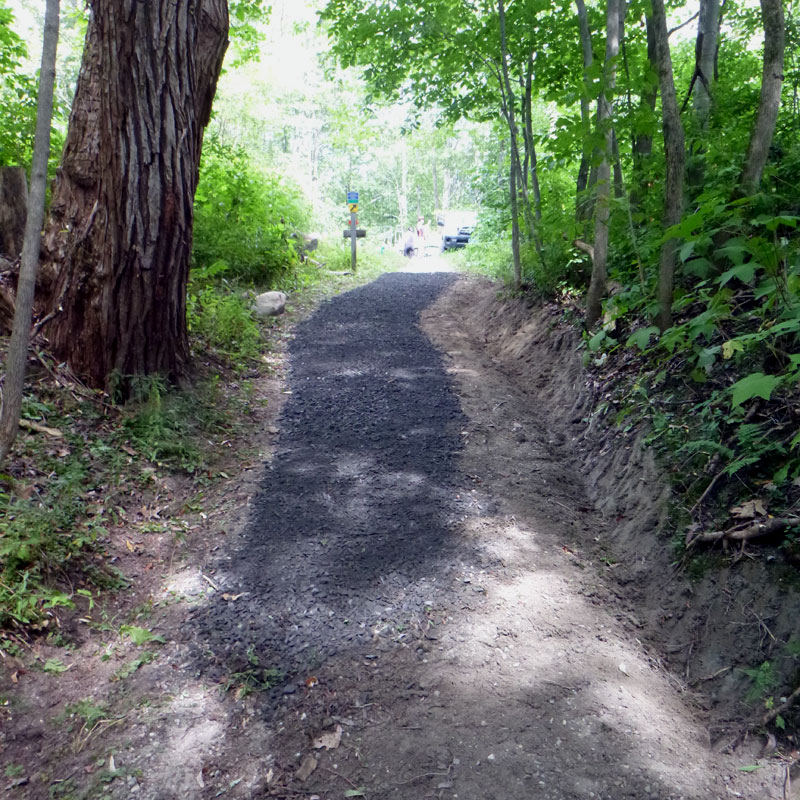 September 5, 2022
Funny story. So, someone tried to drive a minivan down the Johnnie Brook Trail, and made it a few car lengths onto the boardwalk before getting good and stuck. Good news - I'm here to tell you there is no minivan made by man that may slay the JBT boardwalk. Patched a few spots on the railing. Put up a sign to clue in future drivers. Back in action as a trail.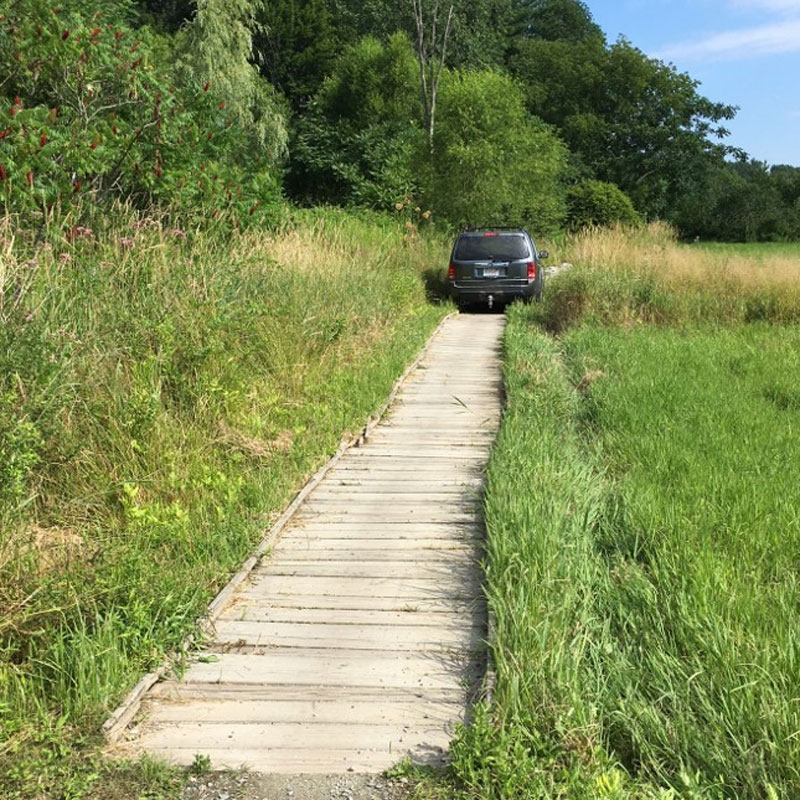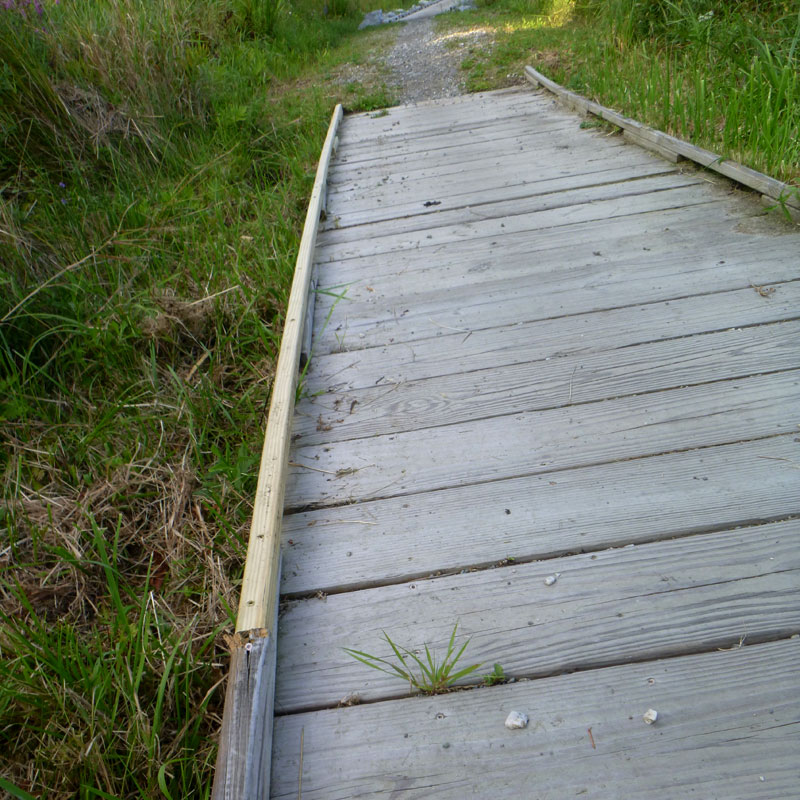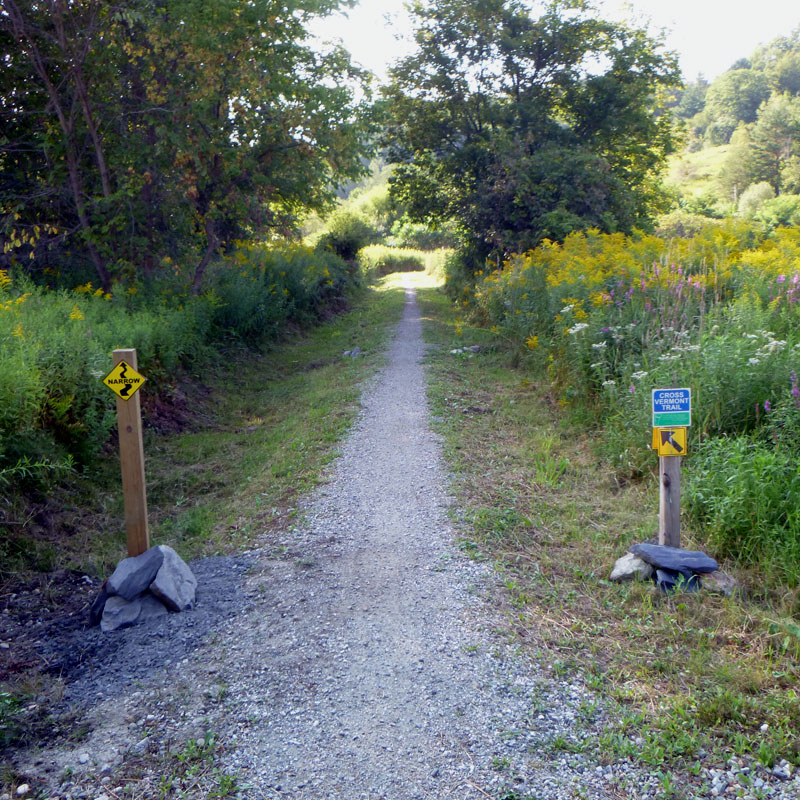 September 1, 2022
And that's a wrap - first full August volunteer trail crew camp since pre-covid was a success, whew! Thanks to all who volunteered, from a few days to a few weeks. We covered a lot of ground on a variety of projects along the trail.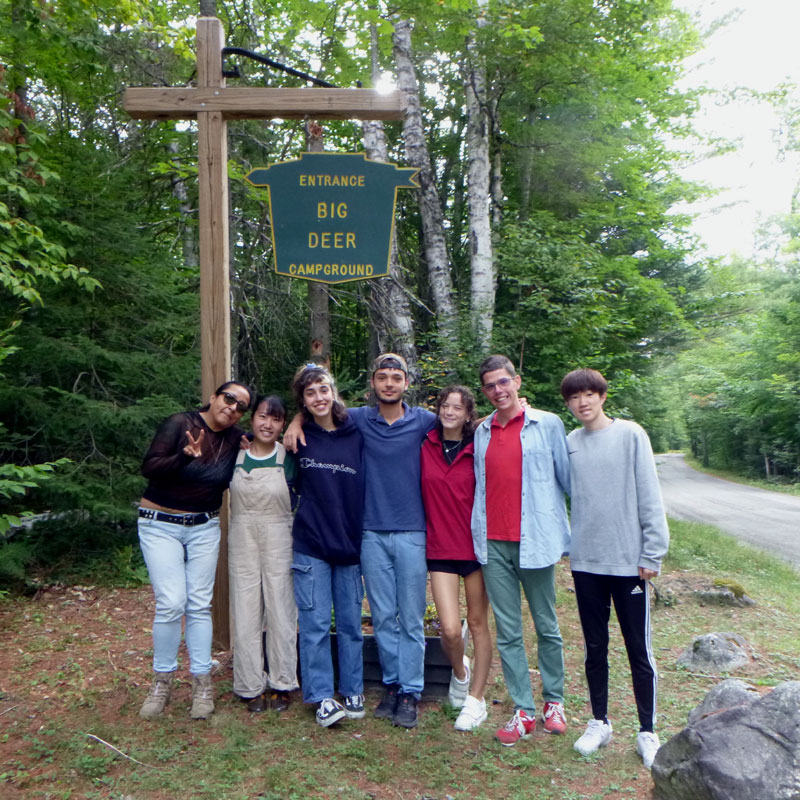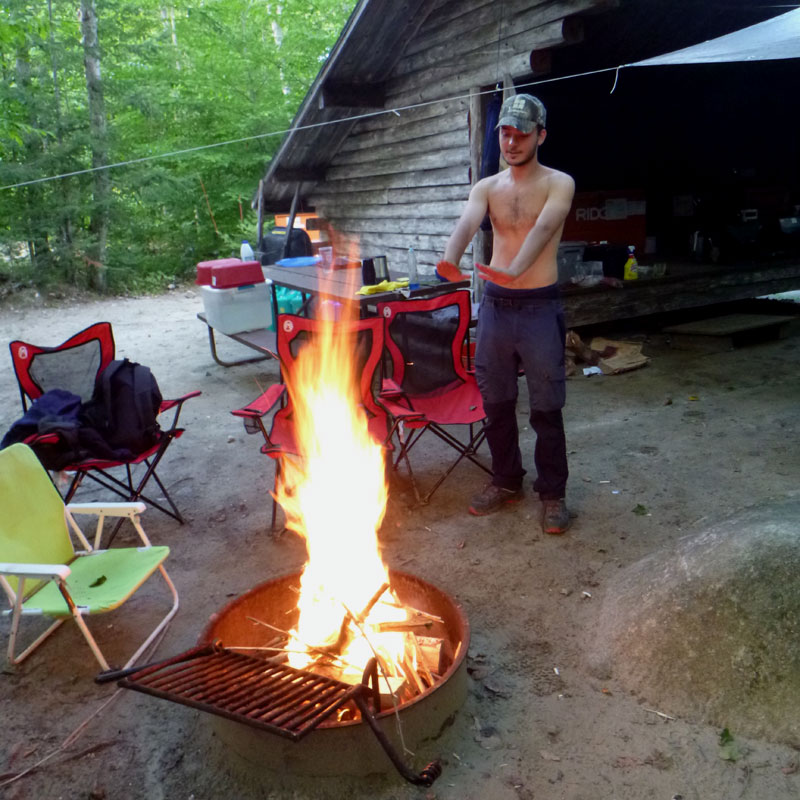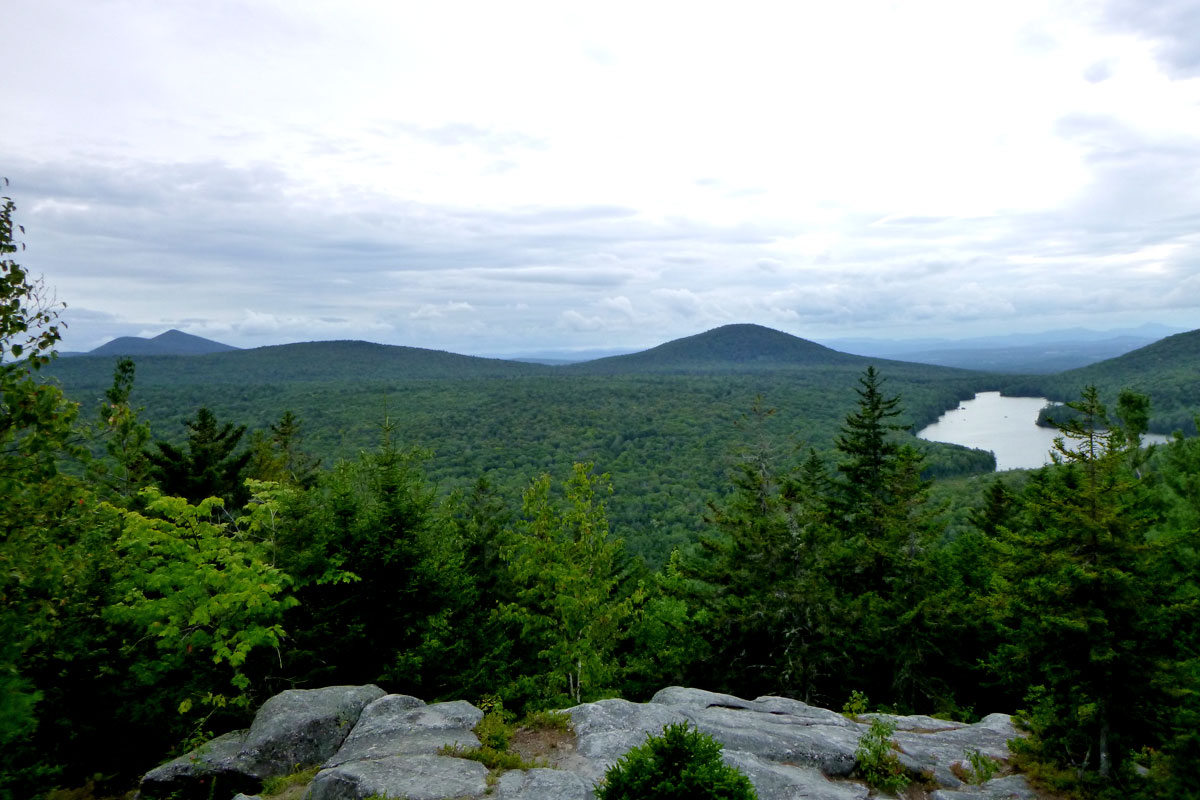 August 31, 2022
Continuing to swim through details of the big project connecting from the Winooski Bridge up to where the rail trail begins at Rte 14. A gung ho volunteer group made light work of salvaging old boards and reassembling a new improved screening fence alongside the future trail alignment. This is where the future trail will jump Route 2 and climb the hill from the river to 14. We're threading the needle here (again), squeaking through a small easement across the corner of a residential property in order to get to the open country beyond. We really appreciate homeowners working with us to make the trail fit here!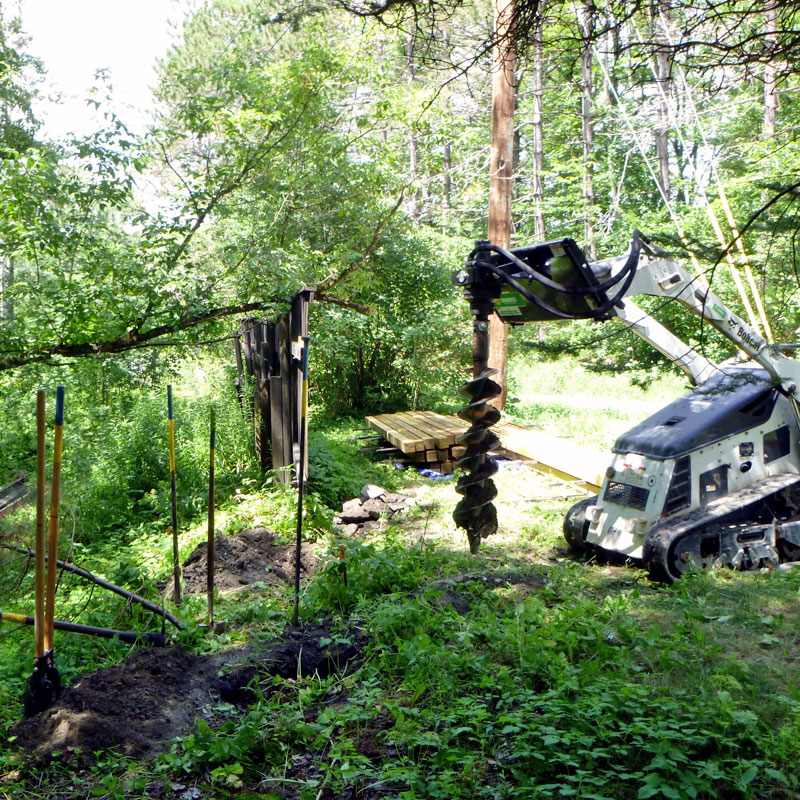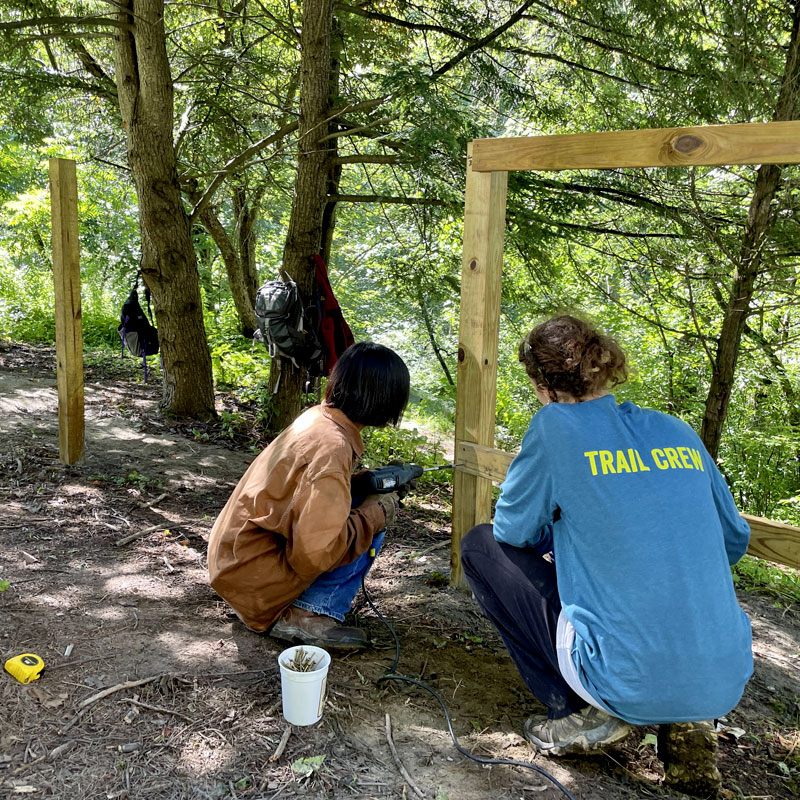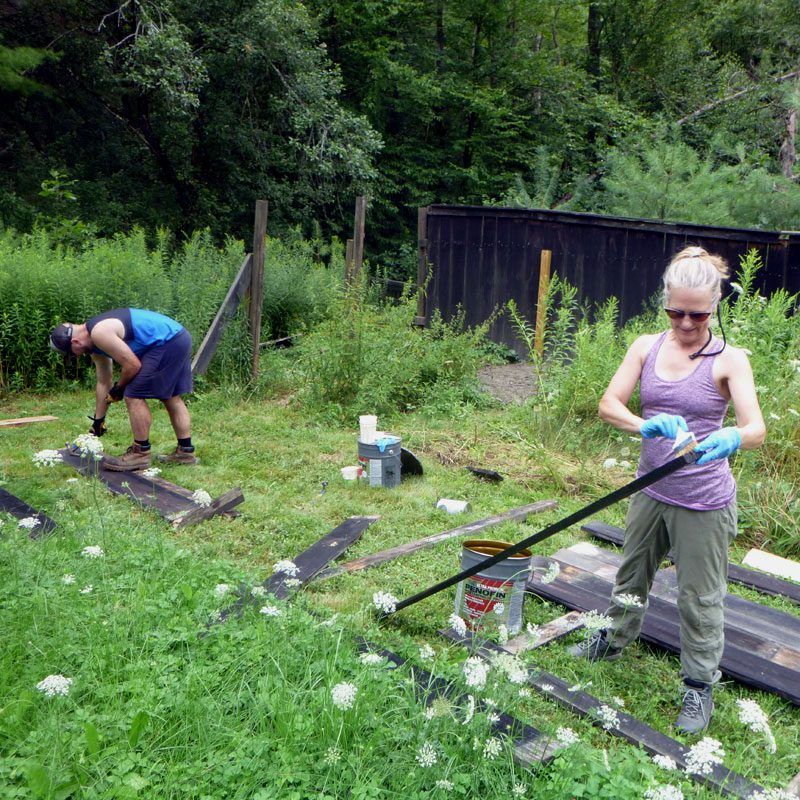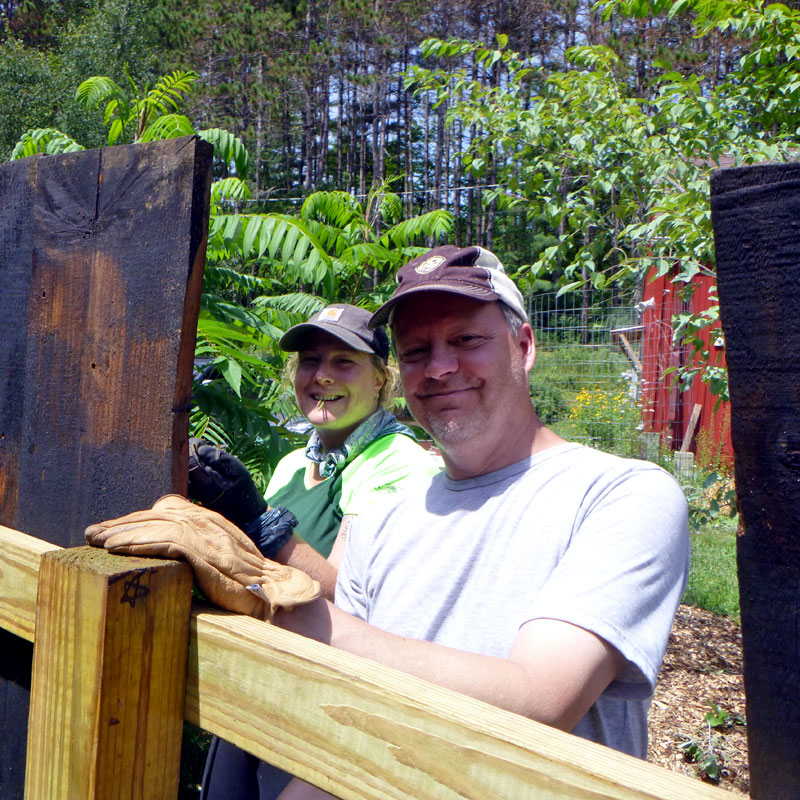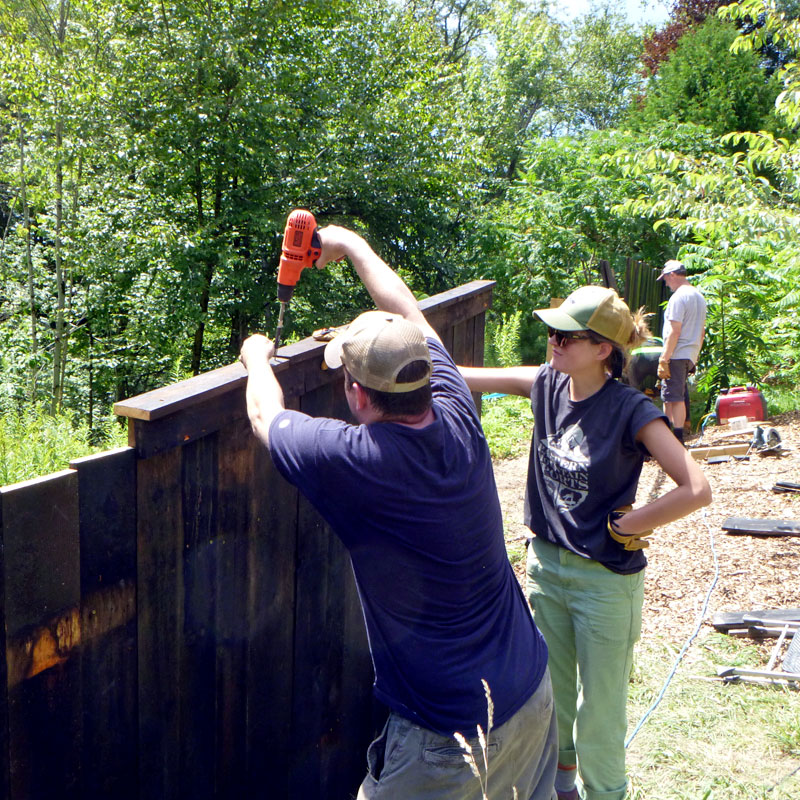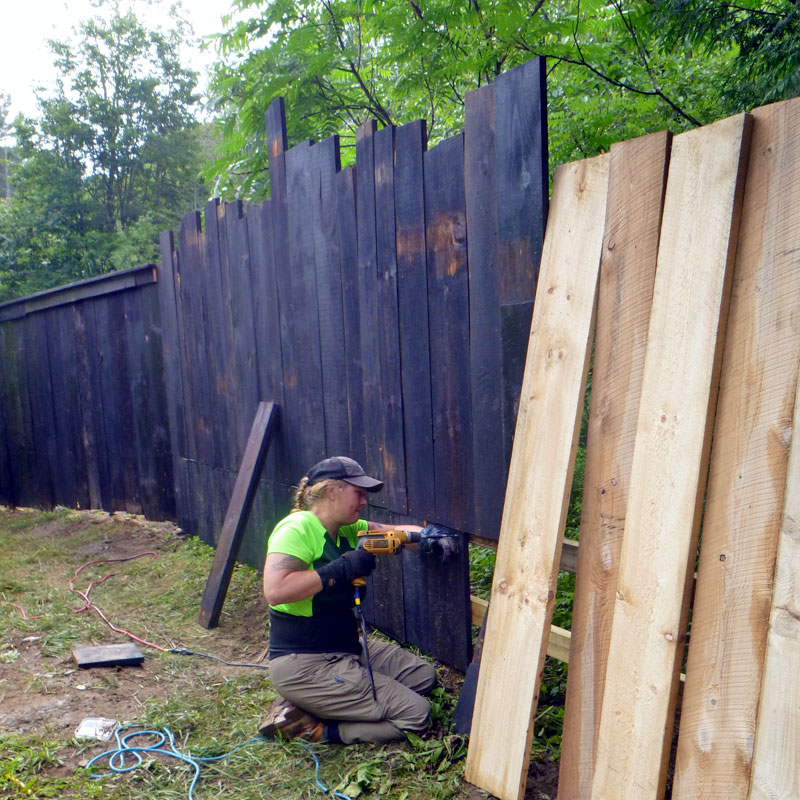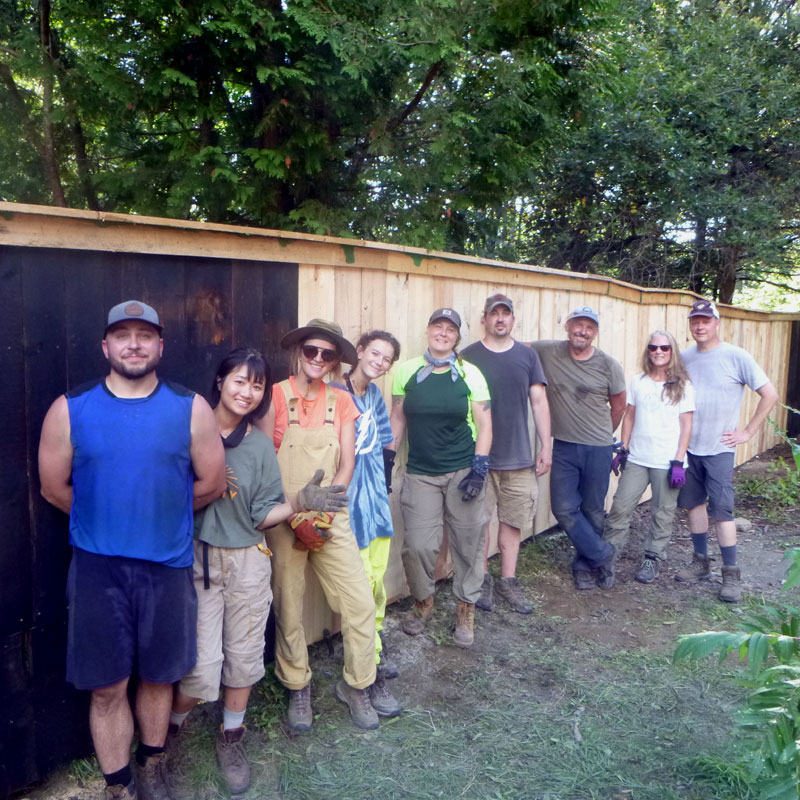 August 25, 2022
CVTA's Americorps member from back in 2016/2017, Duncan, has returned to visit after spending the last few years working as a sawyer on wildland fire crews out west. "Do you have any trees that need to be cut?" he asks. Well . . . it just so happens. Most of the new trail being built now in U-32 Forest is steering between the big trees, but there are a few we could not avoid.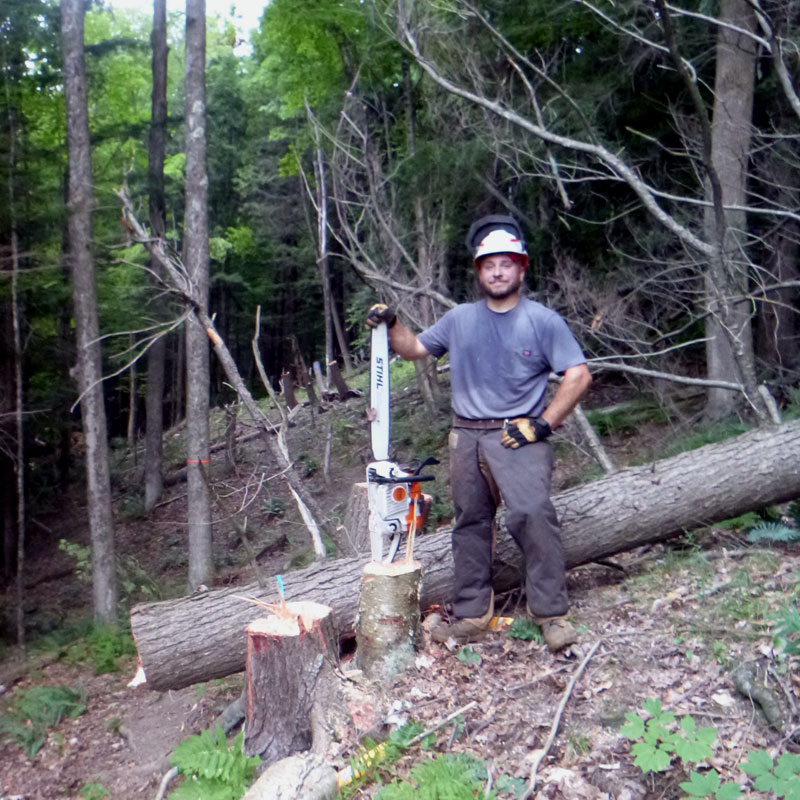 August 22, 2022
Seeding and mulching as new sections of trail are completed leading from the Winooski Bridge. Making unexpected acquaintances along the way.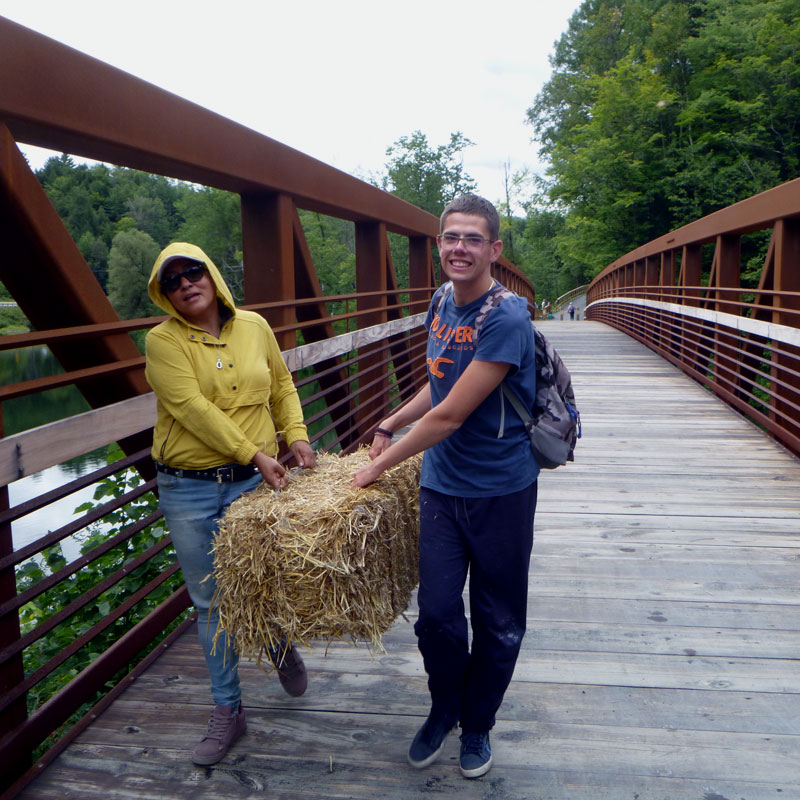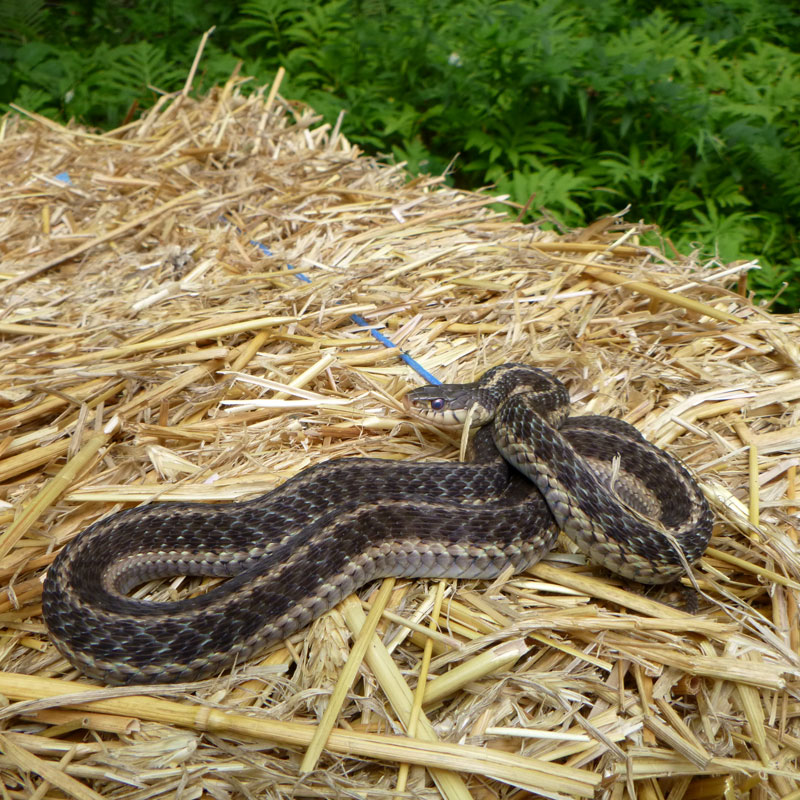 August 20, 2022
Putting in informational sign boards along the Cross Vt Trail route.
Our annual August volunteer trail crew has been in full swing the past few weeks, catching up on a variety of needed tasks, looks good keep digging!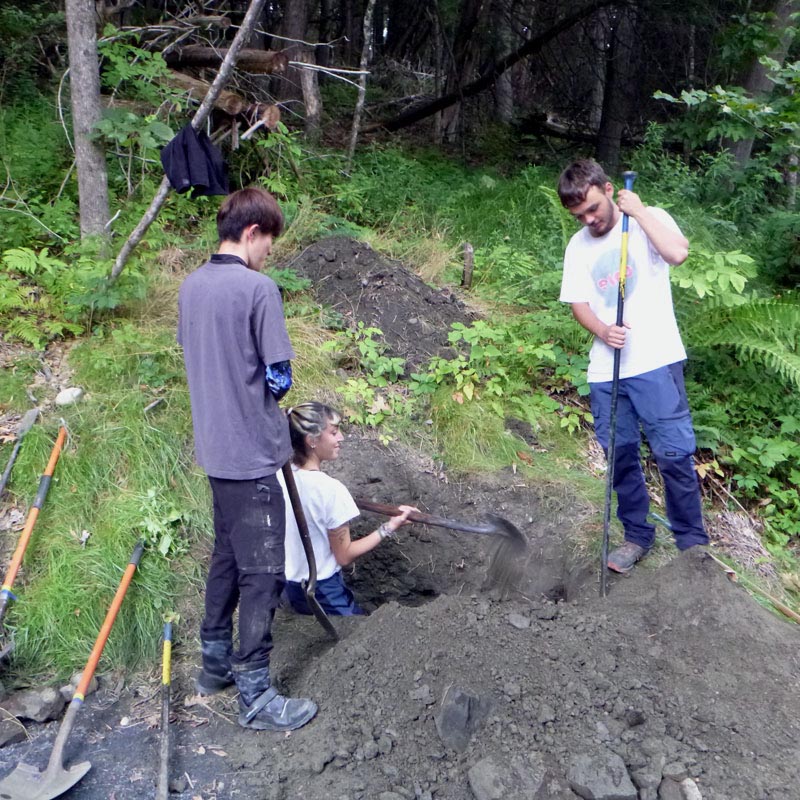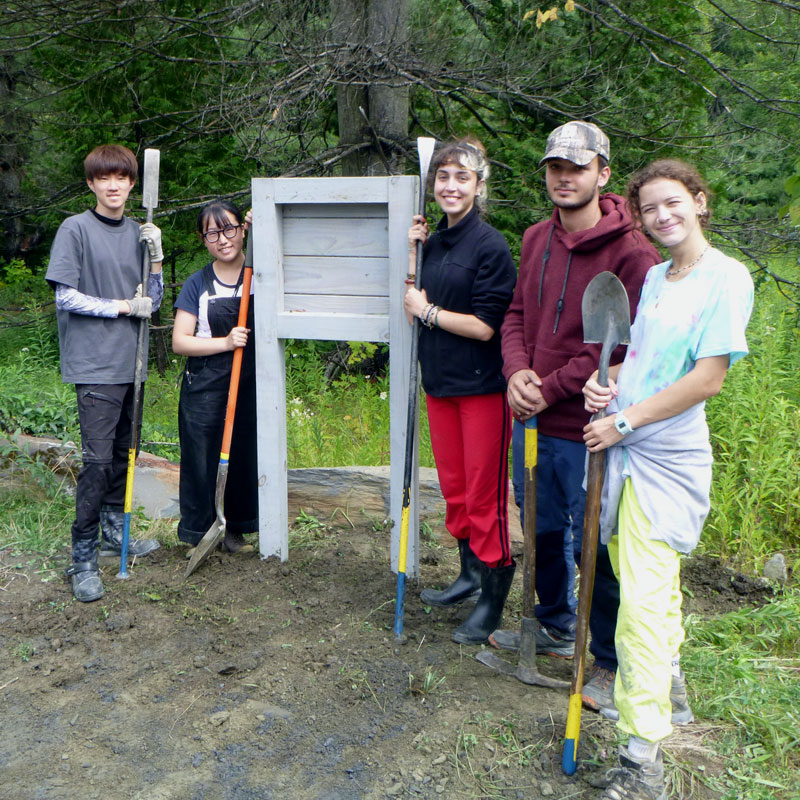 August 8, 2022
Railroad work ongoing alongside Montpelier Bike Path - but path is open.
Railroad work is ongoing alongside the Montpelier Bike Path - the "rail with trail" portion, near the round-a-bout on Route 2 and Route 302 at the east end of Montpelier. The path was closed for a couple of weeks late July and August, but has been reopened with a rebuilt crossing of the rails (and fancy trail sized railroad crossing signs.) The path should be mostly open while the railroad work is ongoing nearby, but it's possible there could be periodic short term closures, look for notices on site.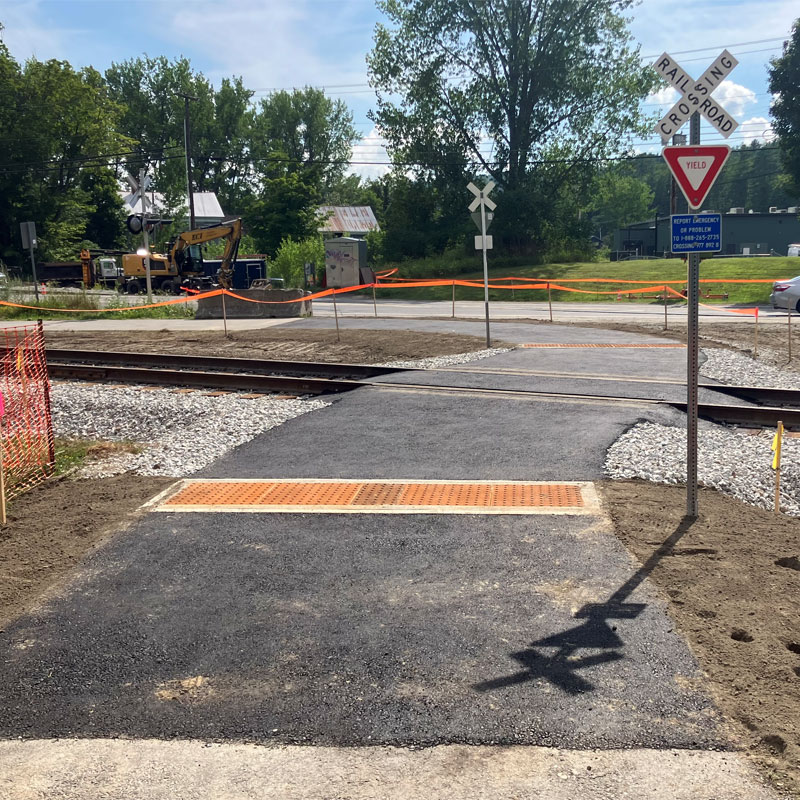 July 26, 2022
Oops, trail closed - temporarily. This is on the Siboinibi Path (Montpelier Bike Path) just east of the Rte2/Rte302 roundabout (across the street from Agway). The train tracks are being rebuilt here, another component of the railroad work that has been going on for a couple of years now. The current schedule at this location, we are told, is that the path will be reopened, better than before, by August 4. With the caveat that the schedule "depends on if there are delays", so we'll see, but closed at least for a couple of weeks looks like. The alternate route is to go along Route 2 between the closure location and Pioneer Street (or to Main St during times when Pioneer St is also close, also for railroad work). Route 2 does have a sidewalk a lot of this distance.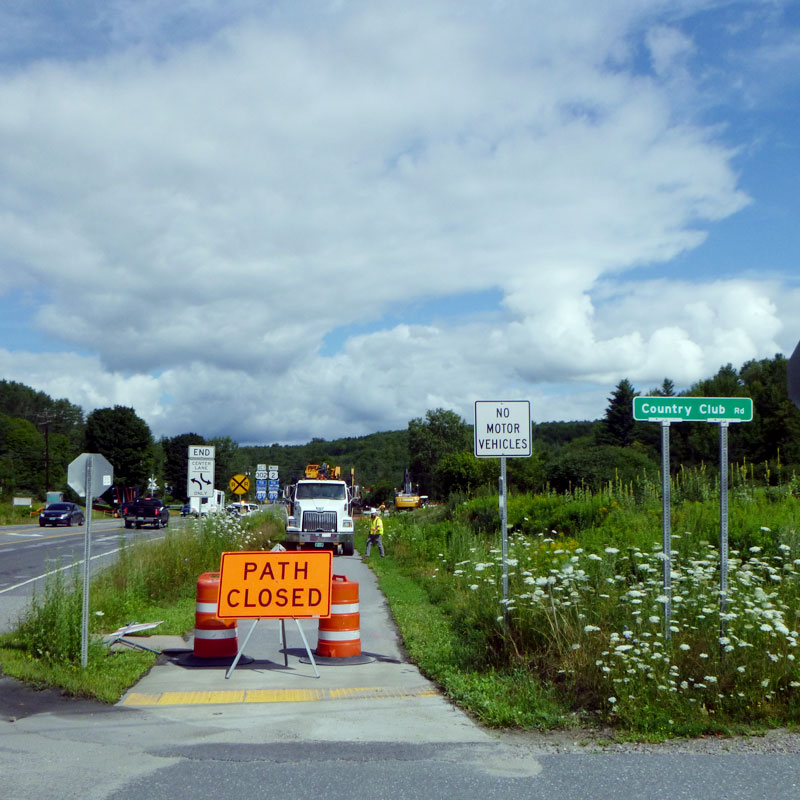 July 21, 2022
Archeological testing on the last section of the Big Project connecting from the Winooski Bridge up to where the rail trail starts now on Route 14. We're wrapping up the last of the permit reviews needed to finish out the full trail to Route 14, including digging some test pits to learn if any historic artifacts that we might need to work around. Thanks to Crown Consulting Archaeology out of Winooski for their help sifting through all this! So far, just finding dirt - and a trunk of Spanish Doubloons, but never mind that.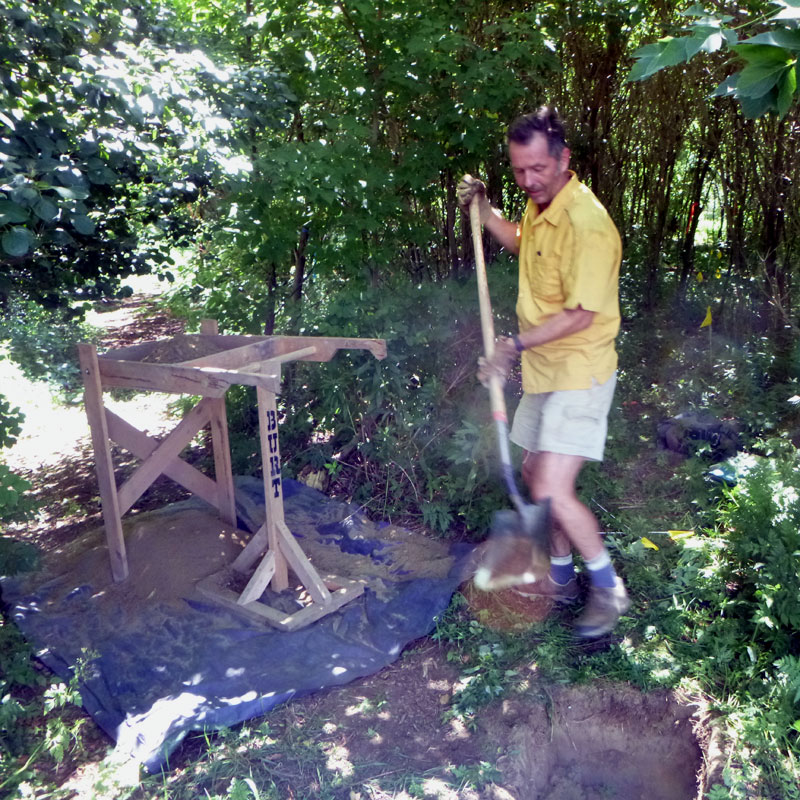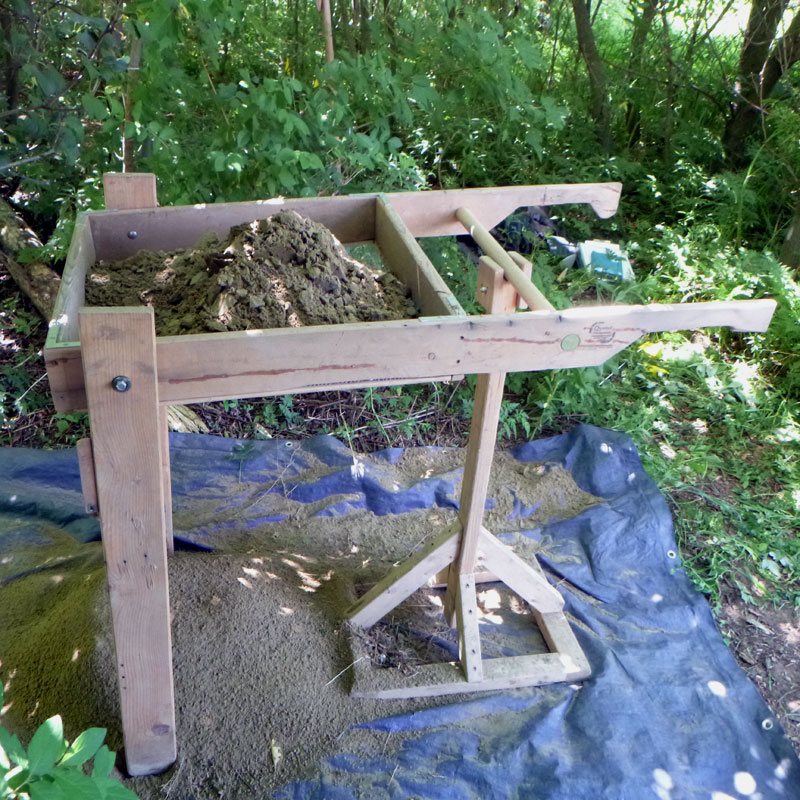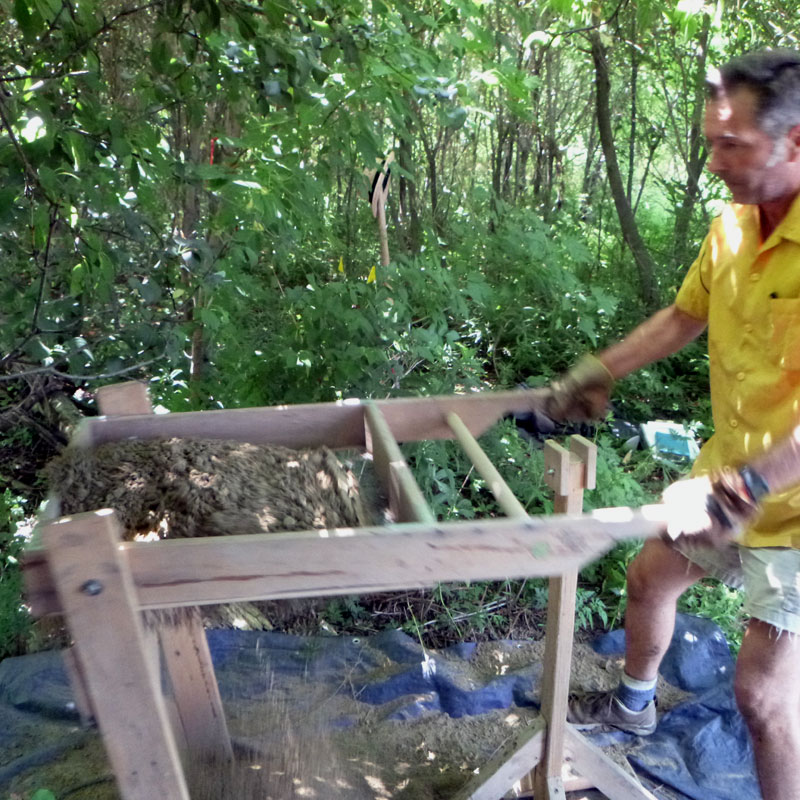 July 8, 2022
Progress along the trail in the U-32 Forest. Just finished details on the first of the (relatively) small wooden bridges needed. At least two more to go. This is an ongoing volunteer opportunity - either on one of the group days, or on your own time - give a shout if interested!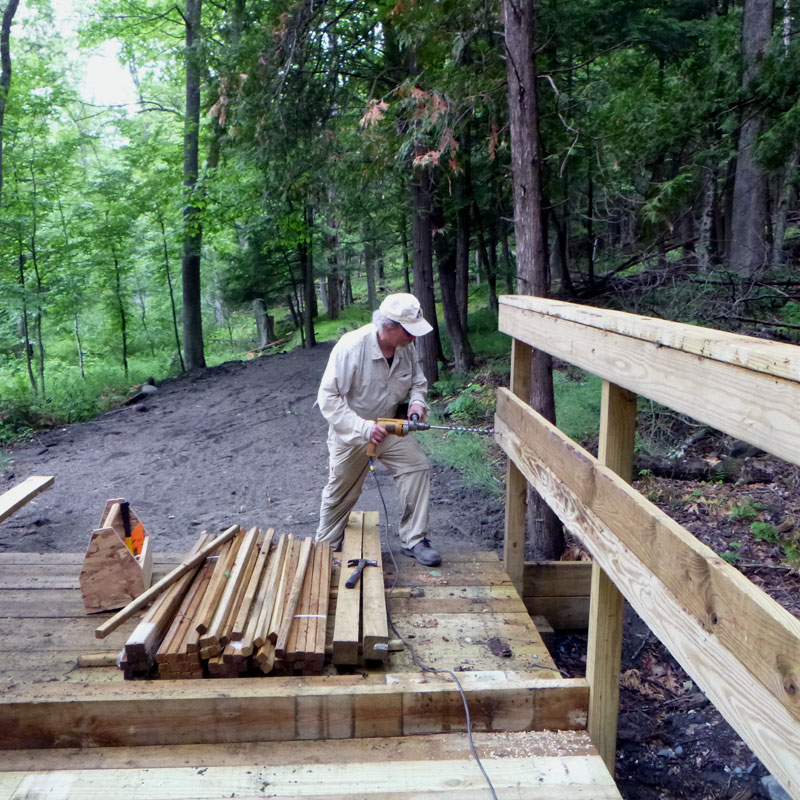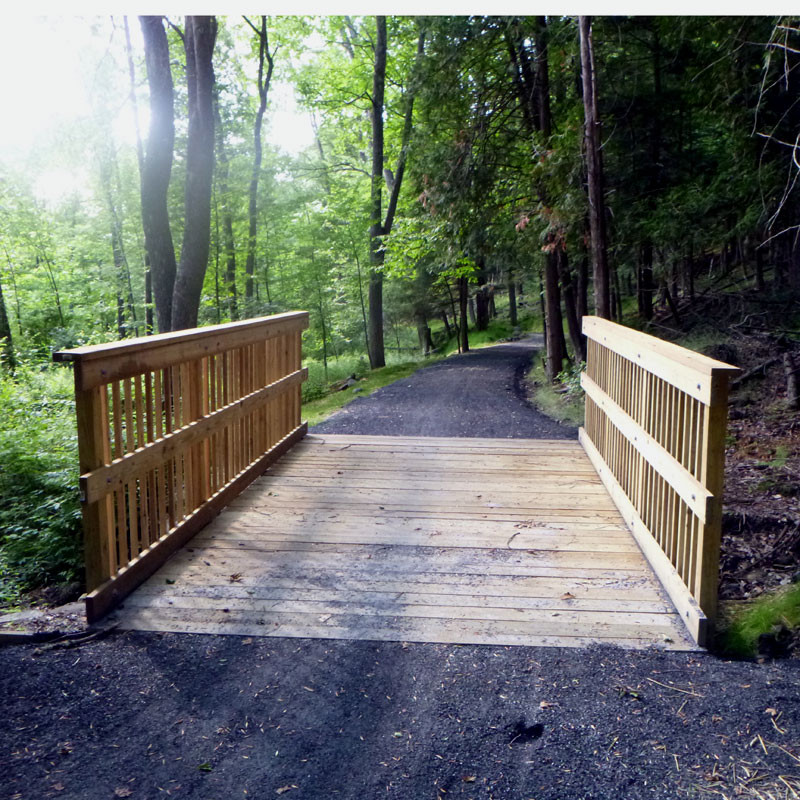 July 7, 2022
Have graveled in and smoothed out the mysterious collapse that appeared across the Johnnie Brook Trail earlier this summer. Sure looks like it was a tunnel - the size of a rabbit or groundhog - and the roof just fell in. First time I've seen that! Have read about it, though, and so worked quickly for concern of General Woundwort showing up to dispute command of the situation.
July 5, 2022
All kinds of flowers are out along the trail right now.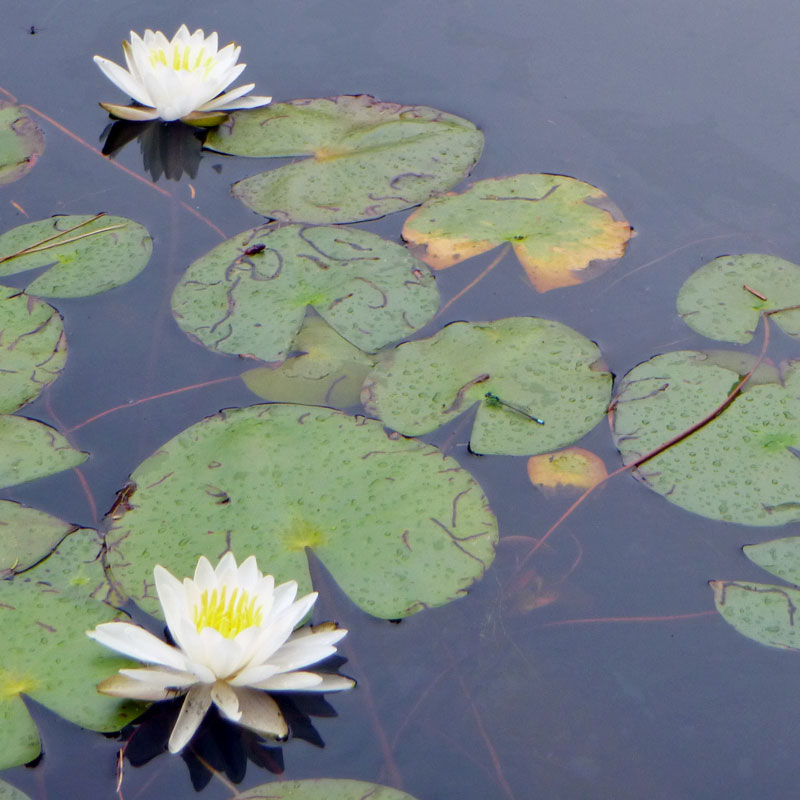 June 27, 2022
Lanterne rouge! These guys taught me the term. 2022 Central Vt Cycle Tour yesterday was super clear and bright, could really see wrinkles in the mountains, wisps of hay fluttering off many tractor hauled wagons, all sharing the road with 142 riders. See you next year!