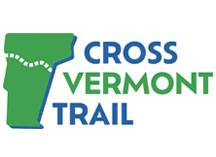 Email List Sign-ups.
Cross Vermont Trail has two email lists.
One, sent just 6 - 12 times per year, is a newsletter with photos, stories, event info, and, well, news. We recommend this monthly (or so) newsletter for any one who is interested in the activities and efforts of CVTA.
The second is only calendar notices about volunteer work parties on the trail. It is brief, text only, and sent whenever projects are scheduled (but no more than weekly). This weekly work party notice is recommended if you want to keep track of projects as they happen near you or on your favorite trail.
Most people sign up for both email lists (they are complementary, you won't get two in your inbox at the same time.)
A periodic round up of news from the Cross Vermont Trail. Sent just 6 - 12 times per year. Photos, stories, upcoming events, links. Sign up for CVTA newsletter via MailChimp.
A more frequent, but brief, notice of volunteer trail projects happening in the coming week. Sent whenever we have a community group project scheduled. Sign up for work party list via MailChimp.