July 25, 2009 at the Upper Valley Grill on Route 302 in Groton, VT participants gathered to participate in a series of non-competitive walks, or "Volksmarches" hosted by the Twin States Volkssport Association using the Cross Vermont Trail.
The event was reported on by The Bridge Weekly Sho-Case, July 30, 2009.
Volkssporting is a personal fitness sport/recreation program offering non-competitive events. Participants start and finish each event at their own pace
A PDF of the itinerary of the 2009 Groton Volksmarch events can be downloaded HERE.
For more information about the American Volkssport Association, or to find out about upcoming Volkssport events in your area, visit the AVA website.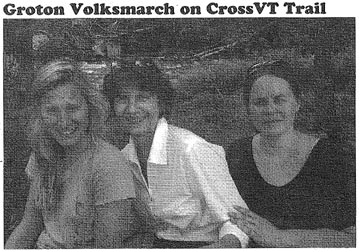 Cristy Lauzon (left) and her sister, Tatum Lauzon (right), both of Groton, and their aunt, Sharon Stumpf of Framingham, MA participated in the two of the volksmarches held in Groton last Saturday, July 25. It was the first volksmarch for Tatum and Cristy, while their aunt is an avid volksmarcher.
(Image: Bridge Weekly Sho-case)