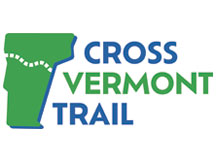 What's up with the WSOC?
The Waterbury State Office Complex will be under construction during 2014 and 2015. Occasionally during this time the trail route on the office complex property may be temporarily adjusted to accommodate.
Look for notices and signs posted on site and check back here for updates.
Once all the construction is done, in 2016?, we look forward to re-establishing the full path around the back side of the property, along the edges of the agricultural fields and the very cool floodplain forest.
This is all happening on Map 8 of the Cross Vermont Trail guide.
May 2016 update: New trail map is posted here (link to large easy to read version), and signs will be going up on the trails during May 2016.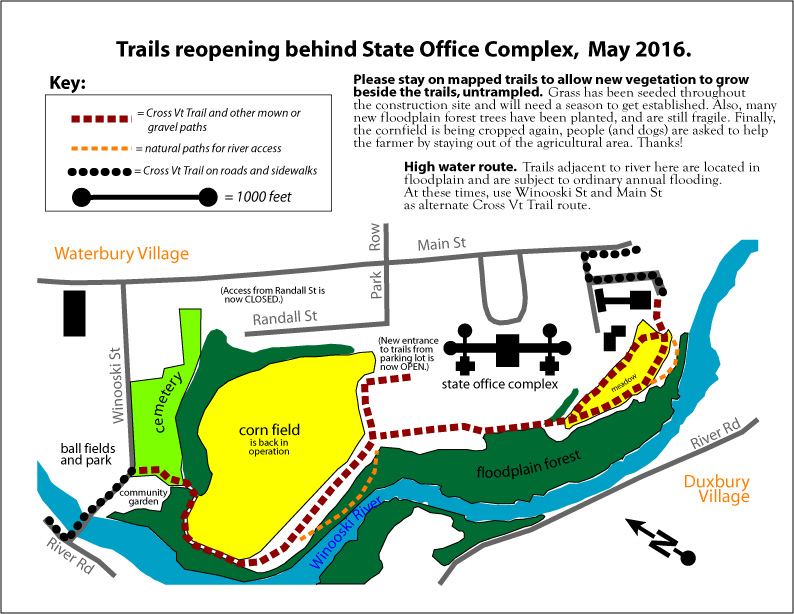 December 2015 update: The perimeter fence is down! State employees are returning to the offices, and the complex grounds are open. We'll get the new trail map posted up this spring.
April 2015 update: The state is offering official tours of the construction site. From their website "Monthly Tours: 9:30 am, First Saturday of every month. Tours will start May 2, 2015 and end on October 3, 2015. Please note these tours will take place around the perimeter of the site and do not allow for access inside the facilities due to the continued construction activity."
September 2014 update: All set for the coming year, looks like. The entrance off of Randall Street has been opened up and the "perimeter fence" has expanded to it's furthest expected extent. To access the trail and the back side of the property along the river, look for the signs along the Randall Street sidewalk, then follow the white picket fence.
June 2014 update: The construction contractor is preparing to expand the fenced in area. The east half of the property will be closed off - probably for an extended period. So, for the moment, the path follows the fence up to the end of Park Row. At some point, the end of Park Row will be fenced off as well, at which time a new access point will be marked by the State, off of Randall Street. We'll post more updates then.
Read the 6/19/2014 Waterbury Record article. (Link opens as PDF, and the trail article is at the bottom of the page. The burglary article at the top of the page was not us, whew!)