Updates and media posts.
June 28, 2016
Thanks everyone for a great day at this year's Central Vt Cycle Tour! See you next year, always the last Sunday in June.
2016 CVCT photos from rider David Alden-St. Pierre. (And while you're there, check out his freestyle BMX page. 80s metal.)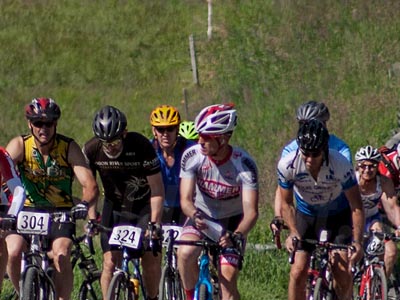 June 19, 2016
Deer tracks in downtown Montpelier.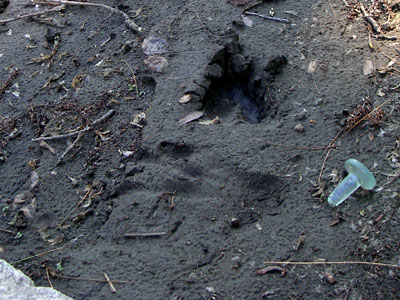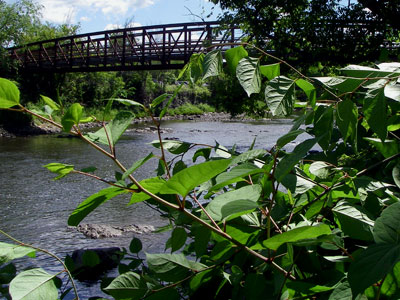 Seen this weekend while clearing knotweed by the bike path bridge behind VSECU. Knotweed forms dense thickets that crowd out native plants, provide poor habitat for animals (both on the land and in the river), and block the trail. It spreads by root division, and so to make matters worse, even though it has a huge root network, they don't serve to bind the soil or minimize erosion along river (because the knotweed WANTS erosion, so it can be swept downstream to form new colonies.) To control it and favor native plants, we cut it back regularly without disturbing the roots, to eventually exhaust the roots. Meanwhile, we're looking to transplant some native plants here to help them get a leg up (an evolutionarily mixed metaphor but we need a big step.) What would you like to see growing along the path?
June 5, 2016
Johnnie Brook trail bridge made ready for the next generation (by them).
South Burlington High School "Big Picture" students took on a refit of the Johnnie Brook bridge, in Richmond, as their big end of year project. They analyzed the existing bridge, researched design standards and proposed several options for their work. We chose to have them try the biggest most difficult option (you're welcome, gang!) And they managed to pull it off, go figure. Kudos to their teachers for having the kids to pull together all the things they've been learning in different classes and applying it to make a change in the real world. Check out the project photo gallery.
The bridge at this site has been through many generations already. It began as a town road bridge (it's still a class IV road here). In 2005 the Richmond Trail Committee resurrected the bridge with a lot of repair to the abutments and new I-beams to span the brook. The deck of the bridge was damaged in Hurricane Irene and a temporary deck was put in place at that time. Now the Big Picture students have put in a heavy new deck and railing (and bench) that should last many decades.
And we're already day dreaming about which project next year's students might be into, fingers crossed.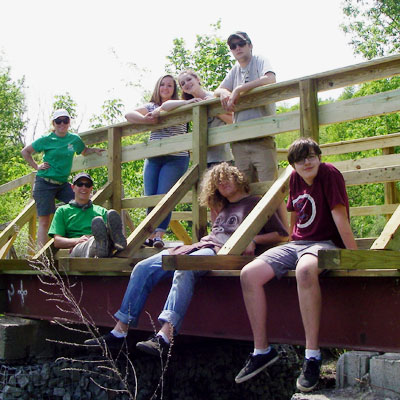 June 5, 2016
Piecing together the patchwork quilt - partnering with Habitat for Humanity to conserve trail corridor.
Work on the Habitat house has begun! The official groundbreaking ceremony is Monday June 6 - but excavation is already underway. You can help. The next job is setting up concrete forms for the foundation. Go to centralvermonthabitat.org to sign up.
The project site is 1248 US Rte 2 in East Montpelier (the little dirt driveway just next Vt Country Campers nee Green Valley Campground). This eleven acre property was purchased in 2010 as a partnership of CVTA and Habitat. The one acre house site is being used by Habitat to make a new affordable energy efficient house. And the remainder is now owned by the Town of East Montpelier, managed by CVTA under a conservation and trail easement. It will eventually provide a connection between our "Build the Bridge!" project (new trail along Rte 2) and a future connection up to the existing trail on the old railbed going east from Rte 14.
We've talked with the family who will help build and then buy the new house. They've given us a deadline - finish the trail by the time their daughter is in 7th grade so she can bike to U32. Excellent!
(Click on images to see larger versions.)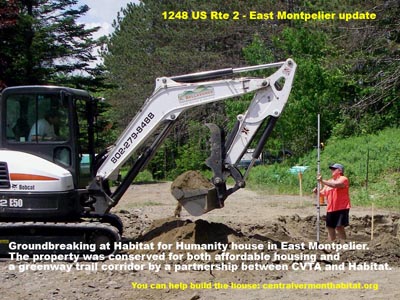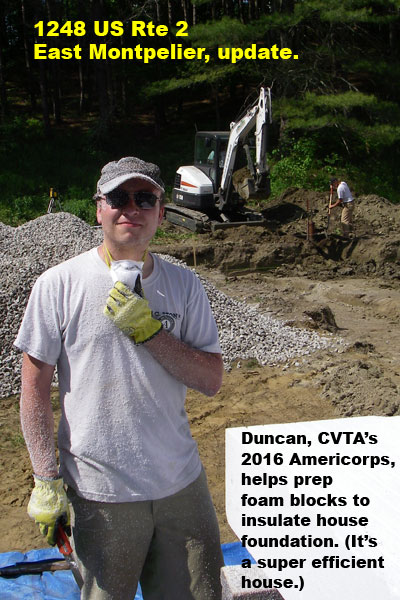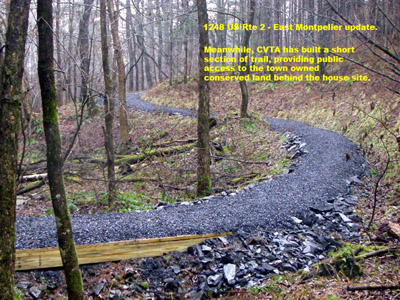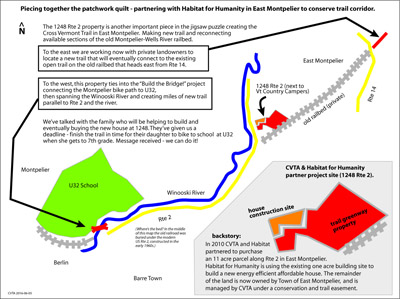 June 5, 2016
Big boost for "Build the Bridge!" fund.
On June 4 2016, National Trails Day, a major gift was made to the Cross Vt Trail's keystone project - a new bridge over the Winooski River.
$25,000 has been donated by the Doppelt Family Trail Development Fund of the Rails to Trails Conservancy. The Doppelt family's goal is to help kick-start big projects that need significant private contributions to match federal awards - which they observe is a notoriously difficult funding need to fill. CVTA was one of six recipients this year, from 166 total applications. Whew! Read more at railstotrails.org.
A year and a half ago we announced a goal of $250,000 needed to match existing federal grants and get this keystone piece of the Cross Vt Trail built. Since then we've raised $148,500 and now have just $101,500 to go. Thanks to all who have donated, and keep spreading the word!
June 5, 2016
Trailhead parking finished at Cherry Tree Hill Road, access to East Montpelier Trail. Thanks to Town of E.M. for putting down the gravel and making this parking area much more functional!
CVTA is working now to extend the trail from here south towards U32. We'll be out with volunteers throughout June and July. Give a shout if you'd like to drop in.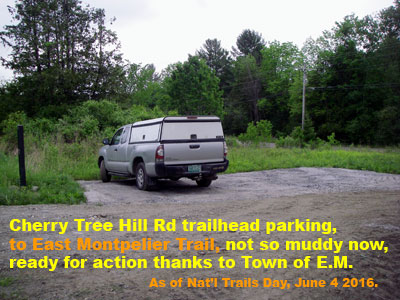 May 30, 2016
May showers, trail flowers.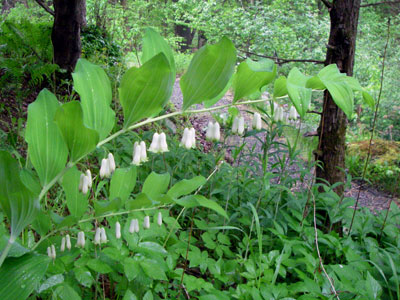 May 23, 2016
Signs, benches and trail info doodads are now in place behind the Waterbury State Office Complex. We even saved from the storm the big old Greenpath signs and have them back in action - 23 years and counting!
Another post Irene item checked off the list. Just a couple more big ones to go, should have news on these others shortly.
May 8, 2016
Got a chance to watch some of the kayak slalom-ing on the Winooski just downstream from the hydro dam in East Montpelier. Pretty neat, especially when they have to spin around and come back through a gate paddling upstream.
Once the Winooski River bridge and new trail are built, people could have a front row seat for this annual event from the Cross Vermont Trail.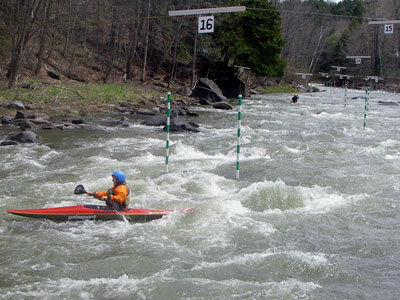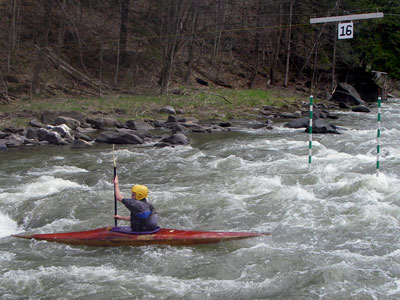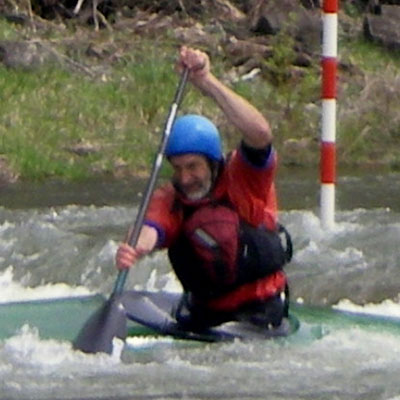 May 5, 2016
Green Up the rail trail - in the Afternoon!
2 PM on Saturday. After all the boring road side stuff is done, we're meeting at Kettle Pond in Groton State Forest, on Rte 232. Working up and down the railbed from there.
Bring a bike if you like, we can shuttle folks back to cars if needed.
Trip Report:
Nice day, trail looks in pretty good shape. Last year we finished clearing old trash from the "traditional" dump sites, and nothing new has been added since then - hurray! This year, just a steady stream of beer cans and bottles, with the occasional empty pack of Maverick cigarettes. Filled a 30 gallon contractor bag from Stillwater Brook west to Marshfield Depot.
Except - once more the return of "blue tarp asphalt shingles guy." I'm just assuming it's a guy. Whoever, they neatly bundle shingles in knotted blue tarps then slide them down steep banks off the railbed. Why steep spots? It'd be much easier to clean if they tossed things down gradual banks. So it goes.
Also noticed that the beaver dam west of Lanesboro has gotten taller than the railbed. Pretty dramatic. Some water leaking through and puddling on the bed. Aren't beavers supposed to compulsively patch those leaks? Perhaps we need more industrious beavers, more tenacious and committed. Perhaps public shaming will motivate them.
April 21, 2016
Gearing up for Spring.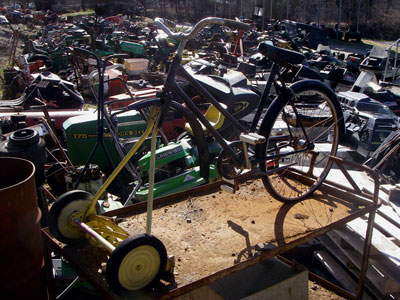 February 7, 2016
Helping to spread the word that there's a football game on tv today.
And then, later in the week, a public brainstormimg meeting to look at the draft "active transportation" plan for the Mad River Valley. Whose up for thinking of ways to move the Cross Vt Trail off of Rte 2, in Moretown?
MRV Moves Pubic Meeting/Workshop February 11, 2016 at 6:00 pm — 8:00 pm Waitsfield United Church of Christ, 4335 Main St, Waitsfield.
Connect with the planning process at: mrvmoves.org/.
February 7, 2016
So, another year with no Bears in the Super Bowl, leaving me plenty of time to spend absorbing transportation statistical studies. 1985 was such a high water mark for many reasons. But, now it's time to think about the future.
Vermont's Transportation Board has just released a report entitled "The Decline of Driving."
THEIR HEADLINES:
* Nationally, historically, from 1945 to 2008, miles driven per year always went up in the US, but since then, have gone consistently down, while biking, walking and public transit use have all increased.
*And, even bigger headline, this trend is greater in Vermont than the national average, even though we're a rural state, with winters (most years).
But MY HEADLINE — after digging into the report — is that $4 per gallon gas and the great recession are not the only reason for the decline in driving during this period. It's a big reason, sure. However, the report cites UVM's Transportation Research Center as saying that we can add to it another, underlying reason — an actual change in the underlying preferences people in Vermont have for how we want to get around. (This is the "maybe we've got ourselves our movement" takeaway, fingers crossed.)
Synthesizing all these studies, seeing the big picture; it's starting to look like progress. Now, let's see how we can do on 3rd down conversions.
More about Transportation Board and full text of the report: tboard.vermont.gov/
And link to many more studies at UVM Transportation Research Center (who knew there was such a thing?): www.uvm.edu/trc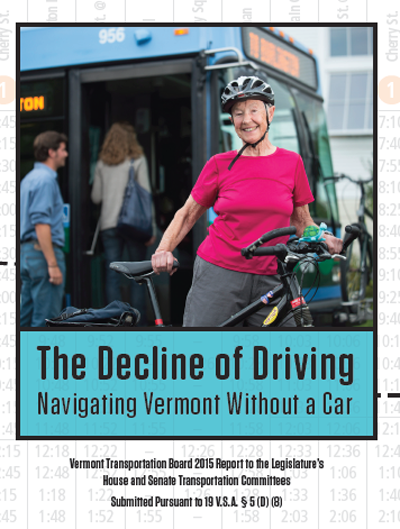 January 23, 2016
Blog post for a snowy evening. The Perfect Fatbike Overnight from the folks at Bike Recycle Vt/Old Spokes Home. I really like the writing in this one.
Interested in making your own perfect fat bike trip? Get all the info on what trails are open: State of Vt official winter fatbiking maps.
January 21, 2016
Are you nosey?
We've made a resolution to spend this year carrying out a state wide count of how many people are using trails in the Cross Vermont network - using special scientific methodologies (aka, pencil and paper).
Interested to hang out at a trailhead for a few hours at some point this year? With a clipboard and (optional) a white lab coat? Give a call to learn more!
Or if you prefer more vigor in your volunteering, join in some trail clearing. We're headed out weekly this winter, to cut back brush and clear blowdowns.
See more details about all our volunteer opportunities.
January 1, 2016
First Day Hike 2016: a beautiful hike up Spruce Mountain in Plainfield. We saw Noyes Pond through the misty snow swirls and we had a quick lunch on top. We heard chickadees and golden crowned kinglets. We saw red and gray squirrels and the tracks of ruffed grouse and deer.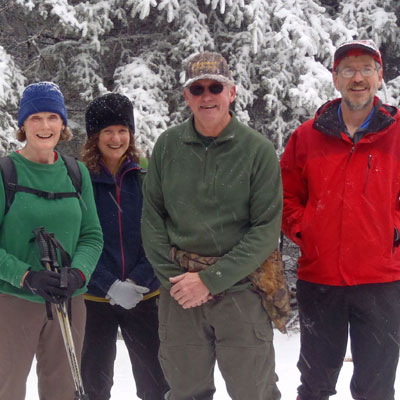 December 27, 2015
At least solstice was snowy. Been trail building right up to the end of the year.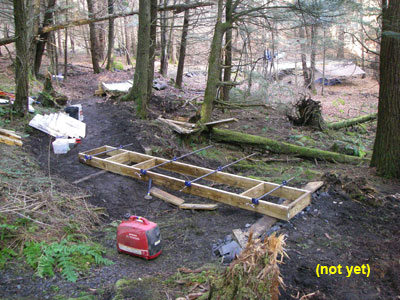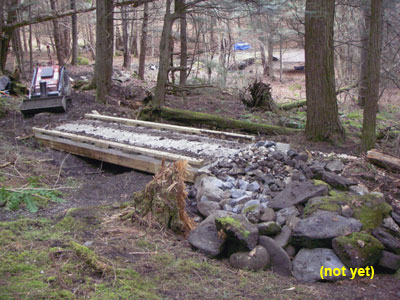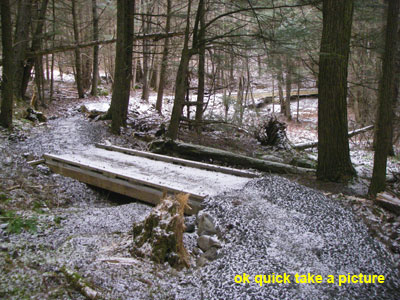 November 30, 2015
"Give Thanks" says the hat. Pretty good hat. Norwich University students helped out again this Fall, taking time from their Thanksgiving break to build erosion control check dams on conserved land along the Cross Vt Trail corridor. "Kapow - take THAT erosion!"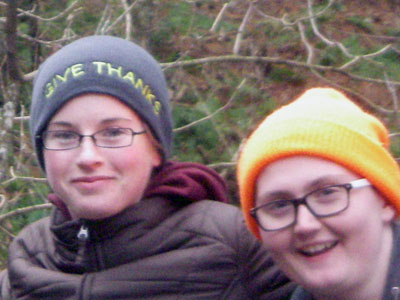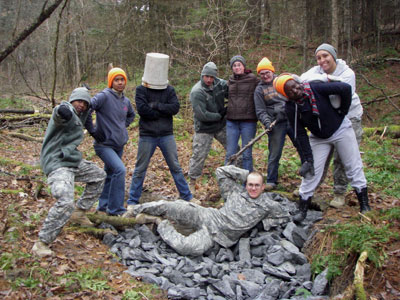 November 23, 2015
Working up some small bridges on the East Montpelier Trail - and an appetite (just in time on both counts).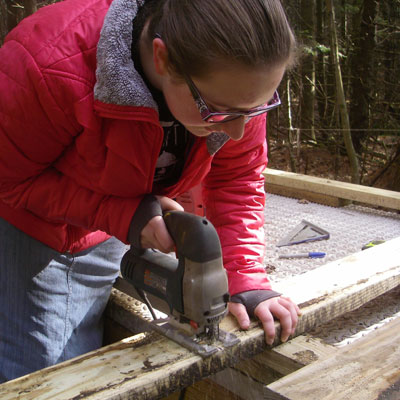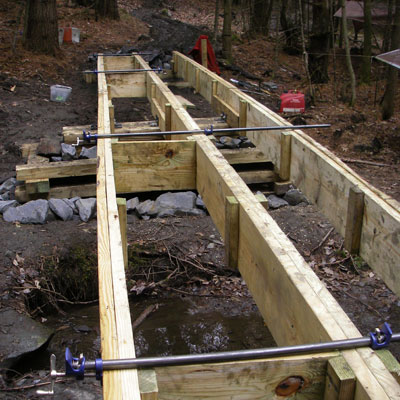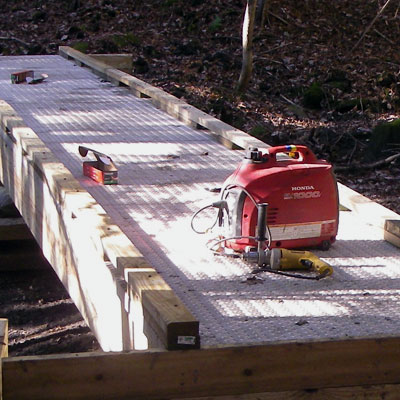 November 13, 2015
Making some turnpike on the East Montpelier Trail near Mallory Brook, thanks to Norwich University "day of service" participants.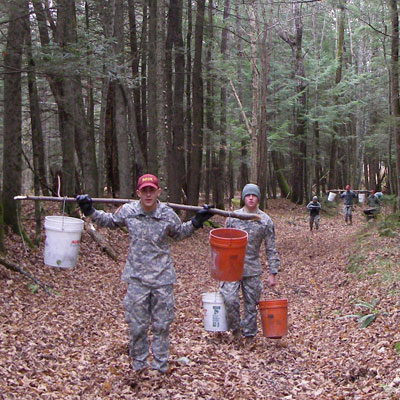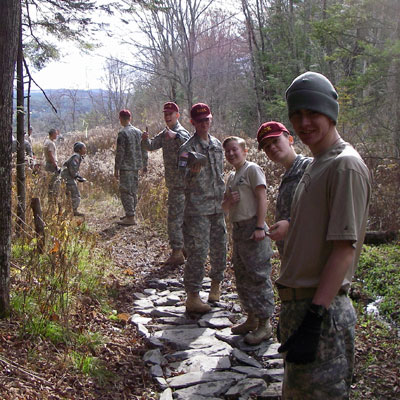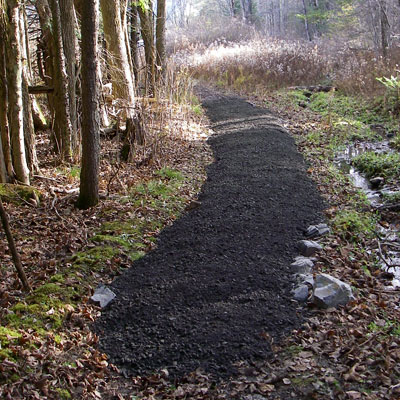 October 20, 2015
Cold Brook Path officially opens to four season non-motorized use, in Marshfield. Full size map.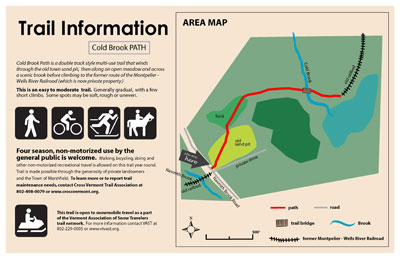 September 23, 2015
National Community Conservation Corps ("the New Civilian Conservation Corps") spent two weeks helping out on the trail in September. Many thanks to the Raven One NCCC crew out of Baltimore - just like the original CCC Boys, but with more earrings I suspect.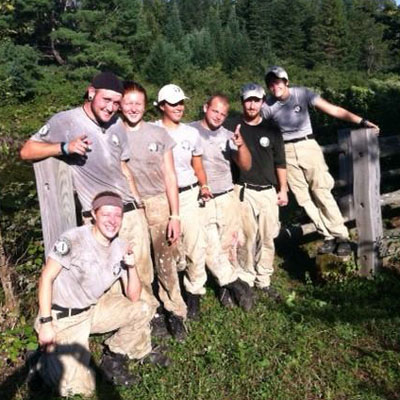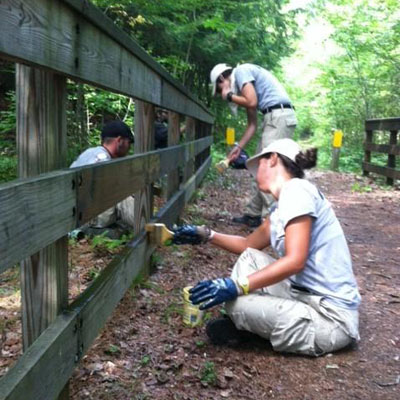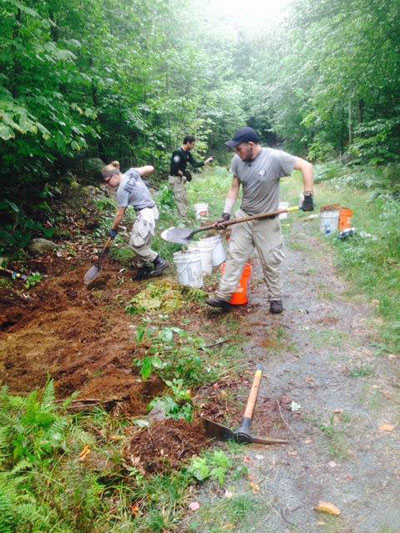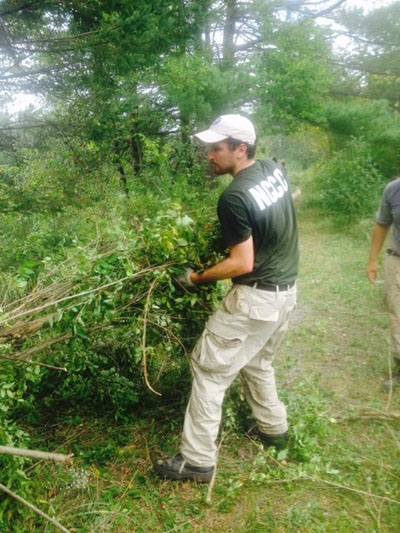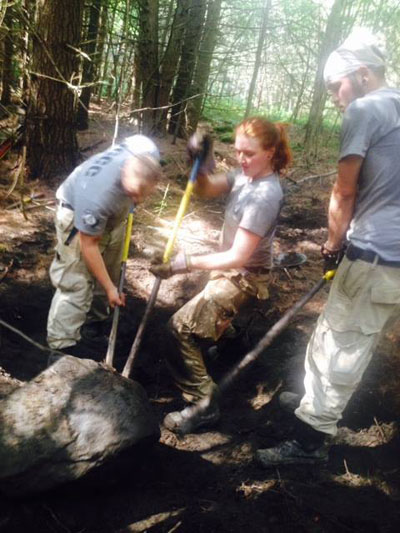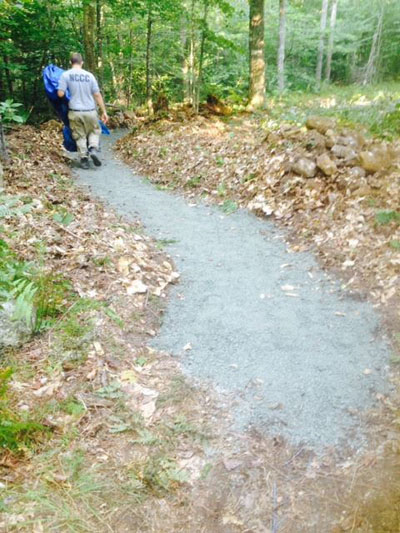 August 31, 2015 (after dark)
And a parting shot from volunteer April Copeland - Kettle Pond beneath starry skies.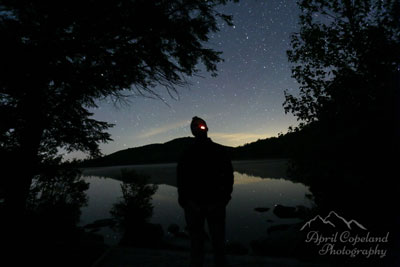 August 31, 2015
Photos from this summer's trail crew volunteers. Working to make the spur trail between the Montpelier-Wells River Trail Trail and Kettle Pond. Thanks everyone!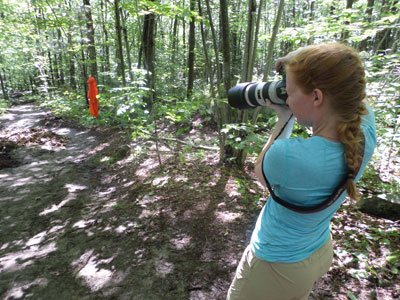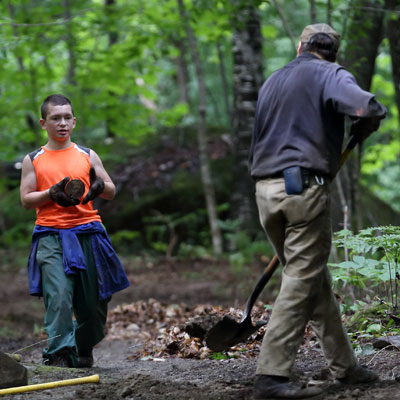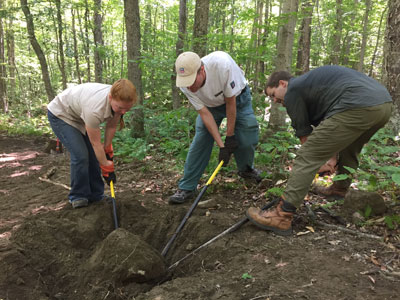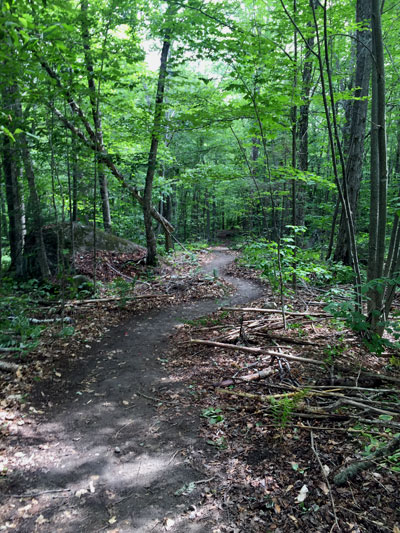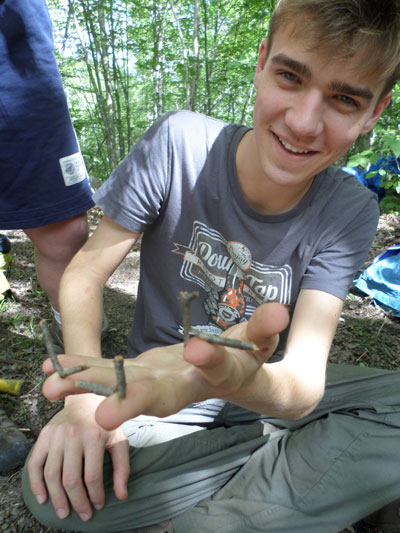 July 30, 2015
Once more to the breach on the rail trail in Groton, south of Rickers Mill. Now, with more smooth.